Don't head home before visiting these four unmissable restaurants in the Chamonix Valley.
For unbelievable Scandinavian Asian twist head to Munchies in Chamonix, or enjoy the chic surroundings of La Cabane in Les Praz, exquisite cuisine at Le Café Comptoir Vallorcine or if you're after a fondu experience hike to La Cremerie in Argentiére. 4 amazing restaurants with completely different styles.

Chockablock with fabulous restaurants of every cuisine, Chamonix is a place where you can get your glad rads on when (finally) the ski fatigued smalls are all tucked up in bed. Book a babysitter and head to one of these bad boy eateries when you're in town. Tried and tested, here are our top restaurant choices in Chamonix for when you are blissfully 'sans enfants'.  Bon appétit!

1. Munchies, Chamonix
Without a shadow of a doubt this restaurant tops the trumps every time on the best place to eat in Chamonix. With it's seriously laid back Swedish vibes, Munchies serves up epic food – a fusion of French, Swedish and Asian cuisine. The much acclaimed 'filet de bœuf' has sadly been taken off the menu but if steak is your thang, you can still incredibly request the dish from the kitchen if you ask the waitress! (€30.00). Other scrumptious dishes that never fail  are the sushi, tempura fried squid and duck teriyaki.
Munchies have two sittings per evening 7pm and 10pm. Seats here are always in demand so make sure you book well ahead to secure a table.
TOP TIP FOR MUNCHIES, CHAMONIX
There are three tables in the bar area that cannot be reserved and in our opinion are the best seats in the house. Bag one of these by being first through the door at 7pm when the restaurant throws open it's doors. Start queuing at 6.30pm – it's well worth the wait!
Munchies, 87 Rue des Moulins, Chamonix. Tel 04 50 53 45 41 
2. La Cabane

, Les Praz, Chamonix
I'd heard rumours of this restaurant for some years now but only finally managed to eat there a few weeks ago. Wow. Seriously impressive. Nestled into the golf course in Les Praz, La Cabane is mountain chic at it's best. A beautiful log cabin houses a stylish interior with a roaring fire and sheepskin throws. The food is french, fine dining and exquisite. Choose from an extensive à la carte menu or several set menus. 
Kickback in the sunshine on La Cabane's outside terrace – perfect for lazy lunches (there's a very affordable 3 course midi menu for €23.50) or cosy up amidst the furs for an evening of gastronomic delight with friends or an intimate dinner for two.
TOP TIP FOR LA CABANE, CHAMONIX:
Choose the 'Café Gourmand' for dessert – you get five mini desserts with an expresso.
La Cabane, 23 Route du Golf, Les Praz, Chamonix Tel: 04 50 53 23 27
3. Le Café Comptoir, Vallorcine



One of the best restaurants in Vallorcine, slap bang at the bottom of the 'forêt verte' piste is Le Café Comptoir – the perfect place for a lunch you'll never forget. This charming restaurant, run by ex-pro skiers is a must if you're skiing Le Tour.  Delightfully French, the food at Le Café Comptoir is exceptional. The set menus are extremely reasonably priced and outstanding. If you choose to order just a main, you even get a complimentary delicious house starter. Bonus.
This tiny restaurant is also open in the evenings and massively worth the short drive (10 mins) from Argentière. This place is packed at both lunchtime and evenings, so either rock up early or book ahead. Highly recommended.
TOP TIP FOR LE CAFÉ COMPTOIR:
Le Café Comptoir, Vallorcine also has fast wi-fi so if you need to connect with work, it's a good place to stop off for a quick morning café or chocolat chaud.
How to get to Le Café Comptoir, Vallorcine?
On skis to Le Café Comptoir?
Take the Tête de Balme chairlift on the back of Le Tour, ski down the home run red 'forêt verte' piste right to it's front door.
Driving to Le Café Comptoir?



Drive from Chamonix towards Argentiere. After passing through Argentiere keep left to take the Col de Montets pass. Drive through Le Buet and onto Vallorcine. Park in the lift station/train station car park and it's a 3 minute walk over the rails on the right hand side of the train station then follow the road to the left. You should see signs for Le Café Comptoir here so follow your nose.
Le Café Comptoir, Chemin Rural dit du Plan de l'Envers, Vallorcine. Tel: 04 50 18 72 43
4. La Crèmerie, Argentiére

Off the beaten track in Argentière, La Crèmerie is a haven for cheese lovers. Crunch up the piste of Les Grands Montets by starlight or drive up through the forest to this charismatic restaurant. Forget frills or fancies here, this rustic Crèmerie dates back centuries and is the perfect place to unwind and chill after a hard day's skiing. Gape at the framed images of Argentière old (the Glacier photos are fascinating) and enjoy an array of simple cheese dishes at surprisingly affordable prices.
La Crèmerie, 766 Chemin de la Glacière, Argèntiere, Chamonix. Tel: 04 50 54 07 52
Have you got an outstanding recommendation for a restaurant in Chamonix or have you eaten at these restaurants and love them as much as we do? If so, we'd love to hear from you.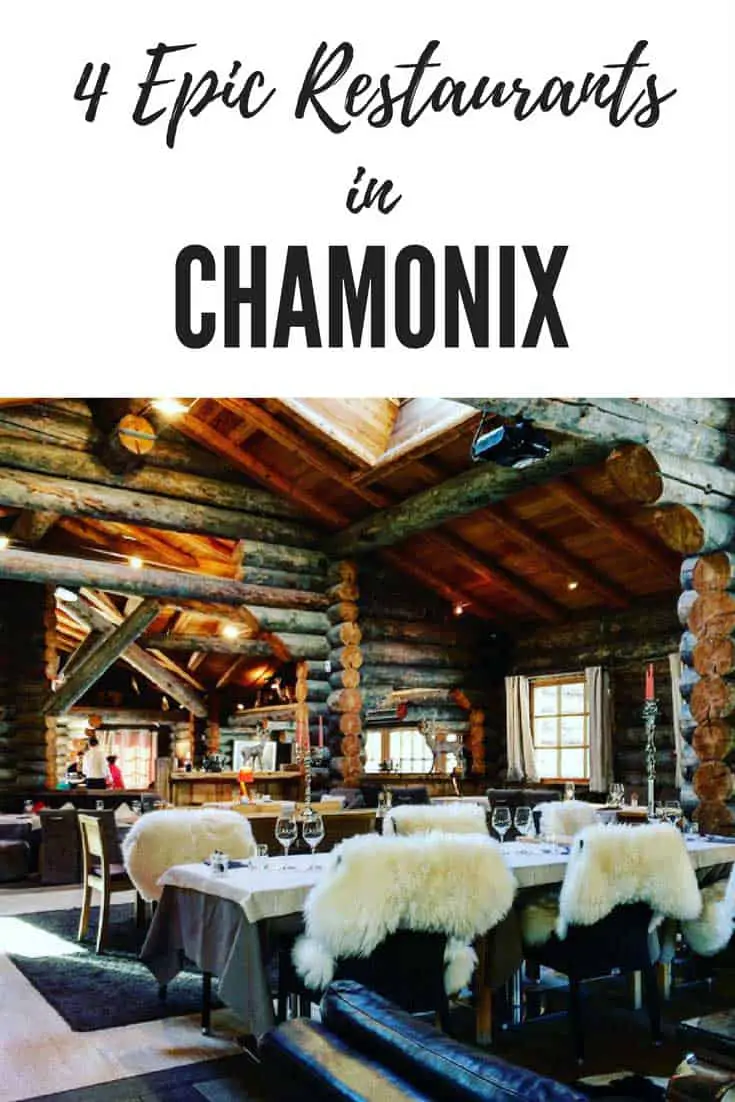 Save
Save
Save
Save
Save
Save