Nowhere competes with Borneo for serious adventure and getting close to extraordinary wildlife. Our Borneo itinerary covers just 2-3 weeks in Sabah, one of the best regions to explore ancient rainforest, encounter incredible wildlife, discover world class dive sites and bag a 4000m peak.

 ➳  ➳  ➳  ➳  ➳  ➳  ➳  ➳  ➳  ➳  ➳  ➳  ➳  ➳  ➳  ➳ 
2-3 week Borneo Itinerary
Visit the famous Sepilok orang-utan rehabilitation centre, near Sandakan before travelling deep into the rainforest to Sukau, to a tiny village on the banks of the Kinabatangan river, home to the Orang Sungai tribe. Here stay in a lodge and get up close and personal with incredible wildlife such as pygymy elephants and wild orangutans.  Return to Sandakan for departure to Turtle Island, a national marine park where you will stay overnight to witness mother turtles nesting & baby turtles being released under the National Park conservation project.

Next fly over to Sabah's West coast to the capital, Kota Kinabalu to spend 3 days relaxing & diving, then travel overland back to Sabah's interior to climb the 4,095m peak, Mt Kinabalu and witness the blooming of the largest flower in the world, the Rafflesia. Our Sabah itinerary is perfect for adventuring families, wildlife lovers or hiking addicts.

FACT: Borneo is the third largest in the world Borneo is made up of
three different countries –
Malaysia, Brunei and Indonesia
Given the size of Borneo you need to do your homework and plan your trip carefully. Don't expect to get too far on a 2-3 week trip, so don't try to over cram your Borneo itinerary.
We chose to visit Sabah, the most northerly state of Borneo. Sabah and Sarawak belong to Malaysia, and both have a much better infrastructure than the large southern Indonesian state of Kalimatan. Sabah is easier to travel around and ideal if you've only got 2-3 weeks for your Borneo itinerary.
A Sabah itinerary offers a brilliant choice of activities from river tours to spot wild orangutans, world class diving and the chance to climb SE Asia's highest mountain – Mount Kinabalu.
Disclosure: some of our articles contain affiliate links, which means we may receive a small amount of commission if you purchase one of the linked products within a certain time frame. This comes at no additional cost to you but helps us keep the website running. We only promote products that we use or believe are of use to you.
Borneo Itinerary Stage 1 – Sabah East Coast
Sandakan – Sepilok – Kinabatangan River
 ➳  ➳  ➳  ➳  ➳  ➳  ➳  ➳  ➳  ➳  ➳  ➳  ➳  ➳  ➳  ➳ 
Day 1
Fly into Sandakan, stay overnight in Sandakan or Sepilok

Arrive in Sandakan, the second largest city in Sabah and the gateway to the Kinabatangan River.
The Kinabatangan River, only a few hours drive from Sandakan, is one of the best places in Borneo to see wild orang-utans in their natural habitat. One of the most bio-diverse places on our planet, the Kinabatangan is one of only two places on earth where 10 species of primate are found.

Sandakan is not a particularly attractive city after being bombed almost entirely in WWII. Many visitors choose not to stay in Sandakan, flying in and then travelling directly on to either the Kinabantagan (3 hrs drive) or Sepilok (30 mins in a taxi) to visit the world famous orangutan rehabilitation centre.
Most Kinabatangan River lodges arrange pick up from the airport or Sandakan.

Read more:  The Ultimate Packing List for Borneo
TIP: If Palau Selingan (Turtle Island) is high on your list to visit, and you haven't managed yet to secure tickets (it's often hard to book outside of Borneo) then it's a good idea to ask your taxi driver to stop at the Crystal Quest office which is located on a jetty 5 minutes before Sandakan. Read my Ultimate Guide to Visiting Turtle Island here, which will give you all the best advice of how to book from abroad
We had a pickup straight from the airport to Sepilok but did stay in Sandakan after our Kinabatangan adventure.
As far as things to do in Sandakan go, it's generally considered a gateway to Sepilok, the Kinabatangan or to Turtle Island. The city itself has few points of interest apart from colonial sights such as Agnes Keith's house (a 1930's famous American writer who wrote Land Below the Wind). There's a pleasant English tea garden next door to the house, which is now a museum, which gives a good view over the city. We also visited Kampong Bull Sim Sim, a traditional stilt village 3km out of town. If you're tight on time, by-pass staying in Sandakan altogether.

We opted for affordable luxury at the Four Points Sheraton in Sandakan. Travelling solo with my 10 year old, the infinity swimming pool, fabulous breakfasts and luxurious rooms at the Four Points was a no brainer for us after staying in the jungle for a week and climbing a 4000m mountain.
If you're on a budget, we heard very good things about Borneo Sandakan Backpackers (around £14 for a double). For middle of the range, go for Nak Hotel which has the best views from it's very cool roof top terrace bar. This bar is open to non-residents so even if you're staying elsewhere, it's a good spot to have a cocktail (£5) and great pizza (£5 – the kids loved them!) and watch the sun go down.

To search for the best hotels in Sandakan, click here
If time is short on your schedule, definitely go straight to Sepilok from the airport. For a night of indulgence choose Sepilok Nature Resort.  We stayed in a traditional long house at Paganakan Dii Tropical Retreat (photo above) which we would highly recommend. Tucked away in the jungle, it's only a short (but not walking) distance to the Orangutan Centre.
To search for the best hotels in Sepilok, click here
Day 2
SEPILOK
Visit the world famous Orangutan Rehabilitation Centre
& Sun Bear Sanctuary
 ➳  ➳  ➳  ➳  ➳  ➳  ➳  ➳  ➳  ➳  ➳  ➳  ➳  ➳  ➳  ➳ 
One of the best places in Borneo to see orangutans is in the world famous orangutan rehabilitation centre. We sadly didn't spot any wild orangutans on our Kinabatangan river tour so we were delighted to see these wonderful creatures here.
Don't miss a visit to this iconic conservation hub which has successfully released rehabilitated orangutans back into the wild since 1964.  Visitors can watch released orangutans returning back to the feeding platforms twice a day.
TIP: feeding sessions are at 10am and 3pm. Tour buses packed full of tourists arrive and go straight into an education centre to watch a 20 minute film on the orangutans. By pass the film and go straight to the feeding platform – you'll be the first there and will bag a front side view. After the film ends the feeding platform can be 8-9 people deep with limited viewing from the back. After the feeding session, go back and watch the film which is re-played regularly

Don't expect to see lots of orangutans. The orangutans that come to feed, are now wild – released orangutans that have worked their way through the comprehensive rehabilitation programme (sometimes 16 years long!) and choose to return for feeding sessions. We had two orangutans come to the feeding station during our visit and it was magical.
The centre is big on orangutan rehabilitation, not providing entertainment for visitors, so (thank goodness) don't expect to be able to pick up baby orangutans. You can see the babies in their nursery with their carers through a glass viewing area. You have the opportunity to adopt an orangutan for around £30 a year. My daughter adopted baby 'Archie' and has been thrilled to receive photos and updates of his throughout the year. Money well spent and a great way to support this fantastic cause.
Borneo Sun Bear Conservation Centre
After your visit to the orangutan centre, we would highly recommend taking the time to visit the Sun Bear sanctuary which is literally next door. This incredible centre has been instrumental in keeping the sun bear from the brink of extinction. I had the pleasure of meeting Dr Wong, the founder, at the centre. His single handed conservation efforts have earned him a raft of international recognition and awards, and his hands on approach, enthusiastically showing visitors a better view of this tiny bear (which Winnie the Pooh was based on) through his telescope was amazing to see.

If you're aiming to visit the orangutan sanctuary for the 10am feeding session, ask your Kinabatangan tour operator/accommodation provider to pick you up from Sepilok early afternoon for the further 3 hour drive to Sukau.

Days 3-5
Sukau, Kinabatangan River Tour
 ➳  ➳  ➳  ➳  ➳  ➳  ➳  ➳  ➳  ➳  ➳  ➳  ➳  ➳  ➳  ➳ 
A trip to the Kinabatangan should definitely not be missed from your Sabah itinerary!
One of the best things to do in Borneo is wildlife spotting on a Kinabatangan River tour. Most visitors stay in or around Sukau, a tiny village on the banks of the Kinabatangan.  There are many accommodation providers dotted around the river from sumptuous eco river lodges or more basic, affordable accommodation.
The Kinabatangan is one of the best places in Borneo to spot wildlife. This area is teeming with a vast number of species such as the proboscis monkey, pygmy elephants, silver leaf macques, crocodiles, hornbills and of course the elusive wild orangutan. Sadly it's the result of encroaching palm oil plantations that are driving wildlife to the banks of the Kinabatangan River which is now a protected area known as the 'Corridor of Life'. Kinabatangan River tours are the best way to see wildlife here. The river is the main transport route due to the rainforest being largely inaccessible.
All lodge package rates should include wildlife tours (normally 2 boat tours a day). Often package tours are 2 nights/3 days which should allow you time to see an array of wildlife. Obviously the longer you stay on the river, the likelihood of wildlife sightings increase, however as ever with animals, no guarantee is given. If you have time in your Borneo itinerary, consider booking for longer here to partake in additional tours such as a night time boat tour or guided hikes.

If there's a time to splash out, it's definitely here if you've got the cash. Book into Sukau Rainforest Lodge (one of National Geographic's top 30 lodges in the world) for an unforgettable stay on the river. The lodge has an onsite naturalist who gives plenty of talks and night walks, and even has it's own 440m boardwalk into the rainforest canopy.
For budget travellers, Osman's homestay comes recommended (Osman is an excellent guide & they'll happily put an extra bed in the room for kids for an extra 50RM (2-11) or 100RM for 12+).
Sukau Greenview is also a good, budget friendly option, just a short walk along the river from Sukau.

You can easily visit independently if you choose – it's easy to hire a guide and stay in a local homestay.
We spent a week in Sukau volunteering as a family re-planting the rainforest  – it was fantastic experience allowing us to immerse ourselves in the community with our guide taking us on countless wildlife boat tours along the river not only to access our daily rainforest planting sites, but also to monitor the wildlife. We would highly recommend any family eager to teach their kids about our fragile ecosystems to volunteer on this project.

To search for the best lodges and homestays in Sukau, click here
Day 6
 ➳  ➳  ➳  ➳  ➳  ➳  ➳  ➳  ➳  ➳  ➳  ➳  ➳  ➳  ➳  ➳ 
Leave the Kinabatangan River & return to Sandakan
or extend your Sabah itinerary – see below:

Extend your Sabah itinerary an extra 2-3 days
It's easy to extend your Sabah itinerary by an extra 2-3 days or even a week or two longer by visiting either the Danum Valley or Sipidan Island, both following on easily from a visit to the Kinabatangan.
Danum Valley
Many visitors push deeper into the rainforest from the Kinabatangan to Danum Valley, one of the world's most complex eco-systems with a towering 70m high canopy.
Lahad Datu, a small coastal town, is the gateway to the Danum Valley. All Danum Valley tours depart from Lahad Datu and you can fly directly here from Sandakan or Kota Kinabalu. 
Home to some of the oldest dipterocarp rainforest in the world, Danum Valley is one of the best places in Borneo to visit if you're a serious naturalist. It's said, a new species of plant is discovered here every week.

A word of warning though, a stay in the Danum Valley does not come cheap, unless you are well prepared and book early with the Danum Valley Field Centre, an outpost for scientists and researchers. This is the reason we sadly couldn't add it to our Borneo itinerary. There are only two lodging options in this jungle, the luxurious Borneo Rainforest Lodge or the rough and ready Danum Valley Field Centre. We will definitely be adding Danum Valley to our Borneo itinerary next time (yes, we definitely want to go back!). If you visited Danum Valley – we would LOVE to hear from you in the comments!

Sipidan Island
Sipidan Island, arguably the world's best dive site, is another huge draw on the east coast of Sabah. If you're an avid diver, one of the best things to do in Borneo, will be a dive here.

Semporna, a couple of hours south of Lahad Datu is the port town destination that attracts divers from all over the world to access the islands of Sipidan and Mabul.
A dive at Sipidan, undoubtedly on every diver's bucket list, will blow your budget to pieces. In an effort to protect the fragile reef, visitors can no longer stay on Sipidan island. With only 120 dive permits for Sipidan each day, expect to only have 1 or if you're lucky 2 dives at Sipdan included in your diving package, the rest being around Mabul & other dive sites.
Accommodation around Sipidan ranges from upmarket resorts or basic dive operations on Mabul island or more affordable accommodation in less desirable mainland Semporna. We met some divers who highly recommended ND Divers in Semporna – "basic accommodation but with access to some of the world's best dive sites with excellent instructors". If you can afford to splash out staying on Mabul island will save you the often very rough daily boat trip from Semporna to Mabul.
To search for the best lodges and homestays in Semporna, click here or to search accommodation options on Mabul island, click here.
Alternatively do what we did and head to the west coast instead to dive with Big Fin Divers
Day 7-8
 ➳  ➳  ➳  ➳  ➳  ➳  ➳  ➳  ➳  ➳  ➳  ➳  ➳  ➳  ➳  ➳ 
Head back to Sandakan from the Kinabatangan (or Danum Valley or Sipidan if you've extended your Borneo itinerary) to access Palau Selingan. Sandakan is the gateway to this island, also called Turtle Island.
Palau Selingan is one of three islands making up the Turtle Islands National Park in the Sulu Sea, a 40 minute speed boat ride from Sandakan, is one of the best places in Borneo to turtle watch. A visit here is guaranteed to be a highlight in your Sabah itinerary.

Witness green or hawskbill turtles nesting 365 nights of the year and help the rangers release heart stoppingly cute turtle hatchlings on Palau Selingan, the only island visitors are permitted on.

The only way to visit Turtle Island is by booking a 2 day/1 night tour direct through Crystal Quest or more expensive tour operators (who buy direct from Crystal Quest). Booking from abroad is tricky. Read our full guide to how to book and what to expect on the Turtle Island tour here in our Ultimate Guide to Visiting Turtle Island.
Make sure you've pre-booked this 2D/1N trip already. Visitors are limited to 50 per night so there is normally no last minute availability.
Boats depart from Jetty to Palau Selingan (Turtle Island) early around 7.30am. Spend the day snorkelling the crystal clear waters of the Sulu Sea and learning about Borneo's green and hawksbill turtles in the conservation centre. A beach curfew at 6pm signals the start of the evening with the arrival of the first female turtles. Visitors will only visit one nesting female and the group will generally be split 25 visitors to one turtle to minimize disturbance to the turtle. Don't worry, you'll all get to see!

The rangers are very knowledgeable and releasing the baby turtles and watching them flap their way to the ocean remains indelibly marked on our memories forever – a definite highlight of our Borneo itinerary!

Borneo Itinerary Stage 2 – Sabah West Coast
Kota Kinabalu, dive Kota Belud and trek Mount Kinabalu

 ➳  ➳  ➳  ➳  ➳  ➳  ➳  ➳  ➳  ➳  ➳  ➳  ➳  ➳  ➳  ➳ 
This stage of our Sabah itinerary can be done first or last depending where you fly into. We flew direct into Sandakan but often it's cheaper to fly direct to Kota Kinabalu, in which you'd do this section of your Sabah itinerary first. 
Day 9
Fly Sandakan –  Kota Kinabalu

 ➳  ➳  ➳  ➳  ➳  ➳  ➳  ➳  ➳  ➳  ➳  ➳  ➳  ➳  ➳  ➳ 
Add 1 day here if you want to explore Sabah's capital city, Kota Kinabalu. It's a good place to shop if you plan to climb Mount Kinabalu and need to stock up on warm weather gear or hiking boots if for example, you've been travelling Asia.
To search for the best hotels in Kota Kinabalu, click here
We didn't bother with visiting the capital city of Sabah, Kota Kinabalu. We just didn't have time and cities to be honest don't float our boat. I'd initially considered visiting the islands in nearby Tunku Abdul Rahman Marine Park, but reports of the overload of tourists (due to it's close proximity to the city) totally put me off.
We found the perfect place to head to just 1.5hrs north of KK – Big Fin Beach Resort – think rustic cabanas on a remote parcel of beach where the jungle meets the ocean ….
Make sure you've installed the GRAB app on your mobile (this app is similar to Uber and will save you so much money in Sabah – read our other top tips to travelling Borneo here)  and catch a taxi to Kota Belud. We paid 100RM one way.
Big Fin only has 4 cabanas and a row of tents so make sure you book well ahead of time on booking.com. It's adventure at it's best as you'll roll out of your taxi and wade out to a tiny motor boat which will whizz you round to the wonderfully inaccessible Big Fin Beach Resort.
Day 10-12
 ➳  ➳  ➳  ➳  ➳  ➳  ➳  ➳  ➳  ➳  ➳  ➳  ➳  ➳  ➳  ➳ 
We were totally not intending to dive in Borneo and hadn't even thought of including a dive stop on our Sabah itinerary, but when we stumbled upon the paradise of Big Fin Divers, with their welcoming friendly team and their totally affordable dive prices (£40 for a intro dive) my 10 year old daughter begged me to have a go.
She ended up doing 3 dives with easy going Rich who was just the most brilliant instructor for my 10 year old.
We would easily rate Big Fin Divers as one of the best places in Borneo we stayed at. Whether you dive or not, this place is perfect for a few days R&R amid jungle trekking or mountain climbing. There's no pressure to dive and plenty of time to snorkel, chill in a hammock or play board games with other travellers.
The vibe here is very inclusive. Dinners are eaten communally and the resort is eco-driven, being refreshingly big time into sustainability. Big Fin Divers was the only cabana style resort I found in Sabah. Not only that it's very affordable and all inclusive of 3 meals a day & the boat trip to access the resort.
Read our whole review on Big Fin Beach Resort here.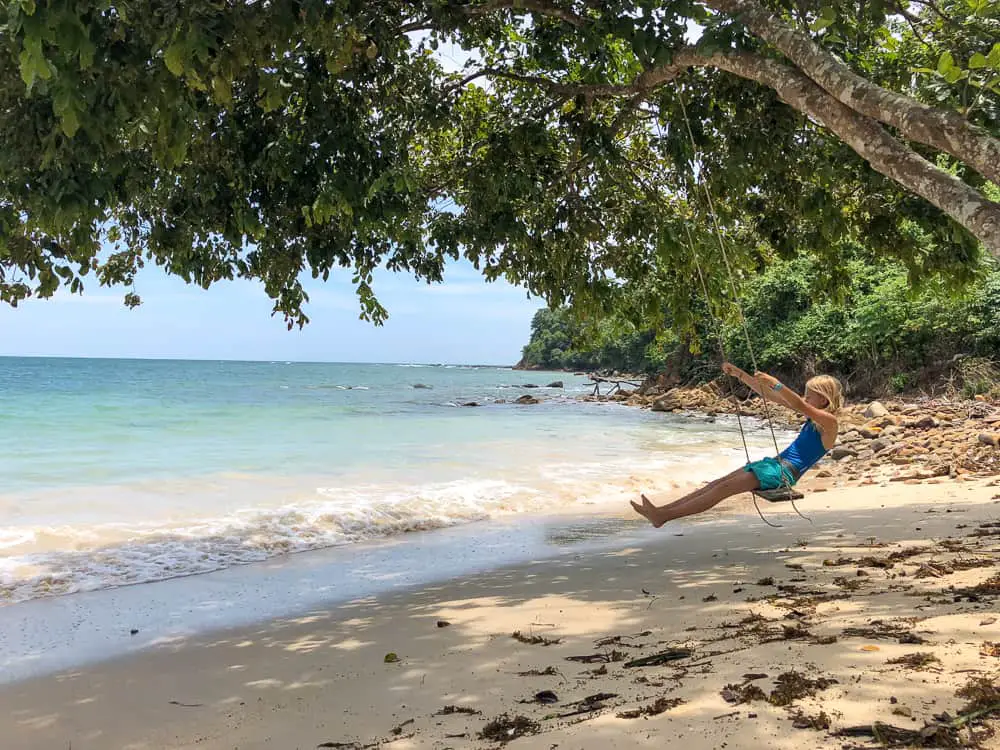 Day 13
Travel from Kota Belud to Kinabalu National Park



 ➳  ➳  ➳  ➳  ➳  ➳  ➳  ➳  ➳  ➳  ➳  ➳  ➳  ➳  ➳  ➳ 
Order a GRAB cab and, with a tear, leave Big Fin Divers on the mainland bound boat. Expect to pay 120RM for a taxi from Big Fin Divers direct to Kinabalu National Park (2 hours).
Ask the driver to stop in Kundasang, the nearest town to Kinabalu National Park, to withdraw cash from the ATM and stock up on cheaper snacks and fruit.

Settle into your Kinabalu National Park accommodation to acclimatise for the big climb tomorrow. If you've arrived early, there are plenty of easy trails around the base of the mountain in Kinabalu National Park.
If climbing Mt Kinabalu isn't your thing or you couldn't get a permit, it's still worth putting Kinabalu National Park on your Sabah itinerary as there are many other trails around the base which showcase some of the best primary rainforest in the world which you can discover on numerous base camp trails, many of which are easy and short enough for young kids to enjoy.

Accommodation in Kinabalu National Park
One of our best tips for travelling to Borneo was giving you a heads up that you can book cheaper accommodation inside Kinabalu National Park directly through Agoda. We had heard that it's really expensive to book accommodation in Kinabalu National Park so initally I was looking at cheaper places outside the park. However, I really wanted to minimise faff on the morning of the trek, so I was keen to stay inside the park so we could do one of the shorter trails in the park the night before and be right on site for the off for the Kinabalau climb the following morning.
Agoda is the only online booking website where you can book the accommodation inside the park (operated by Sutera Sanctuary Lodge). We saved a packet by booking last minute, and scored some fantastic digs for both nights.

To search for accommodation in & around Kinabalu National Park, click here
Day 14 – 16
Climb Mount Kinabalu
and do one of the highest via ferratas in the world!



 ➳  ➳  ➳  ➳  ➳  ➳  ➳  ➳  ➳  ➳  ➳  ➳  ➳  ➳  ➳  ➳ 
Climbing Mount Kinabalu is one of the best things to do in Borneo. The climb was definitely the hardest (and most expensive!) thing we did on our Borneo itinerary.

However, Mount Kinabalu, all 4,095 metres of it, is worth the effort. Summiting this peak at sunrise will be one of the highlights of your Borneo trip.
Mount Kinabalu is quoted to be the easiest 4,000m peak in the world. It requires zero mountaineering knowledge and is basically steps the entire route up to base camp (where you'll stay the night), followed by an early morning summit bid. As long as you're relatively fit, it is achieveable.
Ramp up your fitness levels before departure to Borneo & be sure to clear your schedule on your Borneo itinerary the couple of days post climb – your body will hurt for days after the climb! Some visitors opt to fly into KK and climb Kinabalu at the beginning of their Borneo itinerary, followed by a chill out few days at the beach or diving.

We booked our Mount Kinabalu climb with Amazing Borneo, who we would definitely recommend. It's impossible to book the climb independently and now the one day climb option is no longer possible, climbing Mount Kinabalu will without doubt put a hole in your wallet. Expect to pay around £400 each for a 2 day/1 night climb package.
Read our top tips to climbing Mount Kinabalu here, which includes how to save money on accommodation and what to expect on the climb.
Day 17
Spotting the world's largest flower – the rafflesia
 ➳  ➳  ➳  ➳  ➳  ➳  ➳  ➳  ➳  ➳  ➳  ➳  ➳  ➳  ➳  ➳ 
Borneo is home to the world's largest flower, the rafflesia.
It only grows in a few locations, however one of the best places in Borneo to see them in bloom is near Poring, a short drive from Kinabalu National Park.
Seeing a real life rafflesia in real life was something we really really wanted to so we made an extra special effort to include it on our Sabah itinerary and this was our best chance following our Kinabalu climb.
We took a private taxi (100RM) from Kinabalu National Park to Poring to spot one. Local taxi drivers will know the current whereabouts of a flowering rafflesia. Expect to pull up to a roadside shack advertising the flowering. You'll pay a small viewing fee per person and take a short walk into the forest to see this incredible flower.

Many visitors make a bee line for Poring Hot Springs on their Borneo itinerary. I'd heard a few negatives reports but as we were going so close to view the rafflesia, I figured we'd check it out anyway – our limbs were sore from the Kinabalu climb and the springs also has a canopy walk, which I thought would be fun.  
To be honest Poring Hot Springs was very average and not something I'd recommend on your Sabah itinerary if time is short.
But the rafflesia flower – yes! Do try to track one down whilst you're in Borneo! It is well worth the effort.
Catch a bus from Ranau (pronounced Ranow) back to Sandakan.
Day 17
Fly home
 ➳  ➳  ➳  ➳  ➳  ➳  ➳  ➳  ➳  ➳  ➳  ➳  ➳  ➳  ➳  ➳ 
3 Week Borneo Itinerary
This 2 week Borneo itinerary can easily be turned into a 3 week trip by adding Danum Valley and a Sipidan diving trip.

Alternatively add 3-4 days onto your Sabah itinerary by hiring a car in Kota Kinabalu and driving north up the coast to explore the secret beaches of Kudat and up to the Tip of Borneo. We would have loved to have done this but didn't have the time on this visit. Another great reason to return.

 ➳  ➳  ➳  ➳  ➳  ➳  ➳  ➳  ➳  ➳  ➳  ➳  ➳  ➳  ➳  ➳ 
Getting to Borneo
We flew in to Sandakan, Sabah's second city on the East coast but you could start on the West coast just as easily by flying direct to Kota Kinabalu.
In fact Sandakan is slightly more expensive to fly direct to. It's cheaper to fly either direct to Kota Kinabalu and reverse the itinerary we followed, or fly to Kualar Lumpar and book a cheap Air Asia flight over to Borneo.

Air Asia also do ridiculously cheap flights between KK – Sandakan (we paid less than £50 for two of us from Sandakan to KK booking only 48 hours in advance). We would totally recommend to fly one way and return overland via bus to take in the scenic countryside.
Looking to book your next trip? Check out the following services we use!
Kayak to find a cheap plane ticket or AirTreks for RTW tickets.
Booking.com to find a hotel deal.
World Nomads to insure your trip.

Viator for a good quality day tours.

G Adventures for a multi-day guided tour.