Mount Kinabalu carves an impressive silhouette into the Borneo skyline. At 4,095m Mount Kinabalu is SE Asia's highest mountain and is, in our opinion, one of the most varied and awesome hikes in Asia. It's also one of the easiest 4,000m peaks in the world to climb, making it a huge draw for trekkers of average fitness and no mountain experience to bag their first 4,000m peak. That said, climbing Mount Kinabalu is no easy feat, and as always preparation is key. We've put together our top climbing Mount Kinabalu tips, based on our own experience, for you to get the most from your Mount Kinabalu experience.
Climbing Mount Kinabalu Tips
Our climbing Mount Kinabalu tips aren't the bog standard tips regurgitated by the tour operators. Our climbing Mount Kinabalu tips will help you book cheaper Kinabalu Park accommodation, tell you where the nearest ATM machine is, as well as tips and what to expect on the Mount Kinabalu climb.

1/ Book cheaper accommodation in Mount Kinabalu National Park through Agoda
Our first climbing Mount Kinabalu tip is how to book cheaper accommodation in the Kinabalu National Park.
To prevent altitude sickness it's recommended that trekkers stay in or around the base of Mount Kinabalu the night before starting the climb. It's necessary anyway as the required start time is early at 8am.
However, accommodation in Kinabalu National Park is eye wateringly expensive, so many visitors choose to book accommodation just outside the park, or even as far down as Kundasang, 7km away. Few visitors know that it's possible to book some of the Kinabalu National Park accommodation online through Agoda for reasonable rates.
We booked our accommodation in Kinabalu National Park only two days before we climbed and scored one of the park bungalows the night before the climb (for £82) and bagged a junior suite the night we returned (for £95). Enter "Sutera Sanctuary Lodges at Kinabalu Park" into the search bar in Agoda. Click on the first entry to see all the accommodation options in the National Park.
Of course these are not rock bottom budget prices, but when this same accommodation normally goes for several times the price – it's a great win. If you're looking for budget accommodation, Grace hostel is the cheapest option inside the park with shared dorms from £20 a night, or incredibly 4 person rooms for little as £42 for the room (not per person!) through Agoda.

For those who want their own space and don't mind paying a bit more, Hill Lodge is a series of individual bungalows or those who want to splash out, Liwagu Suites or Nepenthes Suite, or one of the lodges will provide more luxury.
We booked the Liwagu Suite for the night after our return (photo below) and it was definitely worth it! It's guaranteed you will be shattered on your return, the descent is arguably much harder (on your knees!) and you will arrive back at base relatively broken! This suite had a magical effect on my exhausted 10 year old and was worth every penny.

2/ Increase your chances of Mount Kinabalu tickets by 40%
A high number of international visitors fly to Sabah with their sights set on Kinabalu's lofty elevation each year. With merely 135 permits allocated daily, places are in high demand. 
Bolted to its granite moonscape, Mount Kinabalu even has two of the highest 'via ferratas' in the world. This 'iron walkway' is an awesome extra and is highly recommended after your descent from the summit. It's also our best tip to get your hands on a golden ticket if all the standard permits have been snapped up. You won't regret it – the exhilarating iron climbing route, high above the clouds, will take your breath away.
Few trekkers realize that there are two huts to stay in – the main hut (Padanlabat) and a completely separate, much smaller hut (Pendant), reserved for climbers who will do the Via Ferrata on their descent.

So if all the standard tickets have been sold, consider booking one of the the Via Ferrata options – don't worry you are under no obligation to do the via ferrata if it's just not your thing, or you're too exhausted, but it's a great way to get tickets if there are none available during the dates of your visit.
There are two via ferratas to choose from –
1/ Walk the Torq – the easier, introductory via ferrata (French grade PD, minimum age 10, minimum height 1.3m, 2 hours)
or
2/ Lows Peak Circuit, the intermediate via ferrata (minimum age 16, French grade AD, 4 to 5 hrs).
There is no obligation to do the Via Ferrata and with the extra capacity of the pendant hut, it increases your ticket and permit chances by 40%.
You do have to reach the hut by a certain time (for us it was 5pm) in order to have a briefing on the via ferrata. Again, I repeat, you can still choose not to do the via ferrata and just do the normal trek with your guide. The via ferrata option does costs slightly more (around 500RM).
3/ Bring cash to buy any extras in the huts
Both the Labat and Pendant Huts do not accept credit or debit cards so our next climbing Mount Kinabalu tip has to be make sure you take enough cash. Whilst the climb, accommodation and meals will all be included in your Mount Kinabalu climbing package, cash is handy to tip your porter/guide and buy extra snacks or provisions in the sleeping huts.

There is no ATM in Kinabalu National Park, so be sure to stop 7km before the park in Kundasang, the nearest town. It's also a great place to pick up snacks and provisions to avoid paying through the nose once inside Kinabalu National Park.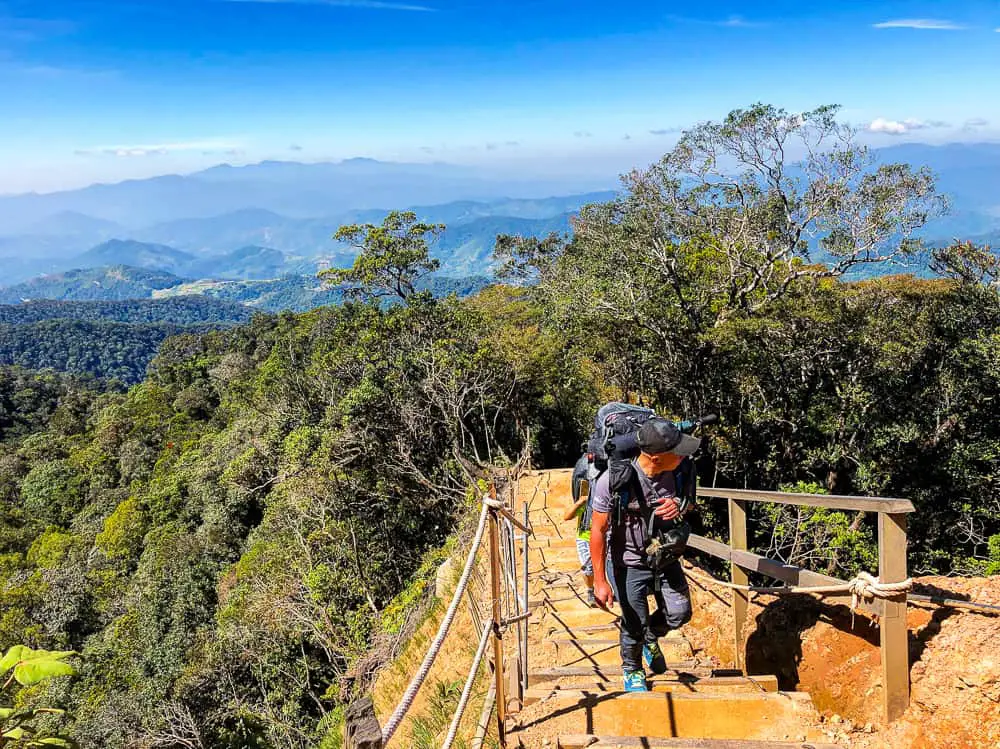 4/ Pack light for your Mount Kinabalu climb & consider hiring a porter!
It's recommended your bag for climbing Mount Kinabalu should weigh only between 4-8kg. You need to take warm weather gear for the summit, packed lunch (which will be provided for you) & overnight stay essentials.

Give yourself the best possible chance of summiting by hiring a porter to carry your bag. Not every climber is able to summit. If you don't reach the check point at Sayat Sayat Hut (3,668m) by a set time (for us it was 5.30am, but this can vary) then you will not be able to proceed to summit. Early morning cloud makes the return too treacherous.
By hiring a porter to carry your bag, you're giving yourself the best possible chance of reaching the top.

Porters cost 130RM for the return journey (65RM each way) for every 10kg. It's easy to book a porter when you arrive at Kinabalu National Park or even on the morning of the climb before you set off.
Be aware that your porter will go ahead of you and so any items you need on the climb up (camera, packed lunch, water etc) will still need to be carried in a separate bag by yourself.
Occasionally your guide may offer to be your porter (which happened in our case). This is the perfect scenario as you'll have access to your belongings during the entire climb.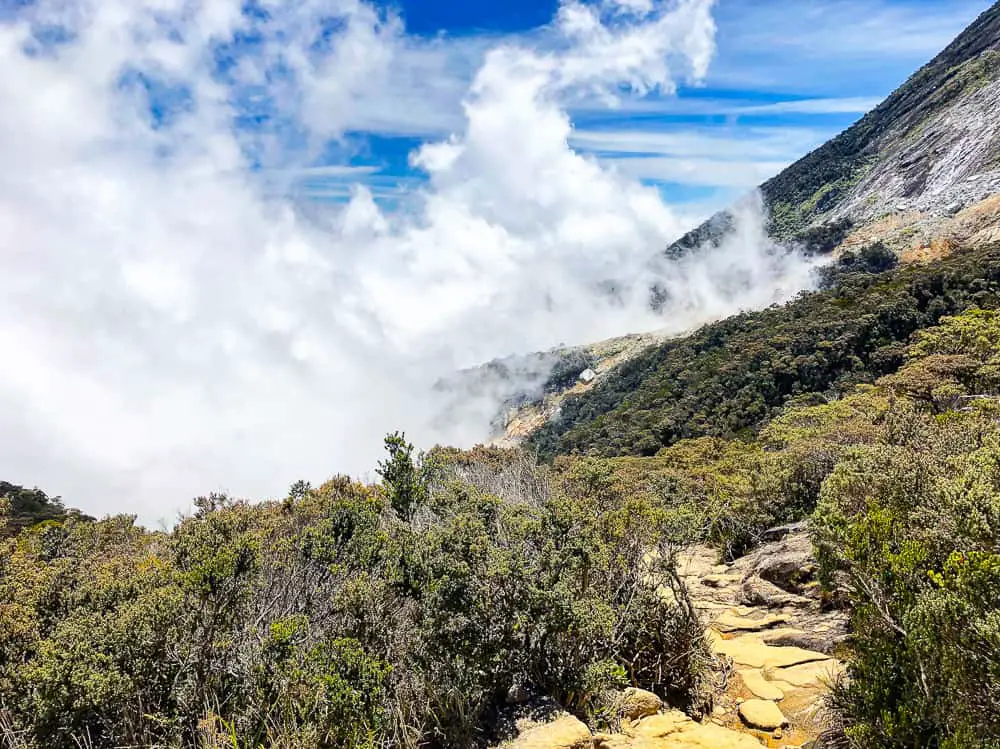 5/ Know that tour operators don't give refunds in case of bad weather
Yep, you heard right. I paid over £800 for myself and my 10 year old to climb Mount Kinabalu with tour operator, Amazing Borneo. If the climb was cancelled in anyway due to bad weather, we would not get a refund. 
Any summit attempt from the Labat or Pendant huts are cancelled if it's raining, as the path over the bare granite becomes too slippery.
It's a difficult pill to swallow. I booked our Mount Kinabalu climb whilst in Borneo, as I wasn't 100% sure whether to climb with a ten year old. She was strong from trekking the Tour du Mont Blanc with me only weeks before, but still I was unsure whether it would be too much AND I didn't want to lose almost £1000 if bad weather cancelled the climb.
I took a risk and booked the via ferrata option with only a few days to go.
The Mount Kinabalu site has a live booking system, https://book.mountkinabalu.com/ which is brilliant for seeing how many tickets are still available over the next few days/weeks/months. Tickets are not discounted for last minute bookings but you may just avoid bad weather cancellations.

You can click on which climb option you want to book (see the five boxes under the date below where the first blue box is highlighted) which will then give you complete availability for the next 24 months!

Booking so late, I was able to keep an eye on the weather forecast and had a better guarantee against bad weather cancellation.

If you're visiting Borneo with the notion that you might climb Mount Kinabalu, but it's not your sole reason for visiting, I'd definitely recommend leaving it late, keeping an eye on the weather and booking last minute once you're in Borneo.
6/ Climbing with kids? You'll need to hire more guides
Hiring a registered guide is compulsory, as well a permit to climb Mount Kinabalu. The normal ratio is one guide to five climbers, however if you climb Mount Kinabalu with kids, the guide ratio drastically changes from 1:5 to 1:2.
This increases the price of the climb for families, but to be honest it's a welcome safety precaution and with the eye watering price of booking the climb per person, anyhow, it's not much more.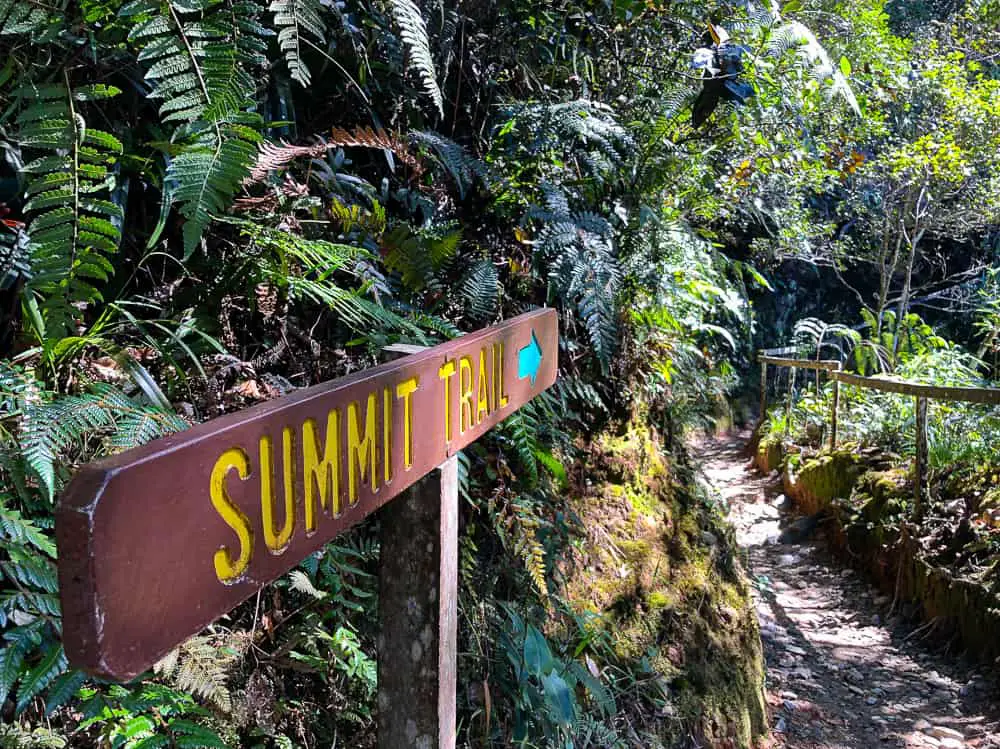 7/ Hydrate!
You need to keep well hydrated during your Mount Kinabalu climb. Not only does water help with energy levels and prevents becoming sick with dehydration, it also helps to prevent altitude sickness, which is a real possibility at Mount Kinabalu where you'll climb a total of 2,229m to the summit of 4,095m
Bring a re-usable water bottle with you to prevent single plastic waste. You can fill up your water bottle at each stopping station on the way up – purification tablets or drops are essential. It's recommended to drink 4-5 litres of water during the first day of ascent to the sleeping huts.
TOP TIP: It's a good idea to buy rehydration salts in your home country before leaving for Borneo.  The shop inside Kinabalu National Park DOES sell rehydration salts, but it's the only place I saw them for sale in Borneo.

8/ Equipment – what to bring
No specialist equipment is required to climb Mount Kinabalu. Hiking boots, trekking poles, a head torch and breathable/warm clothing are the only necessities.
If you're flying straight to Borneo to climb Mount Kinabalu, then you can of course,  bring all your equipment direct from home. However if Borneo is a stop on your global travels and you have no warm clothes, Kota Kinabalu is an inexpensive place to pick up fleeces, hats etc. It is possible to climb Mount Kinabalu in trainers, if you don't want to shell out on hiking boots.

Other items such as painkillers (recommended during the way down to reduce inflammation & pain during the long descent) and cheap waterproof ponchos are available to buy in the Kinabalu National Park shop. We paid 8RM each for a poncho which packed down super compact and was useful to us during the rest of our Borneo stay.
You can buy trekking poles at Kinabalu National Park for 45RM a pair, so there's no need to bring your own. However, we booked through Amazing Borneo and were able to rent trekking poles to climb Mount Kinabalu is 10RM per pole (20RM per pair).
Gloves are required for the final push. The climb to the summit is over smooth rock with a white guide rope to lead you in the dark. Grippy gloves are necessary to pull yourself up the rope, plus it's very cold at 2.30am in the morning! You can buy grippy gloves from the Amazing Borneo office inside Kinabalu National Park for 8RM each. For us they are a great reminder of our adventure and we still use them for gardening.
Recommended packing list for climbing Mount Kinabalu
hiking boots or trainers

hiking poles (available to buy or rent in Kinabalu National Park – see above)

small backpack (recommended to keep weight down to 4-8kg)

waterproof jacket (you can buy ponchos in the Kinabalu National Park shop for 8RM)

water bottle (bring purification drops to add as you fill along the way)

high energy snacks (the Park shop sells xxx & the huts sell also. Stock up in

Cash for snacks/extras at the huts (nearest ATM in Kundasang 7km away)

Warm hat & fleece (you will set off at 2am for the summit – it's cold!)

Gloves with grip (you will need to pull yourselves along a white rope during summit grab – gloves can be bought from the Amazing Borneo office in the park for

2 pairs of warm, wool hiking socks (1 for the climb up, 1 for the next day climbing down)

1 change of underwear & t-shirt (bring breathable, wick away t-shirts)

Head torch (necessary for the 2am summit bid in complete darkness)

Essential toiletries & medicine

Basic first aid kit (painkillers/anti-inflammatories/compeed or other blister plasters)

Sunblock

Packed lunch – your tour operator will provide you with this on the morning of the climb
9/ Lockers in Kinabalu National Park
There are lockers in Kinabalu National Park to leave your luggage whilst you climb Mount Kinabalu.
Large general storage costs 12RM each for large rucksacks, and another 12RM for a smaller secure locker for valuables.
Large rucksacks are stored in a locked general area, shared by other trekkers, so it's worth paying an extra 12RM for an individual padlocked locker to keep your valuables (passport, cash/cards, drone) safe whilst you climb Mount Kinabalu.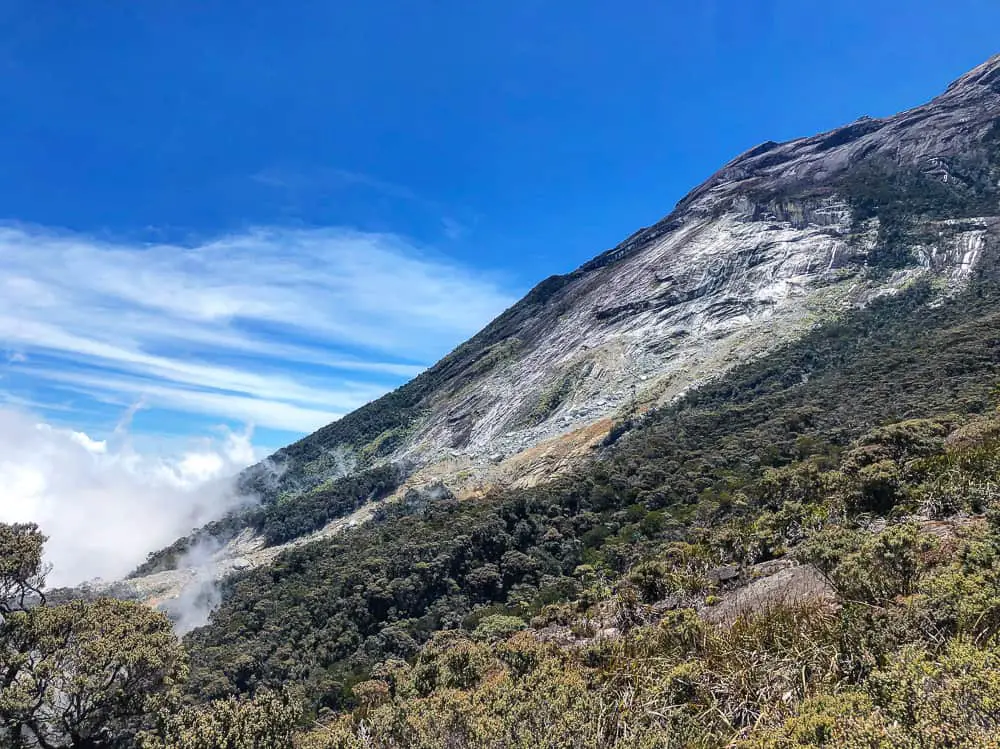 10/ The 1 day climb option is no longer available
Climbing Mount Kinabalu on a budget is impossible.
There used to be a one day, one night climb option (1D1N) which was significantly cheaper than the current 2 day/1 night (2D1N) or 3 days/2 nights (3D/2N) options as no overnight stay on the mountain was required. This option is not offered at all now by any of the Mount Kinabalu climb operators as it's now not possible to buy a 1 day climb permit.
Expect to pay around £400 per person.
You can read more detailed climbing Mount Kinabalu tips on the Mount Kinabalu website here, which goes into detail on the climb hour by hour and what to do the day before, during and day after.
Read more of our posts on Borneo
Family volunteering re-planting the rainforest in Sakau, Kinabatangan River
A complete guide to Turtle Island Borneo
Staying at Bigfin Divers – a remote beach/dive resort 2 hours from Kota Kinabalu
Tips on climbing Mount Kinabalu
Looking to book a room in Sabah? Check out these great options!
Looking to book your next trip? Check out the following services we use!
Kayak to find a cheap plane ticket or AirTreks for RTW tickets.

Booking.com to find a hotel deal.
World Nomads to insure your trip.

Viator for a good quality day tours.

G Adventures for a multi-day guided tour.