Tour du Mont Blanc Blog
Read our day by day accounts on walking from Chamonix to Courmayeur on our Tour du Mont Blanc hike. This post is on Day 5 hiking from Les Chapieux in France to Refuge Elisabetta in Italy. Click here to read the day before (Nant Borrant Refuge to Les Chapieux). Links to all other days on our half circuit of the TMB can be found at the bottom of this post.
Day 5 (stage 3) Tour du Mont Blanc – Les Chapieux to Refuge Elisabetta
Hike time:
8 hrs with kids & lots of stops (compared to 4.5/5 hours, without stops, in the Cicerone guide)
Hike length:
10.5 km of walking (if you take the shuttle bus from Les Chapieux to La Ville des Glaciers)
Water fill ups?
No water supply until you reach Refugio Elisabetta (below)
Trail Overview
Today on your Tour du Mont Blanc hike, catch one of the frequent shuttle buses from Les Chapieux along the tarmac road to La Ville des Glaciers or Les Mottets parking to save an hour off the trail (see details below). The trail then ascends to 2516m as you cross the Col de la Seigne, leaving the Vallée des Glaciers and France behind, as you cross the unmanned border at the top and into Italy!
From the col it's all downhill onto the wide, flat valley floor of Vallon de la Lée Blanche. Find Refuge Elisabetta magnificently perched on a spur of the Pyramides Calcaires, with not one, but two glaciers (Glacier d'Estellette and Glacier de la Lée Blanche) spilling down behind it, almost within reaching distance.
Short Cuts
It's possible to cut around 1.5 hours off the trail today by taking a shuttle bus from Les Chapieux to either La Ville des Glaciers or Les Mottets parking.
I would highly recommend saving your legs by taking this as the trail either walks along a tarmac road (or near to it) so you're not missing any dramatic scenery.
The shuttle bus costs €3.50 per person, children 12 and under are free.
There's an small wooden information centre near the shop in Les Chapieux (there's not much there so don't worry you can't miss it!) which sells tickets and from where the shuttles depart. It's was quite busy so we didn't manage to get onto the first bus but managed to get tickets for the 9am departure to Village des Glaciers. The shuttles run every 30 minutes to an hour.
The shuttle buses run from Les Chapieux to La Ville des Glaciers and Les Mottets  from around the 7th July through to the end of August only. 
I will update the 2020 timetable when it is released towards the end of winter but for now you can see the 2019 timetable here to give you an approximate idea for both the shuttle bus to Les Mottets and La Ville des Glaciers and to Bourg St Maurice here 
 >>>>> – – – – – >>>>> – – – – – >>>>> – – – – – >>>>>
Read our post
Shortcuts via public transport on the Tour du Mont Blanc
>>>>> – – – – – >>>>> – – – – – >>>>> – – – – – >>>>>
After a good night's sleep at Auberge de la Nova in Les Chapieux, head down to the tourist information centre housed in the tiny hut 50 metres from the Auberge. There's a friendly lady there who will help you buy tickets for the shuttle bus from Les Chapieux which stops at La Ville des Glaciers and Let Mottets parking. 
It only takes 20 minutes in the shuttle bus to reach La Ville des Glaciers from Les Chapiuex. Try to get on the first bus of the day (08.30) by booking the night before. We ended up on the third shuttle bus setting off at 9.05 and arriving at 09.25. With today taking 8 hours, it would have been really good to get on the trail a bit earlier.
You will be dropped off in a large car park at La Ville des Glaciers, a small collection of farm buildings. We booked on the next available bus, which only took us as far as here. Some of the buses go as far as Les Mottets parking but as above, it's debatable from which is quicker anyhow.
Note: La Ville des Glaciers is where the Col du Fours alternative route joins the main route.
There's a dairy at La Ville des Glaciers so it was nice to check out the beautiful honey colour cows before we set off on the trail. 
The path from La Ville des Glaciers (1789m) is a gentle wide track and takes around 20-30 mins to climb the 100m elevation to the junction of the path coming up from Les Mottets refuge which is nestled below in the valley. It took us around 40 minutes because we spent so long checking out the cows along the way and taking photos.
Looking down at Les Mottets refuge (which has rave reviews) you can see why it would be a great stop off over night. The views of the surrounding peaks are magnificent with the Aiguille des Glacier dominating in the background. 
You can check out trip advisor's reviews on Les Mottets refuge here.
Les Mottets is one of the most expensive refuges on the Tour du Mont Blanc hike, however it is one of the newest (a former dairy farm restored in 2010) so standards are high.
The best value, if you book early, are the 4 bed dorms at €58 per person half board. They also have private rooms with or without ensuites but these are pricey at €156 and €210 respectively.
I'm sure children could share a private room with parents, however do not know if there is a charge.
Camping is permitted outside the refuge.
>>>>> – – – – – >>>>> – – – – – >>>>> – – – – – >>>>> – – – – – >>>>> – – – – – >>>>>
Read our post
Tour du Mont Blanc Refuges – the Good, the Bad and the Ugly
>>>>> – – – – – >>>>> – – – – – >>>>> – – – – – >>>>> – – – – – >>>>> – – – – – >>>>>
From here the track now becomes steep and zig zags back and forth. This is the most difficult section of the climb as the gradient does mellow out and the gradient becomes less steep once this short section is out of the way, however it's all uphill from here to the Col de la Seigne.
The guidebook (Cicerone) describes this section as "the route to the col is neither long nor particularly arduous, although it has a few short, steep sections", which I can understand as the trail does level off and becomes a more manageable gradient but it does seem particularly long.
Whilst the guide book (Trailblazer) details this section as "the hardest part of the climb is the first section  …. once this is over a narrower trail contours the grassy mountainside, negotiates a couple of streams and then follows a line of cairns across sparsely vegetated slope of false summits to the col."
Both my mother and 10 year old daughter struggled on this climb, particularly towards the top, when the never ending path to the saddle nearly broke them. False summits definitely.
It does seem very much harder than the previous day's climb over two cols, although it is true that the gradient is much less steep. 
In fact it takes us 3hrs and 20 minutes to climb the 646m of ascent from the sign at Les Mottets (1870m) to the top of the Col de la Seigne (2516m).
That's a lot longer than the stated 2 hr 30 mins from the signpost at Ville des Glaciers to the top of the col!
Whether it was the back to back days hiking taking their effect, or merely the false summits teasing us, it was hard to keep spirits high as Col de la Seigne tantalisingly crept nearer. 
Make sure you've enough bribery sugar snacks for kids on this section. It really tested my 10 year old and my mother both. Take a look at the picture of happiness in the photo below!
However, you can also see the fabulous views behind back into the Vallée des Glaciers.
We climbed this section up to the Col de la Seigne on July 11th. You can see below that there are still large patches of snow on the mountainside around us, however none were covering the path and so we did not require our hiking crampons.
Col de la Seigne, a pass known as far back as Roman times, continued to be used throughout the Medieval period. The favourable climatic conditions during this era meant that mountain passes at high altitudes could be used for a large part of the year.


However, it was not until 1863 that the Tour of Mont Blanc, and above all Col de la Seigne, was given pride of place in the tales of English tourists and mountaineers.

 
It's a great relief when the summit approaches and you finally see the cairn marking the top of the Col de la Seigne. 
This is the border between France and Italy and it's a wonderful feeling to have one country on your back and another one before you.
It's also the highest point on this 6 day itinerary of trekking half the Tour du Mont Blanc circuit.
It's worth being mindful, as you stand admiring the view this frontier border give you, that this high mountain pass saw heavy fighting during WWII between alpine forces of both France and Italy. 
You can now see Mont Blanc again, her white dome bright against the blue sky. Of course, this is entirely weather dependant. In fact clouds came in quickly during the 45 minutes we rested on the summit so I didn't manage to entirely capture Mont Blanc in full visibility.
Next to the cairn there is a golden disc with engraved waypoints on directing you to various cities in the world. As well as these there are a couple of stone blocks with F and I engraved in them, presumably meaning France and Italy. There doesn't seem to be much information about them so I don't know what the 0/7 means. Do you? If so, let us know in the comments!
>>>>> – – – – – >>>>> – – – – – >>>>> – – – – – >>>>> – – – – – >>>>>
Read our 
Tour du Mont Blanc Packing List
>>>>> – – – – – >>>>> – – – – – >>>>> – – – – – >>>>> – – – – – >>>>>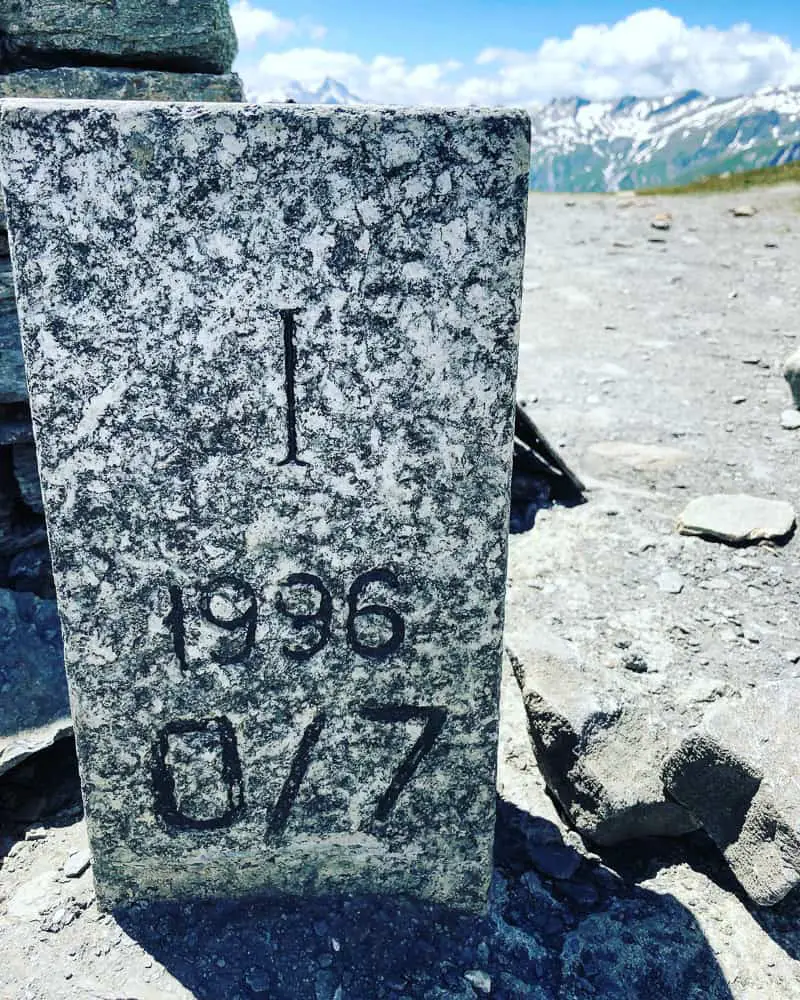 Sheltering from the gusty wind in the lee of a bluff, we happily munched on our pique nique lunch (packed lunch) that we'd bought from Auberge de la Nova (€12 each) and admired the view before us.
The white clouds danced above our heads, soon obscuring the dome of Mont Blanc, however the peaks of the massif still rose in splendour, particularly the Aiguille Noire de Peuterey, who we would continue to follow as we descended the easy route down from Col de la Seigne.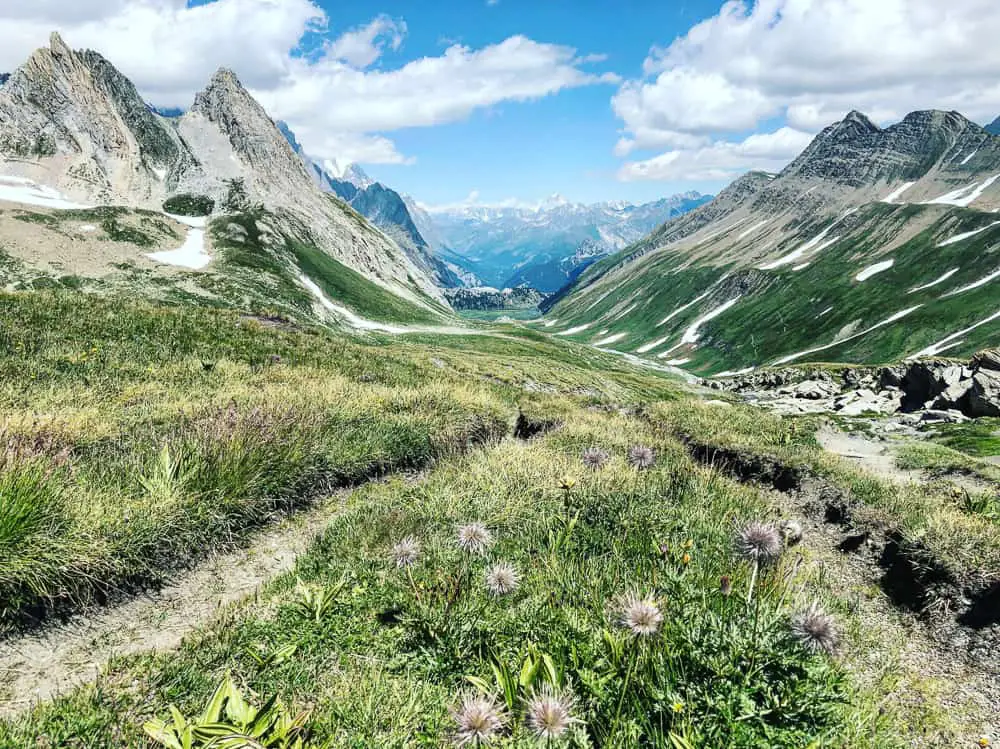 Having conquered Col de la Seigne, it's all down hill now to Refuge Elisabetta, a further 4.5 kilometres along the trail.
As you descend this first section, be sure to scrutinise the rocky crags to your left. We spotted lots of marmots here to my daughter's delight.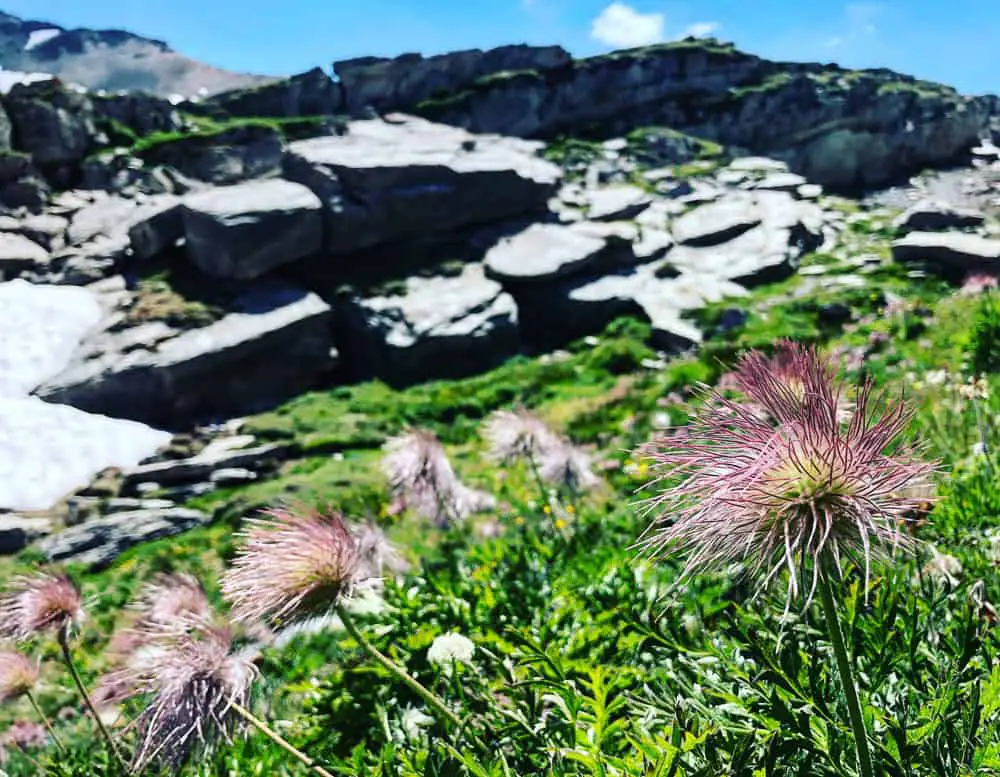 The trail down into the Vallon de la Lée Blanche is easy to follow. A high ridge line guards the valley to the right, whilst the jagged, savage peaks of the Grand Massif du Mont Blanc dominate to your left.
Half an hour after descending you will pass the tiny former Italian border post, now converted into a museum and mountain information centre.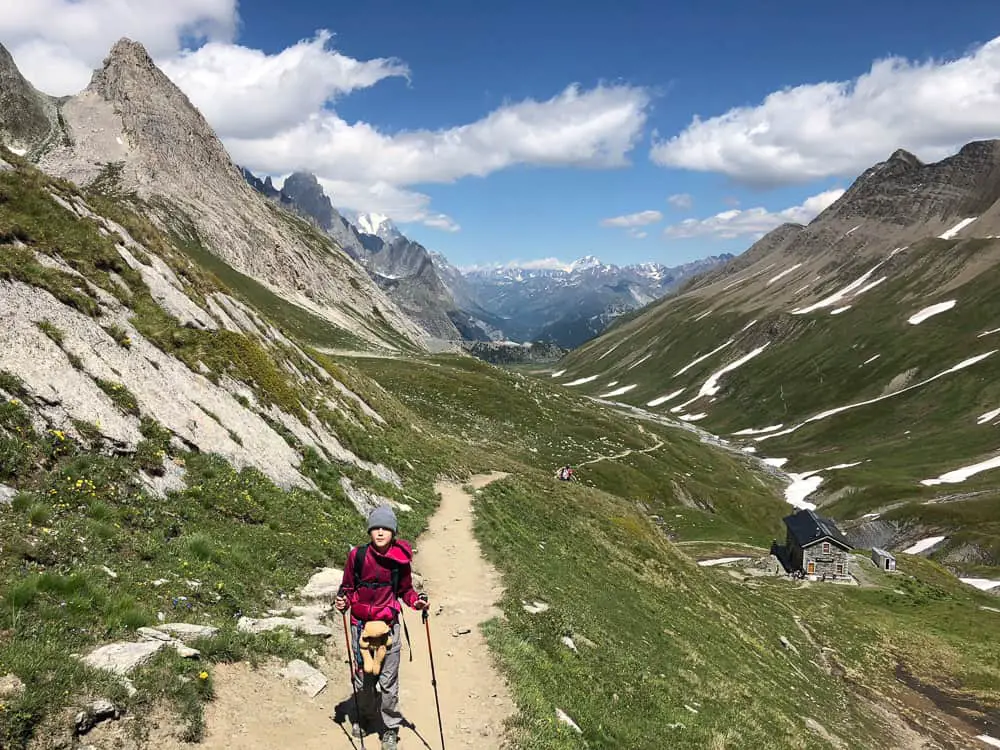 This information centre is really interesting. I'd really recommend you stopping to stay a while. Inside they have fascinating displays on the flora and fauna of the region, plus information on the former customs house it used to be.  
It's the perfect place to shelter in bad weather also.
Plus it has WI FI!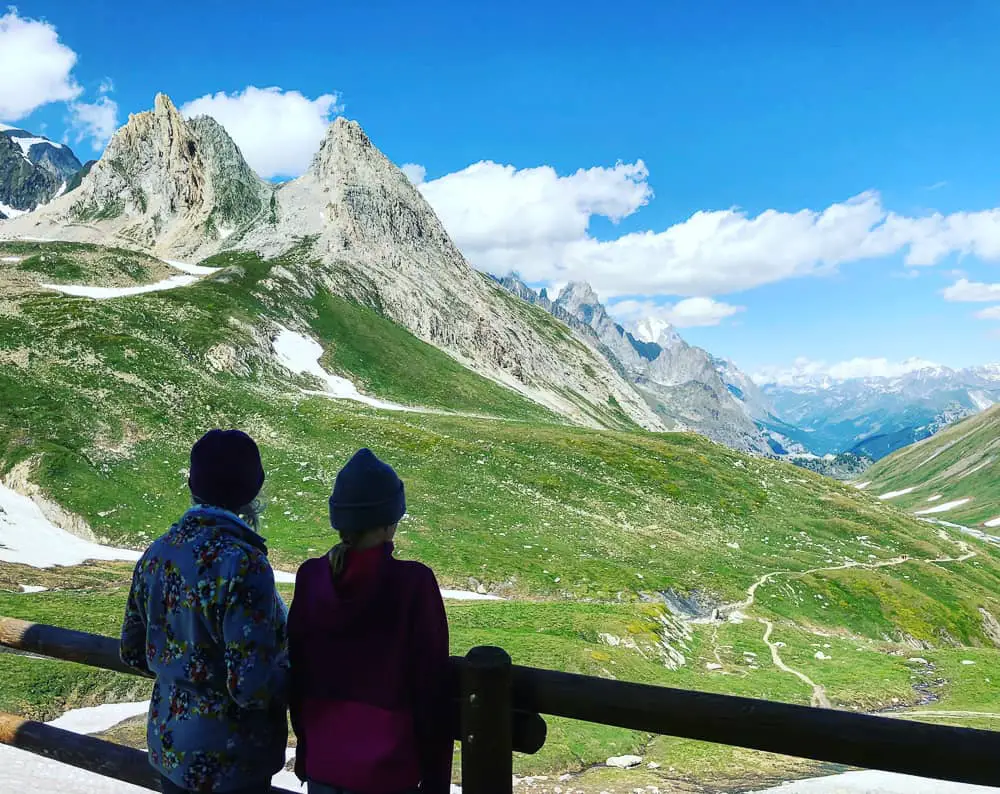 It takes a further hour from La Casermetta (2365m) descending into the valley to be able to spot Refugio Elisabetta which hides itself perched on a precarious spur.
The path keeps descending crossing a little wooden bridge, which is said to be washed away in heavy storms. See the Pyramides Calcaires (the two peaks) behind which dominate the landscape on the descent.
The path descents to the valley floor and the wide track now skirts along the side of the valley floor of boggy wet marshland.
The rocky spear of Aiguille Noire ahead of you know becomes your focus as the anticipation of arriving at Refugio Elisabetta grows and spurs us on.
Finally we round a bend to see this famous refuge clinging to the landscape on a grassy spur extending from one of the Pyramides Calcaires that we've been skirting for the last hour. Indeed, the backdrop to the refuge of not one, but two glaciers snaking down the jagged rocks behind is breathtaking. 
It's the remote nature of Refugio Elisabetta and the sheer magnificence of it's setting that attracts many TMB trekkers to stop at this basic, overcrowded refuge. The numbers can swell up to 100 in peak summer months and dinner can be utter chaos.
After 8hrs on the trail today we were hugely happy to reach our destination. The happiness quickly evaporated however on being shown to our reserved dorm beds. We'd been allocated a sleeping platform snuck into small alcove high in the attic, with no windows, and the door to the staff accommodation literally where our heads lay.
Thankfully, and surprisingly we were able to change to a private 2 bed bunk room (with a pull out) with marvellous views out over the glacier! The universe certainly provided and it was with great relief that we shook off our now heavy packs and relaxed into our new quarters.
Refuge Elisabetta – Good to Know
If you value your sleep, don't even consider sleeping in one of the cavernous dorms at Elisabetta. One large dorm to the rear (below) even has a three tier sleeping platform.
There are only a few private bunk rooms which are nice and have fantastic views over the glacier.  Book early if you want to secure one of these.
The refuge cannot take deposits (it doesn't accept credit cards and is not on the online TMB booking system) so do bear in mind that until you rock up, it's hard to determine if your booking actually exists or not. We had no problems at all, but just keep your fingers crossed & print out any email confirmation that you have.
If Refuge Elisabetta is fully booked, keep trying. I've been told by TMB guides that tour companies will blanket book beds and then cancel at late notice, so email or call beforehand even at late notice, to see if there any vacancies.
Don't bother buying a €2 token (jeton) for a hot water shower …. it didn't work!
In peak season, this refuge accepts more trekkers than it's facilities (& staff!) can handle. With between 80-100 trekkers in situ, bear in mind that you met with semi-organised chaos. Dinners are served in two sittings. 
Don't expect the wifi to work but DO expect jaw dropping, exceptional views of the two residence glaciers and of the swooping vista down the valley.
Related TMB content
Read day 1 (stage 10) Tré-le-Champ to La Flégère
Read day 2 (stage 11)  La Flégère to Les Houches
Read day 3 (stage 1) Les Houches to Les Contamines (& onto Nant Borrant refuge)
Read day 4 (stage 2) Nant Borrant Refuge to Les Chapieux
Read day 5 (stage 3) Les Chapieux to Refugio Elisabetta
Read day 6 – Tour du Mont Blanc – Stage 4 – Rifugio Elisabetta to Courmayeur
Tour du Mont Blanc Packing List
Ultimate guide to your self guided Tour du Mont Blanc
Tour du Mont Blanc Refuges – the good, the bad & the ugly
Tour du Mont Blanc Difficulty? Transport options on the TMB