Ski slopes boost digital technology to enhance winter holiday experiences
As the world's gone techier, so have the ski slopes. Now, thanks to BMW sponsoring many ski resorts in the Alps, such as Chamonix, you can measure your ski statistics, download a video clip of your speed race, print out altimeter readings and get free digital photo experiences with yours loved ones in some pretty epic mountain view points. Ski resorts are ramping up the mountain interactive experience factor big time to enhance Winter holidays and we love it!

Below we talk about how to use BMW Mountain's digital experiences for the perfect Chamonix photo with jaw dropping mountain backdrops, what our ski metrics are FOR THE WHOLE SEASON, and why we love altimeter readings so much.
Digital photo experiences in Chamonix
The best viewpoints from Chamonix's mountains have been captured by the installation of a number of automatic cameras which operate on a ski pass swipe system. You can then download your photos free on www.bmw-mountains.com. You can also find BMW Mountains in various other ski resorts across the Alps such as Courmayeur, Val D'Isere, Megève, Grindelwald and Courchevel. These cameras operate during Summer and Winter so whether you're hiking the Alps or skiing them, be sure to check them out.

Check out your piste map and look for the camera icon to find the locations of each camera or go over to to Mont Blanc Natural Resort's weblink here. There's one in each ski area and each view is to die for! 
Most photo points are clearly visible at the top of a particular lift, with a small area cordoned off with blue netting and adorned with BMW XDrive banners.
The digital photo experience cameras are super easy to use. I'm astounded that I often see people taking their own photos in the photo experience areas, clearly not getting that there is a camera there for you to use!

Get your group into position before one of you darts back to the camera to swipe your ski pass over the scanner.

The cameras work with any ski pass, a daily one, a weekly one, our season passes and even the girls' school ski passes.
It's a great memento of cherished holiday moments. Below immortalized a perfect day on the slopes with some of my girlfriends out on holiday.
Log onto www.bmw-mountains.com at the end of your day to download your free high resolution photo. You have to quickly register first but it only takes 2 mins.
Occasionally it may take a day or so for your photo to load, this seems to only be in peak periods. Or simply wait until you get home to download them all. The BMW Mountain's site is a bit clunky. It could be a bit more user friendly with it's navigation and ease of use – something BMW Mountains could do with re-visiting before next ski season but it's easy enough to register and download your free photos.

Our favourite photo points in Chamonix are the mid station at La Flégère, the very top of Brévent and Les Houches.
You can also now get a digital photo from the famous Step into the Void glass box experience at the top of the Aiguille du Midi. Scan your pass before entering the glass box to get three different camera perspectives. This is the only digital photo experience that you do need to pay for if you want high resolution prints (€15 from the shop at the bottom of the telepherique) although you can print low resolution prints off from your account on www.bmw-mountains.com.
BMW XDrive
Want to get your challenge your competitive streak and get your heart racing? BMW Mountains also have XDrive speed race areas on each Chamonix ski mountain. Here you can test your speed racing through slalom gates to beat the clock. Every month top times get prizes and anyone reaching level 4 are put forward into the BMW XDrive Cup draw to win a BMW!
Not me though – my time isn't fast enough! There's a timer at the bottom and cameras (should) be following you down capturing your descent on video which you can then download.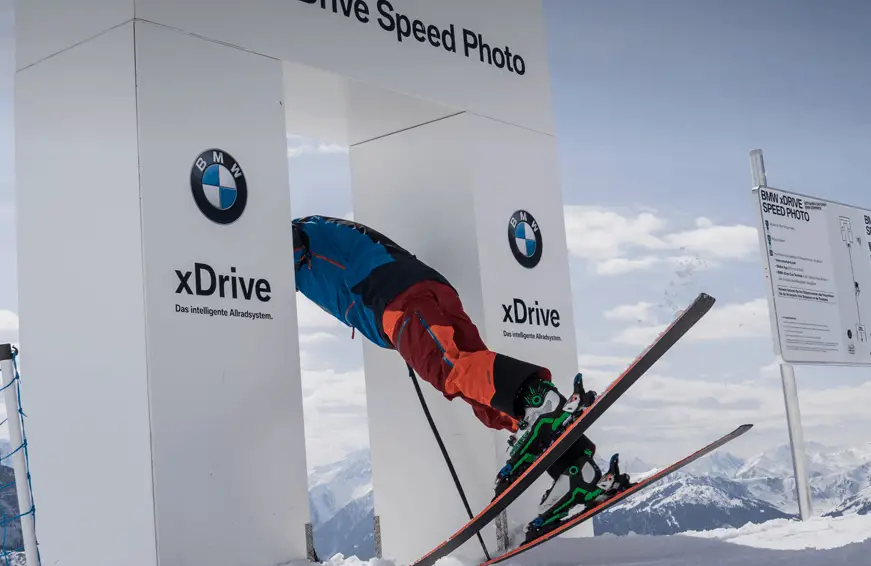 We were a little disappointed with our videos online from the BMW Mountains website. We came out of the start gates and skied out of view but unfortunately the shot didn't move with us down the hill. We're assuming that some of the cameras weren't working properly after the hammering they've had this season with the amount of snowfall we've had. We'll definitely be testing the BMW XDrive again at the beginning of next ski season again. Don't let you put this off – the kids love doing it and getting their times at the bottom.
Ski metrics – using BMW Mountain to check our ski season stats!
As the ski season here in Chamonix sadly draws to a close, it's now that I like to analyze our family ski metrics – how many days this season we've each skied and other stats. Before now we've merely ratcheted up our ski days on a handmade chart stuck up on the fridge, each of us adding a stroke for each day we'd skied against our names. Invariably some days we forgot! (and then remembered and would add a few extra for good measure!). The reliability of my eldest's ski chart left a lot to be desired! Now using the BMW mountains website we can scan in our ski pass and see all our ski metrics in all it's unadulterated fashion. No cheating.
Obviously Mr Family Freestylers weighs in the highest – currently on 60 ski days this season. He could easily still accrue another 10 days no sweat. I've come in at a poor 21 days. I'll go easy on myself though – the ACL recovery this season has slowed me right down but at least I'm back on the mountain. December I was still unable to ski. At the end of January, the physio gave me the thumbs up to start gentle snowboarding again but having then overcooked it, I spend most of February in pain and unable to get back up the hill until March! Overall I've had a brilliant season – getting back on the snow after a year out was wonderful and being able to ski as a complete family again was awesome. My girls rip now! They've come in at 31 and 37 days over the season – not bad seeing they're in school full time.

Whether you're in the mountains for a season or a week's ski holiday, it's fun to compare stats (in a friendly way!) with family or other members in your ski party.
Altitude meter readings – how much fun are these?
Our most favourite of all the tech aspects of skiing are the altimeters at the bottom of each Chamonix ski mountain. My girls LOVE these. Swipe your ski pass over the radar and the screen pulls up your ski metrics for the day. What's even better about the altimeters are that you can print them out there and then. Press EMPRIMER and the machine will spit out your reading. The girls love having these to take home and compare against other days.
Have you tried the digital photo experiences in Chamonix? We'd love to hear from you with your experiences of how ski resorts have now gone digital.

Best place to hire skis in Chamonix?
We would recommend hiring skis, snowboards and any other winter kit from Namaste in Argentière. They have a super friendly team, have the latest equipment to hire (not super old skis!), they have lots of kids kit. They even have a little aprés-ski bar in the shop. Good bunch.