If you're on a whistle stop tour of Sri Lanka or just want to maximise your days on your Sri Lanka trip, taking the direct train from Kandy to Galle is easy, dirt cheap and cuts out the need of an overnight stay in Colombo.
The daily 5am direct train from Kandy to Galle in fact carries on from Galle along the south coast to Matara. This means you can also book directly from Kandy to say Weligama if you are intending to travel onwards from Galle the same day along the South coast which offers some of the best beaches in Sri Lanka and top surf breaks in the country.
Check the Sri Lanka railways map below to see if your south coast surf destination can be reached via railway.
* this post contains affiliate links which if you click on them and make a purchase, we will make a small commission at no extra cost to yourself
IMPORTANT: Booking train tickets BEFORE arriving in Sri Lanka:
It's important to know that it's not possible to book train tickets direct with Sri Lanka Railways if you're looking to book BEFORE travelling to Sri Lanka. You can only buy tickets once you're in Sri Lanka direct with Sri Lanka Railway, so if you're planning your trip and would feel happier pre-booking your train or bus tickets before you arrive in Sri Lanka, you'll need to book through 12GoAsia who are a reliable agency specialising in train and bus transport throughout Asia.  It's necessary though to order your tickets through 12GoAsia more than 32 days before you want to travel which gives them time to arrange your ticket. Always choose the FLEXIBLE option in case your first choice isn't available ie you want first class but you'd happily take 2nd class if first is fully booked. You can then pick up your tickets at an office in Colombo or for a small fee you can have them delivered to your hotel.  Check out the latest prices on train and bus tickets in Sri Lanka here if you'd prefer to pre-book your tickets before arriving in Sri Lanka.
KANDY TO GALLE TRAIN – FAST FACTS
➳ ONLY 1 DIRECT TRAIN A DAY FROM KANDY TO GALLE DEPARTING AT 5AM
➳ YOU CANNOT RESERVE TICKETS ON THE KANDY TO GALLE DIRECT TRAIN ON ANY DAY
➳ TICKETS COST 320R ADULT / 160R CHILD (2020)
➳ JOURNEY FROM KANDY TO GALLE TAKES 6 HOURS
➳ SUNDAYS ARE THE BEST DAY TO TRAVEL ON THE KANDY TO GALLE TRAIN
➳ DISTANCE: KANDY TO GALLE – 222KM
➳ KANDY RAILWAY STATION TEL NO – 081-2 222 271
We would highly recommend you taking the train at least once on your Sri Lanka itinerary.
Trains in Sri Lanka are cheap, on time and are the perfect chance to watch Sri Lanka's spectacular scenery unfold.
Inhaling a country by rail really lets you get to know a country just that little bit more.
Sri Lanka travel – private driver v's train travel
We've travelled a lot by private driver in Sri Lanka (read our post Q&A on travelling around Sri Lanka with a private driver) and I hear you if you're perhaps anxious about taking public transport in Sri Lanka, especially if you're a first time traveller Sri Lanka.
Fear not. Let me tell you the Kandy to Galle train is the perfect first train journey in Sri Lanka (especially on a Sunday! – read on to find out why Sunday is THE BEST DAY to travel from Kandy to Galle).
The train from Kandy to Galle is safe, comfortable and unbelievably easy on your budget. It's also a fantastic way to see the stunning Sri Lanka countryside, that travel with a private driver doesn't always provide and a perfect chance to see local life unravel with vendors hawking their wares and local families getting from A to B. 
Our advice is to save a private driver for routes where the train doesn't run so you can save a packet on routes you can easily do by train.
You can see a map of the Sri Lanka railway routes below so you can plan which journeys are easy to do via rail.
Sri Lanka Railway Map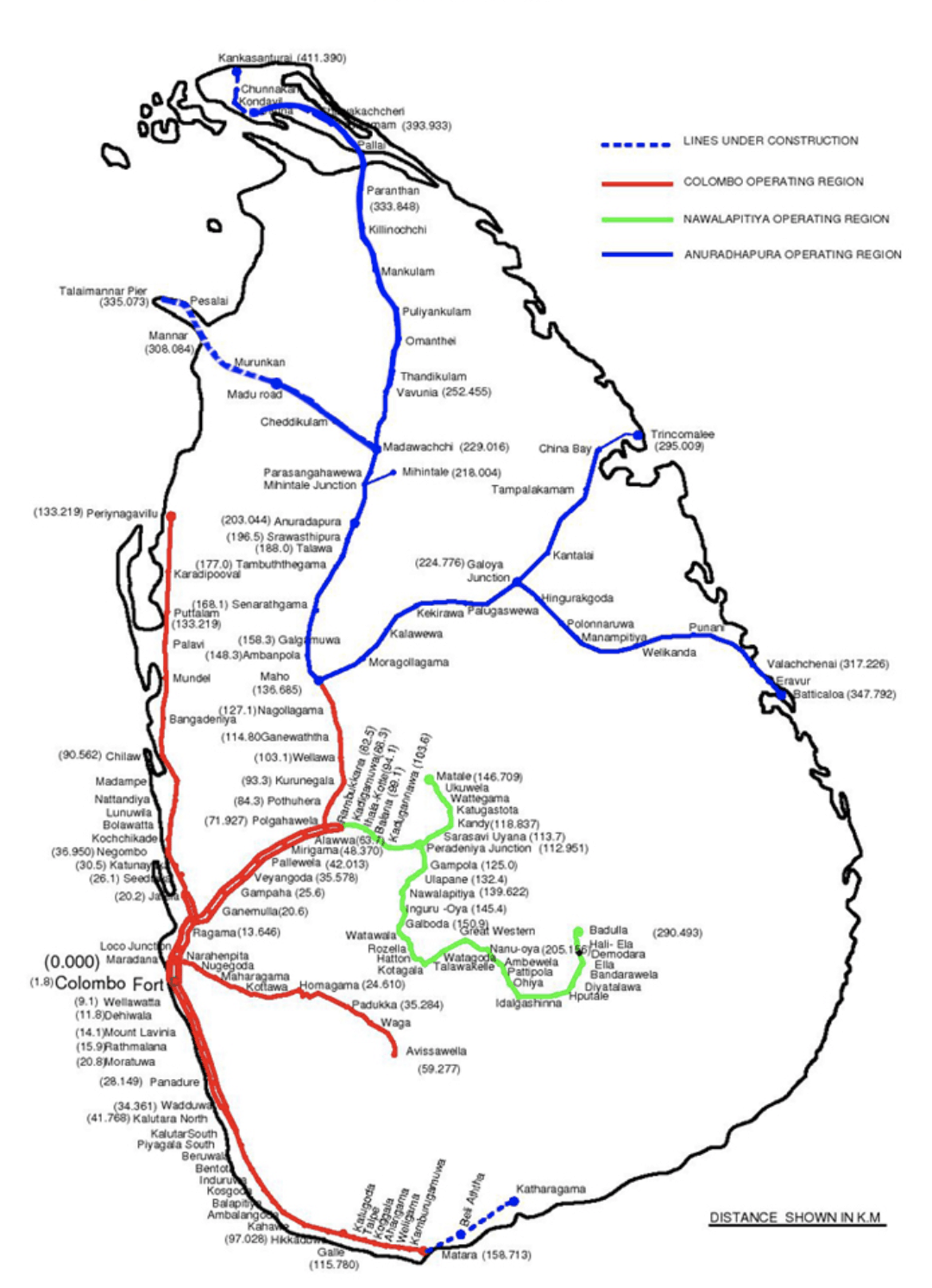 The railways were built by the British colonial government in 1864 to transport tea and coffee from the hill country to Colombo for export, therefore the network of railways in Sri Lanka does not cover the whole island.
The main railway routes that are easy to take and regularly taken by tourists are:
1/ Colombo – Kandy
2/ Kandy to Ella
3/ Kandy to Galle
4/ Colombo to Galle
5/ Colombo to Jaffna
We've been to Sri Lanka twice now and each time we've taken one trip by train.
On our first month long trip to Sri Lanka we caught the Kandy to Ella train (which is labelled one of the most stunning train journeys in the world …. it is … and therefore inevitably rammed with tourists. The first & second class carriages often sell out in peak weeks so if you're travelling then you might want to consider booking your tickets before you arrive in Sri Lanka. You can book up to 32 days before online – check prices and book your tickets on the famous Kandy to Ella train here & have your tickets waiting at your hotel on your arrival in Sri Lanka.
And on our most recent trip, we caught the Kandy to Galle train which we will without further ado, give you all our knowledge on, from whether to book second class or third class tickets to which side to sit of for the best views. 
Our Ultimate Guide to taking the Kandy to Galle train
The Kandy to Galle train is direct which makes it the fastest way to travel to Galle. The train does go via Colombo but only stops there for 15 minutes and you don't need to get off.
Kandy, the former capital of Sri Lanka, is the cultural hub of the country. It's rare that visitors don't make the effort to visit Kandy, the gateway to ancient cities of Anuradhapura and Polonnaruwa (both world heritage sites) and the incredible rock temples of Pidurangala Rock or Lion's Rock at Sigiriya.
Kandy is also perfectly located to access Minneryia and Kaudulla National parks which offer close wildlife encounters with elephants and other spectacular wildlife.
Many tourists choose to visit Kandy and the surrounding areas of the central province first on their Sri Lanka itinerary to check out Sri Lankan's ancient culture before heading south to the beach to relax. 
Catching the Kandy to Galle train means you can easily move from cultural explorations or safari encounters directly to the beaches and surf of the South coast without staying a night in Colombo.
The train stops often, and it's lovely to sit at the doorway and watch the Sri Lankan countryside speed by.
The Kandy to Galle train leaves every day from Kandy at 5am to Galle and the follows the south coast as far as Matara, which is the end of the line.
The Kandy to Galle train arrives in Colombo at 08.17 where it will wait for 18 minutes and then depart for Galle at 08.35. The 5am Kandy to Galle train is direct so you do not have to change trains at Colombo.
The train arrives into Galle at 11.18am and onwards arrives in Matara, half way along the south coast at 12.27.
Note: the 5am Kandy to Galle train didn't show up on any online Sri Lankan train schedule which worried me slightly, but I knew it definitely running as I'd asked the ticket counter at Kandy train station a week before "it runs every day at 5am, but you can't book" I was told. Every local I spoke to also said this was the case. 

Reserving tickets on the Kandy to Galle direct train
You cannot reserve tickets for the daily 5am Kandy to Galle train either at the station or online.
Yes you can reserve tickets for trains later in the day from Kandy to Colombo but not for the 5am direct train. You'll need to get to the station for at least 04.30 on the day you wish to travel, to buy your ticket – earlier if you're intending to catch the train between Monday and Friday.
Of course, catching the red eye means getting up ridiculous early, but the up side is that you will be on the south coast of Sri Lanka by 11.30am instead drawing out your travel day the entire day if you take two separate trains and change in Colombo.
Alternative trains to get to from Kandy to Galle
If the 5am train is just too early to contemplate, you can get to Galle by taking two separate trains to Galle, changing in Maradana or Colombo. Maradana is the stop before Colombo Fort. It's a large connection hub and it's easier to bag a seat in Maradana, than Colombo Fort.
The Express Train leaves Kandy at 10.30am to Maradana daily (arriving 13.54). Remember to sit on the left hand side of the carriage for this section.
The train to Galle then leaves from Maradana at 15.40 and arrives at Galle at 17.34. You cannot buy a ticket all the way through from Kandy so you will need to buy the Galle ticket at the Maradana ticket counter. After Maradana the train will then go through Colombo Fort which will be very busy with lots of people getting on (you will feel smug about getting on in Maradana).
You can check the Sri Lanka railway train schedules online, but the 5am train from Kandy to Galle was never once listed here on every time I checked. Strange.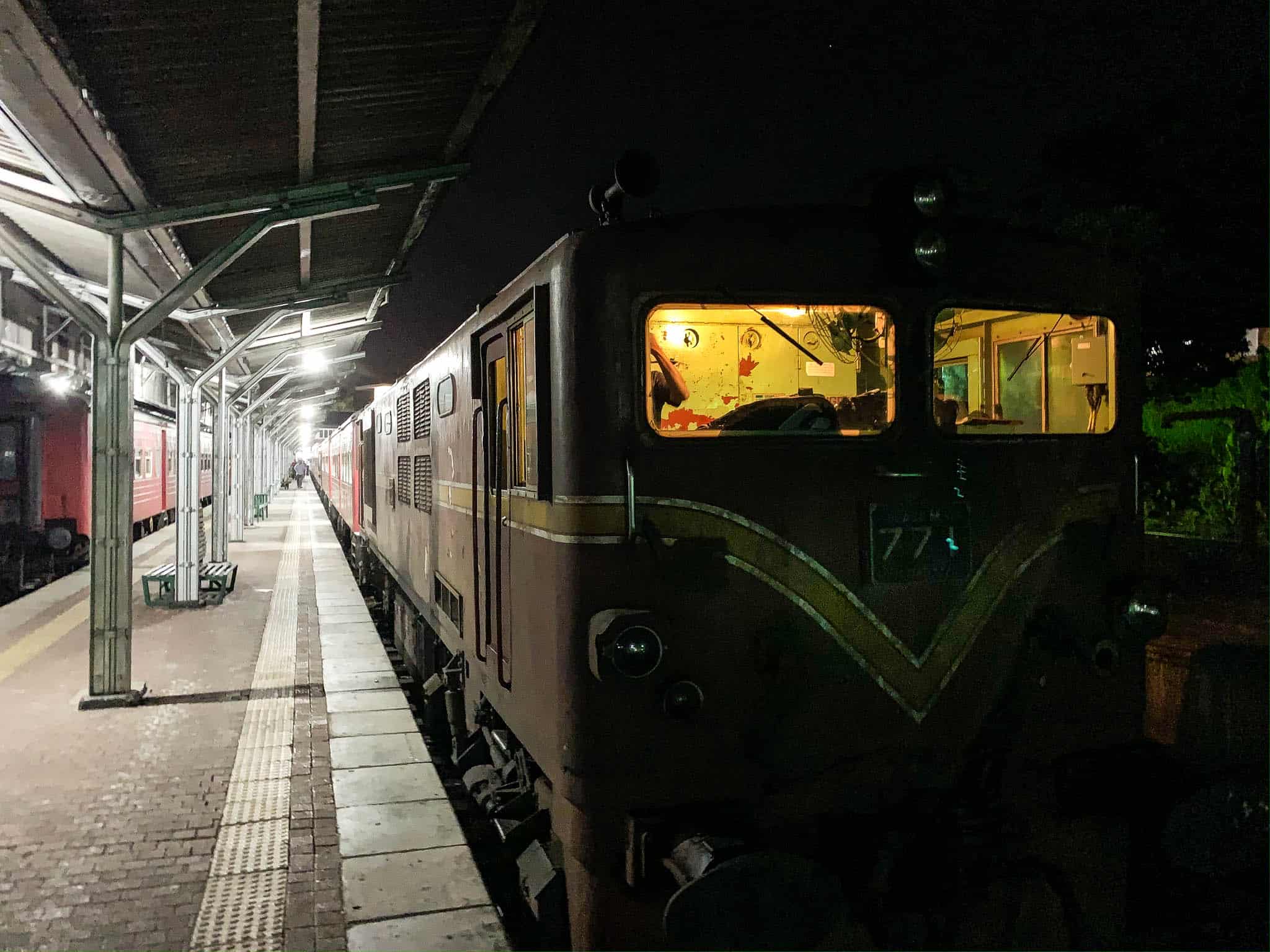 Getting a seat on the daily Kandy – Galle direct train
The 5am Kandy to Galle train is a commuter train. It's packed with locals who travel to Colombo for work. It's a super busy line and with no facility to reserve tickets, you need to be at the train station super early to get a seat (unless you're travelling on a Sunday).
If you are planning to catch the Kandy to Galle train from Monday to Friday, it's imperative to get to the station early to buy your ticket. There will be a queue to buy tickets and Kandy train station does not have a separate counter for foreign travellers or first class, so you will have to queue with everyone else. Get to the station between 04.00 – 04.30am.
Don't count on hailing a tuk tuk so early in the morning on the streets of Kandy! Be sure to arrange your tuk tuk or taxi the night before from your accommodation.
A word of warning – your ticket doesn't guarantee you a seat. The ticket office will keep on selling tickets well beyond the number of seats on a train. Basically they never sell out of tickets – those unlucky enough not to have a seat will just stand.
Seats are taken on a first come, first serve basis so once you have your ticket, proceed to the train as quickly as possible and get a seat. Don't worry about faffing going to the toilet etc on the platform – the train has toilets on so you can find your seat first and then go to the loo on the train.
This advice only applies during the week though – Sundays are super quiet and we very leisurely were able to choose our seats, with plenty of time to spare.
When the train arrives in Colombo guard your seat. This means sitting in it! Seats cannot be reserved by keeping an item of clothing or bag on the seat like at home. In Sri Lanka it is perfectly acceptable to just move the item of clothing or bag and sit in the seat. 
How much is the Kandy to Galle direct train?
The current price (February 2020) for a one way ticket from Kandy to Galle is 320 rupees for an adult and half price (160 rupees) for a child.
The current rate of exchange (March 2020) means that a one way ticket from Kandy to Galle is £1.41/$1.73/€1.56 per adult and 70p/86c/78c per child! Yep, like I said, dirt cheap!
We love that children's tickets are just an adult ticket ripped in two!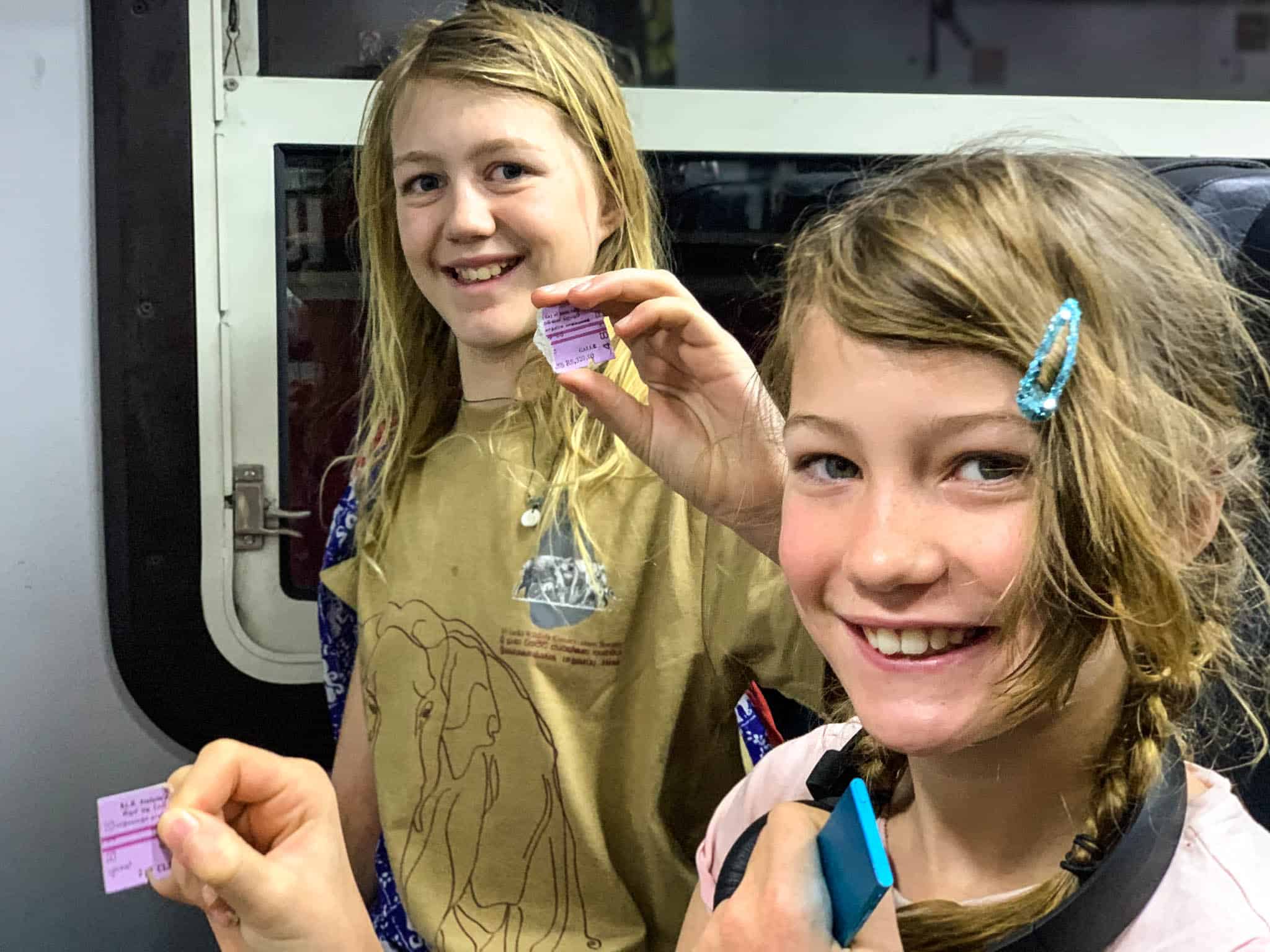 OUR MASSIVE INSIDER TIP
TRAVEL THE KANDY TO GALLE TRAIN ON A SUNDAY
The 5am daily Kandy to Galle train is a busy commuter train during the week with workers piling on to get to Colombo every day.
The 12 carriages aren't reduced on Sundays which means it's a very quiet day to travel.
Travelling on a Sunday    ➳ no queue at the ticket counter
                                         ➳ have your pick of seats.
If you are reading this whilst planning your Sri Lanka itinerary, I would hugely advise you to work into your schedule to travel on the train from Kandy to Galle on a Sunday.
Galle to Matara
Another great thing about the direct Kandy to Galle train is that the train actually carries on along the south coast from Galle to Matara.
This means you can even book a ticket direct from Kandy to Weligama or one of the other laid back surf coastal towns between Galle and Matara.
We only discovered this in situ after buying our tickets from Kandy to Galle. Our end destination was Midigama, the delightful low key neighbour of Weligama.
I was intending to catch a tuk tuk from Galle to Midigama after our arrival by train in Galle. I didn't know that the railway carried on along the south coast or that it was possible to get to Weligama by train. 
Overhearing the loud speaker on the train announcing that the train would continue all the way from Galle to Matara, I realised we could have booked tickets direct to Weligama.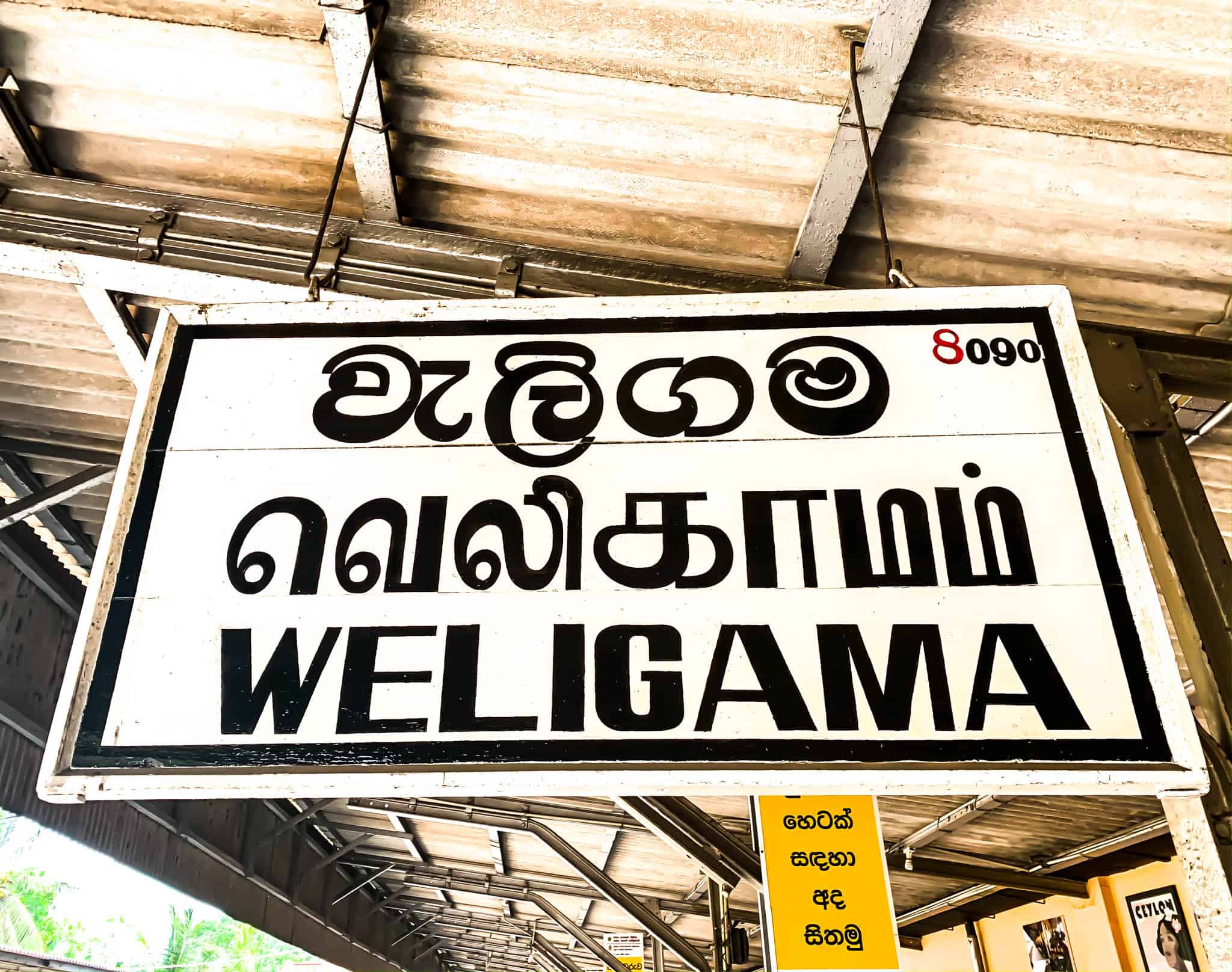 We were faced with the problem of wanting to stay on the train from Galle to Weligama but having no ticket was a problem. We didn't want to be stopped and fined or worse.
There was no conductor on the train to discuss the problem with or to buy the ongoing ticket from and we were worried if we made a run to the ticket office in Colombo in the 15 minutes it was waiting there, we could possibly miss the train due to long queues.
In the end, we made a dash for it in Galle and the ten minutes waiting time was easily enough time to buy our ongoing tickets.
Tickets from Galle to Weligama were 60 rupees per adult/30 for a child. The journey took a further 30 minutes, and Weligama was the third stop from Galle (first being Thalpe, and the second being Ahangama)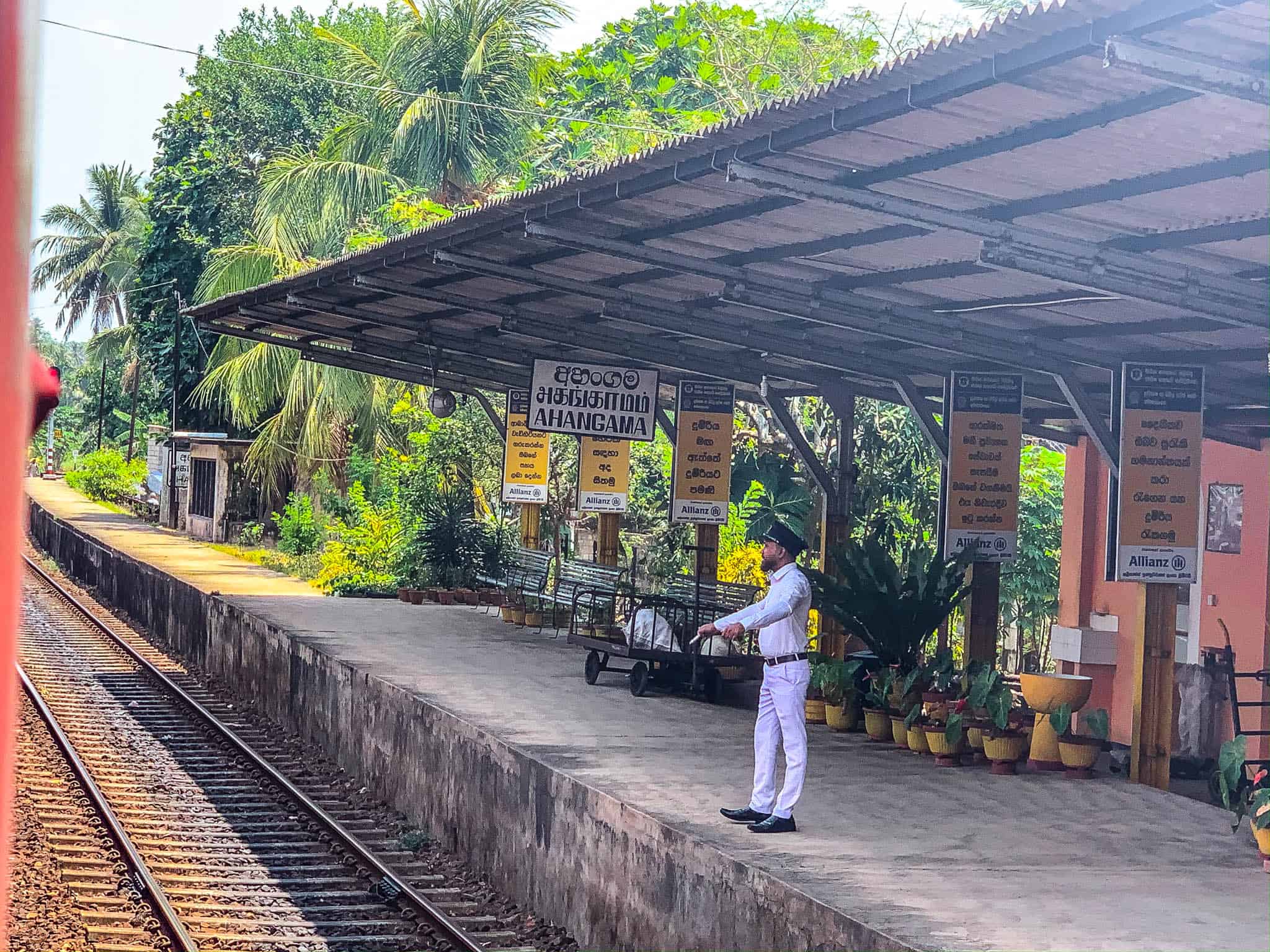 Should I buy a 1st class, 2nd class or 3rd class ticket?
There are no first class carriages on the daily 5am direct train from Kandy to Galle.
This leaves you with a choice of either 2nd class or 3rd class.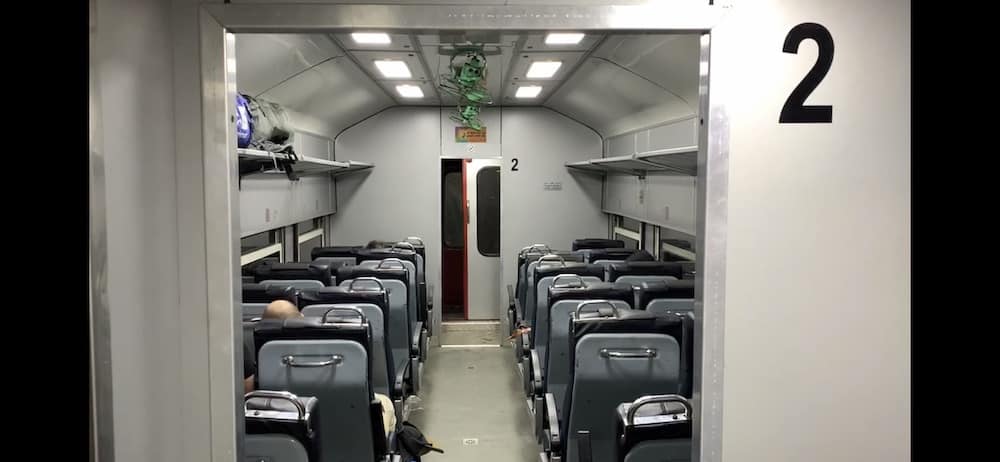 Second class is comfortable with separate seats, two on each side of the aisle.
Third class have benches which means that there is no separation of space, meaning there will be lots of squishing up as the train gets fuller and fuller.
I've included photos of second class (above) and third class (below) so you can see for yourself what the difference between each class is.
We would advise 2nd class on the Kandy to Galle train purely for more comfort.
There's not much in price difference between 2nd and 3rd class, around 100 rupees difference.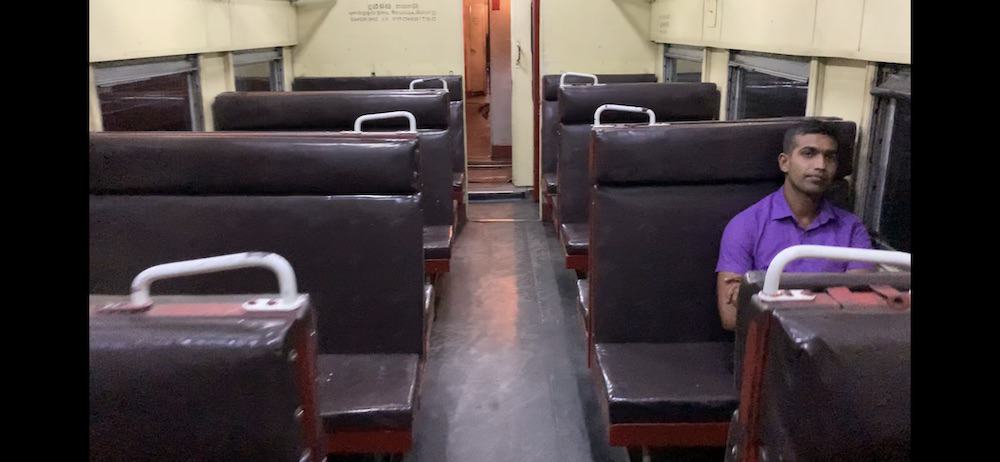 Third class have bench type seating which means that you'll be budged up and there could be 3-4 locals squeezed on with you.
Second class has separate comfortable seats with hand rests, two on each side of the carriage. Your seat is your seat.
Watch our short video here showing you the difference between 2nd class and 3rd class.
Remember there's no 1st class on the 5am daily train from Kandy to Galle.
Luggage storage on the Kandy to Galle train
The luggage racks above the seats in both 2nd & 3rd class have plenty of room for large rucksacks.
It's comforting to know your luggage is directly with you rather than down the end of the carriage in a luggage store.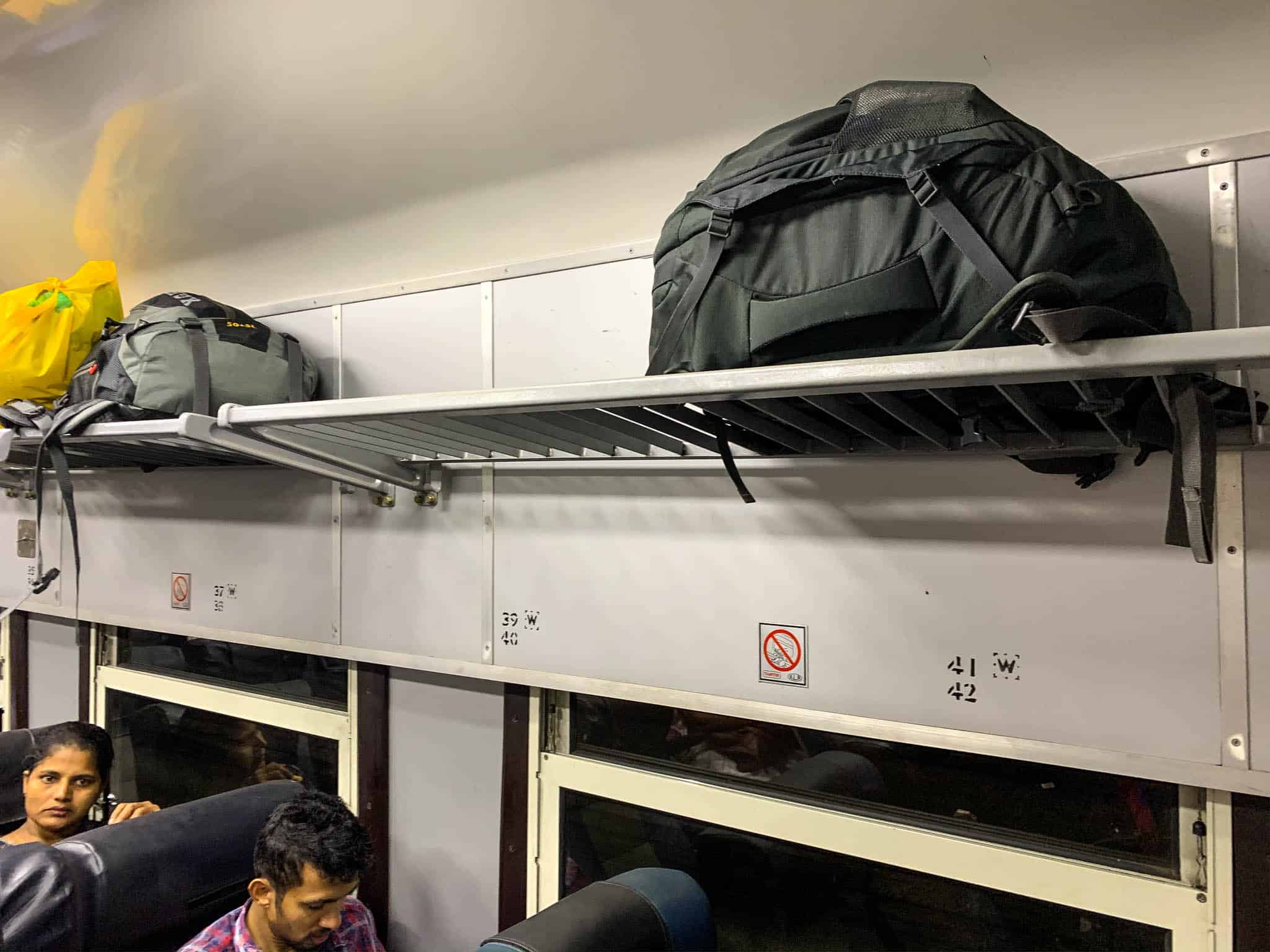 Which side of the carriage to sit on on the Kandy to Galle train?
Good question!
The journey from Kandy to Colombo has the best views on the left hand side of the train, however from Colombo to Galle the stunning coastline is on the right.
You will have to decide on which side to sit on as you will not be able to change half way in Colombo as the train will be too full.
As we were a family of four travelling,  we took 2 seats on either side so we could swap between each other whenever we wanted.
If you are travelling as a couple or solo, choose the right hand side to take advantage of the superior coastal views once the train pulls out from Colombo.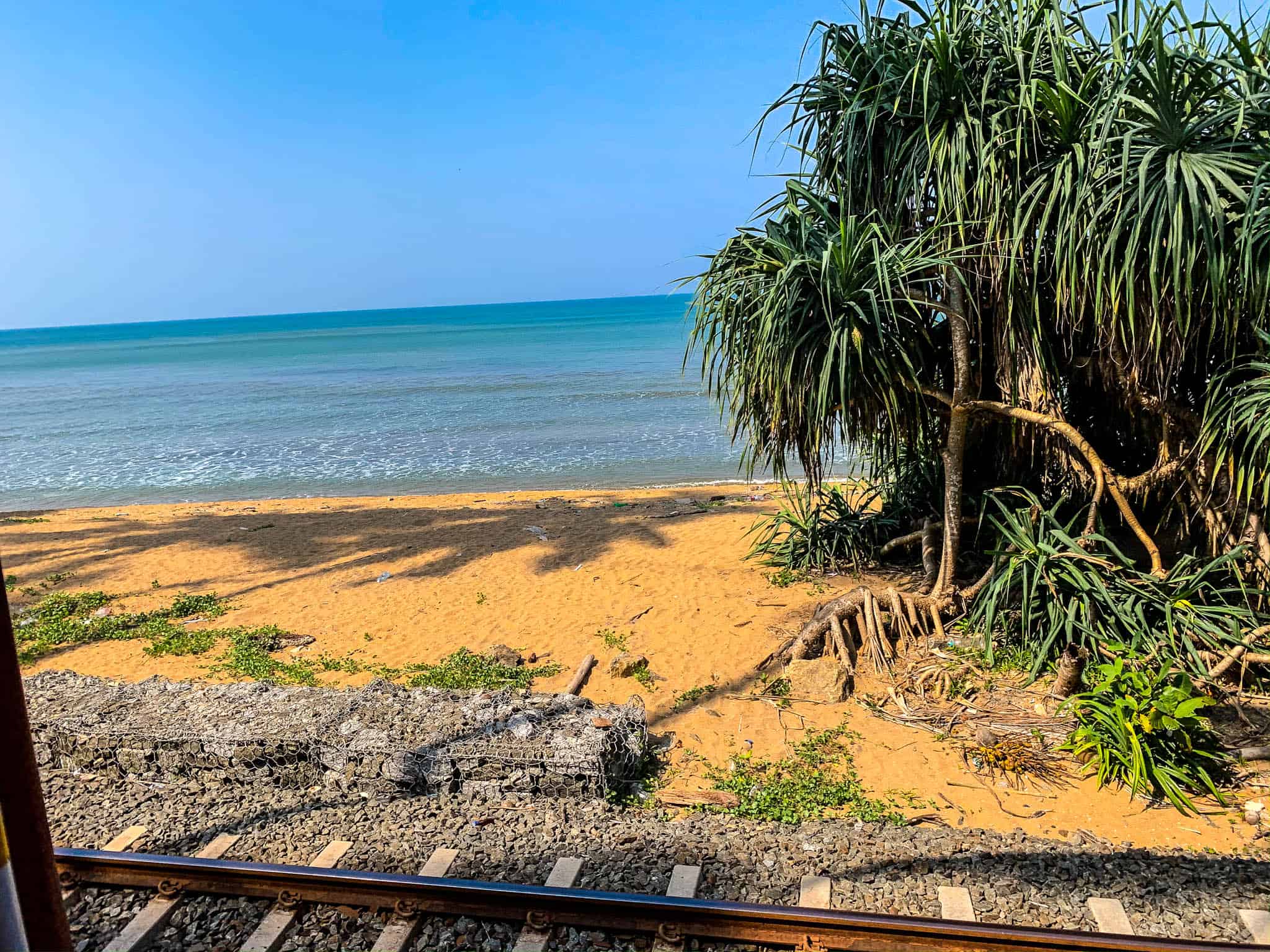 Food & drink on the Kandy to Galle train 
Make sure you have water and snacks with you for the journey from Kandy to Galle.
Vendors will hop on and off the train selling a variety of spicy savoury snacks, drinks or fruit so if you're relying on buying these snacks for your lunch, make sure you have small notes or change.
There's always a big debate among travellers as to whether to buy food from vendors on trains. Many travellers report being sick after due to dubious hygiene during preparation.
We, personally, tend to stay away from them, opting to buy snacks beforehand to tide us over.
However, we could be missing out big time on tasting the local food. We do buy food from local bakeries etc though and often from busy street vendors where we can see a fast paced turn around of food.  
Toilets on the Kandy to Galle train
Surprisingly, the toilets on the train were reasonable. Of course, we travelled on a quiet Sunday, so we can't vouch for your journey. 
Looking to book a room in Sri Lanka? Check out these great options!
Looking to book your next trip? Check out the following services we use!
Kayak to find a cheap plane ticket or AirTreks for RTW tickets.
Booking.com to find a hotel deal.
World Nomads to insure your trip.

Viator for a good quality day tours.

G Adventures for a multi-day guided tour.