I've been a big fan of Osprey after investing in their travel backpacks to backpack Sri Lanka with kids a couple of years ago. Built to last, Osprey backpacks are well designed and durable, so I was excited to have the opportunity to review the Osprey Sirrus 36, on our recent Tour du Mont Blanc trek. 

The Tour du Mont Blanc requires you to carry all your kit from hut to hut along a 170km trail. It's recommended you don't carry more than 10kg in your day sack, so I needed a lightweight, mid-sized, ventilated backpack – which I couldn't over pack (making it too heavy), but had the capacity for overnight trekking and extra layers.
Our Osprey Sirrus 36 review will talk you through some of the nifty features of this backpack, which is perfect for lightweight multi-day treks (carrying minimal kit, not camping gear) or family day hikes.

Osprey Sirrus 36 Review
Osprey's lifetime guarantee
Firstly lets start by talking about Osprey's almighty guarantee. Osprey stand behind their products 100%, which means they will repair your backpack for life. Yes, you heard right, for life! And if they can't repair it, they will replace it. That my friends, is worth its weight in gold and one of the best reasons to buy an Osprey backpack!
Lets start the Osprey Sirrus 36 review.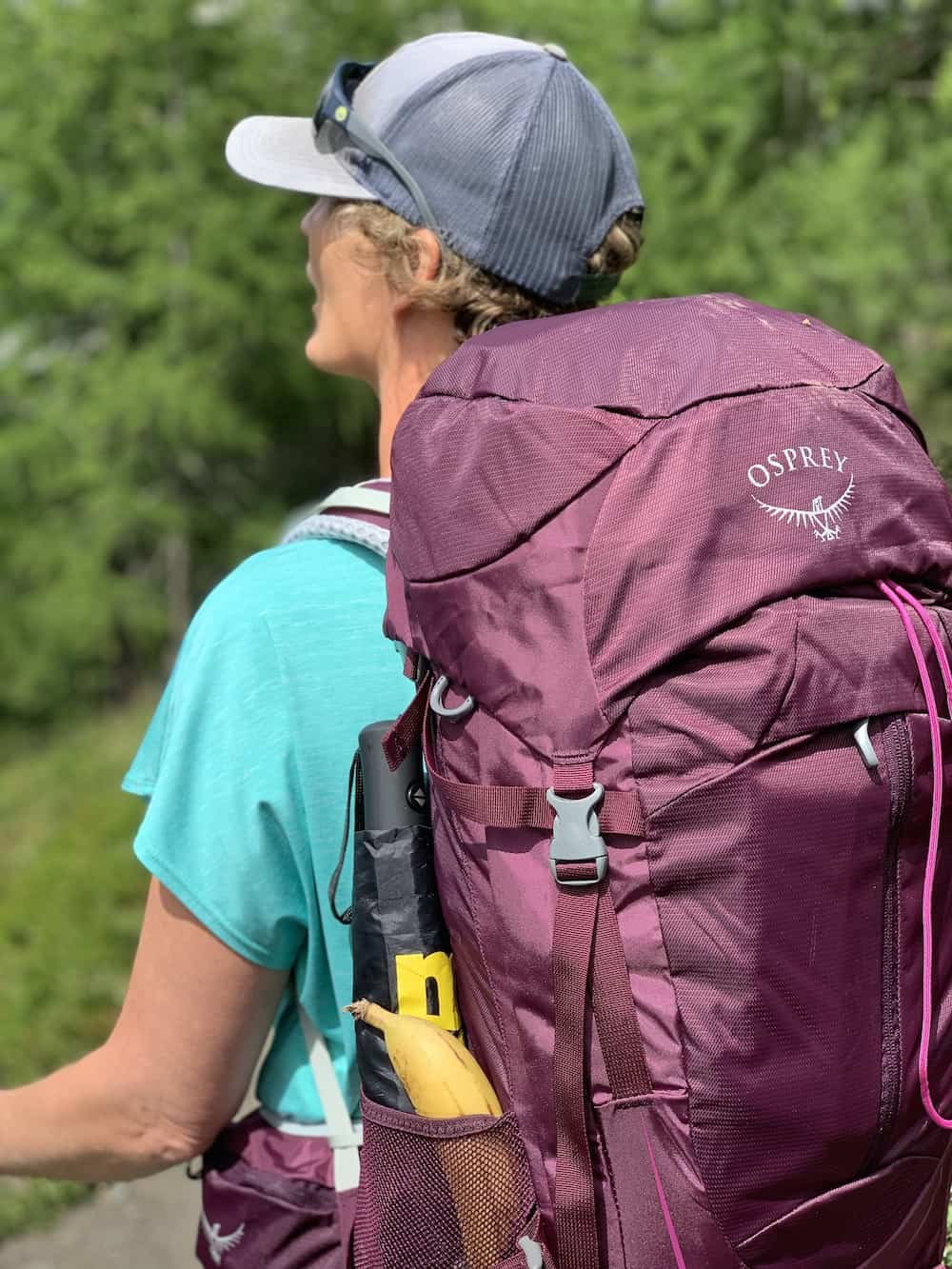 Osprey Sirrus 36 key features
Weight: 1.25kg    
Maximum dimensions : (cm) 70 (l) x 36 (w) x 31 (d)  (carry on friendly)
Adjustable AirSpeed™ ventilated trampoline suspended mesh back panel
Adjustable torso length
Base zip entry
Integrated & detachable raincover
Internal hydration sleeve
Internal key attachment clip
Removable sleeping pad straps
Side compression straps
Single ice axe loop
Single vertical zippered side access point
Sternum strap with emergency whistle
Stow-on-the-Go™ trekking pole attachment
Top lid access
Twin zippered hip belt pockets
Under lid zipped mesh pocket
Watch the official Osprey product tour here before we talk through our own personal Osprey Sirrus 36 review
Ventilation back system
The Osprey ventilation back system allows for a good air flow between your pack and back – a must for any kind of long distance trekking or hiking in hot countries.

Osprey's AirSpeed™ ventilated back system is cleverly made from a single piece construction of highly breathable suspended mesh, extending from the back panel to the hip belt. 
I really rated this ventilation during our trek, particularly amid the demanding elevation gain of the Tour du Mont Blanc (the whole 170km of the TMB has an accumulated elevation higher than Everest!). Yes I was hot, and yes I sweated, but it was great to not have a sticky hot back whilst I was slogging out some of the brutal col climbs.
Designed for women
The Osprey Sirrus 36 backpack is designed specifically for women. The ergonomic fit means the backpack is comfortable to wear with easy adjustments available on the back ventilation pad, the hip belt, shoulder straps & chest straps (which incorporate a cleverly designed emergency whistle). At 5′ 10″ high, I needed to adjust the ventilation pad on the back to fit my height, which was easy.

The Sirrus 36 hip belt is a winner!
One of my favourite aspects of the Osprey Sirrus 36 backpack is the hip belt.
Hip belts seem to diminishing in size with current trends. In my opinion, most hip belts have become far too minimal, so I was overjoyed to see the Osprey Sirrus 36 has a chunky, ridiculously comfortable hip belt with 2 large zipped pockets on either side. Hip belts are the most important strap on a backpack and should be taking most of the weight, reducing strain out of your shoulders. Tip: always make sure your hip strap is done up tight.

These pockets were seriously my saviour whilst hiking the Tour du Mont Blanc. I squirreled away all my daily snacks in there, which meant no stopping to remove my pack and fumble in a side or top pocket when I was hungry. The pockets are like the tardis – appearing small but surprisingly large in volume.

Here's a video of me talking through the Osprey Sirrus 36 backpack whilst hiking the Tour du Mont Blanc – it's a little windy so hopefully you can hear me!
Storage in the Osprey Sirrus 36 backpack
I'm always looking for how practical storage is on a backpack – size, position and the number of pockets always highly contribute to whether I fall in love with a backpack, or not.
The Osprey Sirrus 36 impressed me with just the right amount of storage space and practical pockets.
Top Loader main compartment
The Osprey Sirrus 36 is a top loader backpack with a double clipped lid with draw-cord fastening.
This large main compartment has an internal hydration sleeve for a camelbak (or other hydration system) and has an easy access zipper along the whole side length to avoid having to open the top flap if you want to grab something at the bottom of the pack. Like I said – well designed.
The draw cord fastening does require two hands but is tight and secure.
The base of the pack also features a separate zipped compartment to hold a sleeping bag. If you're not trekking with a sleeping bag, like us on the Tour du Mont Blanc, it's a handy compartment to keep dirty clothes or boots or other supplies you want to keep separate from your main pack. You can also merge both of these compartments if you prefer just one larger space, by taking the separator out.
Front vertical zip pocket
On the front of the pack is a vertically zipped smallish sized pocket, which I found useful for storing my maps & guidebook which I needed to pull out fairly often on the trail.
Large zipped top pack pocket
The top of the Osprey Sirrus 36 backpack has a large, easy to access pocket on the top of the backpack. On the inside a mesh zipped pocket with internal key attachment clip is handy for important documents (passports, credit cards or necessary printed paperwork (hut booking confirmations/insurance) in a ziplock).

Water storage
As mentioned, there's a dedicated water sleeve in the main compartment to hold a hydration pack, as well as the mandatory mesh water bottle pockets on either side of the pack if you're just day hiking without a camelbak. These mesh pockets are deep and large, so tick and tick.
Detachable rain cover
The detachable rain cover stored in a hidden bottom pocket is a life saver. I pulled this out several times on the Tour du Mont Blanc. I love that it's there, whenever I need it. No backpack in this day and age should be without one.

Osprey Sirrus 36 – straps
The Osprey Sirrus 36 has removable sleeping mat straps, however I didn't use these on our Tour du Mont Blanc trek as we stayed in huts along the way.
Tip: If you're planning to camp the Tour du Mont Blanc choose a different backpack – the Osprey Sirrus 36 would be too small.

The single ice axe loop is a great addition for mountaineers whilst the compression straps on either side are handy to strap on extra layers you've shed along the trail, or to reduce the size of the pack if you've packed super light.
The Stow-on-the-Go™ trekking pole attachment is great for stowing your hiking poles when not in use.
Durable fabrics give the Sirrus longevity
The Osprey Sirrus 36 is made from tough nylon fabrics, so I'm looking forward to many more years of hiking with this brilliant backpack. The fabric is also water repellent.

Remember Osprey also has a lifetime guarantee for repairs or replacement, so expect some long service from backpack for years to come.

Colours
The Osprey Sirrus 36 comes in three colours, practical black, ruska purple (featured) or summit blue.
Improvements
The only improvement I would suggest this pack is to make the front vertical zipped pocket a more stretchy external pocket. If the backpack is packed full, it can be hard to close the zip. I avoided this issue by only storing my maps and guidebook in this particular pocket.
Verdict
I loved this backpack! – buy the Osprey Sirrus 36 if you need a mid sized, light, ventilated backpack. It retails for around £100 depending on where you buy it.

The Osprey Sirrus 36 is perfect for day hikes, if you're loading up kids kit as well as your own. It's also ideal for multi-day trek adventures where you're carrying minimum kit along the route.
The Osprey Sirrus 36 is NOT the backpack for you if you're planning on camping along a multi-day trek route. It's simply too small.
For more information visit Osprey Europe.
Disclaimer: we were supplied with this backpack from Osprey for the purposes of this review. We only review kit that we have tried and tested and only promote products and brands that we love. 
LIKE IT? PIN IT