Tour du Mont Blanc Blog
Read our day by day accounts hiking Tour du Mont Blanc from Chamonix to Courmayeur. This post details hiking on Day 2 of our 6 day TMB itinerary from La Flégère to Les Houches in the Chamonix valley.
Click here to read the day before (Tré-le-Champ to La Flégère). Links to all other days on our half circuit of the TMB can be found at the bottom of this post.
Tour du Mont Blanc Day 2 Stage 11 Flegere to Les Houches
Hike time:
7-8 hours (with kids) includes lunch stop at restaurant on top of Brevent
Hike length:
12 miles 
Water fill ups?
Plenty of drinking water troughs in the many hamlets and villages you'll be walking through today
Route overview:
The route along the Grand Balcon Sud continues on an easy undulating traverse from La Flégère over to the Plan Praz plateau at Brévent with spectacular views to your left of the Mont Blanc massif with it's gloriously jagged peaks and the famous snowcapped dome (2.5 hrs).
Cut an hour's hike time off the normal trail time by catching the cable car at Plan Praz up to the top of Brevent and then continue the long descent down to Les Houches (4-5 hrs).
This is a long day. The descent down from Brevent to Les Houches is beautiful through bright red and pink azaleas but is long and tough on your knees.
3 day short TMB adventure to take in Lac Blanc:

If you're not not bothered about doing the entire TMB and want to just hike a fabulous few days with your kids, then I would split our day 1 and day 2 into 3 days staying at Lac Blanc refuge (note: they only take kids aged 8 +) and then the 2nd night at Bellachat refuge (note: there are no showers at Bellachat).
It's a great adventure just to do these three days and your kids will probably enjoy it much more by splitting these 2 long days into 3 bite size days. It's all about the adventure after all.
Short cuts
Catch the cable car at Plan Praz, the mid station at Brévent, up to the top of Brevent (2525m) to save over an hour of uphill trail.
The Cicerone guidebook indicates 6 hrs for this section. However, the guidebook always calculates the trail time with no stops. It took us 7.5 hours.
We set off, rather late at 9.45am on the trail, which was FAR too late, however we did this as a day hike, not from a refuge, so you will be much much earlier on the trail simply by being on-site. It's also obviously 
From Refuge de la Flégère, you will see a signpost towards La Charlalon (1 hr) and Planpraz (2 hrs). The timings of the signposts are actually not too far off what you can expect your hike times to be (as oppose to the Cicerone guidebook!)
Word of warning:
Do not base your timings on what Kev Reynolds quotes in the Cicerone guidebook. Everyone we saw on the trail commented that it was taking them a couple of hours more than the trail times Kev indicates. Kev does say that the hike times in the Cicerone guide are without stops. All of our times are with stops – and plenty of them.
You can see a wide ski piste cut down below you from the start point. Don't follow that, keep traversing and follow the small path. Within 5 minutes you'll see a green sign towards Via Des Evettes, which is a via ferrata route which the path cuts under a further 20 mins or so ahead. The via ferrata is a great one to do another time if you have kids over 10 who are not scared of heights. You can read our post on the Via Des Evettes in Chamonix here.
After 10 minutes into the walk you'll descend down some steps cut through a large boulder which accesses you onto the track that traverses the mountain over to Brevent. The path will take you over some stones of a large rock fall. This wide glacial bowl is called the Lachenal bowl and is a fabulous off piste ski area during the winters. It's interesting to look at the terrain during the summer – it's hard to recognise our familiar snow areas!
From cable car entrance walk to the right and down to the refuge, sign points right to walk under cable for TMB indicated Plan Praz, the brevent lift station at 2 hrs walking time, with La Charlanon 1 hr walking time – good well marked trail with through smattering of pine trees in 15 mins steps and rope, skirt along under the via evettes rocks above and traverse across the treeless La Chanelle bowl, across a rock fall and up over another ridge. Here you'll a wonderfullly lush green mountain side with the trail clearly cutting into the mountain side. Spot the liaison lift in at Brevent in the distance, with a zig zag lower trail below. If you look closely you'll spot the cable running over the absyss back to flegere. In the winter there is a cable car ferrying skiers from one resort to the other.
It's an easy walk round this part of the trail. we enjoyed hearing the grasshoppers rubbing their back legs. At the end of this trail you'll hit a wide track, almost like a road. We couldn't work out whether to cross this track and to follow the only sign which said 'croisement du sentier à 100m' or turn right and follow the large road track. We consulted the map and had a break here and in that time many hikers arrived, conversed and wondered which way to go. Many followed the main road track towards Brevent. We ended up asking some hikers coming up the little track ahead of us and indeed they confirmed this was the proper TMB trail. 
After consulting our book Cicerone guide it became a little clearer in hindsight. And in fact there was a lovely huge boulder in the shade a further 7 minutes on which would have been a much nicer break point than the main track.
The path continues at an easy steady pace continually traversing with no particular uphill or downhill for some time. Ahead of you are glorious views. Drink it in as for the next few days you won't see Mont Blanc at all until the pass between France and Italy, Col du Seigne.
We didn't spot any wildlife on this section, apart from loud crickets, their razor sharp sounds reverberating as the hot dry sun beat down on us. Make sure you lather up with sun screen. There is no shade on this trail until the last couple of hours when the trail descends back into low land woods.
At 10.22am we round a bend in the trail to see the liaison lift – a cable car that runs in the winter that joins both ski mountains, Brevent and La Flegere, together. Do not be fooled into thinking that this is La Charlanon. It is not. By this point we have been walking for just over half an hour since we started.
Just over an hour from starting (10.54am) our small trail hits a junction with a stony, well used track. The signs are confusing here and the book isn't much help. A small group of hikers congregated here with differing opinions on whether to follow the larger stony track or continue straight over re-joining the narrow path. The thing is you don't want to go wrong. The day's hike is long enough as it is without any time losing mistakes. We opted to continue onwards (which afterwards we found out was the correct TMB route, however the wide track does actually take you to the same place!).
At 11.00am we reach the signpost of Charlanon (1812m). It's taken us 1 hr 15 minutes to get here (as oppose to the 1 hr on the signpost – see not too far out!). The route cuts under right against a crag where the path is close to the edge. Don't worry they had some fencing up.
>>>>> – – – – – >>>>> – – – – – >>>>> – – – – – >>>>> – – – – – >>>>> – – – – – >>>>>
Read our 
Shortcuts via public transport on the Tour du Mont Blanc
>>>>> – – – – – >>>>> – – – – – >>>>> – – – – – >>>>> – – – – – >>>>> – – – – – >>>>>
The path then meets the wide vehicle track again and you cross this to pick up the trail again.
>>>>> – – – – – >>>>> – – – – – >>>>> – – – – – >>>>> – – – – – >>>>> – – – – – >>>>>
Read our post
Tour du Mont Blanc Refuges – the Good, the Bad and the Ugly
>>>>> – – – – – >>>>> – – – – – >>>>> – – – – – >>>>> – – – – – >>>>> – – – – – >>>>>
>>>>> – – – – –  >>>>> – – – – – >>>>> – – – – – >>>>> – – – – – >>>>> – – – – – >>>>> – – – – – >>>>>
Read our post
Tour du Mont Blanc Packing List
>>>>> – – – – –  >>>>> – – – – – >>>>> – – – – – >>>>> – – – – – >>>>> – – – – – >>>>> – – – – – >>>>>
From here you can see the ski pistes carved out of the mountain side and Planpraz below. The path goes under a chairlift & tight against the cliffs. 
>>>>> – – – – –  >>>>> – – – – – >>>>> – – – – – >>>>> – – – – – >>>>> – – – – – >>>>> – – – – – >>>>>
Read our full guide to 
Hiking the Tour du Mont Blanc Guided (with kids)
>>>>> – – – – –  >>>>> – – – – – >>>>> – – – – – >>>>> – – – – – >>>>> – – – – – >>>>> – – – – – >>>>>
Again it's fun to examine the terrain that we ski every winter. It's like a different mountain entirely. We walked under a ski lift we frequent when we're skiing and actually over the platform of a buvette (closed) that we sometimes go to for hot chocolates in the snow.
>>>>> – – – – –  >>>>> – – – – – >>>>> – – – – – >>>>> – – – – – >>>>> – – – – – >>>>> – – – – – >>>>>
Planning to camp on the TMB?
Read our review on the lightweight, pack small
Vango F10 Aero self inflating sleeping mat
>>>>> – – – – –  >>>>> – – – – – >>>>> – – – – – >>>>> – – – – – >>>>> – – – – – >>>>> – – – – – >>>>>
The path however turns upwards and it was this point that we find the path for the first time covered in snow. It's not a large section of snow and we could easily cross it without crampons, but we take this opportunity to try them out.
>>>>> – – – – –  >>>>> – – – – – >>>>> – – – – – >>>>> – – – – – >>>>> – – – – – >>>>> – – – – – >>>>>
Read our post
Tour du Mont Blanc Difficulty – Can You Manage the Ladders?
>>>>> – – – – –  >>>>> – – – – – >>>>> – – – – – >>>>> – – – – – >>>>> – – – – – >>>>> – – – – – >>>>>
We would highly recommend the Grivel hiking crampon. We bought ours in Chamonix but they are cheaper online and I'd suggest you make sure each person hiking the trail has got a pair. They are lightweight and don't take up much room in your pack. If you come across a snowy section on the TMB, particularly if the path is quite exposed, you are definitely going to want some traction and grip too stay safe. Note that we hiked this section on July 3rd and there was still snow on the route. You can buy this pair on Amazon here.
I had a pair of large and I bought my daughter the medium pair. She has a UK size 4 and they were okay for her, secure enough not to come off, and large enough for plenty of use for her in the future.
If you're already in Chamonix and want to buy the Grivels, head to the upstairs section of Technique Extreme, near the Aiguille du Midi (200 Avenue de l'Aiguille du Midi 04 50 53 63 14). I had heard that you could rent these, but I couldn't find anywhere that offered this unfortunately. If any of you successfully rented any in Chamonix, please give us a heads up in the comments.
You'll see a chair lift in front of you. The trail walks right past this lift, Le Parsa, and traditionally continues up on the right to climb steeply up to the top of Brevent. It will take around an hour to climb up to the summit, so instead take the cable car which will whisk you up in minutes.
To do this, continue down past a closed restaurant on your left where you'll see a plateau on the right, most likely full of paraglider about to take off. This is a designated paragliding take off point and it's fun to watch them take off. Many of them are tandem pilots taking tourists for a birds eye view of Chamonix.
The time is now 12.22 and we've been walking on the trail now for around 2 and a half hours since setting off.
stunning views of Mont Blanc in front of you 1 hr 15 to La Charlanon although confusing track no sign carry on down to La Charlanon through shrubs then follow under lift and hug cliffs you can soon see brevent (1 hr and a half in). As you get closer you'll see all the Brevent pistes scarring the mountain side. Cicerone guide slates the ski resort but as we live here in the winter, it was interesting for us to spot areas we ski and wonder at how different the topography looks naked of snow.
You'll walk under the Charmillon lift and eventually hit the main road track where you didn't turn right before. Here you need to literally cross it again seeing the small trail continuing uphill on the right and a small sign nailed to a tree announcing 'Le Brévent par Planpraz'.
Continue under another motionless chairlift with the snakes of empty grassless pistes in the bowl below on your left. You"ll arrive at a junction where you will take the right turn or almost straight on wide rocky track up. It zig zags up very steep – lots of moaning here but it doesn't last long. Here we hit snow and were excited to try out our crampons. The trail levels off and we crossed the 100 metres of snow easily in our crampons.
The trail traverses round and you soon hit the La Parsa (2075m) lift where if you want to carry on hiking the TMB trail up to Col du Brévent you would cut behind the Parsa lift and up the wide track. We wanted to short cut this section by taking the Brévent cable car to the top so we carried on straight bearing left to continue past the Altitude 200 restaurant and down to the glass building and parapente take off area which is fun to watch.
Take the monorail lift down from the glass building to land directly at planpraz. Here you'll find another much busier larger restaurant and the cable car that will take you to the top of Le Brévent at 2525m. This is a great options for families who want to save little legs, although could be costly for a large family for a single trip. At the top treat them to a huge portion of fries for 7 euros (will feed 2-3 of you) and a refreshing panache (shandy) on the sun terrace with epic views of Mont Blanc.
From the paragliding (parapente in French) walk towards a mound on your left with a glass building It's a monorail lift (free) that will take you down to the lower section of Planpraz where the cable car leaves for the top of Brevent. See photo below.
Here you will find toilets and a cafe open. I'd suggest not stopping here but taking the cable car up and having a refreshment and a bite to eat at the restaurant at the top. The views are stunning and the bowls of chips HUGE! 
A single cable car ticket from Planpraz to the top of Brevent costs 10 euros for an adult and €8.50 for a child. Open mid June – mid July from 9am – 4pm and from 8am – 4pm from mid July to mid Sept.
This will cut 1-1.5 hours of uphill hiking from the trail. Definitely worth it!
>>>>> – – – – –  >>>>> – – – – – >>>>> – – – – – >>>>> – – – – – >>>>> – – – – – >>>>> – – – – – >>>>>
Pack a head torch to stay in the TMB refuges
Read our Vango Photon USB head torch review 
>>>>> – – – – –  >>>>> – – – – – >>>>> – – – – – >>>>> – – – – – >>>>> – – – – – >>>>> – – – – – >>>>>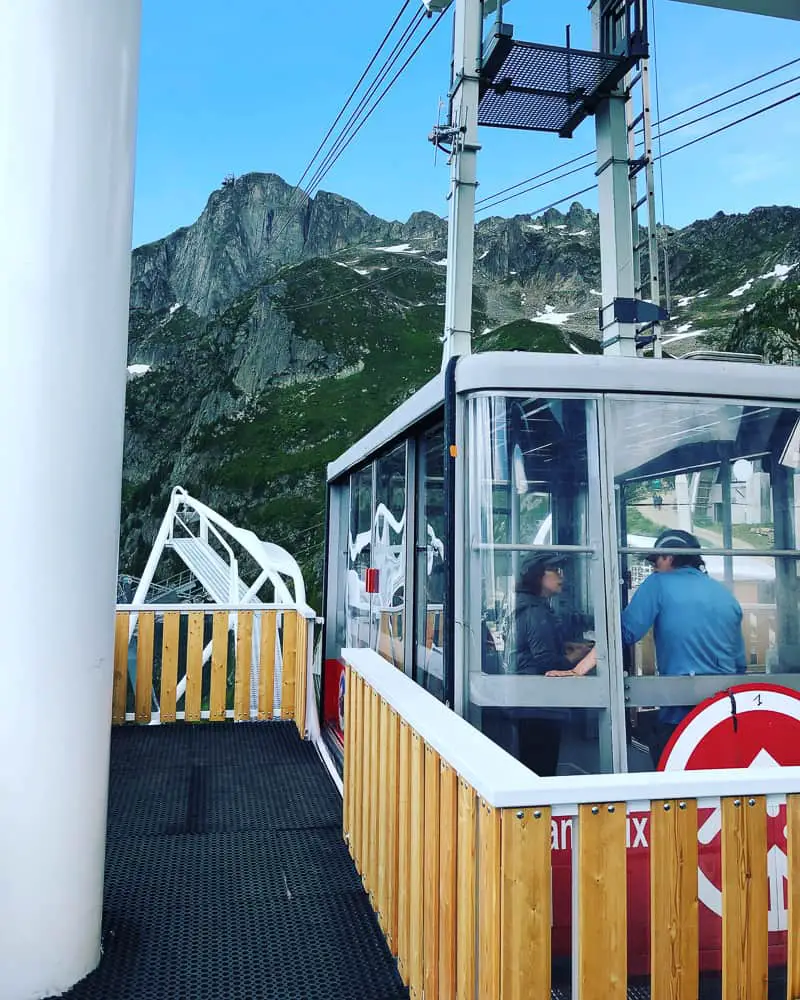 Unfortunately the clouds came in just as we arrived at the top of Brevent. Typical. It's a view that we've seen a million times before so we're very lucky but nevertheless it's always fabulous to see it again.
Hope that you have good weather for this part as the views here are unrivalled of Mont Blanc. 
We had a refreshment in the restaurant here before heading back on the trail at 13.14.
We caught the cable car up at 12.30 so it took us 2 and three quarter hours to get to the top of Brevent from Flegere. The guidebook indicates 2 hours (thats without stops) so it's not bad going. 
We set off again at 13.15 on the trail which cuts down from the viewpoint. They'll be a lot of tourists taking photos!
Take the trail cutting down to the left signposted Bel-Lachat. This is a small refuge on the way down to Les Houches with spectacular views.
The trail is ALL downhill now so get ready for some serious knee jerking. The guidebook indicates 3 hours with no stops. Allow around 4.5 hours. As you can see this is a LONG section.
For those of you with kids and no time constraints, or those wishing to just trek this section of the TMB with kids, I would seriously consider staying at the Bel-Lachat refuge and making the last two days into three days. It took us 1 hr 20 minutes to bet to Bel-Lachat (not the 45 mins indicated on the signpost below!) so it would be a nice finish point, leaving another 4 hours on the trail for the next day. 
The trail is now descends on the west side of the summit and is stony and rocky for the first section before levelling out somewhat along the ridge line. 
The landscape is of boulder fields and snowy pockets. You can see a tiny lake down below. The Bel-Achat refuge is at the end of the ridge line. From here the trail is down down down. The signposts indicates 45 mins until Bel-Lachat the refuge. This would be probably be the right timings walking without kids but it took us 1hr 25 to reach.
The first section of the trail is all on a stone rubble trail which makes a difficult terrain to negotiate. After this you'll skirt round (along the banister section) to the top of the ridge with spendid views on either side.
Towards the end you'll spy bel la chat refuge on the left below and it's only another 15 minutes to reach although we hit another patch of nevé down a couloir that we were glad of our crampons to get to.
>>>>> – – – – –  >>>>> – – – – – >>>>> – – – – – >>>>> – – – – – >>>>> – – – – – >>>>> – – – – – >>>>>
Ladies – need some new hiking shorts?
Read our review on RAB Helix Hiking Shorts
>>>>> – – – – –  >>>>> – – – – – >>>>> – – – – – >>>>> – – – – – >>>>> – – – – – >>>>> – – – – – >>>>>
Below is the view looking back up the path to the top of Brevent. You can see that the path is well marked.
Walking along the ridge is a nice change from the traverse sections from Flegere. It's not particularly exposed, and some of the time you can't always see the view over the valley.  It takes around 25 minutes to walk the ridge.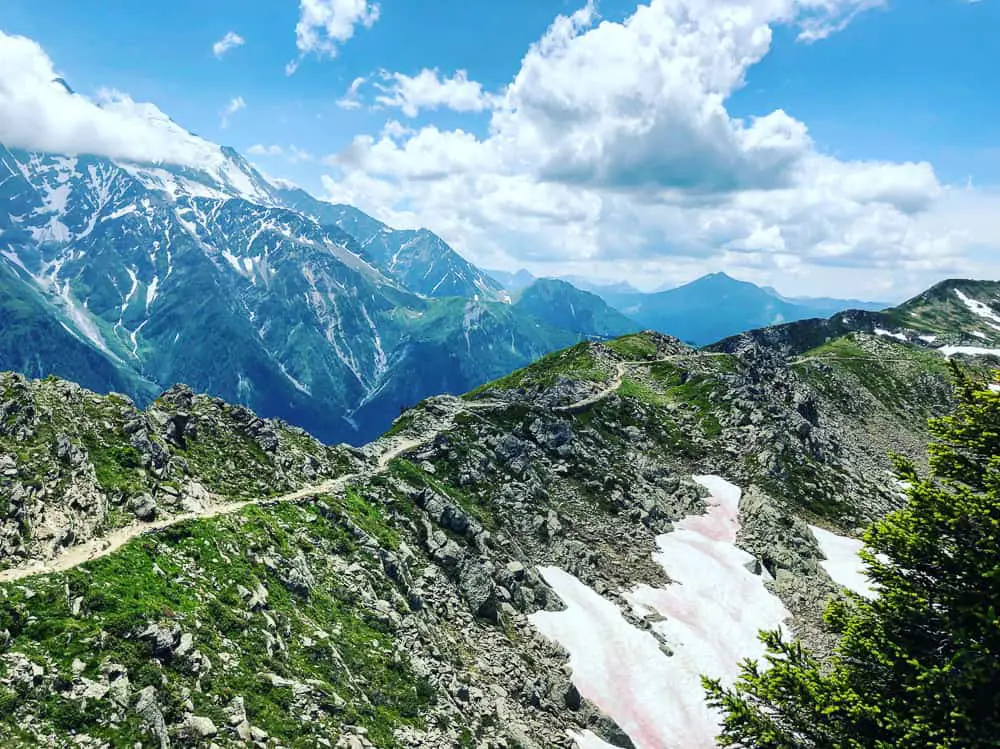 Occasionally you will glimpse the stunning view of the Bosson glacier snaking its icy tongue down the opposite side of the valley. It never fails to impress.
Whilst this view is mostly hidden along the ridge, you will see it in its glory from the balcony of the Bel-achat refuge.
At the end of the ridge, we needed to descend a steep couloir section to reach the refuge. It was entirely covered in snow and would have been dangerous to attempt without crampons. We popped ours on and descended easily.
The Bel-achat refuge is delightfully perched on the mountain side with glorious views of the valley. This small refuge only has 24 dorm beds. We've never stayed here so can't comment on how good it is. I'd like to stay here another time so I will update this post if I do. If you're reading this and have experience of staying in the Bel-achat refuge, please do leave a comment at the end of the post for others on your experience. Thanks.
Demi pension (dinner, bed and breakfast) costs 53 euros. Note: there are no showers in this refuge, only a sink and toilets.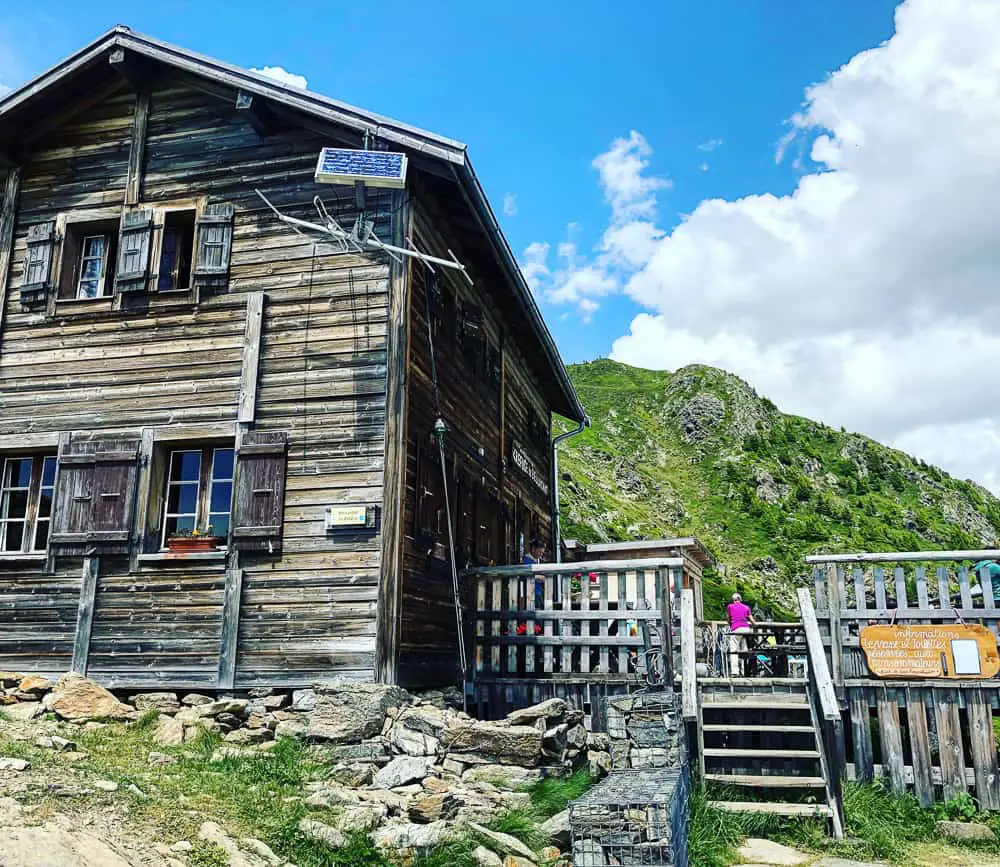 From here don't take the trail leading immediately downwards but take the route level with the hut to the west.
There are some very steep sections here that zig zag down the flank of the Aiguillette de Brevent. It's tough on your knees but was eased by spotting and observing more chamois and ibex busy eating the fresh vegetation.
The azaleas were in all their glory during our descent and before long you'll enter the forest and finally be able to take refuge from the sun in the shady trail.
After 20 minutes or so you'll encounter some more metalware at the Vouillards ravine. Chains help you negotiate the precipitous path which hugs the rock face tightly. Jump over the small stream (great place to fill up) and continue along the narrow trail which again it cut in tight to the rock face.
The signpost from Bel Lachat refuge indicates Merlet (the animal park) to be 1hr 15 and Les Houches to be 2h 30. It took us 1 hr 40 to get to Merlet. The path is a lovely trail through a blaze of bright pink azeleas. Keep an eye out for chamois, we spotted a mother and a baby on the path near one of the two waterfall streams tumbling down.
The path is steep and tricky in parts, including a couple of chained ropeways but this was without difficulty. There's a section with metal foot holds and banister to negotiate a steep rock area but this added to the excitement and was not scary at all. We were glad to pass in and out of the shaded area eventually entering the pine forest to arrive at Merlet.
There's a section of metal steps down after this – again exciting for the kids, but nothing like the ladders from yesterday's trail from Tré-le-Champ to La Flégère.
The route then take you back into the forest and on your way to the Merlet animal park (a park full of chamois, ibex and marmots – well worth a visit with the kids on another occasion!) 
The route skirts around the boundary fence of the animal park and brings you out onto the main road up to the animal park.
Follow the main road through the parking areas and then look out for the path as it cuts down left into the woodland. As the path descends keep following signs for the Le Christ Roi or Les Houches. Fairly soon you should reach Le Christ Roi (1196m) a huge statue of Christ that looks over the valley.
Follow a series of footpaths that zig zag down the to the main road to the train station in Les Houches. 
Where to stay in Les Houches?
Families will enjoy staying at Rocky Pop in Les Houches, a modern hotel with plenty of games (think space invaders & life size models of Star Wars figures). You can check out some of the photos in our review of their restaurant here.
TIP: Tired or short of time? Cut out day 3 and skip to Les Contamines or Gorge de Notre Dame
Our day 3 on our TMB half route continues with Les Houches to Les Contamines. This is a pleasant day's hike, but with no real spectacular scenery. If time is short and legs fatigued, spend a day in Chamonix relaxing and take a taxi around to Les Contamines or straight to Gorge de Notre Dame to pick up the main TMB trail for the gruelling but fabulous three cols to climb over into Italy.
Related TMB content
Read day 1 (stage 10) Tré-le-Champ to La Flégère
Read day 2 (stage 11)  La Flégère to Les Houches
Read day 3 (stage 1) Les Houches to Les Contamines (& onto Nant Borrant refuge)
Read day 4 (stage 2) Nant Borrant Refuge to Les Chapieux
Read day 5 (stage 3) Les Chapieux to Refugio Elisabetta
Read day 6 – Tour du Mont Blanc – Stage 4 – Rifugio Elisabetta to Courmayeur
Tour du Mont Blanc Packing List
Ultimate guide to your self guided Tour du Mont Blanc
Tour du Mont Blanc Refuges – the good, the bad & the ugly
Tour du Mont Blanc Difficulty? Transport options on the TMB