Are you planning to drive the NC500 route in the Highlands of Scotland? Do you want to tick off some of the bucket list things to do in Scotland along the way? Our tip? Hire a campervan in Inverness. 
Campervan hire Inverness – our review of Inverness Campervans
We hired a VW California campervan in Inverness for our family of four to drive this legendary 500 mile coastal route of the North Coast Highlands of Scotland and can't wait to tell you all about it.
Below we review our experience of renting a campervan with Inverness Campervans.
Check out our video of driving the beautiful NC500 below: 
Whilst motorhoming in Scotland is very popular, below we discuss how the benefits of driving a campervan on the route NC500 far outweigh the blinger motorhome option and why hiring a campervan gives you control over your itinerary and the freedom to camp along the way (wild camping is allowed in Scotland!).
We loved our VW California so much and we would totally recommend touring the Highlands this way to any families heading North to discover the wilderness of this truly inspirational and epic land.
The North Coast 500 Highlands Route
If you're an outdoors family sniffing out your next adventure, we can guarantee the wilderness of the Scottish Highlands will blow your mind and rouse your soul. This epic route – fast becoming a Route 66 European alternative, is a 513 mile loop from the capital of the Highlands, Inverness.
Hire a campervan in Inverness to discover vast stretches of wild beaches – empty golden sands line the NC500 route. Taste your way around countless distilleries, visit crumbling castles and peaceful lochs – your perception of Scotland is right here. Drink it up! It's easy to fall in love with the Highlands of Scotland – the UK's last real wilderness.
Adventure seekers – try your hand at surfing the legendary waves on the north coast, take to the air on the UK's most northerly zip line across Ceannabeinne Beach, or hike out to one of the many remote bothies.
>>>>> —– >>>>> —– >>>>> —– >>>>> —– >>>>> —– >>>>> —– >>>>>
One of the best things to do in the Highlands is to hike to a bothy.
Read our guide – Bothying for Beginners
>>>>> —– >>>>> —– >>>>> —– >>>>> —– >>>>> —– >>>>> —– >>>>>
Renting a campervan over a motor home to drive the NC500?
We decided to rent a T5 California campervan for our NC500 adventure. The option to stop off along the way and wild camp way outweighed pre-booking accommodation along the trail.
Driving in Scotland isn't always simple. We considered renting a kick ass motorhome, knowing it would offer a great living space for the family, but with most of the NC500 route being single track roads with tiny passing places, we were hugely relieved we didn't.
Countless times a day we had to reverse into narrow passing places along the single track road, many teetering on soft verges. It would have been very stressful in a motorhome! Our smaller, nippier T5 California was perfect to navigate the narrow roads easily, handling just like a car.
We rented our beautiful VW California from Inverness Campervans (and yes now I want one of our own please!) for 10 days and absolutely loved it.
Read on to find out why the VW California was perfect for a family of 4 driving the NC500 and why you should definitely check out this stunning road trip now before it gets any busier!

Inverness campervan hire
Inverness, the capital of the Highlands of Scotland, and the starting point of the NC500 is the best place to rent a campervan, unless you're planning on exploring lower Scotland and Edinburgh first.
Fly directly into Inverness or consider a fabulous alternative – catch the Calendonian Express, the overnight sleeper train from London.

You'll need to book your campervan well ahead for the peak Summer months as the route has exploded in popularity over the last year with visitors from all over the world now descending on Inverness to drive this legendary road trip.
We recommend driving the NC500 ideally either in May or September to avoid the notorious midge season.
Top tip: Midges are no laughing matter and can seriously ruin your trip. Shoulder season on the NC500 is quieter and midge free. If you can't avoid the peak summer months, be sure to stock up on Deet free Avon So Soft cream or Smidge.
Inverness campervan hire is easy. Whether you're arriving by train or plane, Inverness Campers pick you up from your arrival point and drive you back to their base, where they'll soon have you briefed and ready for the off in your campervan!
Our VW California
Our VW California, named Ceilidh (pronounced Kayleigh meaning 'dance' in Gaelic is a Scottish evening of music and dancing) was just perfect for a family of four providing us with everything we needed plus giving us the advantage of putting miles under our belt easily.
We loved how how easy it was to handle. It drives exactly like a car. Perfect!
I hadn't relished the idea of being behind the wheel of a long, cumbersome vehicle of a motor home, and driving the California was easy.
We toured the NC500 route from Inverness with a stop off in the stunning Isle of Skye with it's incredible landscape scenery – a dream if you're a landscape photographer!
Sleeping space in the VW California
The California has a pop top giving it oober space up top for either yourself or the kids to sleep in. In total the California can comfortably fit two adults and two/three kids easily.
The pop top was a hit with my girls. There was no chance we were getting to sleep up there with these two around! Plus it makes sense to put the kids up there as went to bed earlier whilst we chilled downstairs admiring the views with a bottle of vino, until the salty air saw us yawning and turning in as well.
Note: You can only put the pop top up when the van is stationary but there's enough room to leave a couple of sleeping bags up there whilst your underway. The mattress is lovely and comfy and I was rather envious about the girls sleeping up there!

The pop top can also be put up for additional head height in the day when you're parked up as the sleeping platform can be hoisted to the side. This is VERY useful whilst cooking so you can stand up straight!
Storage space in the VW California
Every nook and cranny of the VW California is stuffed with clever storage areas. From the ingenious table and chairs which slot into the rear door, to the tambour corner storage, and smart water container. We were wowed by how much we could actually get in the California without it feeling too overstuffed.
Inverness Campers had equipped the camper perfectly and thought of everything one would need on a Scotland road trip. From sleeping bags, pillows & pillow cases, towels, kettle, cooking utensils, and of course the most important .. cork screw – everything had been provided and so we didn't need to buy anything but food! 
And the fridge. We loved the fridge! Previously we had owned a professionally converted T5 (without a pop top). In those days we had only one baby and had just bought a house in London. We ended up selling our beloved camper to help pay for an extension (real life and all that). But our Waeco fridge was a small front opening affair – I mean excruciatingly small, being filled to capacity by almost a 4 pack of beer.
The Waeco fridge in this camper was a much large affair that opened from the top. It was perfect to fit everything we needed to chill in for a week on the road. 
The only thing the VW California didn't have was a toilet and shower! Although Inverness Campers do have a portable toilet as an extra accessory option to book. 
The front two seats are captain seats, meaning they cleverly swivel around to face the interior of the van. This means you can all eat together as a family around the table. The tale can also be kept up when driving so the girls could play or do printable games.
There are in-built windows blinds that pull down at night time and also insulated covers for the windscreen. 
The VW California has a heater that was very handy for chilly days parked up after a long hike, especially on the Isle of Skye when we experienced some drizzly days.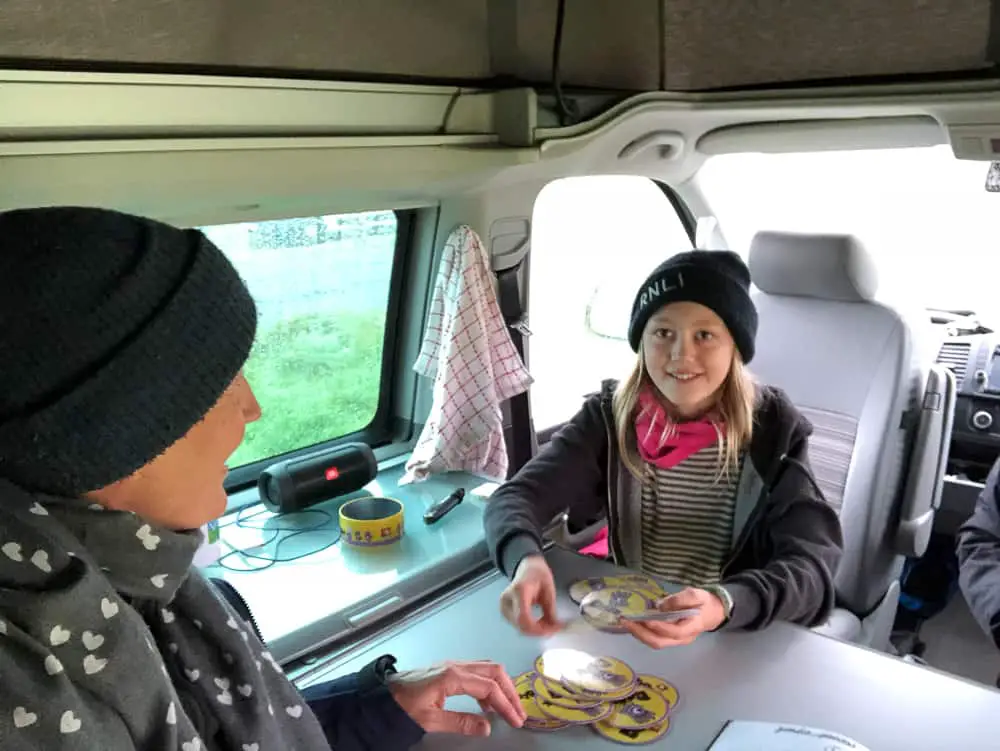 Rocking up to a campsite it was easy to hook up the electricity with the campervan's leisure battery. David even included a 240v charger that charges electrical devices such as iPads and laptops!
The built-in awning on the side of the exterior of the campervan was brilliant for providing shade or cover from drizzle. With the awning out it made a nice outside area with the table and chairs which are provided with the camper.
Inverness pick up & drop off
Campervan hire with Inverness Campers was easy from start to finish. They have four Campervans on offer to hire. Each van is different offering varying capacities & specifications.
Booking was easy online and David, whose background is converting vans to campers, was knowledgeable and happy to help with any questions we had on our route or our vehicle.
What we did love and what did life much easier was that Inverness Campers offer a pick up and drop off service from Inverness railway station or airport. This was invaluable as their depot is a 15-20 minute car ride from the city.
The whole process was seamless and we were in our new camper and driving away less than an hour later with huge grins on our faces and adventure in our bellies.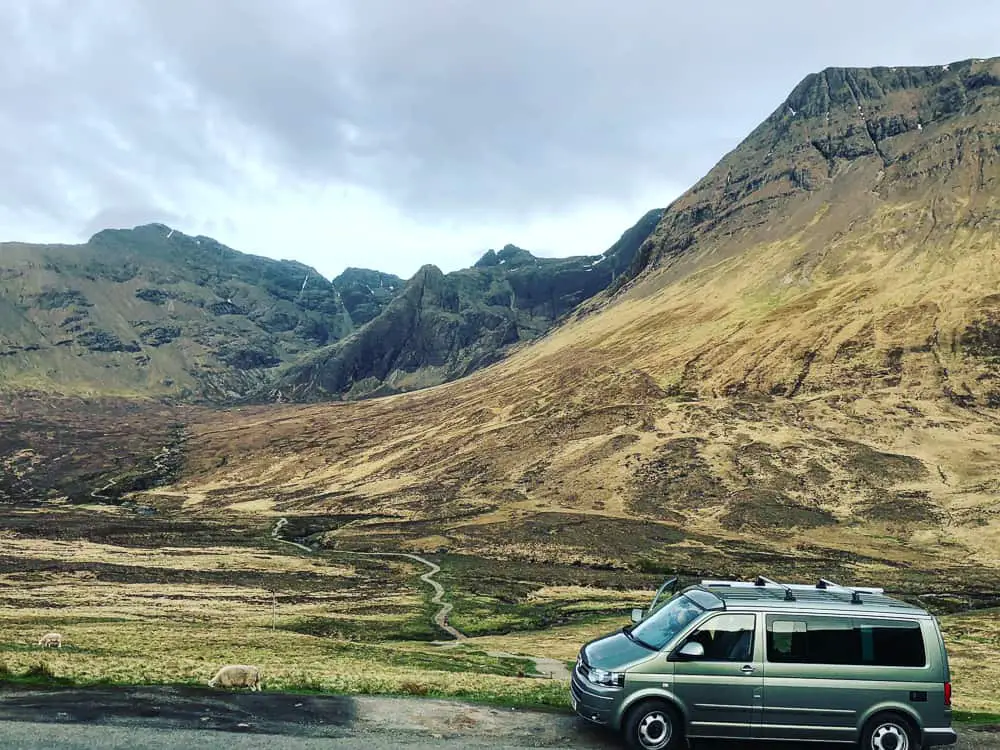 Conclusion: Campervan hire Inverness
We would totally recommend renting a VW campervan to drive around the Highlands! We had the most EPIC unforgettable trip. One piece of advice – don't cram too much into one week! Take two weeks if you can to drive this incredible loop – the scenery is stunning and you are going to want to stop – A LOT to take photos and explore the insanely beautiful (and often empty!) beaches. 
We would totally recommend hiring a campervan with Inverness Campervans. Not only are they a small, family run business (yay), they really do put 110% effort into making sure you get the best holiday by seamless airport (or railway) transfers, providing everything you could think of, giving us an easy explanation of how everything worked before driving off and for being so friendly and approachable. We love using local over corporate and know that you guys do too. 
Our advice is to explore the NC500 now before it gets any busier and to soak and savour those views – enjoy!
If you want to rent with David – give him a buzz on 01667 258080 or ping him an email on enquiries@inverness-campervans.co.uk. Check out his fleet on www.inverness-campervans.co.uk
Disclaimer: we were provided with a complimentary campervan courtesy of Inverness Campervans for purposes of this review. As always we tell our readers exactly how it is – our reviews are honest and unbiased.