If you're planning a trip to Borneo, visiting Turtle Island (Pulau Selingan) off the Eastern coast of Borneo will be one of the highlights of your trip. Part of Sabah National Park, Turtle Island is one of three islands dedicated to green and hawksbill turtle conservation, and the only island which permits visitors to view turtles nesting and hatchlings being released.
It's the perfect environment for kids to witness one of nature's greatest phenomenons, and it's one of the few places in the world where turtles arrive 365 days of the year to nest!
The Ultimate Guide to Visiting Turtle Island Borneo
During my extensive research planning our trip to Borneo, it was clear from the hundreds of frustrated comments online that visitors were finding it hard to book the overnight turtle island tour from overseas.
This blog post will give you a bit more clarity on on how to book and we'll also discuss below the security situation on the north eastern Islands of Borneo below and whether it's safe to visit.
Read on to find out everything you need to know about Turtle Island in Borneo and how to book your Turtle Island tour. As this is a long article, I've included a contents section below so you can jump to the information you're looking for. As ever, we'd love to hear from you in the comments below if you've visited Turtle Island in Borneo or if you can recommend to readers other reputable turtle conservation programmes around the world to visit.
Contents
Where is Turtle Island Borneo?
Turtle Island National Park
Marine Turtles
Turtle Island Conservation
What to expect visiting Palau Selingan (Turtle Island)
Accommodation on Turtle Island
Turtles in Borneo
Booking Turtle Island
How much is the Turtle Island overnight tour?
Is it better to book direct with Crystal Quest or through another operator?
The best time to visit Turtle Island
Is Turtle Island safe?
Does any of the Turtle Island tour fee go into turtle conservation?
Is the Crystal Quest tour reputable?
Volunteering in sea turtle conservation in Borneo

Where is Turtle Island in Borneo?
Three tiny islands in the Sulu Sea off the east coast of Borneo make up Turtle Island National Park. The Malaysian states of Sabah and Sarawak are situated in North Borneo (off the north east coast of Sabah), 40km north from Sabah's second city, Sandakan, where you'll find Turtle Island or in Malaysian, Palau Selingan.
Most visitors arriving in Sandakan head to the world famous orang-utan rehabilitation centre in Sepilok (only half an hour out of Sandakan) and onwards to the Kinabatangan River which boasts incredible wildlife spotting opportunities, such as wild orang-utans, pygmy elephants (we saw 69!) and crocodiles. It's an extraordinary place in the world in terms of diversity and one of the only two places on our planet where 10 primates live together. You can read more about the Kinabatangan in our post on the replanting the rainforest family volunteering project which we took part in while we were there.

Don't forget to include an extra day and night to your Sandakan itinerary for an overnight visit to Turtle Island to witness green and hawksbill turtles nesting and have the chance to release baby hatchlings back into the ocean. It really was an unforgettable part of our Borneo trip.
Turtle Island National Park
The islands of Selingan, Bakungan Kecil and Gulisan plus the surrounding turquoise waters and reef, make up 1,740 hectares of the protected area, dedicated to turtle conservation since 1977. All three islands have turtle hatcheries but Selingan (Turtle Island) is the only island to permit visitors to view the turtles laying and hatchlings being released.
Visitors can only visit as part of a 1 night / 2 day tour (returning back early morning at 7.00am on the second day) with local company, Crystal Quest. Visitor numbers are limited to 50 per night so pre-booking is essential. Booking can be quite tricky but below we tell you the best way to do it and tips for your stay there. 
Turtle Island, 40km north of Sandakan, is the most famous place in Borneo for turtle viewings.  The beaches of these three islands are visited every night of the year by two endangered turtle species, the green turtle and the hawksbill. You are pretty much guaranteed to see turtles nesting!
Every evening throughout the year it is possible to see female turtles,  hauling themselves up onto the warm equatorial sand to nest.
A team of five full time rangers are on patrol every evening and work tirelessly as each female nests, to carefully remove her eggs and re-locate them to a new nest dug in the safer confines of the island's hatchery.
Geographically these islands belong to a chain of a further 6 islands belonging to the Philippines. Such close proximity means there is a constant vigilant military presence on the island.
Following some attacks in 2015, some governments, including the UK, continue to officially advise tourists against visiting this area. We discuss the security situation further below in a dedicated section.

As far as we were concerned, we researched the facts and decided to go anyway. If you do visit, please be aware that your travel insurance will be invalid whilst you are in the area. 
Marine Turtles
Marine turtles have lived on earth for about 185 million years. Fossil records show that more than 30 species of marine turtle have been known to have gone extinct naturally.
Today only 7 species of sea turtle still exist made up of two families – dermochelyidae and Cheloniidae. Only the Leatherback is Dermochelyidae whilst the remaining six – Green, Hawksbill, Loggerhead, Flatback and Olive Ridley and Kemps Ridley are Cheloniidae.
No-one knows how the sea turtle survived the custaceous crash – the catastrophe that wiped out the dinosaur some 65 million years ago. The sea turtle lives on, adapting continuously to change, but the threat of extinction looms large and real.
Today only seven species of sea turtles remain, among them Greens and Hawksbills, that share a fondness for the Sulu Sea. In particular the reefs around the three tiny islands that are now part of Sabah's Turtle Island National Park.

Since 1977 the area has been a marine park of 1740 hectares extending over the islands, reefs and sea. Palau Selingnan was the first to have a turtle hatchery and the turtle conservation programme there is the oldest in the world. Research and data collection are high priorities and their records have the most detailed statistics and research of any other centre.
Turtle Island Conservation
Hatcheries on all three of the islands in the National Park protect nests from predators such as birds, lizards, rats and ants. Nesting can become problematic, with as many as thirty turtles arriving each night to nest, the threat of freshly laid nests being dug up are high. Plus some nests are drowned through natural soil erosion, as in Palau Gulisan.
Hatcheries managed carefully by the on-site rangers offer a solution to these problems and are now standard practice on all three islands. 
During the nesting process, visitors are taken all together to visit just one or two turtles. In this way disturbance to the nesting turtles is minimised. I was totally impressed by this. Whilst it's true that some visitors may be disgruntled at being banded together in such a large group, it's refreshing to see priority is given to the turtle over tourists. Previously I've been privileged to witness turtles nesting in both Australia and Costa Rica and on both occasions smaller groups were taken out to view multiple nests, meaning disturbances to far more turtles than is necessary.
Marine turtles have been around for at least 230 million years, but because of human activities they have been brought, over the past hundred years, to the brink of extinction.
Sabah's Turtle Islands Park provides a refuge for these ancient creatures. The park is fully committed to preserving the sea turtles habitat and ensuring its survival. 
Regular patrols ensure the waters of the marine parks, eggs and nesting grounds are protected. Laws are strictly enforced to conserve and protect this natural environment. A bi-lateral programme between Malaysia and The Philippines has led to the creation of TIPA, or Turtle Islands Protected Area.

Both countries now jointly manage and protect the turtle islands as a shared natural environment and sanctuary for Green and Hawksbill turtles. 
What to expect visiting Selingan Island (Turtle Island)
Only 50 visitor permits are allocated each day to stay on Palau Selingan (Turtle Island).  The only tour available is an overnight stay which departs at 8.00am and returns the following morning. It is not possible to visit just for a day trip. 
All tickets from Sabah Parks are sold through Crystal Quest, a company with an office on the jetty next to the Sabah Parks office. Crystal Quest then sells tickets onto tour operators (which sell on the tours at a much inflated price but do include a guide). Booking through Crystal Quest is much more affordable, about 100 euros cheaper but can be trickier to organise as Crystal Quest can be hard to get hold of.
The Sabah Parks and Sea Quest offices are right on a jetty 10 minutes walk (2 minute taxi ride) from central Sandakan. If you haven't yet booked on arrival at Sandakan airport, get your taxi driver to stop off at the office on the way into Sandakan – you'll drive straight past it.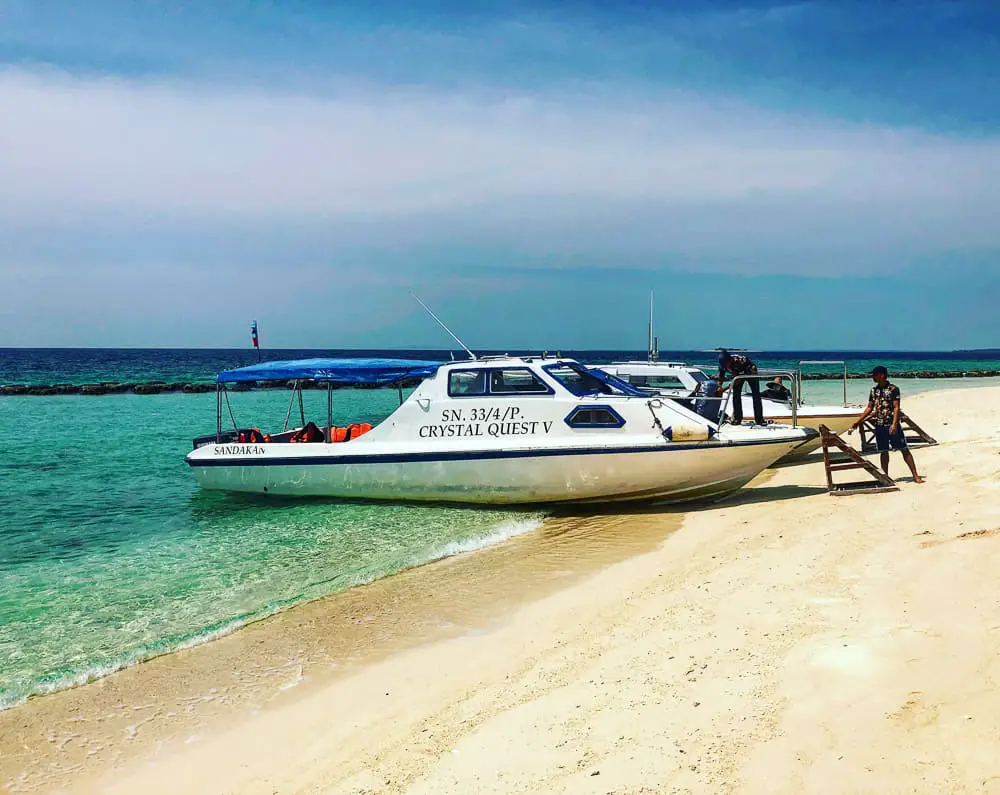 It takes only 1 hour to reach Turtle Island from Sandakan. The boats leave at 9.30am from the jetty next to the Sea Quest office.
Before you know it you're crossing the Sulu Sea at great speed and arriving on a tiny sand fringed paradise island.

The island is so small it doesn't take very long to walk around. One side of the island has a sandy beach whilst the other side is rocky reef, so it's actually not so easy to walk around even at low tide.
Selingan Turtle Island Chalet Accommodation
The rooms on Selingan island are simple and basic, but most importantly clean and with air con!
Accommodation is in four large chalet buildings located some 500 metres from the main building (which houses the information centre, shop and eating area) along a path under huge overhanging trees.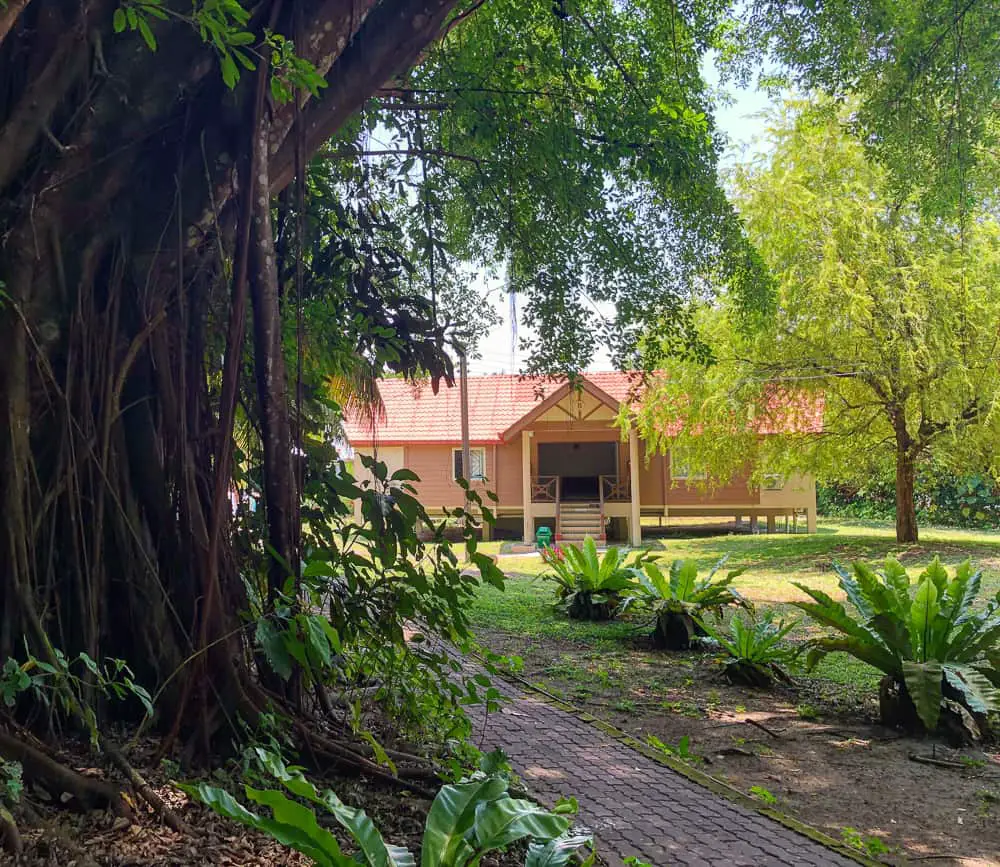 We had no complaints at all about the accommodation. Yes it's tired, but the air con worked, the rooms were spotless and the beds perfectly comfy. After all we were there for the turtles and not a 5 star luxury experience. Whilst booking the tour, the staff show you photos of the chalets so they met our expectations.
Chalet A (below) has recently been refurbished so it's worth asking if it's possible to stay in Chalet A at the time of booking.
Chalet B, where we stayed, (above) has admittedly seen better days, but Fatima, the new manager of Crystal Quest admits this, saying it would be the next accommodation block to be refurbished in the low season. As we visited last August, it may have already been re-vamped by now. Chalet C is rather worn and needs a facelift, so this will be next up.
Fatima, the Crystal Quest Manager, seems very on it and keen to improve the facilities for visitors. But hey we were there for the incredible turtle experience and not bling digs so it wasn't a problem for us at all.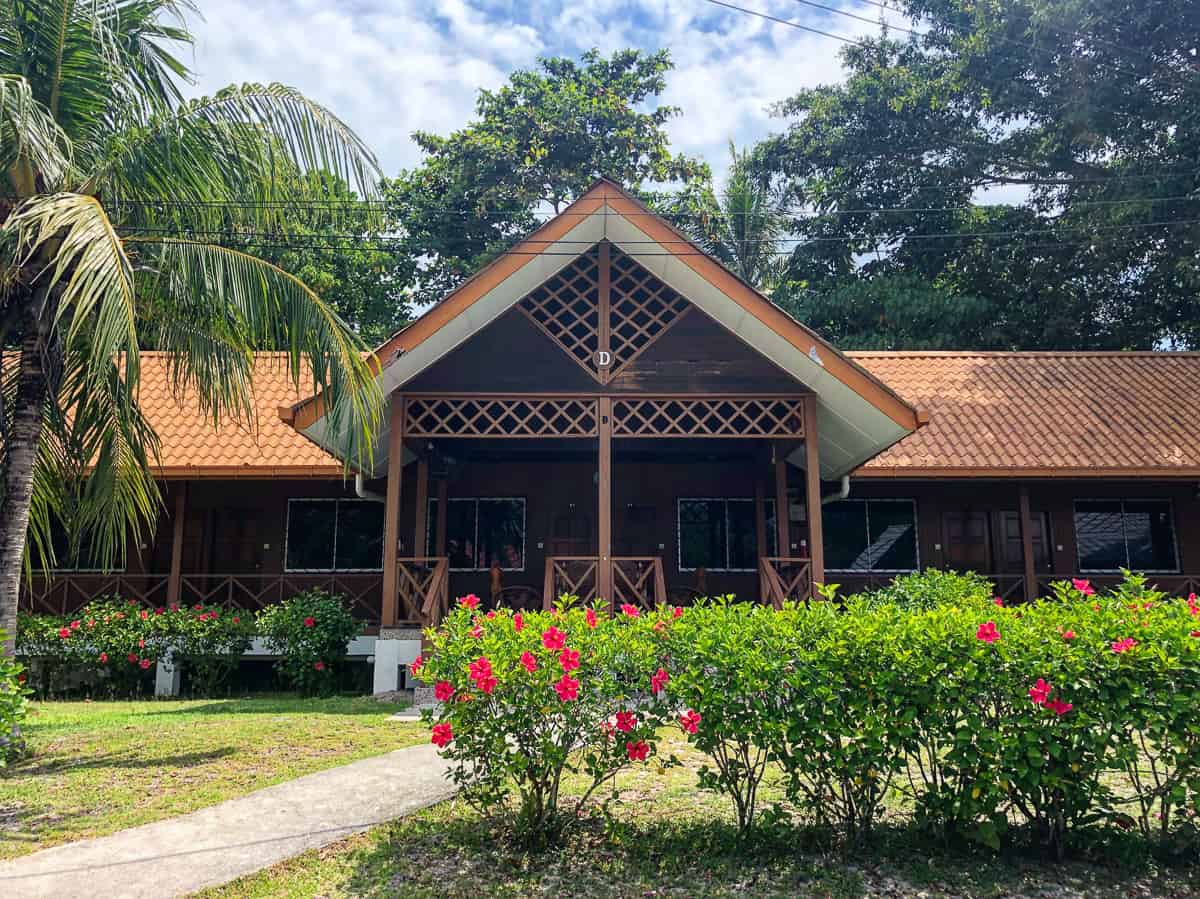 The hatcheries are in the middle of the resort in-between the restaurant/education centre and our accommodation. We had a good look at the mysterious green wire netted nests eager for any signs of life every time we passed. I loved the fact that the hatcheries are in plain sight and not hidden away, prohibited from visitors. 
An interesting fact is that temperature of the sand the eggs are incubated in plays a vital role in determining the sex of the turtle.  Higher temperatures result in more females. Conversely males dominate in lower temperatures. Some hatcheries are shaded to ensure certain nests are cooler than others. A difference of only 4.5 degrees farenheit can mean a nest is wholly female or male. This curious fact underlines the importance of hatchery management.
Upon arrival on the island and after settling into your accommodation, the day is yours to relax, swim and snorkel. The beach is lifeguarded with a designated area for snorkelling. The water is crystal clear and the snorkelling excellent! The array of tropical fish swimming around us was truly remarkable. Make sure you bring your snorkel and mask.
We even shared the beach with a hungry monitor lizard stalking the sand for eggs. The rangers retrieve eggs from almost all nests buried on the island and re-house their eggs in the hatchery to prevent predators, such as this guy, guzzling up the eggs before they've even hatched. The rangers do leave some nests wild to ensure that other species, dependant on turtle eggs as part of their diet, can still survive.
After snorkelling, even with the threat of rain, we set off to walk around the island. As I said, it's not an easy task due to the furthest side of the island being reefy and covered in sharp rocks. I wanted to circumnavigate the island because of some comments on trip advisor that I wanted to satisfy myself on. Some visitors on trip advisor had been outraged claiming there were huge amounts of rubbish on the shores of the far side of the island. I wanted to see for myself if this was the case and if this was so, to hear what Fatima, the manager, had to say about this. 
We did see rubbish strewn on the rocks on the far side of the island, amid scuttling crabs. It was disheartening to see, knowing that rubbish can be so harmful to marine animals, especially turtles, and this is even included in the park's video to visitors.  
When I called Fatima out on this, however, she admitted that rubbish arrives constantly on the tide and their 5 full time rangers work tirelessly to clean it up. The focus, she says, has to be on the nesting beaches, and these were perfectly litter free. It's disappointing I admit. My heart sank. How can a National Park allow this? We'd visited Kinabalu National Park and hadn't seen one shred of litter the entire time we were there.
I suggested a voluntary 30-60 minute beach clean for visitors to participate in. I'd definitely be in – wouldn't you? Something this simple would work. Many hands make light work.  Hopefully this is a scheme that might get off the off the ground, and I'm in touch with Sea Quest to try to make this happen. I really got the feeling that the turtles are definitely the priority here and rubbish is an obstacle that they are trying to overcome, but as always funding is limited.
Voluntary Beach Clean for Sea Quest Tour Visitors?
Would you take part in a 30-60 minute voluntary beach clean on Turtle Island during the 7-8 hrs of free time on the island before sunset? It would be great to show Sea Quest how willing visitors would be to help battle the litter problem on Palau Selingan, knowing that rubbish is so harmful to turtles – the very creatures you'll be visiting? Vote with your feet (or rather fingers initially) and let us know your support in the comments.
We were rewarded on our tour of the island by seeing some rangers about to release some hatchlings. We were totally by ourselves, just the two of us, and the rangers let my 10 year old release the baby turtles. Can you imagine? A girl's dream just came true!
I was disappointed when one of the rangers said we could pick one up if we liked. We politely declined. Minnie was desperate to pick one up (of course) but we are heavy on conservation in our family and she understands its a big no no. I would ask all other visitors to Turtle Island to decline touching or handling the hatchlings, however hard it is to say no (yes they are ridiculously cute, but c'mon people!). 
Later on during the official release of the hatchlings after dusk, the rangers stipulate that no one should touch the turtles and were strict to enforce this, so I think our offer came from a random ranger keen to please. Just say no.
Having survived millions of years, the sea turtle must now face it's biggest challenge. Its habitats have never been more threatened. Its surroundings never more hostile.
Many perish from simply swallowing discarded items. Plastic bags, often mistaken for jellyfish, are lethal. When swallowed they block up the intestines, killing the turtle.
To the turtle being caught in a fishing net means certain death. Although adapted to a life underwater turtles must still surface to breath or they will drown. As they can't free themselves when entangled, fishing nets, especially abandoned or ghost nets, prove deadly.
Boat and propellors are dangerous to turtles. A chance encounter can bring sudden and violent death.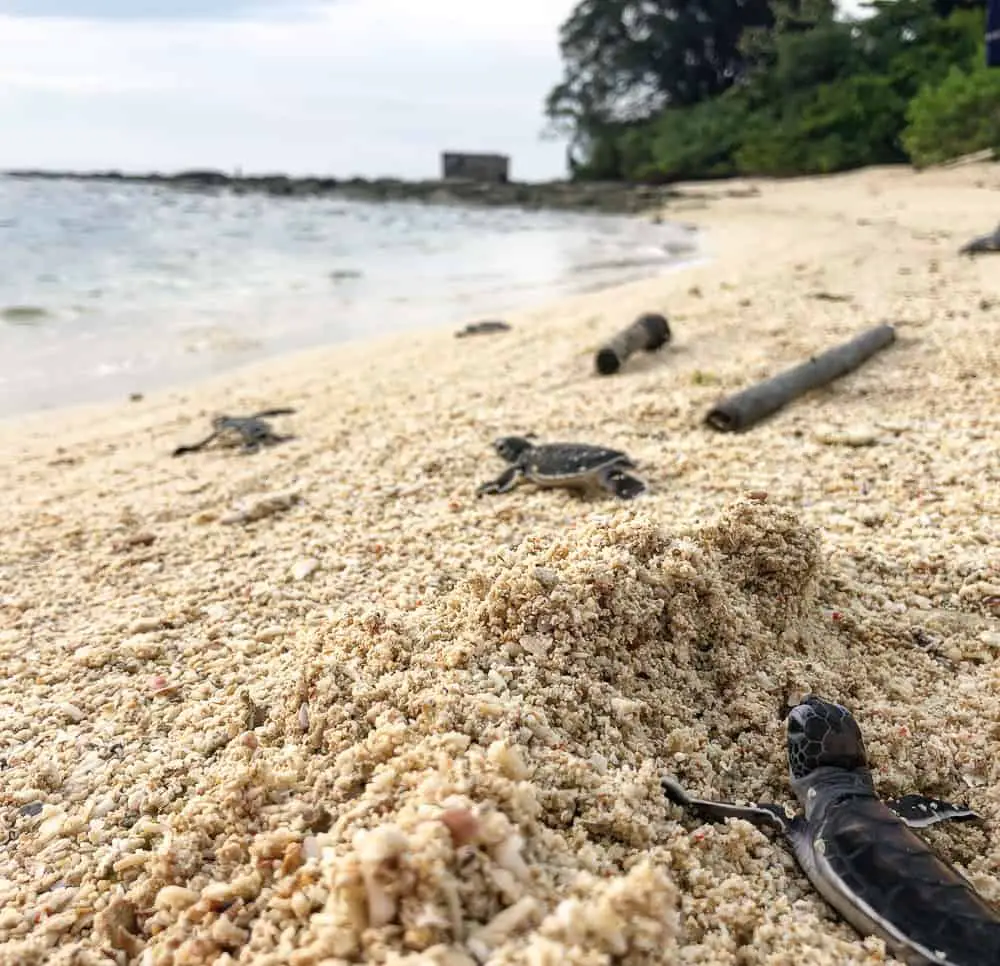 We were allowed to hang out on the beaches until sunset. Then the park rules and regulations are strictly enforced and visitors are not allowed on the beach from sunset to sunrise so as not to disturb the turtles. 
After sunset, a buffet dinner is served and visitors sit together expectantly before the night begins. A video is shown above the restaurant in the education centre which tells us all about the lives of Green and Hawksbill Turtles from breeding, hatching and what little is known of their life at sea.
One of the most alarming facts was that about courtship. Male turtles are persistent. Mounting the female, the male grips the female with the claws on his flippers. The female must then pull him along as she swims. In order to breathe, she lifts him above the water. It may be hours before he releases her. Other males may try to dislodge the main suitor. Clambering males sometimes drag and hold a female down for extended periods, perhaps even drowning her. Males return to distant feeding grounds after copulation, leaving the females to nest. 
It's certain that these ancient creatures are extraordinary and by now we're all pumped to see a mother turtle nesting. Not long to go now.
I was guilty of eavesdropping a little to groups around us to glean more information about turtles or the island. If you book with an external company you will get a guide that will accompany you onto the island. Booking with Sea Quest means you are pretty much solo on the trip. You will have a lady meet and greet you and tell you the do's and don'ts of the island, but not much to offer on facts and info on the turtles. However, the information centre is excellent and provides a lot of background and interesting facts, and I'm not sure the guide warrants the huge price increase charged, particularly as this would escalate if you're travelling with kids. We were more than happy to book direct with Sea Quest and would do so again.
As with all our other turtle nesting experiences, you have no idea how long you might have to wait until a ranger calls you to the beach. Finally we got the call and excitedly in hushed school children whispers, we switched on our head torches to red and followed the ranger to the beach.
We all gathered around as the ranger talked in hushed tones to us.
Being reptiles, turtles cannot regulate their body temperature. Coming on shore during the day exposes them to extreme heat. Their huge, dark coloured shells collect solar energy, which can prove fatal. Nesting is therefore a phenomenon that occurs mainly at night.
Nesting turtles are sensitive to light. A bright light on or near their nesting beach is a major deterrent and they may avoid coming onshore entirely or they return to sea without laying their eggs.
The rules were to use only our red lights on our head torches and no flash photography. Some inconsiderate tourists still attempted to use them but were cut down quickly by the rangers.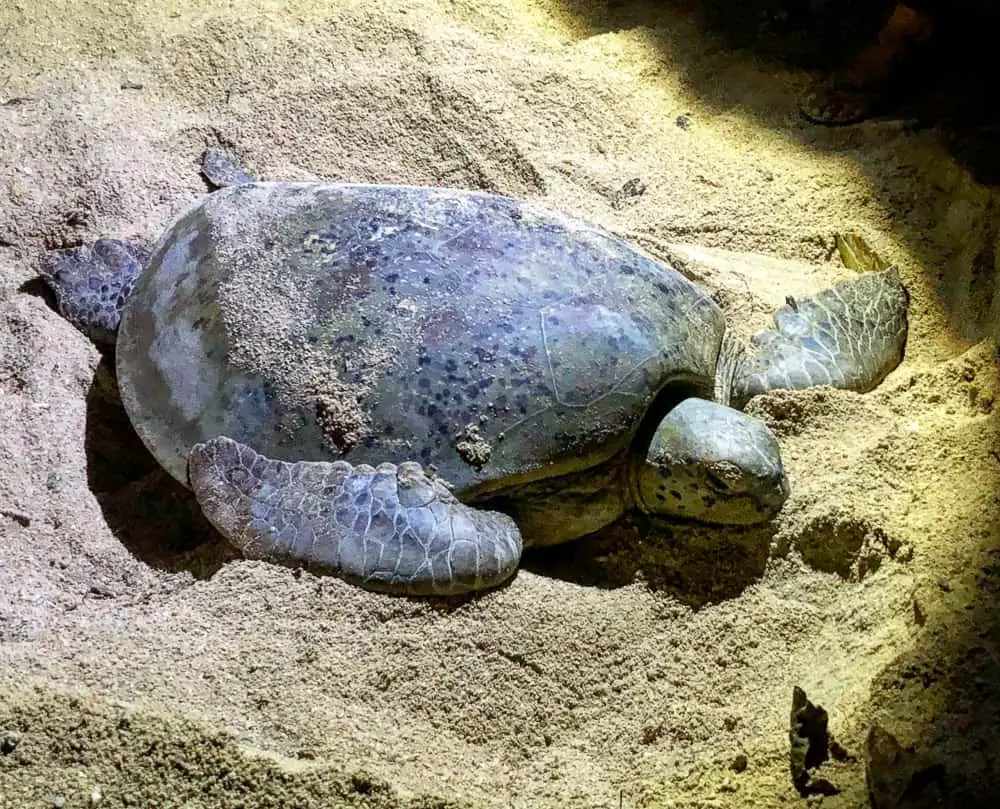 Green and hawksbill turtles come ashore throughout the year in varying numbers. July to October sees the highest number of nestings.
Dragging herself beyond the high water mark, the female digs a deep chamber shaped like a flask. During egg laying she seems to be a trance, oblivious to movement or sound. The chamber slowly fills with soft, glistening eggs each with its own minute pulsing embryo. Sea Turtles have enormous salt water glands behind their eyes. These allow them to expel salt taken in at sea. The salty mucus gives the impression of tears during egg laying.
It is a fact that turtle populations are under threat. Among the major problems are pollution and egg poaching. Turtle eggs are still sold illegally in some markets. Touted as aprodisiacs eggs fetch high prices. There is a total ban of the sale of turtle eggs in Sabah. Unfortunately Sabah's concern is not shared by neighbouring countries where turtle eggs are still sold openly.
We watched awestruck as the ranger measured the female turtle. She was already tagged, meaning that she'd been to this beach before and the park would have information on her from her tracking device. If the turtle is untagged, meaning it's a first time visitor to the island, the ranger would tag the turtle. We watched as she laboriously dug her nest and proceeded to plop out 136 glistening white eggs, the size of ping pong balls. 
Nesting may last several months and usually results in several clutches of eggs, then she too will head for home. She will rest for two or three years before repeating the cycle.
The ranger carefully collects all of the eggs and visitors are lead away from the beach immediately so as not to disturb other nesting turtles, which are sensitive to movement. Carefully we negotiated our way back to the hatchery and to our surprise, passed a number of nesting turtles on our return. 
We then were allowed to observe the ranger transplant the freshly laid eggs into a man-made nest dug 60-75cm deep which is similar in size and shape to the natural nest.  These nests are protected from natural predators.
Whilst turtles can be seen else where in Borneo, Turtle Island is the mainstay of turtle conservation in Borneo. Lankayan Island offer a similar experience but on a smaller, far more relaxed scale. 
Egg clutches vary wildly in size. Some clutches may contain as many as 190 eggs others as few as 40. As soon as they are laid eggs must be retrieved and transported promptly to the hatchery to ensure a better chance of survival. The eggs are placed in a pit 30 inches deep. A plastic wire mesh cylinder keeps out unwanted predators. An information plate contains a serial number, the date of collection, and number of eggs transplanted.
To make way for new nests, old ones must be removed, irregularities noted and records updated. Beaches and nesting areas should be safe and clean to ensure easy passage.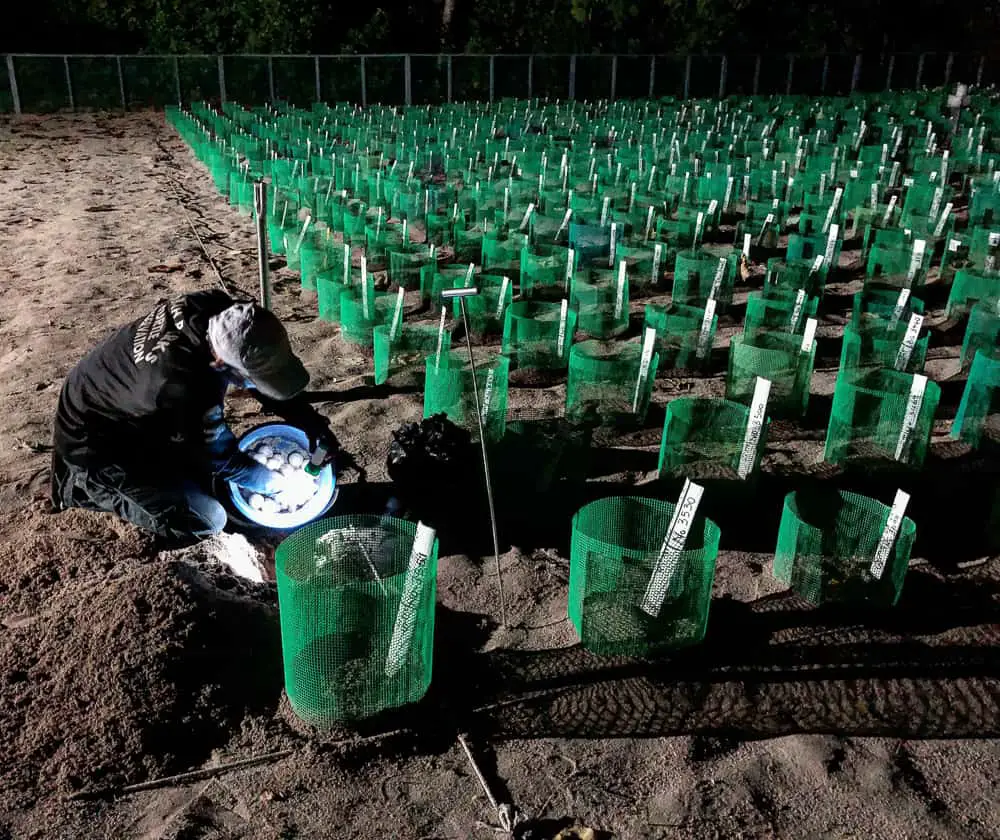 Many questions about sea turtle's life history remain unanswered. For records to be maintained on a continuous basis, any new nesting turtle must be tagged. Being regular visitors, older turtles already bear identification marks. Their movements are still monitored which give a clearer picture of their movement, growth, and population.
Even though the parks records are amongst those the most comprehensive, data in still incomplete given the turtles long life span of over 100 years.
The final stage of the evening is the release of hatchlings – baby turtles! We had already been overjoyed to witness our own private release a few hours earlier but that didn't mean we were any less excited about the release still to come.
Baby turtles take between 50-60 days from being laid to hatch. Baby turtles hatch usually after sundown, on sensing the coolness of night. At the hatcheries they are released immediately.
We were able to witness the baby turtles being released from their basket and watching as instinct kicked in and they were drawn to the pounding ocean. It was uplifting watching these tiny creatures bob up and down in the waves before disappearing into the depths.
Being the most vulnerable when young, only a few will survive.
Survival strategy calls for numerous offspring to emerge at the same time as swarming predators who are unable to consume them all. In nature the survival of the population species takes precedence over individuals. The few hatchlings that survive the initial frenzy probably seek refuge in rafts of tangled seaweed floating in sea currents.
Virtually nothing is known about the hatchling in the subsequent days in its life. These are the lost years, the stage between the time a tiny hatchling enters the water and when it reappears as a large juvenile in a feeding habitat. When juveniles reach a certain size they leave life in the open sea. They then settle down in shallow waters, hundreds or sometimes even thousands of miles from their nesting ground.

Not all nests are emptied by the park rangers, but some remain undisturbed and develop naturally. By conserving the turtles the park does not want to endanger other wildlife on the island: many animals that are natural predators of the turtles such as monitor lizards, a crab specialising in turtle hatchlings, eagles and other birds, and marine animals such as sharks. They need the turtles for their survival.

Turtles in Borneo
There are two main turtles in Borneo, the Green Turtle and the Hawksbill.
The Green Turtle
The largest of the hard-shelled sea turtle, the green turtle can reach a carapace (shell) length of justs over one metre and weights up to 136-158kg. The green turtle is mainly herbivorous, feeding on sea grasses and various algae. Nesting occurs throughout the year with peak season from June to Oct. The green turtle reaches sexual maturity as early as 20 years and up to 35 years old. The average clutch size is around 110-130 eggs.
GREEN TURTLES ARE MASTER NAVIGATORS – HOW?
They can sense earth's magnetism directly from magnetic crystals lodged in their heads. This allows them to navigate accordingly to co-ordinates similar to latitudes and longitudes. As the sea floor cools from lava it forms magnetic patterns on the bedrock. Such deviations from the earth's magnetic field are as distinctive as finger prints.  Using them the turtle can locate a single position on the sea floor even when the sea bottom is invisible. 
The Hawksbill turtle
The hawksbill turtle is one of the smallest turtles in the world with a carapace (shell) length between 50-65cm and weighs up to 50kg. Hawksbill turtles have a dark olive in colour and feeds mainly on crabs, shrimps and other crustaceans. They reach maturity between 10-15 years old and their average clutch size is around 90-100 eggs.
Booking Turtle Island Borneo
It's wasn't easy at all to pre-book the Turtle Island tour. In fact it was impossible.
Through all my research before our trip I could see a lot of tourists asking the same questions on how they could book the tour! All the trip advisor reviews and comments I could see all over the internet was confusion about how to book the tour, and indeed when I tried to find out how to book, emailing an address that I'd seen in a forum, I received no reply. I was therefore unable to book ahead of my arrival in Borneo which is frustrating when you're trying to plan your itinerary. 
When I finally got to Borneo, I sat down with the lovely Fatima, that has taken over running Crystal Quest, to try to get a clearer understanding of how overseas visitors can book tickets to Turtle Island before arriving in Borneo.
Fatima admits it's been chaotic in the past with bookings. Only 50 visitors are able to visit the island on any one day so if those 50 tickets are sold easily via local tour operators, then booking emails from overseas have been previously not been given priority. 
At the time of speaking with Fatima, Crystal Quest were in the middle of building a new website (which is now live!) where visitors can book online. We didn't have the chance to try it as obviously it wasn't live before our visit , but if you are trying to book the Turtle Island tour in Borneo then this is your first port of call https://turtleisland.com.my
Hopefully booking won't now be such an issue. If you book through the new website, let us know in the comments how you got on.
Crystal Quest is the company that manages the visitor's tour on Turtle Island. Their office is on the jetty, a 10 minute walk (or a 2 minute taxi ride) from Sandakan city centre. 
NEW!! BOOK ONLINE – https://turtleisland.com.my
CRYSTAL QUEST SDN. BHD. (404164-K)
Sabah Parks Jetty, Jalan Buli Sim Sim
P. O. Box 848, 90709 Sandakan
T: (6089) 212 711, 221 657
cquest1996@gmail.com
You can also book the Turtle Island tour through other local tour operators, however the price is almost double. It is much cheaper to book direct with Crystal Quest.
BOOK ONLINE 
You should now be able to book directly online on https://turtleisland.com.my
BOOK BY EMAIL
I sent two emails to this email address cquest1996@gmail.com before flying to Borneo. I didn't get a response from either, but other visitors have so it's always worth a go. Email and ask for which dates you require (give a range of dates if you can). Currently their booking system is to confirm the dates via email and then you will turn up on the day and pay cash at the jetty office. They are working on getting credit card facilities.
BOOK BY PHONE
It was only calling the local number once arriving in Borneo (definitely go with an unlocked phone and buy a local SIM card on arrival at the airport) that I managed to contact Fatima and ultimately book the turtle island tickets.

BOOK DIRECT AT THE CRYSTAL QUEST OFFICE
Failing booking on the website or contacting Crystal Quest by email, the best thing to do is to rock up at the jetty. If you're visiting Sandakan chances are that you're heading to the Kintabatangan River for one of their epic riverside wildlife tours and to Sepilok to visit the world famous orang-utan rehabilitation centre. If this is the case, on arrival into Sandakan, pass by the jetty and pre-book your tour for a few days later. The jetty is on the way into the city from the airport so you can easily ask your taxi driver to stop on the way to make the booking. Chances are you won't be able to rock up on the morning and bag a ticket for that day. There are only 50 permits to the island every day and normally these will have all been pre-booked. 
How much is the Turtle Island overnight tour?
The price for the turtle island tour through Crystal Quest (until Dec 2018) for two people sharing a double room, including all meals, boat transfers and the newly introduced mandatory tourist tax (10RM per room per night) was 930RM (roughly £177 or $223).
Other tour operators included normally charge that same price per person, however you do get a private guide for the group included in the cost.
Therefore it's much cheaper, roughly half the price, to book through Crystal Quest. 
There's also an additional National Park entry fee payable on arrival of 60Rm per adult/ 30 RM child and a camera fee of 10RM per camera/device/mobile phone.
There are four triple rooms available in a new Chalet D block (the best rooms!) for families with one child. The extra bed costs 250RM which includes meals. Unfortunately if you're a family of four, you'll pay 930RM x 2,  for two twin rooms. 


Is it better to book direct with Crystal Quest or via another operator?
It's much cheaper to book direct with Crystal Quest over another operator. Crystal Quest is the company that manages the tour for Sabah Parks so they are able to offer the cheapest rates. If you book with another operator the price is almost double, however you do get a private guide included with your tour group.

Crystal Quest do not offer a private guide. A lady will meet you on your arrival and discuss the practicalities of the tour ie: meal times, beach curfew etc but will not provide any detailed information on the turtles. There is, however, an education centre on the island with turtle exhibits and lots of information on turtles, the centre and the important conservation work that is carried out.
If you are travelling solo and want to the best out of the trip, consider booking through a different operator and paying more. If you are a family travelling, I wouldn't bother, the extra cost would be ridiculously more but not very little gain.
The best time to go Turtle Island Borneo
The great thing about Turtle Island is that there really is no best time to go, as turtles arrive on the island every day, and visitors are able to visit 365 days of the year.
The peak visitor's season is between June – September, therefore pre-booking up to 3 months ahead is advised to avoid disappointment. However, it is often possible to book last minute from cancellations.
Is Turtle Island safe?
The UK government is still advising against all but essential travel to all islands off the eastern coast of Sabah, quoting the below.
"In May 2017, the Philippines authorities reported that they had received unsubstantiated but credible information that the terrorist group Abu Sayyaf may be about to conduct kidnaps in the Sulu Sea, including around the islands of the Sulu archipelago (Philippines) and the seas/islands off the east coast of Sabah (Malaysia). There is a threat to foreigners of kidnapping and criminality on the eastern coast of Sabah and in particular the islands close to the Sulu Archipelago in the southern Philippines. There has been an increase in kidnapping by groups operating in the southern Philippines, some of whom have the ability to conduct kidnaps on the coast of Sabah."

Of course, this frightened the life out of me and I (of course) questioned what on earth I was thinking of taking my 10 year old daughter into such a risky area. However, I decided to ask people on the ground about the current situation with the last attack being several years ago. I was told by a number of people that because the security has been ramped up so much that pirates no longer dare to come into the waters. There have been no attacks since 2017.
I was still nervous about going. However the tour was sold out every day packed with Europeans on holiday. I decided the risk was absolutely minimal and so we went. Good parent? Bad parent? Your decision.
The UK government warnings extend to the world famous dive site Sipidan Island also off the East coast of Sabah. We met many tourists who had been diving there who mentioned security was very high, but no-one felt scared or threatened. 
Does any of the tour fee go into turtle conservation?

No, none of the tour fee paid to either Crystal Quest or another tour operator goes into turtle conservation, although they do pay for the electricity on the island and the buildings maintenance all of which benefits the rangers & the conservation programme. The only part of the money you pay that will go directly to turtle conservation is the national park entrance fee of 60RM per adult/ 30RM per child payable by cash on arrival at the island. This goes directly to the national park to pay the rangers etc. It is understood the the WWF also contribute to supporting the Sabah National Parks. Sabah Park also has the largest marine park in S E Asia in Kudat.

Is the Turtle Island tour in Borneo reputable?
In our opinion yes. I read several negative reviews on trip advisor before departing Borneo so was interested to see what the operation on the ground might realistically be like. The negative points raised on trip advisor are generally people using flash photography or using white torches in front of the turtles instead of red which confuses and disorientates them, too large groups around one turtle and litter on the beach. All of these are important points which I was interested to see myself.
There were only 38 of us on the island during our particular date and so we were told that the ranger would only disturb one of 30 turtles that night for us to watch. If the maximum of 50 guests are on the island they will split the group into two and only disturb two turtles. I too wondered if we were actually going to be able to see anything at all with 38 people crowding around a nesting green turtle. However the ranger and guide present were excellent. They rotated us until everyone had seen the turtle nesting close up and then we all formed a circle around. Sure it would have been nice to have had a smaller group but ultimately the rangers are limiting the disturbance to only one turtle rather than having a nice group of 5 but disturbing 10 turtles. This impressed me.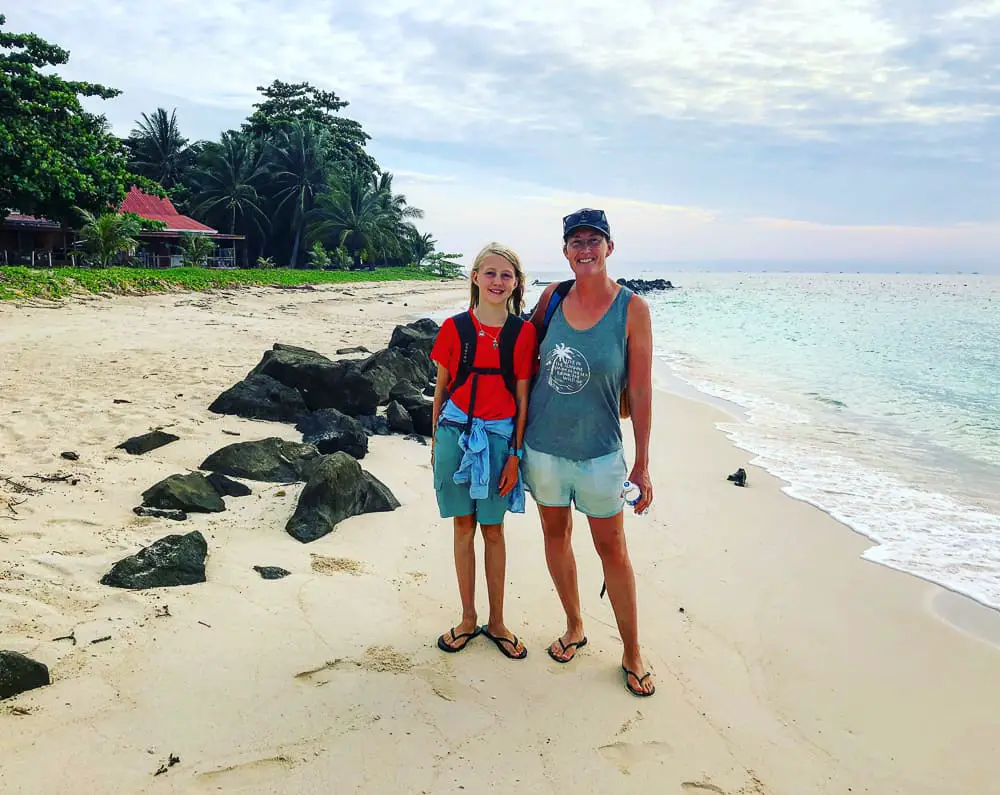 The rangers insisted on absolutely no flash photography throughout the programme of watching the mother turtles lay their eggs, watching the rangers scoop up the eggs and re-bury them in the hatchery nest, carefully marking out the nest details on a white wooden stake, and then the subsequent of newly emerged hatchlings from eggs laid 30-40 days prior. Of course there's always going too be irresponsible tourists that try to take a flash but they were quickly shot down by the ranger and peer pressure from the group. The ranger does use a white light once the turtle begins to lay her eggs. It's said that she goes into a trance and is not particularly aware at this stage as to what is going on around her. The only point where I saw distress from the turtle was when the ranger had to tag her as one of her two tags had come off. She was visibly hurt for a couple of seconds like any baby or toddler having a vaccine. 

The two beaches (which make us almost 2/3 of the island were very clean of litter. However, due to reports on trip advisor and my own personal intrigue I chose to make the short walk around the island and yes, on the far shore where the coral is exposed at low tide there was a lot of rubbish. As this is a national park, I too was pretty outraged. Surely they can keep their own island clean of litter for the sake of the turtles. Visiting Kinabalu National Park was pristine, so why was the same procedure not followed here? I followed this up with 1, a guide on the island and 2/ with Fatima back on the mainland. The guide indicated to me that the rangers are so busy with the work they are doing that they do ty to collect the rubbish but it's down to man power. They prioritise (obviously) the beaches where the turtles arrive. The far side of the island is where the wind blows and litter collects daily. Fatima took my concerns seriously and agreed about the huge problem they had with litter in the oceans here. I suggested that westerners would be more than happy to spend 30 minutes on beach clean during the day when there's not much to do waiting for both the night and the turtles to arrive. Asians she indicated would be hard to persuade and I suggested that it could be optional. If you think this would be a good idea and that if you were to visit Turtle Island you'd be happy to spend 30 minutes on a beach clean then please do let me know. It would be good to hear the support here so that we could create a new programme with this in mind.

Volunteering in sea turtle conservation in Borneo
If you are interested in volunteering on a sea turtle conservation project in Borneo, Globalteer offers you the chance on Palau Pom Pom, working with the Borneo Sea Turtle Conservation project. Off the coast of Semporna, the nearest town to the fabled world class dive island Sipidan, this volunteering project receives no state funding and is not connected at all to the Sabah Parks Turtle Island conservation scheme. We have no knowledge of how reputable this turtle conservation project is or whether it is suitable for families. If you have been on this project, please hit us up in the comments and let us know!
Read more of our posts on Borneo
Family volunteering re-planting the rainforest in Sakau, Kinabatangan River
A complete guide to Turtle Island Borneo
Staying at Bigfin Divers – a remote beach/dive resort 2 hours from Kota Kinabalu
Tips on climbing Mount Kinabalu
Looking to book a room in Sabah? Check out these great options!
Looking to book your next trip? Check out the following services we use!
Kayak to find a cheap plane ticket or AirTreks for RTW tickets.

Booking.com to find a hotel deal.
World Nomads to insure your trip.

Viator for a good quality day tours.

G Adventures for a multi-day guided tour.