I was beyond excited to be sent the Axis Go iPhone underwater camera housing to review. I'm a blogger so I take literally thousands of photos and generally I mostly use my iPhone! Not only are iPhone photos incredible, it saves me having to lug around my cumbersome DSLR camera and it's easy to quickly capture special moments, especially with the kids.
When I heard about the Axis Go underwater iPhone housing and the fact I'd be able to use my iphone underwater, you can imagine how giddy I felt. Yep. The box arrived and I fell in love with not only the gorgeous aqua green hue of the Axis Go but by the sheer quality. You can feel the quality – the Axis Go underwater iPhone housing feels weighty in your hand but not heavy, and the plastic (made from polycarbonate plastic) is not the cheap stuff. You can tell this kit is built to last..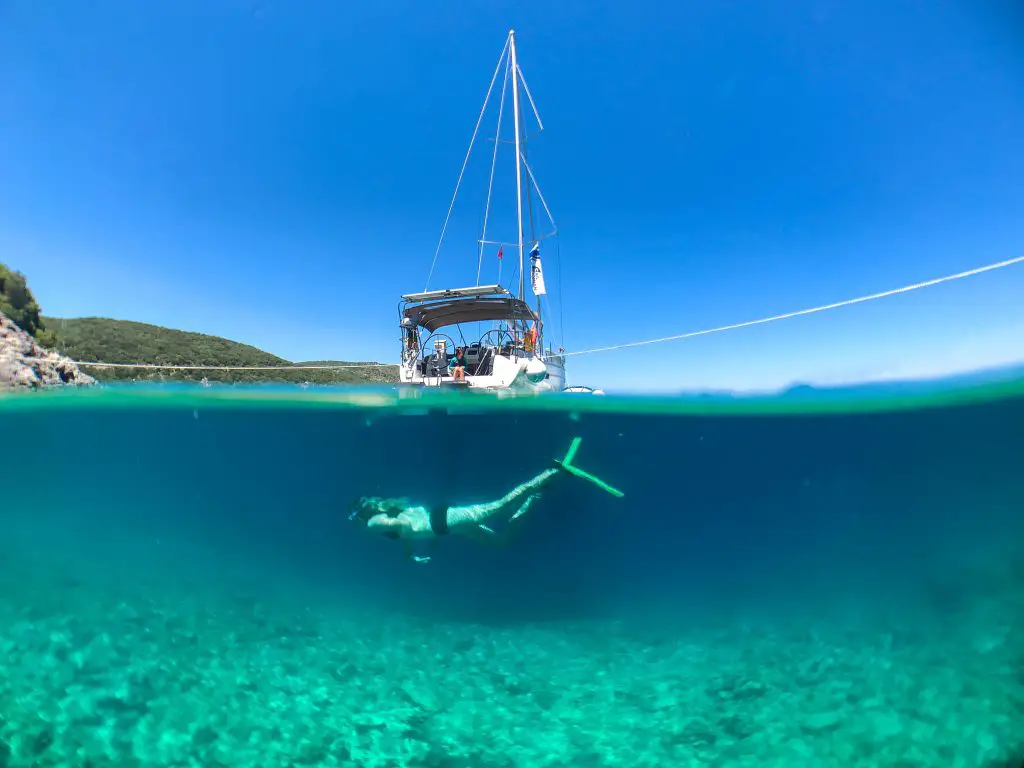 Designed for each model of iPhone
The Axis Go is a product designed & manufactured by specialists in underwater camera casings – Aqua Tech.
The Axis Go is specifically made for the iPhone. There are various models that fit the exact dimensions of each iPhone model taking into account shape, size & camera placement, which means all the main controls on the Axis Go line up with the phone model ie: camera lens, power button etc. For example, the new iPhone 11 housing features a bigger front port opening so you can you use all three lenses of the iPhone 11 pro/pro max.
Accessing your iPhone screen underwater
The Axis Go is an underwater iPhone case designed to make an airtight seal – keeping your iPhone safe from any water damage. Incredibly, because of it's clever design, you can still use all the functionality of taking photos and video on on your iPhone whilst underwater. 
On the back of the housing is a clear plastic screen which allows you to view & access your entire phone screen. It's a bit tricky as first to use as it does require quite a bit of pressure to press the touch screen through the durable plastic, but once you get the hang of how much pressure to apply it's a dream.
Protection down to 10m underwater
The Axis Go underwater iPhone housing has a reassuringly sturdy locking mechanism making sure your iPhone stays safe down to a depth of up to 10m deep. Impressive. It's perfect for almost every water based sport apart from diving.
Being an affordable way to venture into underwater photography or just to protect your phone during water based activities, the Axis Go underwater iPhone housing has been invaluable for us snorkelling, kayaking, stand up paddle boarding, canyoning, sailing and well just in the swimming pool with the kids.
How does it work?
Your iPhone fits snugly into the underwater housing built for your iPhone model. The sturdy locking mechanism gives a reassuring click to indicate that your iPhone is fully locked in (there is also a seal test that you will conduct before putting your iPhone underwater).
There are stainless steel physical buttons on the outside of the underwater iPhone housing that allow you to power up and to take photos (volume buttons).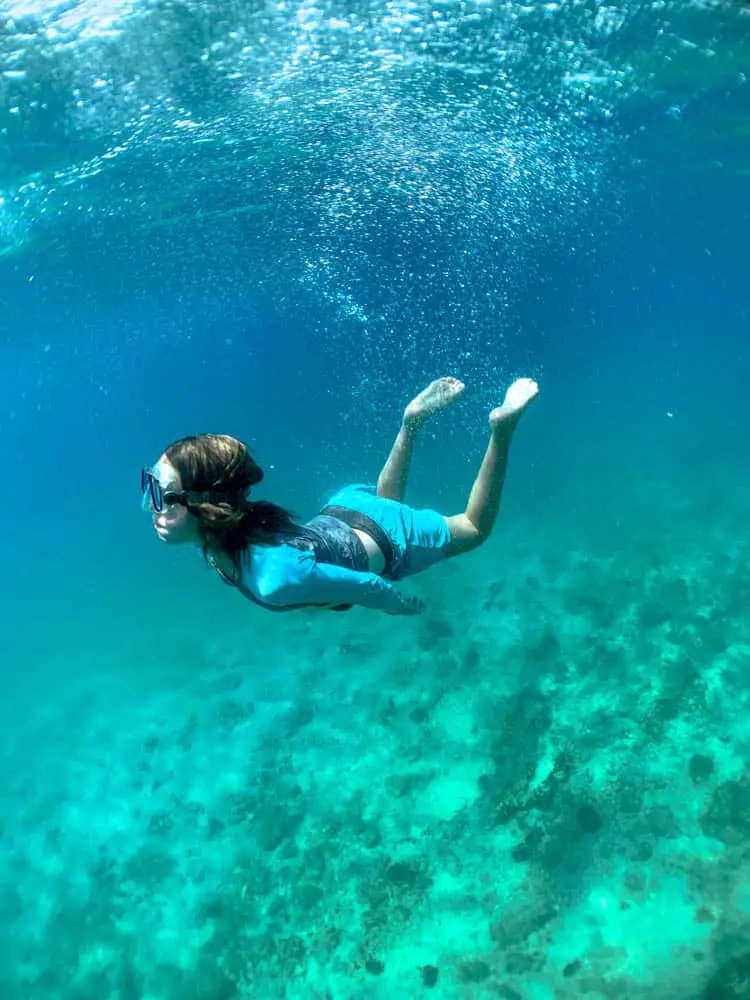 You can adjust all your settings without taking your phone out with the clear plastic screen on the rear.
To take a photo or video you use the normal camera app on your phone, accessed via the touch screen or if you have the mounted pistol grip, by pressing the trigger.
There are different lenses that you can buy to fix to the underwater casing. The standard housing comes with the ultra wide Lens port.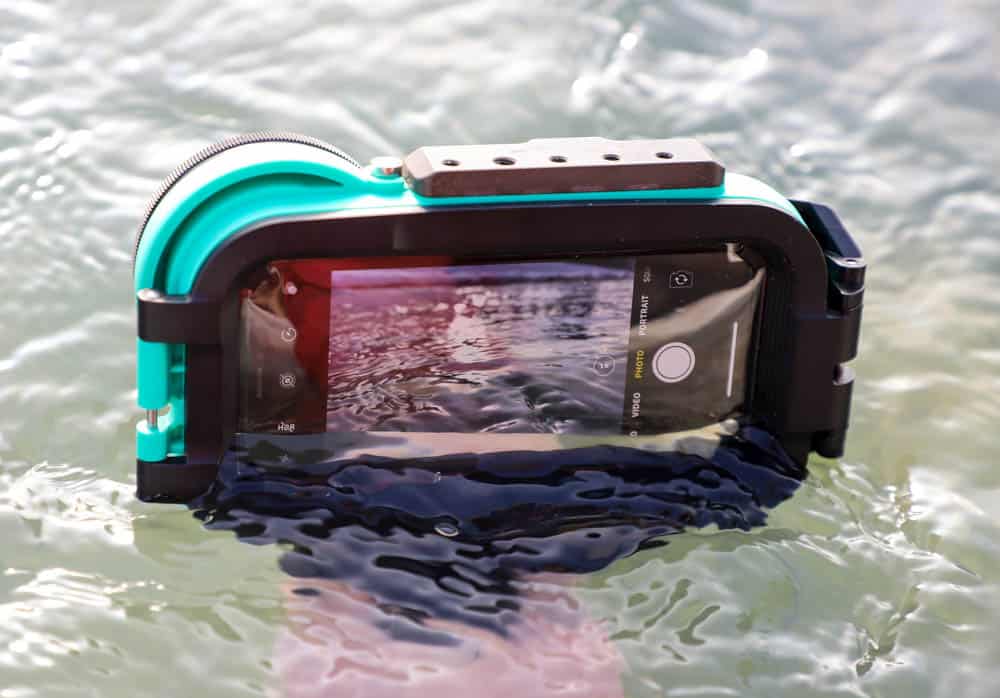 The sports pro kit, which we were sent, includes a pistol grip. We LOVED the pistol grip purely because it was so easy to press the trigger on the grip to take a photo or start/stop video recording.
The pistol grip is mounted on the underneath of the underwater iPhone housing. It's easy to hold swimming underwater and gives you a sense of security because there's also a leash with a toggle that goes around your wrist.
The sports pro kit includes a dome lens which allows you to take great shots half in and half out of the water.
The sports pro kit includes: 
1 x AxisGo Water Housing
1 x AxisGO Pistol Grip
1 x AxisGO Dome
1 x Dome Cover
1 x Novus Acrylic Polish
1 x AxisGO Protective Case
Where can I get my hands on one?
The Axis Go is sold predominately in the US but some UK companies have started to sell them. You can get some of the older models on Amazon.co.uk, or specialist photography sites, however it seems to be quite difficult to get the newer models in the UK. Aqua Tech do ship internationally so it's possible to order directly off their website. Bear in mind you will have to pay import tax.
Verdict …
We really rate the Axis Go iPhone underwater casing. It's an affordable way to use the kit you've already got (your phone) without having to invest in some serious photography equipment. We found the membrane screen a little tricky to use to get the focus right but this is something that improved with use. In general, a great bit of kit to take on your family trips. Recommended.
Disclaimer: the Axis Go iPhone underwater casing was provided for the purpose of this review to us free of charge by Aqua Tech. As always our opinions are always our own.