We are an outdoors family. Long summer days are filled with cliff jumping, kayaking and messing around in water, especially on the island of Jersey where we visit the grandparents annually.
If we're heading to far flung destinations around the globe such as Borneo or Sri Lanka where the kids need tough, outdoor sandals, we need reliable, good quality sandals to stand up to our level of wear and tear. So which outdoor sandals for kids do we rate? 
Outdoor sandals for kids: Jack Wolfskin review
Over the last few years our kids have worn Jack Wolfskin sandals and we really rate them. In fact we love them!
Jack Wolfskin's outdoor sandals for kids are robust, waterproof, and easy to put on. My youngest has mild cerebral palsy in her legs so finds it hard to reach down – so easy to put on footwear is a BIG deal for us and sometimes hard to find in kids footwear. 
Jack Wolfskin Seven Sandals 
My youngest has been wearing the Jack Wolfskin's seven sandals model all summer which have been fantastic.
Comfortable and light, the straps are strong velcro which makes for easy adjustment as well as quick getting them on and off.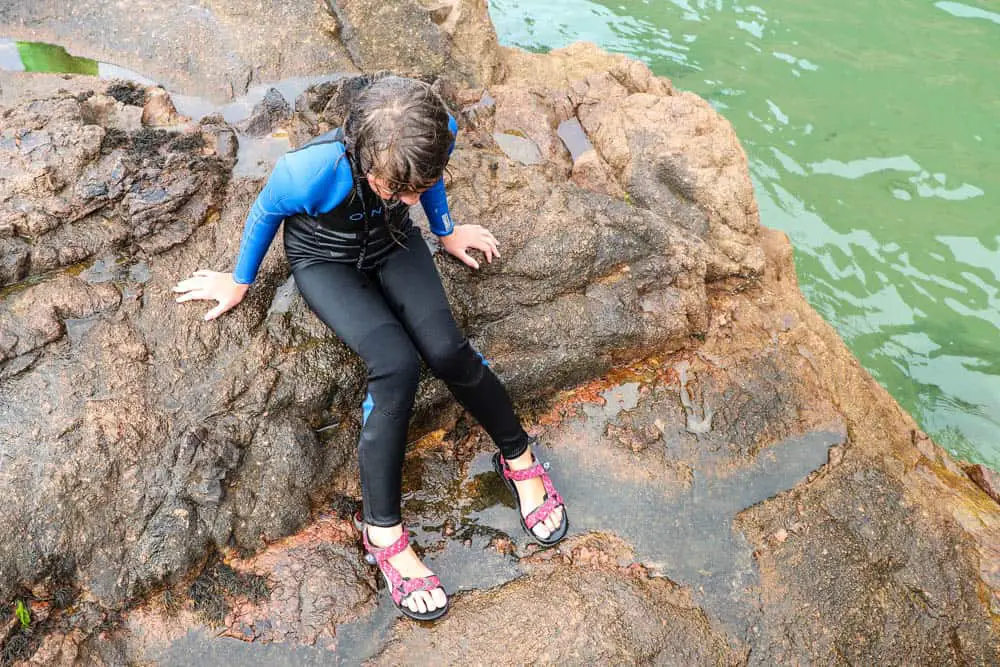 The great thing about this type of outdoor sandals is that the velcro straps are long enough to adjust to growing feet, so it's quite common for a pair of sandals to last two summers.
Seriously two summers? Yep you heard it. You are more likely to grow out of a pair of Jack Wolfskins than for them to break or wear down. We REALLY rate the quality of Jack Wolfskin.
Being perfect for any type of water sports, these Jack Wolfskin's outdoor sandals for kids have good grip for slippy rocks. The straps do take a little while to dry off after being in water, but more importantly don't rub.
The Jack Wolfskin Seven Sandals are designed with touch and close ankle and forefoot fasteners, cushioned footliner and textured, grip footbed for a comfortable, adjustable fit.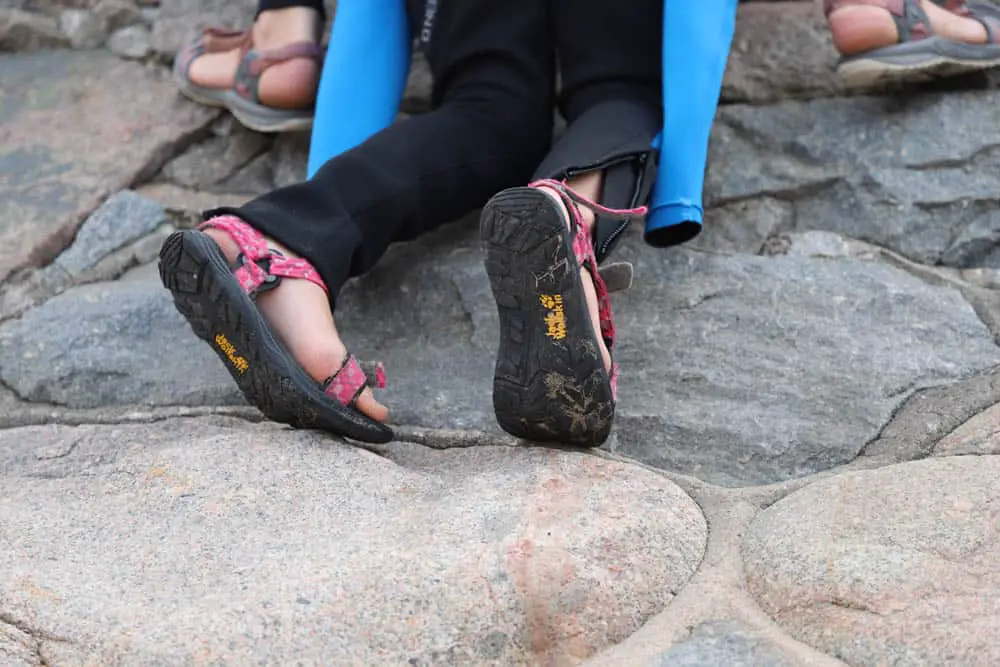 Certain beaches in Jersey harbour hidden weaver fish at low tide. Weaver fish give a painful, nasty sting so wearing sandals on the sand offers 100% protection. These sandals were perfect.
We've definitely put these sandals through their paces this year with walking on the hot sand and kayaking in Sri Lanka to sailing in Greece (the black soles do not mark the teak decks of a sailing boat thankfully!)
Jack Wolfskin Lakewood Sandals
My 12 year old girl's feet are now too big for kids sandals! With size UK7 she's now firmly in the ladies category!
She chose the Jack Wolfskin Lakewood Sandals. With thinner straps the style is definitely less clunky than the kid versions and she swears by how comfortable they are. (And I agree, because I got the same pair too!)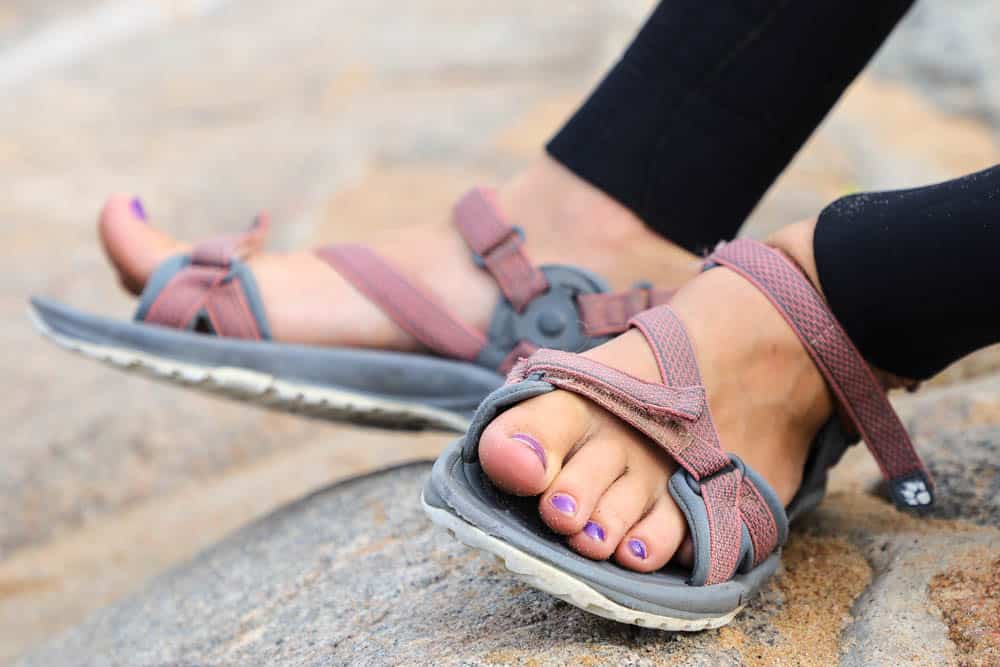 The Jack Wolfskin Lakewood Sandals are perfect for summer adventures, crafted with a moulded outsole with a multi directional tread pattern for fantastic traction on a range of surfaces.
Three adjustable touch tape straps provide a secure fit along with a contoured footbed for a comfortable feel.
My girl is still a big adventurer so these sandals have taken a beating this summer. She loves to climb trees and cliff jump. Long may it continue!
Again we've been super happy with how robust these Jack Wolfskin sandals are, with a regular dousing of salt water and being subjected to 35 foot cliff jumps (thank goodness for the impressive traction!)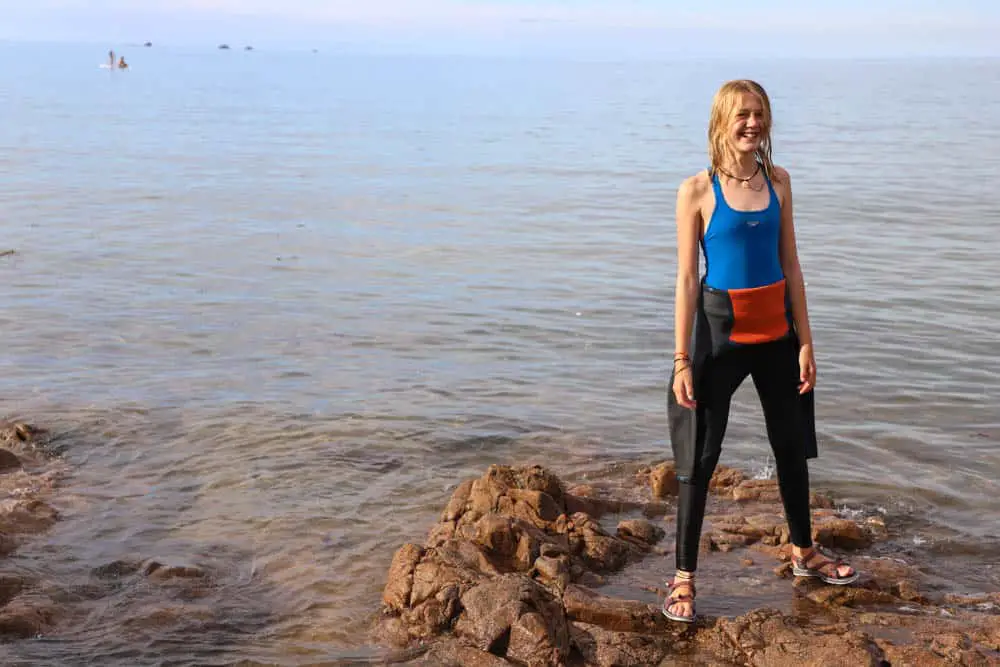 Cheaper outdoor sandal straps tend to come away from their sole in no time. After a long summer of heavy use, these sandals are still in top condition.
The ladies sandals tend to have less extra strap than the kids versions, probably due to the fact that women's feet wouldn't be growing like kids, so this pair of sandals will probably be outgrown before being worn out.
Jack Wolfskin for all the family!
Jack Wolfskin kindly gifted us sandals for the whole family and as you can probably tell, we love them! They have been perfect for our outdoor adventures this summer and know they will definitely last into next year for the kids – much longer for mine and Mr Family Freestyler.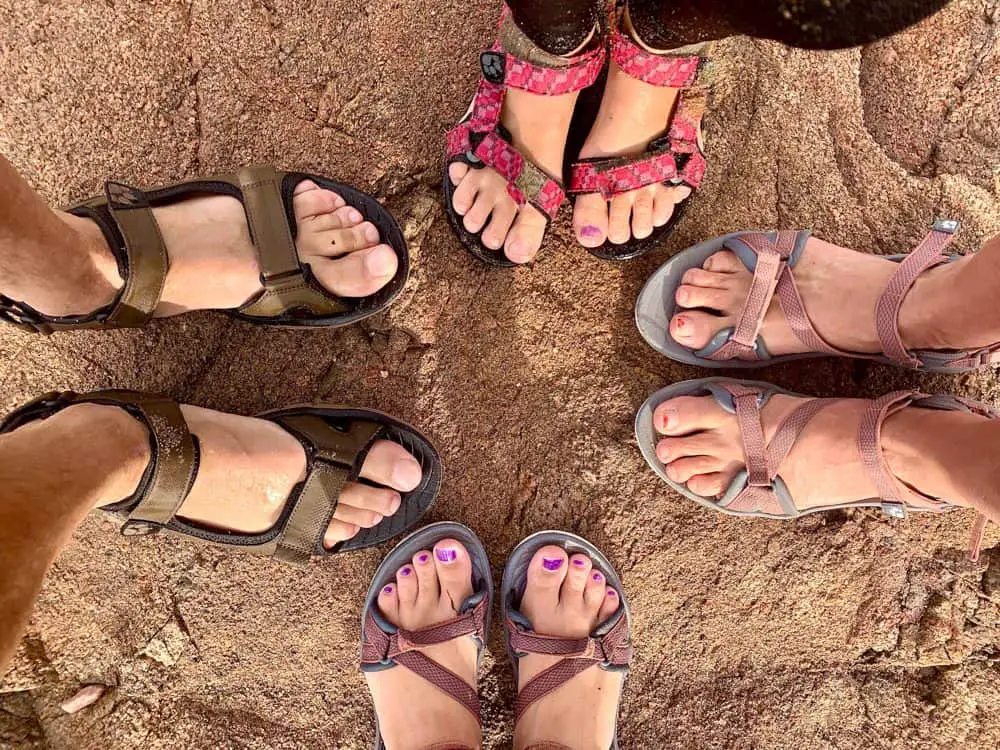 Mr Family Freestyler loved his pair of Jack Wolfskin sandals specifically for one particular purpose. We spent 10 days of our summer, in the brief covid free travelling window of early July to sail around the greek islands.
One of his daily tasks when we were long lining, involved us reversing up to the coastline and securing the yacht with two shore lines to either rocks or trees.
He was the one who had to jump off the yacht, swim to shore, grapple with the rope on sharp rocks to quickly secure the boat. He swore blind about his Jack Wolfskins.