La Dolce Via, a gentle vélo route in the Ardèche region of France, is perfect for young families eager to try their first family bike tour.
La Dolce Via cycle track, meaning 'pleasant road', runs along a converted railway track cut into the flanks of the Eyrieux valley.  Following the tumbling Eyrieux river, the Dolce Via velo route, 90km in total, is a wonderful way to experience rural France at its best.
This easy cycle route passes ancient farmhouses, crumbling water mills, and 9th century villages and takes between 2-5 days to complete, depending on your speed and itinerary. It's the perfect first family bike tour and easy to do self-guided. If you're looking for a longer bike tour in France, check out this Alsace bike tour from Strasbourg to Colmar.
Restored viaducts stretch the route across open valleys affording splendid views of the French countryside, whilst cycling into dark mouths of dripping train tunnels never fails to exhilarate.
You can even take a steam train from St Jean du Muzols to start this epic velo route, which makes this family bike tour even more exciting.
We'd been itching to try our hand at our first family bike tour for some time. There's something very special about moving under your own steam, getting from A to B without a car. Whether it's hiking over the Alps, island hopping on a sail boat or using pedal power, you gain a wonderful sense of freedom and achievement, as well gaining green credentials, when you ditch your car and embark on carbon free holiday.
When I first read about this little know
 'voie verte' (a safe green cycle lane) I knew it was perfect for our first family cycle holiday. 
La Dolce Via – the perfect starter family bike tour
The Dolce Via cycle route stretches in a Y shape from Lamastre or St-Agrève down to La Voulte-sur-Rhône, near to the city of Valence, creating nearly ninety kilometres of safe cycling trail.
The route from Lamastre to Le Cheylard and onto La Voulte-sur-Rhône is the easiest as it's mostly downhill. We chose this route to ride with our girls (8 and 11 years old) for their first bike packing experience.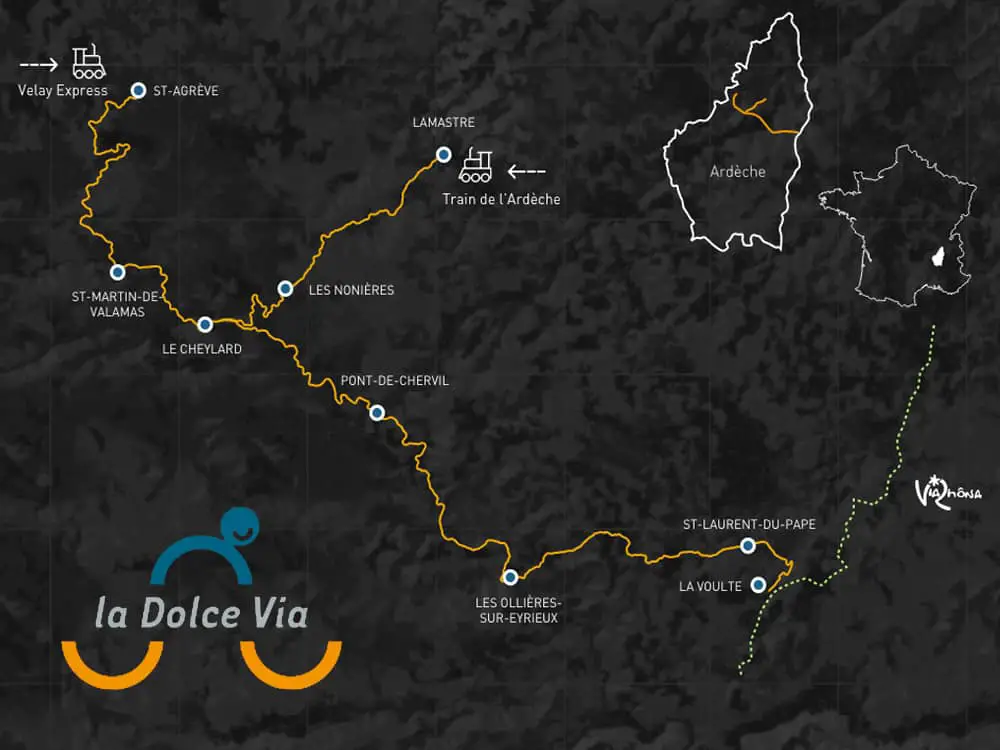 Safe terrain for your first family bike tour
Being an ex-railway route, the Dolce Via is a very easy cycle route.  
Abandonned since 1968, the old railway track is, for the most part, perfectly flat or on a very gentle gradient. 
The cycle route is wide and the surface either tarmac or stony gravel (it's better on mountain bikes rather than road bikes).  
The velo route is flanked by a metal safety barrier in all exposed areas (viaducts, or sheer drops) so it's safe to let your kids ride ahead of you.
Some sections of the route have shared vehicle access to houses and coming off the route into Le Cheylard will mean a small stretch on the main road, so care should be taken here with kids. 
The Dolce Via cycle route is ideal for all abilities, especially young families.  The easy gradient means that kids can cycle solo,  be pulled on a tag along or get a ride in a carriage pulled along by Mum or Dad. 
Check out our video of our family bike tour along the Dolce Via in France below.
Start the Dolce Via by catching a steam train
A popular way to start the Dolce Via cycle route is to take the Mastrou steam train,  Le Train de L'Ardèche, from St Jean-du-Muzols station (4 kms from Tournon sur-Rhône). These run on a Sunday and Tuesday, departing at 10.15am, but do check the current schedules when planning your trip (see more info section at bottom of post).
We arrived in Tournon sur-Rhône the day before we set off on this family bike tour. We stayed in the fabulous Hôtel de la Villeon, a former merchants house in the old town. This 4 star boutique luxury hotel is steeped in history and exudes elegant charm (it's an official historic monument of France!). It even has a ramshackle secret garden that kids will love. 
Read our
review of Hôtel de la Villeon here
.
The 1 hr 40 minute train ride gains 25km in elevation rattling you to up to the hills of Lamastre,  the start point of La Dolce Via. It's the perfect way to start this family bike tour creating a flurry of excitement for all of us as we load up our bikes into the goods wagon and find our seats.  
Be sure to sit on the right hand side to benefit from the spectacular views

Take sunglasses if you expect to hang out of the train window to take photos to avoid soot particles irritating your eyes.
The steam train carves its way along the gorge high above the Doux river, a tributary to the Rhône, with spectacular views of rural France.
The train stops once in it's journey, at Boucieu le-Roi to refill with water.  Watch out for the velorail, another tourist attraction which departs from here.  Essentially these are open air carts (a bit like a pedalo) that run along the train tracks.
Lamastre – Le Cheylard (19.5km)
Arrive at the village of Lamastre either by the Mastrou steam train or by car.  If you've taken the steam train (and we would highly recommend it), you will arrive at lunchtime. The tourist office is on the train platform in Lamastre so pop in there to pick up a map of the Dolce Via cycle route and ask any questions you might have. The staff speak English.
It's a couple of minutes ride through the village to pick up the start of the Dolce Via cycle trail. The first section from Lamastre – Le Cheylard (19.5km) is cyclable in one afternoon with kids.
The below graphics show the elevation gain on each stage of the Dolce Via. For some reason the tourist office have detailed the route the reverse way, so remember to read it from right to left.  The below stage from Lamastre to Les Nonières is actually a gradual uphill gradient which climbs 264m. 
dénivelé = elevation different pente = gradient
The Lamastre – Nonières section (11.5km) is actually the hardest section on the route for young kids, as the gradient is slightly uphill. Be prepared for a bit of whinging here. If you have very young kids cycling solo and are time plenty, consider staying at Nonières, although it only took us an extra hour after Nonières to reach Le Cheylard.
It took us 3 hours (with a lot of stops) to cycle from Lamastre to Nonières. The views are wonderful as you cross over several viaducts spanning the valley.
The railway tunnel at Nonières, the longest tunnel on the Dolce Via, is lots of fun to ride through. It's well lit (the shorter ones aren't!) and dripping water adds to the excitement. 
From Nonières it's all downhill, as it will be for the rest of the entire Dolce Via. It took us only 1 hour to cover the 8kms to Le Cheylard.
dénivelé = elevation different pente = gradient
We stayed at the Hotel des Voyageurs in Le Cheylard,  a 3 star bike hotel in the centre of the town. It has safe underground garage storage for bikes, the rooms were clean and spacious (with ensuite) and the staff were helpful and friendly. We can recommend.
The next day, after a breakfast of French pastries and strong coffee from a town square café, we headed off to pick up the Dolce Via trail once again.
Today we would ride almost the entire of the remaining Dolce Via cycle track and pick up the bus in St Laurent de Pape, the village before La Voute, which was, in retrospect, a big mistake! 
Take your time to ride this trail. If you have young children, we'd recommend taking at least 3 days to ride the Dolce Via section and a further 2 days to return to your start point via the Via Rhona cycle path. This avoids having to take buses back to your start point which, trust me, was a real pain.
We attempted to do it in two days due to time constraints and whilst the bus from St Laurent du Pape to Valance (line 12) does have bike racks (you must call in advance to reserve your bike places on  00 33 (0) 4 75 29 11 15), the bus from Valance to Tournon our-Rhône does not.
Le Cheylard – Pont de Chervil (16 km)
dénivelé = elevation different pente = gradient
From Le Cheylard, the Dolce Via route now follows the Eyrieux river, a tributary of the Rhône. The river forms a wide reservoir as you leave Le Cheylard (you'll pass the Eyrium water park here – a  good place to cool down in the heat of summer) and then you'll pass the barrage du Eyrieux (the Eyrieux dam).  The Dolce Via continues to hug the left flank of the tumbling river, looking down on the gorge for most of the day. It's spectacular riding.
We set off from Le Cheylard at 9am and it took us three hours to reach Pont de Chervil, a beautiful ancient bridge at the village of Chalencon.
Look out for the harvesting of the many chestnut trees you'll pass – large tarpaulins stretch out over the ground under les châtaigniers.
The girls loved passing so many vegetable patches and of course the cute donkeys.
There are plenty of picnic tables along the route.  Most even have bike racks to park your wheels while you take a break.
Make sure to bring lots of snacks with you. We did this bike tour in the Toussaint (Oct half term) holidays and expected much more to be open. Some of the villages were deserted so I was glad I'd stuffed our bike packs with so many goodies before departing. Obviously in the height of summer, the villages and towns along the trail will be bustling with life so this would be less problematic.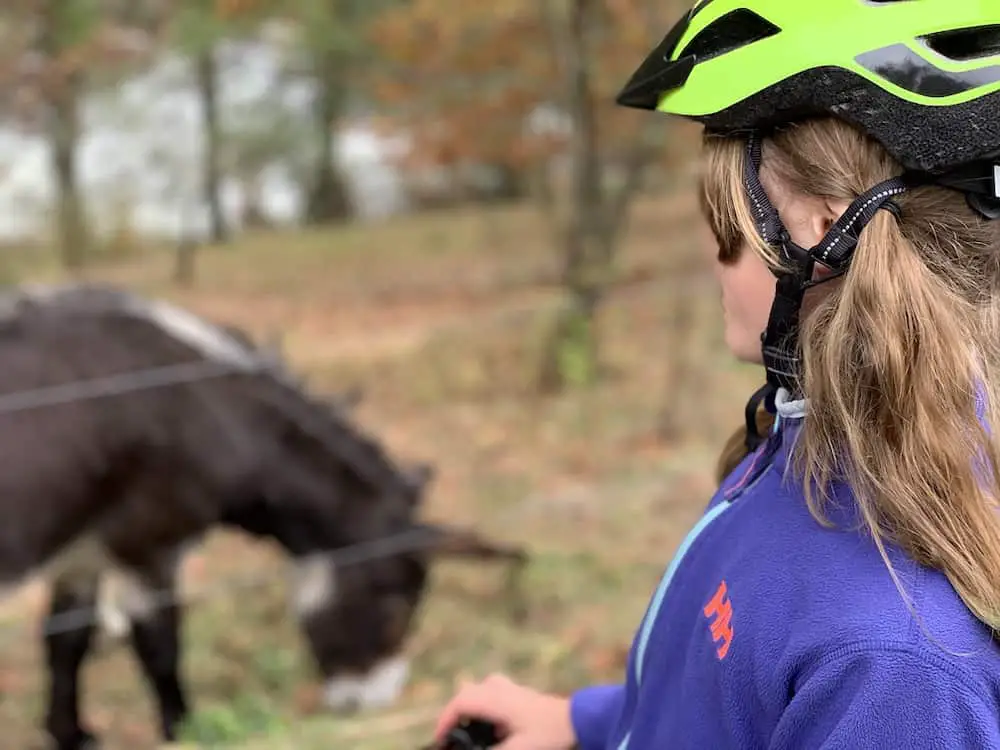 Pont de Chervil – Les Ollières-sur-Eyrieux (14.5km)
From Pont de Chervil, the Dolce Via route follows viaducts built into the rock face. It's one of the best scenery sections with the tumbling river noisily crashing below to your right. The river, now harnessed for electricity, used to drive silk mills, which you'll spot abandoned along the route.
Cycling is the perfect pace to absorb your landscape.  Tiny French hamlets such as La Roche (below), charmed us with their ancient stone exteriors, terracotta roof tiles typical of the south of France and wonderfully weather beaten shutters. 

dénivelé = elevation difference       pente = gradient
There's a good campsite, Mas de Champel, on the riverside just before Les Ollières. If we were to do this family bike tour again, we would definitely break the cycle route here and spend our 3rd night in a tipi at Mas de Champel.  Accommodation is in cabins, tipis, safari tents or of course, pitch your own.
Aquarock, a great water based activity centre is also on the river just before Mas de Champel camp site. The cycle route goes right past it so you'll see the entrance and the courses from the cycle path. Aquarock has 9 courses with two giant ziplines of 250 and 300 meters.  We did this family bike tour during the October half term, so sadly for us, we didn't get to test our nerve on the Aquarock courses and the campsite were closed. We saw the suspension bridges and via ferrata over the river though – it looks a great set up. Perfect for breaking the journey and stoking out the kids.  
Les Ollières-sur-Eyrieux – La Voulte-sur-Rhône (19.5km)
Keep an eye out along the route for signs of yesteryear. Many of the old station buildings, Les Ollières, is a fine example, are well preserved. Les Ollieres station is now a tourist office and coffee shop and a good place to stop for a refreshment.
Les Ollières is well set up in the summer for family activities. Eyrieux Sports, opposite the Post Office ("La Poste")  00 33 (0) 686 575 631 can organise a 4.5 km family-friendly kayak paddle, stand up paddle boards or for the brave, coasteering. Alternatively cycle back along the Dolce Via track to Aquarock for water and height thrills. 
Back on the Dolce Via cycle route the scenery changes again from Les Ollières-sur-Eyrieux becoming less dramatic. This section is known as 'the pink valley' due to the abundance of peaches grown here in the summer.
The trail still continues very gently downhill. It's easy to whizz past villages and the kilometres seem to be eaten up greedily now as we cycle towards the end of the trail.
We cycled as far as St Laurent du Pape, the village before La Voulte-sur-Rhône (which is the end of the trail) as we wanted to catch the bus back to our start point. In hindsight, this is quite problematic as the first bus from St Laurent du Pape to Valance takes bikes but Valance to Tournon sur-Rhône.
It's a much better option to do this family bike tour as a 5 day option rather than a 2 day! You can thank me later 🙂 From La Voulte-sur-Rhône, pick up the Via Rhona bike trail which takes 2 days to get back to Tournon Sur-Rhône.
dénivelé = elevation difference       pente = gradient
Useful information
To look at the Ardèche train timetable (horaire) and book tickets visit https://www.trainardeche.fr 
Read more about the Dolce Via and more to do in the area on the Lamastre Tourist Office website.  If you have any questions whilst planning your trip, email them – they speak English.
We arrived in Le Cheylard on a Sunday in October half term. We only had two options to eat, a Vietnamsese restaurant or a take out pizza. La Cala Braise pizza 0475299998 wed-sun 17-21hr so good option if you've taken the Sunday Mastrou train.
Find out more about completing the loop on the Via Rhona, the cycle route from Geneva to the Med.