'7 things to know before going to Sri Lanka' includes all the things we wished we'd known before taking our first trip there.
Sri Lanka is one of our favourite countries ever! Sri Lanka offers incredible wildlife, world class surf, outstanding cuisine and genuinely warm hearted people. We've been several times now and are already planning our next trip. The following post,  If you have any questions, please as always get in touch.
This post '7 things to know before going to Sri Lanka' was written in conjunction with E-Visa. 
This post may contain affiliate links which mean if you purchase something through that link, we will make a small commission at no additional cost to you.
7 things to know before going to Sri Lanka
Most visitors will need to obtain a visa to enter Sri Lanka.
Electronic Travel Authorization (ETA) are easy to get online before arriving in Sri Lanka.
Sri Lanka visa applications (ETAs) can be applied for directly through the Sri Lankan visa website, www.eta.gov.lk (where adult visas cost $35 and children's ETAs are free – but still need to be applied for) or through third party visa application companies such as E-Visa.
E-visa do charge more but have the benefit of extra services (such as checking your visa application for errors, SMS update of the status of your visa application, and give a full refund if your visa application is refused for any reason)
If you didn't apply for a ETA before arriving, you can get a 30 day visa on arrival for $40.00 however there's normally a queue.
Read our 3 week Sri Lanka itinerary for July/August
2. Unlock your mobile phone
One of the best things to know before going to Sri Lanka is to make sure you get your mobile unlocked before arriving.
Having an unlocked mobile phone allows you to use a local SIM card, which are easy to buy on arrival at Colombo airport.
Using a local SIM avoids costly roaming charges with your home provider. We always travel with an unlocked phone for this reason.
The main mobile phone operators in Sri Lanka are Mobitel, Dialog and Airtel.
At the arrivals hall in Colombo you'll see a raft of mobile phone operator desks immediately before the exit.
The desk with the longest queue will be Dialog, the best operator for mobile coverage. But if you can't face the queue, go to the Mobitel desk. We've bought both and Mobitel was fine.
Expect to pay around $12 for a SIM which will be plenty of data, calls and SMS allowance for a 2-3 week holiday.
Note: You will need to show your passport when buying the SIM card.
Read about the most incredible place we stayed at on the east coast of Sri Lanka – Hilltop Cabanas – this was a true highlight of Sri Lanka for us. Book early!
3. Don't bother getting foreign currency before you leave
We never bother getting any foreign currency changed before leaving for Sri Lanka. We always just go to the ATM machine at the airport arrivals hall. It's easy and the rate is always better than any currency desk.
There's a bank of three ATMs in the arrivals hall of Colombo airport They are just in front of the mobile phone booths.  
Expect a queue, but it does moves quickly. Sometimes not all of the ATMs are in working order.
Remember to separate your big notes and stash in different places around either your body or luggage and keep a smaller amount on you to pay small fares ie taxis.
We never experienced any theft or pickpocketing whilst in Sri Lanka and consider it a very safe country. The people are very honest (80% of the country are buddists) and once we even got our iPad back that we'd left charging in a taxi!).
Read why we climbed Pidurangala Rock in Sigiriya instead of Lion's Rock.
4. Book your first night's accommodation in Sri Lanka
As a determined solo traveller back in my 20s and 30s I baulked at booking accommodation – EVER.
Now with kids in tow, we always book our first night's accommodation. After an exhausting long haul flight, the last thing I want to do is search for accommodation.  Having our first night booked gives us peace of mind and makes it easy for us to touch down, negotiate the airport and hail a tuk tuk direct to our hotel.
We also try to book flights that arrive late afternoon or early evening so we can crash as soon as we get to our hotel, rather than trying to stay awake the whole day.
We normally stay one night in the Negomo (it's much closer to the airport than Colombo) and then take off the following morning on our planned Sri Lanka itinerary. 
We've stayed at the Marine Tourist Guest House in Negomo, which is clean, affordable and just one street away from the beach. We paid paid $46/£36 in an air-con room with two double beds back in 2018.
Our July/August Sri Lanka itinerary gives all the places we stayed on our first trip to Sri Lanka.
Search and book accommodation in Negomo here
If you're intending to catch a train the following morning to the first stop on your Sri Lanka itinerary, then you'll have to book a hotel in Colombo as there's no railway statin in Negomo.
Search and book accommodation in Colombo here
Some travellers like to walk around to find accommodation on arrival to see what they're paying for before they book. This is often a great way to get good deals – late availability often means the owner will discount – but not on the first night – book ahead.
Book ahead and have peace of mind.
Bear in mind if you're travelling in Sri Lanka in the peak season of Christmas or July/August, – if you want to have the pick of the best accommodation then it's also advisable to book ahead.
If you're happy to stay in homestays or average accommodation, then it's easy to rock up and find somewhere en-route.
Read What to do in Kandy, Sri Lanka with kids
5. Print your first night's accommodation details
Have the details of your first night accommodation printed, so you can pass this onto your taxi or tuk tuk driver after leaving the airport.
We made this mistake the first time we visited Sri Lanka, assuming taxi drivers would know the all hotels. Not so.
Having the address and telephone number printed or written down will make sure you get to your accommodation quickly.
After an exhausting long haul flight, you don't want a tuk tuk driver who can't find your accommodation!
Read 5 tips to stay safe at Elephant Rock & lagoons in Sri Lanka
6. Consider organising a private driver to collect you at the airport
Another good thing to know before going to Sri Lanka is that private drivers are a common and popular way to get around this island. If you're eager to get to your first port of call on your Sri Lanka itinerary and don't want to 'waste' a night near the airport, consider organising a private driver to meet you at the airport and driving you direct to your first chosen place to explore. 
Private drivers are very popular with tourists in Sri Lanka to travel long distances. Local transport services are either slow (bus) or limited (train service), so private drivers are handy to get from A to B quickly.
You can read our full guide on private drivers in Sri Lanka which has the details of our regular driver and a rough guide on what you can expect to pay for a private driver to all destinations in Sri Lanka.
On our last trip to Sri Lanka (Feb 2020) we avoided an unnecessary night in either Negomo or Colombo, by taking a private driver direct from the airport to our first stop on our Sri Lankan itinerary – Borderlands, a watersports eco lodge 3 hours from the airport. We would highly recommend Borderlands for any adventure lover. Read our review of Borderlands in Sri Lanka.
Read 6 places to visit in Ella, Sri Lanka
7.   Pre-book a train to your first stop on your Sri Lanka itinerary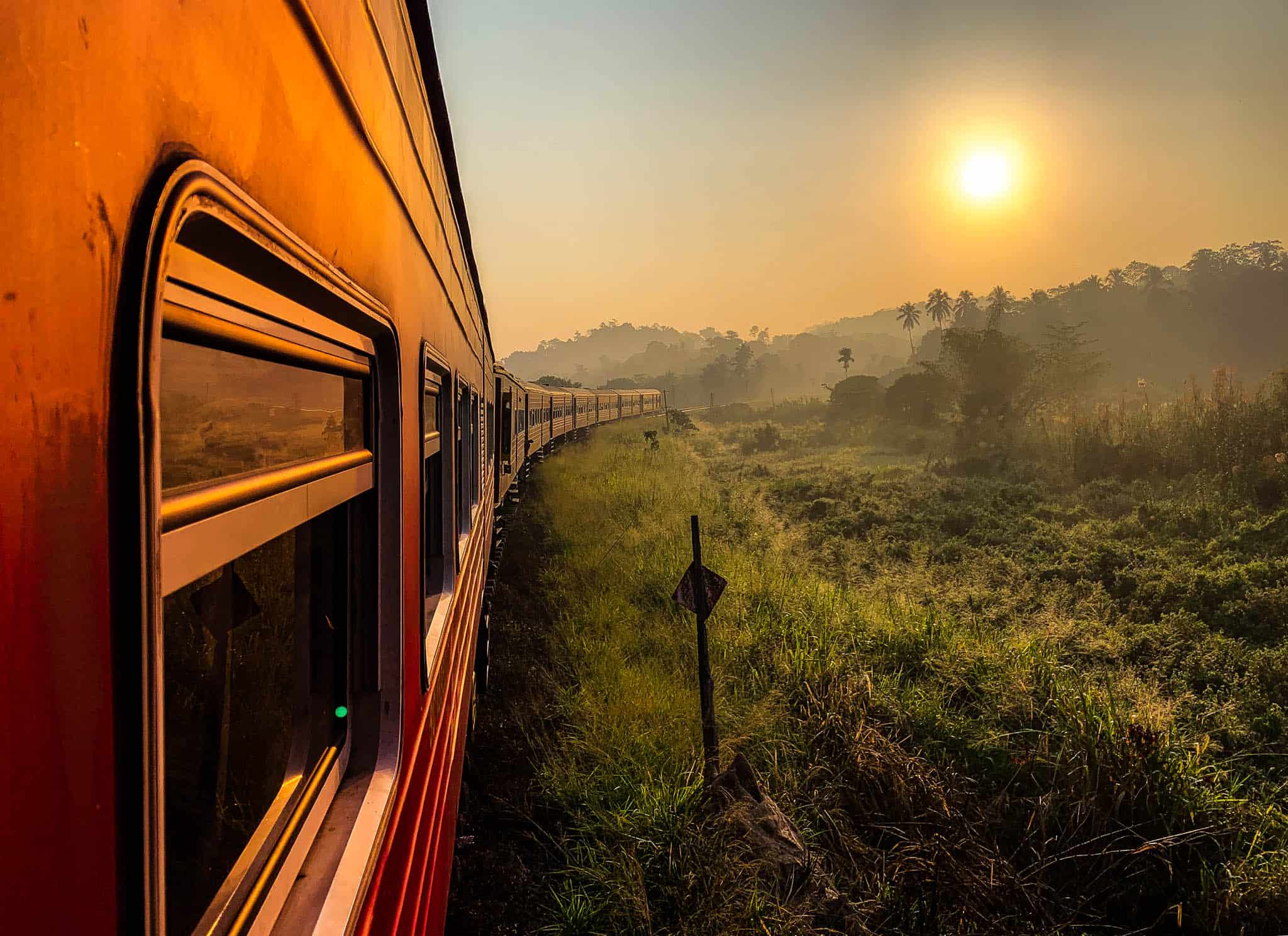 Train travel in Sri Lanka is easy and dirt cheap. Travelling by train is also a fantastic way to watch the beautiful Sri Lankan scenery unfold and a great way to interact with locals.
The railways were built in Sri Lanka to transport tea from plantation to port. Therefore, it's impossible to travel the whole of Sri Lanka by train.
Travel from Colombo to Galle on the south coast, is fast and super easy. The Kandy to Ella train is touted as one of the best train journeys in the world, and for good reason.
The Colombo to Kandy train is very popular as well as the Colombo to Trincomalee line.
We also took the Kandy to Galle direct train which we would highly recommend to avoid an overnight stay in Colombo. It leaves at 5am but you can be on the beach by 11.30am! Read our Kandy to Galle train post here and why we would definite make sure you plan this journey on a Sunday.
Reserved and unreserved tickets are sold for Sri Lankan trains. Unreserved tickets never sell out. They can only be bought on the day of travel. Reserved tickets can be booked in advance, but only through an agency as Sri Lanka railways do not offer an online service.
The only way to book a train before you arrive in Sri Lanka is to book via an agency. Two recommended agencies are www.visitsrilankatours.co.uk or 12GoAsia.
You will pay more for pre-booking your ticket in advance from your home country, but it will take the stress out of rocking up at the train station on your first morning in Sri Lanka without a guaranteed ticket.
Book a hotel in Colombo for your first night if you intend to catch a train the following morning as it takes over an hour to get from Negombo to Colombo. Many of the trains leave early.
You can check trains and times in Sri Lanka on google app ICTA train schedule.
These are all of our top tips for the best things to know before going to Sri Lanka. As we said we LOVE this country and can't recommend it enough for families. If you have any questions, we'd love to hear from you.
Read more on Sri Lanka: