Our 2020 list of books to read before visiting Greece include novels set in Greece, Greek mythology, and in our opinion, the best Greece travel guides.
Whether you're set on exploring the beaches of Mykonos, discovering the Acropolis, one of the most famous landmarks in Greece or planning to sail around the Greek Islands, our reading list for Greece will give you essential background, inspiration and a heart felt desire to explore Greece, it's culture and rich history in person.
This post includes affiliate links, we may earn money from our affiliate partners.  Learn more.
.
Books to read before going to Greece
Novels set in Greece
1. Captain

 Corelli's Mandolin by Louis de Bernières
Stunning… A high-spirited historical romance…remarkable New York Times Book Review
Probably the most famous romance novel set in Greece, Captain Corelli's Mandolin is set in Kefalonia (Cephalonia)  in the Ionian.
So if you're planning on sailing in the Ionian, or holidaying on the island of Kefalonia, this book gives some wonderful descriptions of the island.
Set on the island during 1941 during the early days of the second world war, Captain Corelli's Mandolin is a historical romance novel that captures the soul of this beautiful island and tells the story of a young Italian officer, part of the occupying forces, who initially ostracised from the local community, becomes closer to the doctor's daughter, Pelagia.
2. The Beekeeper of Aleppo by 
Christi Lefteri
In the same school as The Tattooist of Auschwitz and The Kite Runner, it's impossible not to be moved by Lefteri's plea for humanity, and perhaps inspired, too. The Guardian
The Beekeeper of Aleppo is a beautiful and moving tale of a couple forced to leave war torn Syria and their journey through Turkey and Greece to seek asylum in the UK.  
With a raft of international awards, The Beekeeper of Aleppo shows not only the sheer determination of the human instinct to survive but will humble most readers with a horrifying glimpse into the life of refugees seeking asylum.
Written after volunteering for two summers in a refugee camp in Athens, Christy Lefteri tells this sensitive story with empathy and with the dark truth of hands on research. One of the best books about Greece's current issues right now.
3. The Corfu Trilogy by Gerald Durrell
A delightful book full of simple, well-known things: cicadas in the olive groves, lamp fishing at night, the complexities of fish and animals – but, above all, childhood moulded by these things' New York Times
The classic trilogy set on the island of Corfu that inspired ITV's acclaimed TV series The Durrells.
Gerald Durrell's My Family and Other Animals, Birds, Beasts and Relatives and The Garden of the Gods are now available in a single edition for the first time in The Corfu Trilogy.
In the 1930s the Durrell family move to the Greek island of Corfu, where 10 year old Gerald discovers his passion for the animal kingdom. 
This trilogy is a wonderful account of Corfu's natural history revealing a rare and magical childhood where the of passion of this now famous zoologist took root. Highly recommended.
4. Deadline in Athens by Petros Markaris – Crime
Crime fans will love Deadline in Athens by Petros Markaris, also known as The Late Night News.
Rarely translated into English, any crime novel by Petros Markaris will give you a better grasp of modern life in Greece over any newspaper or news channel.
Set in the 1990's this crime novel set in Athens is gripping with accurate descriptions of life in Greece's capital city.
Perfect for easy holiday reading for your Greek holiday.
5. Perspective: A Greek American finding his way in Greece by Katerina Nikolas – humour
Perspective: A Greek American finding his way in Greece is a hilarious account of an American couple stranded in a Greek village and gives a wonderful portrayal of Greek life.
With vivid descriptions bring to life each Greek characters, this book is a light, humorous easy read and perfect holiday reading material for your Greece holiday.
Greek mythology books
6. The Odyssey by Homer – classic penguin
'The Odyssey is a poem of extraordinary pleasures: it is a salt-caked, storm-tossed, wine-dark treasury of tales, of many twists and turns, like life itself' The Guardian
The Odyssey of Homer is world's oldest adventure story, filled with gods and monsters, shipwrecks and sorceresses.
It's the second epic Greek poem written by Homer born between the 12-18 century BC – the earliest Greek writer whose work survives.
The first poem The Iliad is set during the Trojan war whilst The Odyssey tells of the return journey of Odysseus to the island of Ithaca from the war at Troy.  
Still unsure if an epic greek poem is your cup of tea?  Read this great breakdown of The Odyssey here.
7.  Mythos: The Greek Myths Retold by 
Stephen Fry
'A romp through the lives of ancient Greek gods. Fry is at his story-telling best . . . the gods will be pleased' Times
In our opinion one of the freshest Greek mythology books out there, Stephen Fry breathes new life into legendary Greek myths in Mythos: The Greek Myths Retold by telling each story in a relevant way for today's modern world.
Fry states at the beginning of the book that no background knowledge is necessary to appreciate the stories and that "there is absolutely nothing academic or intellectual about Greek mythology; it is addictive, entertaining, approachable and astonishingly human".
Mythos was followed by Fry's 2018 book Heroes, a retelling of myths about Greek heroes.
One of the best books about Greece in modern times.
Travelogue from Greece
8. Greece on my Wheels by Edward Enfield –  Travelogue
"The overall effect is charming . . . it will give you a bit of knowledge and a warm glow." —Wanderlust magazine
Greece on my Wheels is an amusing travelogue of travel through Greece by bicycle by Edward Enfield (father of comedian Harry Enfield)
With a passion for all things Greek, Edward Enfield follows in the footsteps of esteemed travellers Benjamin Disraeli, Edward Lear and the Romantic poet Lord Byron to discover Greece.
Cycling through the Peloponnese then inland Epirus and Acarnania, his travels are set against the great panorama of Greek history – Greeks and Romans, Turks and Albanians, Venetians, Englishmen and Germans.
Greek books for kids
9. Fish of Greece sticker book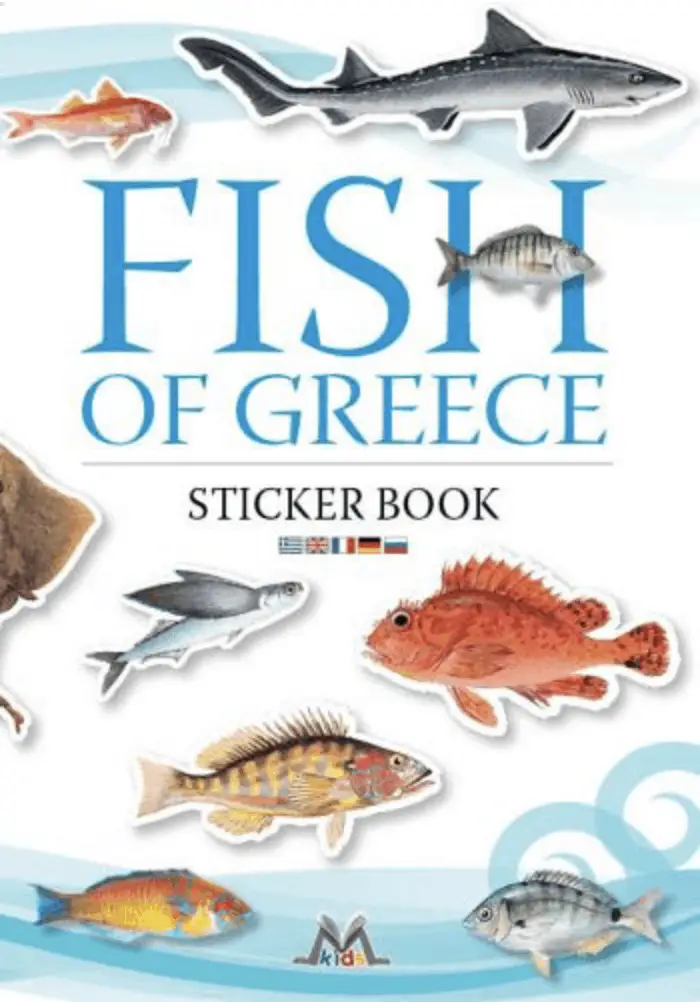 This Fish of Greece sticker book is a one of the best Greek books for kids, especially young ones. This sticker book kept my 9 year old busy for hours during our family sailing holiday in Greece. 
We bought this book in the tiny supermarket in the port of Sivota on the island of Lefkas but you can order it online from Mediterraneo.gr for €6.90 and order direct to your holiday accommodation, sailing company office or order early & get it delivered to your home before you leave as Mediterraneo delivers internationally.
Other great stickers books for kids are Greek Mythology and Ancient Greek Treasures.
We can't recommend this book enough – it will keep your little one amused for hours as well as teaching them about the types of fish in Greece.
10. See Inside Ancient Greece – Usbourne
See Inside Ancient Greece is a brilliant flap book by Usbourne.
This is just another fabulous flap up book from Usbourne, helping young minds learn about history.  All aspects of ancient Greece are covered from Greek gods and myths, how temples were built to how Ancient Greek armies fought in battles.
This flap book covers the period from the earliest Minoan civilisation on Crete to the empire of Alexander the Great.
Suitable for kids 6-8 years old although both younger and older children will enjoy this fact packed book.  
11. Horrible Histories Groovy Greeks by Terry Dreary – funny facts
I don't believe in schools! I think all teachers should be sacked!"" Terry Dreary author of Horrible Histories
One of the funniest books on Greek mythology for kids, this fact book stuffed with jokes is pure genious.
Horrible Histories Groovy Greeks is one of the best Greek books for kids hands down.
This book is filled with fantastic facts that are put into context, made relevant and are exciting to learn about.
This comic strip book, guaranteed to mesmerise your kids (and have them spouting Greek facts at you!) is the perfect Greek book for kids to take on holiday.
Good for kids aged 11-13
12. Percy Jackson by Rick Jordan – adventure
'A great book that blends Greek myths and the modern world together fantastically, with plenty of jokes and fun' The Guardian
The Percy Jackson collection of books are brilliant adventure stories based on greek mythology filled with monsters and mythological heroes.
Percy has ADHD and dyslexia and doesn't fit in at school. Discovering finds himself to be a 'demi god' (half mortal, half Greek god).
One of the best books incorporating basic Greek mythology for kids. Perfect for kids aged 11+
For more excellent mythology book inspiration for kids click here.
Greece travel guides
13. Lonely Planet – Best of Greece & Greek Islands
'Lonely Planet guides are, quite simply, like no other.' – New York Times
Lonely Planet remains, in our opinion, the best travel guides for those still wanting a hands on guide to take on their adventure.
However much digital guides, blog posts or Pinterest have exploded in today's world, I am still guilty of loving to have a paper guide in backpack, despite the added weight! Lonely Planet's Best of Greece and the Greek Islands gives an excellent summary of the regions and history of Greece as well as in depth info on where to eat and stay.
If you want to focus on just Greek islands, Lonely Planet's Greek Islands 2020 version has just been published.
14. Walking and trekking in Zagori – Cicerone
If you're looking for a truly authentic experience in Greece, add on a couple of days to your Greek itinerary by visiting Zagori in Northern Greece.  Zagori, a stunning mountainous region famous for its 46 stone villages connected by a network of old footpaths and ancient stone bridges, will simply take your breath away.
Scattered over two national parks and nestled around Vikos Gorge, the deepest gorge in the world, visitors can discover these traditional villages by foot on well worn routes, or choose to hike longer trails staying at villages along the way.
If you're looking to escape tourism, this is it.
As an Amazon Associate I earn from qualifying purchases. If you click and buy one of our books about Greece, this adds no extra cost to you but helps to cover the costs of this website.
LIKE IT? PIN IT