Now that we're back from Borneo I know EXACTLY what the perfect Borneo packing list is and crucially what NOT to pack to go to Borneo! I'm keen to pass it onto any of you out there, who are planning a trip to this incredible island and are wondering what to pack for Borneo too!
Visiting Borneo was a lifelong dream of mine, just as it probably is for you. We flew to Borneo to take part in a family volunteering project replanting the rainforest and I had NO IDEA what to pack for Borneo's humid, hot jungle. I did A LOT of research on what I needed to pack for Borneo but couldn't really find enough information. Once I was there, I wished I'd taken a few different things. Our Borneo packing list includes everything I learnt and tips and advice. 
I hope this post as well as my Tips on Borneo post will give you a heads up on what to expect there and exactly what you need to pack, especially when it comes to Borneo clothing.
Read more: The perfect 2 week Borneo itinerary for adventure & wildlife
Our packing list for Borneo includes
what to wear in Borneo for:

 

 

   

– 

hiking in the rainforest

– 

essentials for climbing Mount Kinabalu

– 

clever extras for serious jungle trekking 
leeches in Borneo

first aid kit for Borneo

vaccinations required for Borneo

do you need to take malaria tablets in Borneo?

dengue fever in Borneo & bite prevention tactics
Did you know the humidity in Borneo can hit as high as 90%? Don't be surprised to see the skies covered with clouds the entire time during your Borneo visit!
The high humidity in Borneo means that clothes take forever to dry. Forget travelling super light and taking only one change of clothes. Remember you'll also need to leave room for Borneo souvenirs! 
Borneo is in the tropics so it's humid and you can expect rain at any time of year. That makes it difficult to know what to wear in Borneo, and you need to be prepared for rain even if you travel outside the monsoon season (Dec-Feb). Whether you're heading to Sabah, Sarawak, Brunei or Kalimatan, this Borneo packing list will cover all of the states and countries in Borneo.
What should I pack for Borneo?
The most important items on your Borneo packing list revolve around this damp, humid weather. Borneo clothing should be quick drying and then you need to keep your feet dry and healthy so foot powder is fully recommended, as well as leech protection (we'll discuss this below with tips such as Borneo clothing should not be black so that you can easily spot leeches) and dry bags to keep your belongings (especially electronic equipment), well – dry.
Disclosure: this article, Borneo Packing List contain affiliate links, which means we may receive a small amount of commission if you purchase one of the linked products within a certain time frame. This comes at no additional cost to you but helps us keep the website running. We only promote products that we use or believe are of use to you. You can read more about our disclosure and privacy policy here.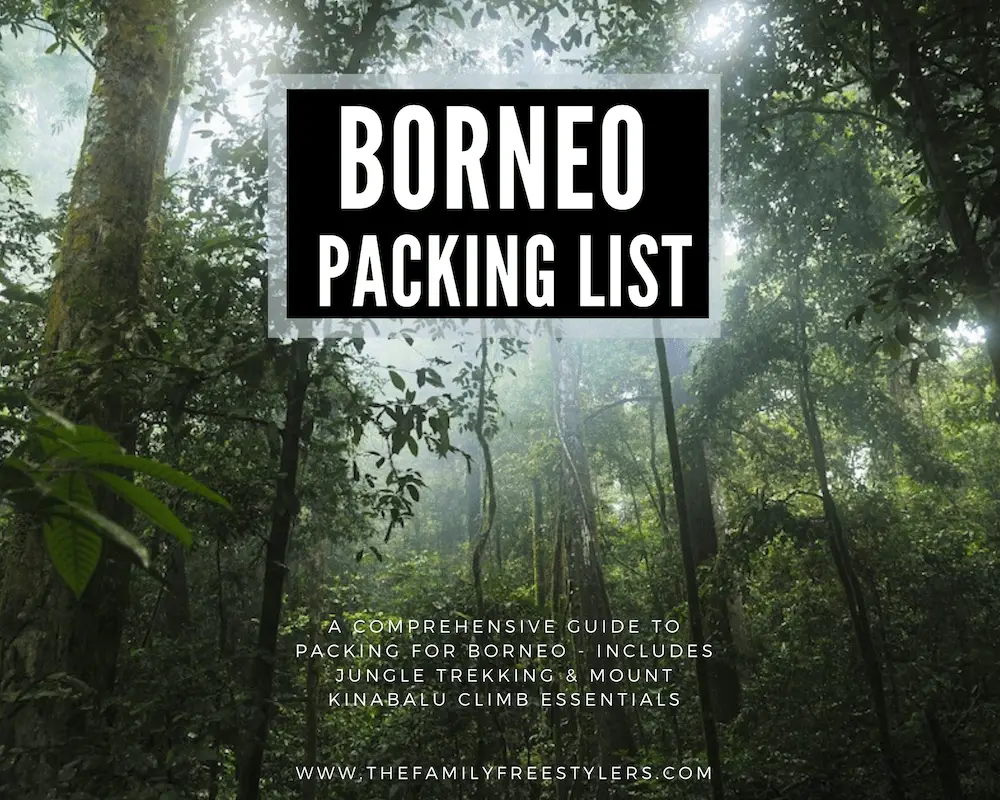 Our complete Borneo Packing List:
Chances are if you're heading to Borneo, you're going to be eager to spend some time in the jungle to encounter some of Borneo's incredible wildlife. Whether you're planning a few day hikes in the rainforest, or some serious days back to back jungle trekking, there are some definite do's and don'ts for what to wear in the jungle. 
What NOT to wear in the jungles of Borneo
Let me first start with what NOT to wear in the jungle! COTTON!
I broke this rule and got away with it … this time. Don't presume you will so fortunate.
Borneo clothing should be synthetic purely because of it's quick drying qualities.
Cotton garments can absorb 27 times their weight in water. Cotton traps water inside its fibers, which is why it takes so long to dry out. Cotton clothes can get wet in the Borneo jungle without rain or being submerged, just purely from sweat. Remember Borneo is humid – ridiculously humid. You're going to sweat a lot and with cotton clothes, you'll never dry out. Your Borneo clothing should not be cotton!
Another tip is not to take clothes you care about on a jungle trek in Borneo. Borneo clothes should be technical, quick drying and light coloured. Expect they will get dirty. Very dirty. The jungle in Borneo is wet and muddy. Anything you wear will be pretty filthy after a jungle trek, particularly if you are spending any serious time in the jungle.
What to wear in the jungle
Long sleeved tops
Chances are you're going to be jungle trekking to some degree during your Borneo visit so you'll need a couple of long sleeved tops which will be the mainstay of your Borneo clothing. Long sleeves will protect against scratches from rough foliage and leeches which can drop onto you from trees above, as well as from ground level. Long sleeved tops are also essential to prevent mosquito bites in the evening (or against dengue biting mosquitos in the day, generally only in the cities).
Long sleeved tops should be loose and made from synthetic, wicking away materials. Clothes will get wet quickly from sweat in the high humidity (the humidity in Borneo can be up to 90%!) and possibly from downpours. It can take days for clothes to dry so make sure to take at least 2 long sleeved tops when packing for Borneo.

I searched everywhere for a women's synthetic trekking top with long sleeves but actually didn't find one before I left! There seem to be lots of men's long sleeved synthetic tops on the market but few ladies! I ended up taking a couple of large cotton shirts. Cotton is generally a big no no in the jungle – it takes forever to dry out. I was lucky, we had little, almost no downpours when we were there so I'm not sure how I would have fared if the weather hadn't been so good. 
I've actually now found the perfect long sleeved trekking top by Sherpa  (hallelujah, you can thank me later). This is the best long sleeve top I've found for trekking Borneo – it's fast drying, anti-odour and has a UPF40 rating as well. Perfect Borneo clothing and I'll be definitely taking it on our next trip to Borneo.
Put at least two long sleeved tops on your Borneo packing list. One to wash and dry, whilst wearing the other. If you planning to spend a long time in the jungle, then take more.
Buy the perfect long sleeved trekking top here.
Throw in a couple of quick drying short sleeved tees too.
Borneo clothing – Zip off trousers
Trousers should be long, lightweight but durable and any colour but black.
Leeches infest the rainforests of Borneo and so your first priority is to prevent being bitten, which you can do by wearing long trousers and leech socks (see below). 
Black trousers prevent leeches being easily seen (and quickly removed) so avoid black trousers in your Borneo packing list, and go for any other colour.

I wore Regatta's womens Chaska zip off trousers and loved them. Lightweight but durable and with the option to zip off, these trousers were perfect for my Borneo trip. You can buy them on Amazon super cheap.
Put two pairs of long trousers on your Borneo packing list so you can wear one whilst the other is drying out. The regatta's were great as I doubled up using them as shorts when needed.
Borneo clothing – Leech socks or long football socks
Don't freak out but you're likely to encounter leeches in the rainforests of Borneo. They love the wet, humid conditions found in the Borneo jungle and are always looking for a host to drop onto!
LEECHES IN BORNEO

Don't worry, leeches do not carry any viruses – they are more of a nuisance than anything, and once they detach from your skin, the anti-coagulant properties of their saliva mean that your blood will freely run. It's not pleasant but it's thankfully not dangerous.
Come prepared! Leeches find it hard to get through tight woven materials so your best bet to avoid leeches are to either buy leech socks or invest in long football socks (a great tip from our guide). 
Leech socks are similar to a Christmas stocking! Minnie is sporting a pair in the photo below. They go over your normal socks and trousers and have a cord which you tie up just below your knee to prevent leeches getting down. The material is of a tight calico which leeches cannot penetrate.
We bought our leech socks at the local market in Sandakan but it took us forever to find any. We'd searched high and low in the city and it was only our guide that eventually showed us where to go. We also saw they were selling them at Paganakan Dii Tropical Retreat where we stayed in Sepilok, but this was the only place, apart from the market that we saw them for sale. 
For peace of mind, it's best to buy some before you set off to Borneo so you're not flapping once you get there. You can buy leech socks on Amazon here.  They will be more expensive of course buying them before you go but don't presume, as I did, that you will easily find them once in Borneo.
Bear in mind that leech socks are better suited with wellington boots rather than hiking boots. They are quite bulky once on and so tightly woven long football socks (not black) will be better if you intend to hike in hiking shoes or hiking boots in the Borneo rainforest.
Definitely put long football socks on your Borneo packing list. You can buy good long football socks here on Amazon.
Other guides insist tobacco repels leeches! Apparently if you soak tobacco in water for several hours and then lightly spray onto your clothes and allow to dry, leeches tend to bother you less. I didn't try this tactic so can't testify it works, but I'll definitely be trying it next time.
Add a small plastic travel spray bottle onto your Borneo packing list and then just pick up a pouch of tobacco once you're in Borneo to try this out. It might be worth it for week long treks in the jungle if you're particularly squeamish.
Borneo clothing – Wide brimmed hat
An essential on your Borneo packing list is a wide brimmed hat, to soak up the sweat, the UV rays and keep insects at bay.
My daughter found a brilliant one from Mountain Warehouse. It folds into almost nothing and completes her jungle explorer look perfectly.
You can buy a similar one on Amazon here with UPF50 which is perfect.
Read more: Family Volunteering on the Kinabatangan River in Borneo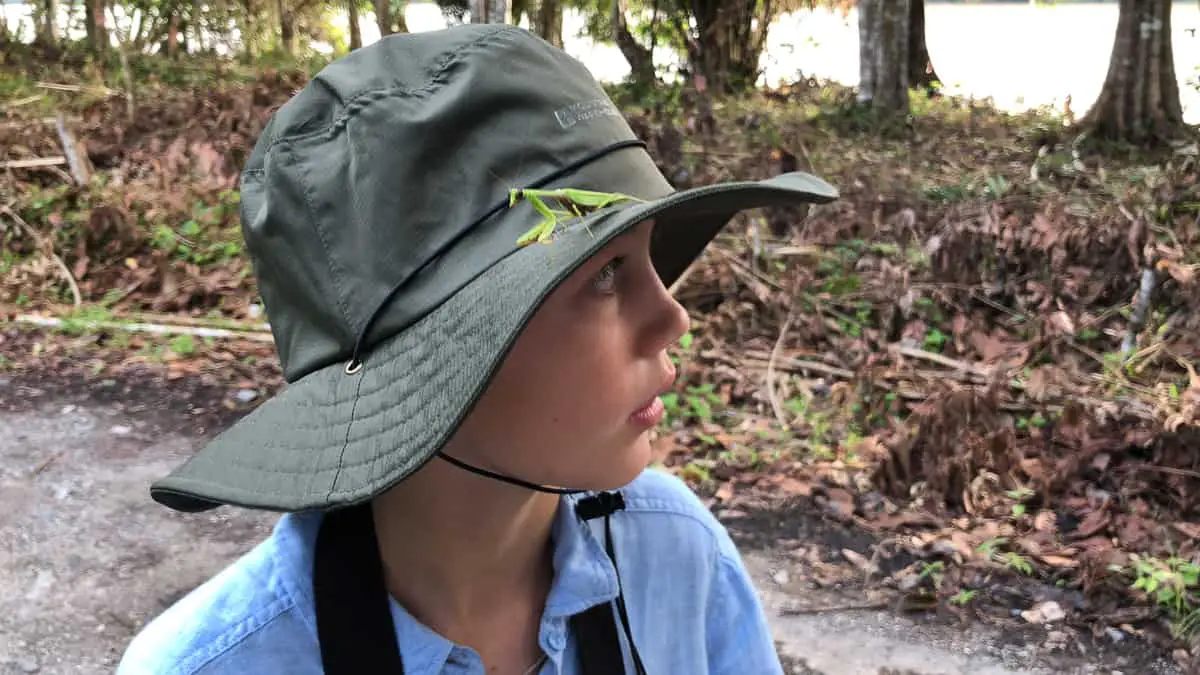 Borneo clothing – Shorts
Bring a pair of super lightweight hiking shorts that dry quickly to use away from the rainforest for example at a beach/dive resort. I took my Rab hiking shorts which pack down into almost nothing are dry pretty instantly. I reviewed them last year during my Tour du Mont Blanc trek. You can buy them on Amazon here.
If you've packed zip off trousers, you might want to omit another pair of shorts, however my zip offs are knee length and I like a shorter pair of shorts for beach wear.
Hiking shoes
Footwear is a bit tricky when it comes to thinking about what to pack for Borneo. Unless you're climbing Mount Kinabalu or doing some serious trekking in the jungle (I mean multi-day heavy duty treks) then a pair of hiking shoes (rather than boots) would suffice in Borneo. This would mean you're not carrying around a bulky pair of hiking boots for the rest of your Borneo trip.
Footwear for Borneo should be waterproof and breathable. It's impossible to keep feet entirely dry so aim for a hiking shoe that has good breathability.
Make sure you can fit long football socks on with your hiking shoes to prevent leeches.
You'll also need good traction to have some degree of grip on mud and underfoot vegetation. Remember the rainforest is wet. Even if it's not raining, the vegetation underneath and around you will be wet.
Leech socks are generally worn with wellies and these are normally either provided or can be bought cheaply locally if you are doing any volunteering work in the rainforest.
Buy really good, waterproof, lightweight hiking shoes here.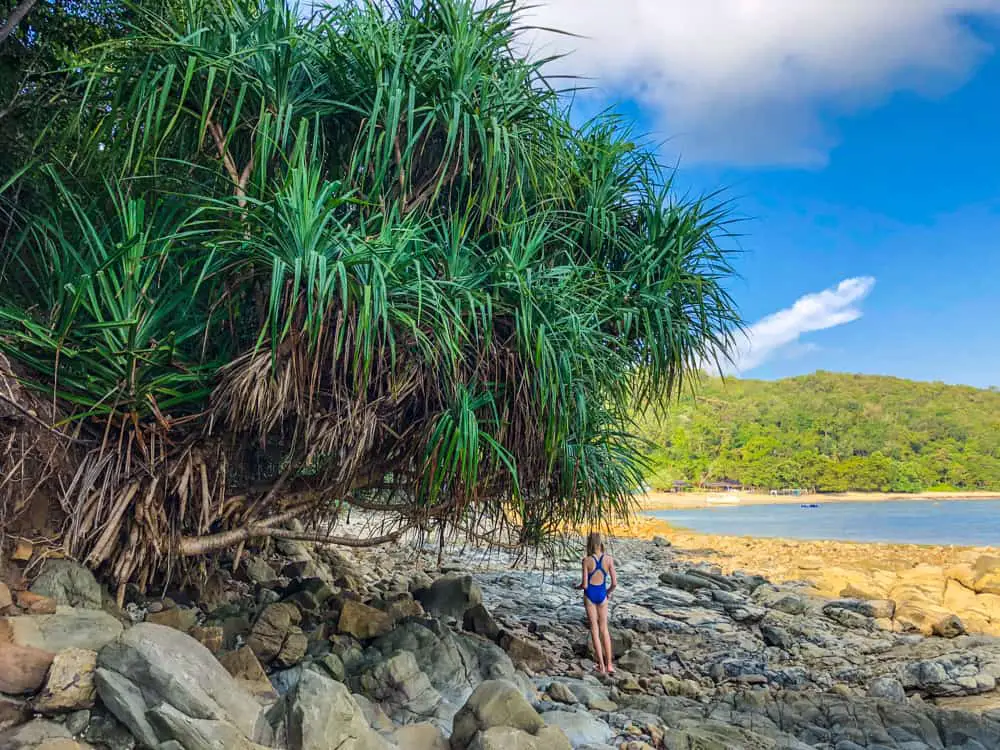 Swimsuit
Borneo is a rugged island. People come here for the incredible nature and diving, not for picture perfect golden tropical beaches, of which it has few.
However, it's still worth putting a good swimsuit on your Borneo packing list as you're sure to hit the coast a couple of times, whether you're diving or just relaxing by the coast.
In Sabah, head to Kelambo Beach in Kudat, Manukan Island in the Tunku Abdul Rahman Marine Park off Kota Kinabalu  or Pulau Tiga (featured on TV show Survivor) to find glorious stretches of sand, whilst Derawan in East Kalimatan or Tusan Cliff Beach in Sarawak won't disappoint.
Read more: the perfect remote beach getaway at dive resort Big Fin Divers near Kota Kinabalu
Lots of socks & underwear
I'll reiterate again here, but I think you've got the gist! Put a lot of socks and underwear on your Borneo packing list! Everything takes forever to dry in Borneo. Compensate for this by taking as many extra pairs of socks and underwear as you can.
You'll want to change your socks frequently as the damp conditions can lead to horrible foot problems. Trust me, if you walk into a pharmacy in Borneo you'll see an amazing array of foot powders and foot medicines. Make sure you check out the other travel essentials for Borneo below and include a foot powder in your Borneo packing list!
We love seamless socks which are great for jungle trekking as blisters tend to generally appear around seams. 1000 mile specialise in the double layer anti blister sock. Check out their trekking socks perfect for the jungle here.
If you're intending to be in the jungle for some time, consider investing in a couple of pairs of underwear that aren't cotton. 
Ex-officio do amazing trekking briefs that are super fast to dry out, or try Icebreaker merino briefs that I've heard rave reviews 
Read more: the perfect 2 week itinerary to travel Sabah, Borneo
Waterproof poncho
If you have no wish to climb Mount Kinabalu then taking a wind proof technical shell isn't really a necessity. Instead pick up a cheap waterproof poncho when you get to Borneo. They are sold everywhere, pack up small and are large enough to fit over both yourself and your rucksack.
Alternatively if you prefer to invest in a quality waterproof poncho that's going to last for years instead of weeks, check out this excellent hiking poncho by Vaude.

If climbing Mount Kinabalu is on your Borneo itinerary, expect to add a lot more to your Borneo packing list. Your Borneo clothing will need to include some warm clothes as the Mount Kinabalu trek may start in lush, tropical jungle but ends at a very chilling high altitude! You will need layers of warm clothes for your overnight stay at either the Panalaban or Pendant huts and for summiting the following morning.
Read below what extras you should expect to add to your Borneo packing list if you're climbing this legendary mountain.
Read more: Climbing Mount Kinabalu Tips 
Borneo clothing – Waterproof jacket & trousers
Take a good waterproof jacket with you to climb Mount Kinabalu. Waterproof trousers are also recommended. We took cheap waterproof trousers, and we didn't actually need them, but I'd try to take a good quality jacket with you.
It takes two days to climb Mount Kinabalu. If you encounter rain on the first day, they will still let you climb to the overnight huts. But if it rains the following day, the morning of the summit, the park authorities will close the summit and you will not be allowed to climb.
I'd recommend pairing a good quality shell with a fleece instead of lugging a thick jacket around Borneo. Mount Kinabalu is the only place where you will need warm clothes in Borneo.
I love my trusty Arc'teryx shell – bloody expensive but worth every penny. Arc'teryx repair products for free so they last a lifetime.
Fleece
Pack a good quality fleece that is lightweight and packs down well to pair with your shell jacket.
I use my trust Arc'teryx Adahy hoody. It's packs down well and is super warm. There's no need to buy a super expensive fleece but make sure it packs down small as you'll be carrying it around at the bottom of your rucksack for the entire rest of your Borneo trip.
Hiking boots
Hiking boots are a must if you're planning to climb Mount Kinabalu. Added ankle protection is advised to hike such a mighty mountain. We would highly recommend a lightweight, waterproof hiking boot such as the Salomon X Ultra Mid 3 GTX.  I've used them all over the world and they are amazing. They are extremely lightweight at only 420g so won't be too much of a burden to take in your backpack either. They were a must on my Borneo packing list but only because I was climbing Mt Kinabalu. If you're not intending to do this climb, hiking shoes would be better as an all rounder shoe for Borneo.
You can read our review of the Salomon X Ultra Mid 3 GTX hiking boot here.
Check prices of Salomon X Ultra Mid 3 GTX hiking boot on Amazon here.
Read more: Tips for travelling to Borneo
Beanie
You'll need a beanie to summit the lofty heights of Mount Kinabalu (4,095m). Expect to start the bid for the summit at 2.30am and trust me, it's bitterly cold as you emerge from your hut at 3,289m.
Gloves
As well as protecting your hands from the cold on the ascent, you'll also need grippy gloves for the last few hundred metres before the summit where you'll need to haul yourself along the bare stone with the help of a guide rope. Gloves are an absolute must but don't worry you needn't pack any. We bought ours from the Amazing Borneo office in the Kinabalu Headquarters cheaply at 8RM each. We now use them as gardening gloves – a great souvenir!
Head torch
You'll need a head torch for the final summit of Mount Kinabalu as you'll be setting off in the dark. A head torch is always a good idea when travelling anyway and something we never travel without. We have a small USB charged Vango Photon.
It's also handy if you want to do a night trek or boat safari when in Borneo. Many Kinabatangan guides offer night excursions as it's often a great way to see more wildlife. Choose a small, powerful head torch that won't take up much room.
Buy the Vango Photon head torch here or compare prices on similar head torches on Amazon.
Read more: Vango Photon head torch review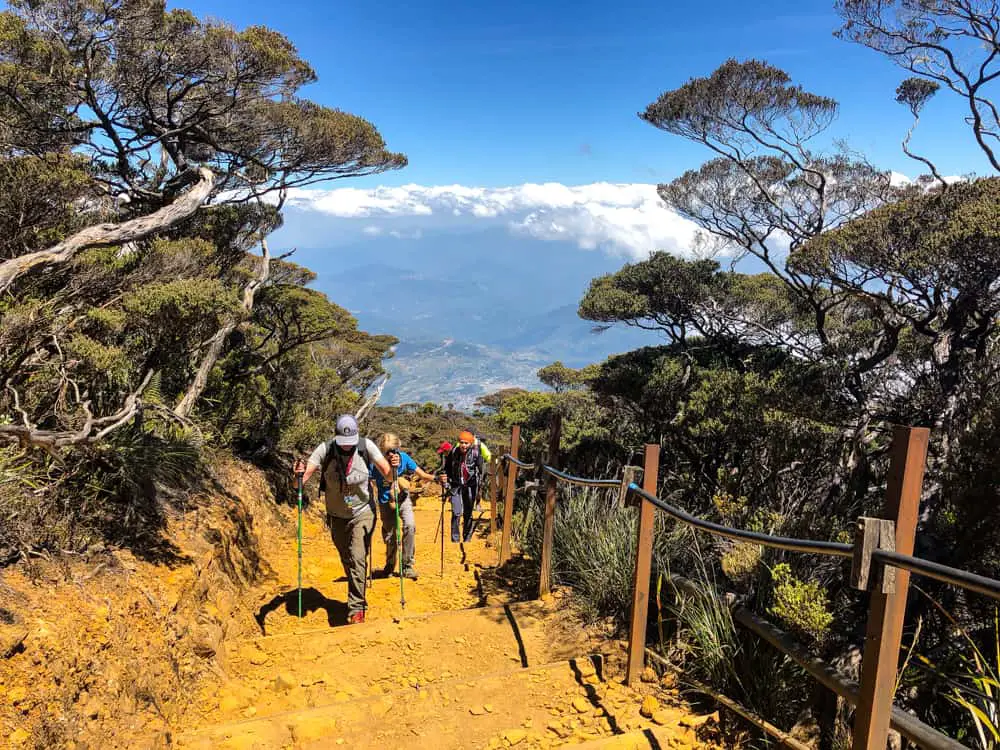 Trekking Poles
Trekking poles are definitely needed for climbing Mount Kinabalu. However, this is really the only place in Borneo you will need hiking poles so instead of packing your own and lugging them all around Borneo, I would recommend hiring them at Kinabalu National Park Headquarters when you arrive.
We booked our climb package through Amazing Borneo and were able to rent trekking poles from their office in the park headquarters. They are cheap to rent at 10RM per pole (20RM for a pair).
Read more: the benefits of trekking poles + Black Diamond Pro Trail trekking pole review
Water purification tablets
Water purification tablets are necessary for climbing Mount Kinabalu if you don't want to carry enough water with you up to base camp.
Expect to hike 5-6 hours on the first day. There are plenty of rest stop shelters on the way up which each has a large water tank for your to fill up from – but you do need to add purification tablets to this water.
Buy water purification tablets here.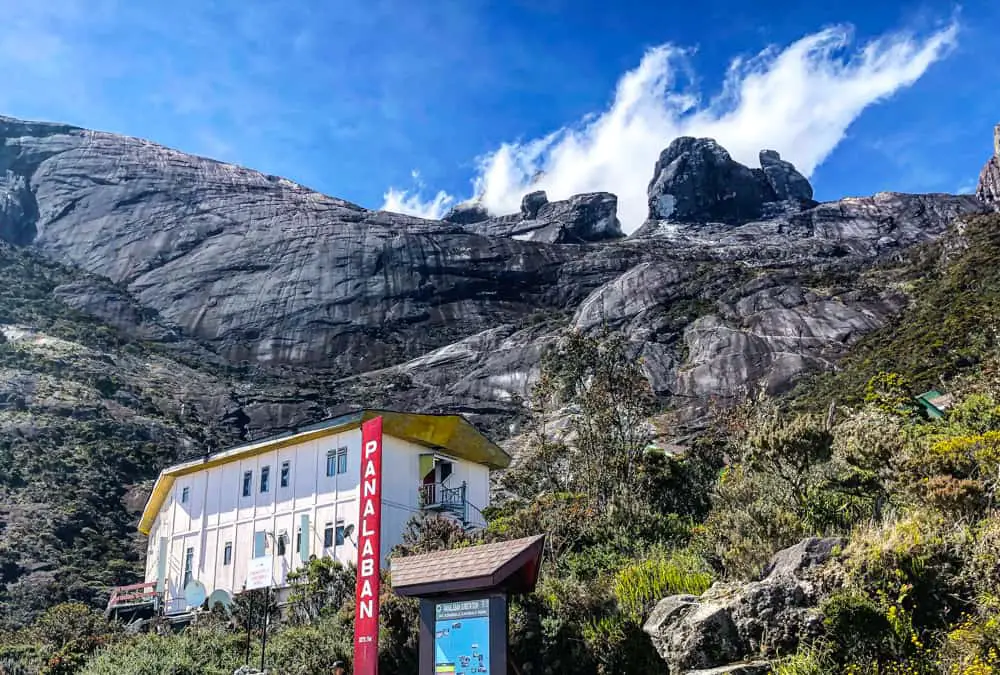 Sleeping bag liner
It's a good idea to take a sleeping bag liner if you're climbing Mount Kinabalu. The Panalaban and Pendant sleeping huts provide sleeping bags and liners, but in reality these are slept in every single night by trekkers. Your own personal sleeping bag liner is always handy travelling the tropics if you encounter dubious mattresses in cheap accommodation!
We really rate RAB's silk sleeping liners – expensive but a little gesture of luxury in a tough environment can help boost your morale. Silk against skin is one of life's simple pleasures. Avoid cotton sleeping bag liners – they are much heavier in weight and take a long time to dry if they get wet.
Buy silk sleeping bag liners here.
Read more: RAB silk sleeping bag liner review
Additional essentials to include in your
Borneo packing list if you're going to jungle trek for a week or longer
If you're going to be jungle trekking for a serious amount of time, you will follow a strict wet/dry clothing regime. This involves having a specific dry set of clothes kept in a dry bag to wear at the end of the day and keeping your damp trekking clothes separate and drying them out each night. This is when your Borneo clothing absolutely need to be synthetic, fast drying with wicking away qualities . These need not be expensive. 
Cycling shorts
If you'll be jungle trekking for days in Borneo it's recommended to include a pair of non padded cycling shorts in your Borneo packing list to wear instead of cotton underwear. Cycling shorts will stop chaffing from long days on the trail in humid conditions. It's a top tip from jungle experts – follow it!
Buy cycling shorts here.
Seamless socks
The wet, humid environment of the Borneo jungle tend to bring blisters around the seams of socks. Avoid these by investing in a few pairs of seamless socks. We love 1000 mile socks.
Other travel essentials for Borneo
Unlocked mobile phone
Make sure you take an unlocked mobile phone with you to Borneo. You can then buy a local SIM card to use during your holiday. One of our top tips travelling Borneo is to download the GRAB app. It's similar to Uber and will save you a packet in Borneo. Check out our other top tips to know when travelling Borneo.
First aid kit
Make sure you take add a basic first aid kit to your Borneo packing list. Include items for the tropics such as iodine tablets and dehydration salts.  Either buy a basic one and add to it, or make your first aid kit from scratch. 
I always include:

painkillers

(paracetamol)

anti-inflammatories

(ibruprofen)

anti-diarrhea tablets

(immodium – life savers on long bus journeys)

anti-septic wipes and cream

dehydration salts in sachet form

motion sickness

(Bonine) good for sea sickness

anti-histamine cream (

for bites)

saline ampules

(to help clean out or dehydrate eyes)

tweezers

digital thermometer

iodine drops

(brilliant for cuts that take forever to heal in the tropics)

plasters

triangular bandage & safety pin

(for sprained/broken arms)

sterile gauze & surgical tape

(to apply to bleeding wounds)
Don't worry if you need to pick up medication whilst in Borneo. There are plenty of good pharmacies in the city centres. Sandakan has a very good pharmacy called Borneo Dispensary just opposite Nak Hotel in the city centre. The staff are very helpful and knowledgeable. 
Buy a travellers first aid kit here.
Personal toiletries
Make sure personal toiletries such as deodorant and face cream are fragrant free. Research has shown that mozzies and other bugs are attracted to fragrances – exactly what you don't want in the jungle! Strong fragrances can also hamper your chances of wildlife spotting as animals can smell you long before you've had the chance to find them.
Extra items into your personal toiletries for your Borneo trip should be
Mosquitoes in Borneo
Malaria in Borneo – do I need to take anti-malarial tablets?
Malaria is not common in Borneo but is present in parts of Kalimatan, the Indonesian part of Borneo. There is low risk of malaria in deeply forested inland areas of Malaysian Borneo of Sabah and Sarawak, and extremely low risk in coastal areas. Have a look at this site and always check with your doctor before leaving.
Dengue Fever in Borneo
There is much more of a risk of dengue fever in Borneo than malaria, so bite prevention is key.
Unlike the mosquito that carries malaria, which bites in the evening or at night, the mosquito that carries dengue (Aedes aegypti) bites during the day, so it's vital to protect yourself against mosquito bites during the day, especially in urban areas where the Aedes aegypti mosquito generally lives.
There's no vaccination available yet for dengue, although trials are under way. So bite prevention is crucial.
Why we didn't take anti-malarial in Sabah, Borneo
We only visited Sabah in Malaysian Borneo and only travelled to Sepilok and the Kintabatangan River to trek. We didn't take any anti-malarial tablets, although we did meet travellers that had.
I was worried about the side effects of anti-malarial tablets, particularly for my 10 year old daughter and deemed dengue fever a much higher risk for our Borneo itinerary.
We chose to take the following actions to reduce bite risk:
take B1 tablets two weeks before and during our stay

to cover up with long trousers & long sleeved tops during day & night

to use DEET jungle strength insect repellent in the jungle

always check rooms were properly screened with close fitting gauze over window

sprayed our room before going for dinner each evening
We weren't particularly bothered by mosquitoes and had surprisingly few bites for being in the jungle.
We stayed in a basic room in the village of Sukau on the Kinabatangan River with an en-suite and fan (no aircon).
We were very strict on getting quickly into our room quickly and not keeping the door open at all even in the day and always shut our bathroom door at night (as the vents etc were open).
We also picked up insect spray and sprayed our room before we went for dinner at night to kill any mosquitoes that may have come into the room during the day. Others used a plug in anti-mosquito repellent in their rooms.
We always had long sleeved tops and bottoms both during the day working in the jungle and in the evenings too.
If you sleep outdoors or in an unscreened room, use mosquito nets impregnated with an insecticide. The net should be long enough to fall to the floor all round your bed and be tucked under the mattress. Check the net regularly for holes. Impregnate with fresh insecticide every six months.
Vaccinations for Borneo
The World Health Organization recommends the following vaccinations for travellers to Borneo:
Adult diphtheria and tetanus

Hepatitis A

Typhoid
Recommended for longer-term travellers (more than one month) or those intending to trek or spend extended amounts of time in rural areas:
Hepatitis B

Japanese B encephalitis

Meningitis

Rabies

Tuberculosis
Make sure you visit your doctor 6-8 weeks before departing for Borneo as vaccinations need at least 2 weeks to kick in before reaching your destination.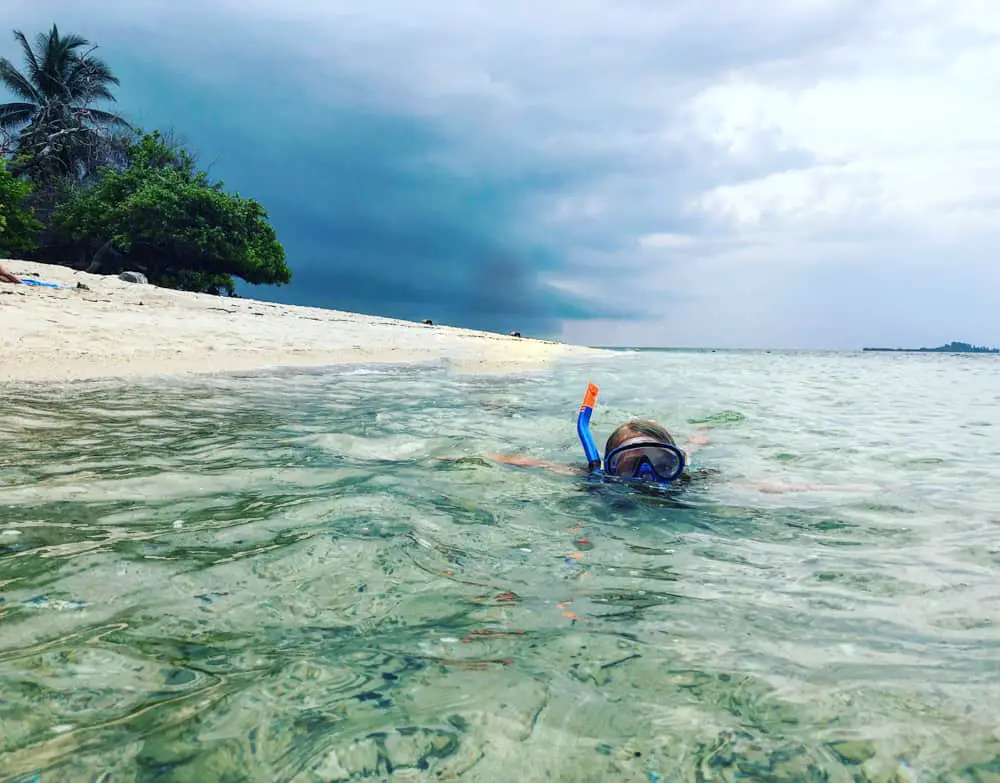 Mask & snorkel
We took a mask & snorkel with us so we could dive straight into the water without a moments notice. We snorkelled during our overnight stay on Turtle Island and at Kota Belud, a couple of hours north of Kota Kinabalu during our stay at epic dive resort Big Fin Divers (which was our favourite accommodation in Borneo – read our review here).
You can rent mask & snorkels easily though both at Turtle Island and Big Fin Divers and other dive resorts, so it's not so necessary to take your own.
Electronics
Phone adapter
Borneo Malaysia and Brunei uses a UK style 3 rectangular pronged plug, whereas Indonesian Borneo (Kalimatan) uses European style two pronged plug. We use a multi USB charger for worldwide use similar to this one.
Buy an adaptor for Borneo here
Power pack
I always take a power pack to charge my electronics. It enables me to keep charged even for a few days without electricity. Some of the remote lodges in Borneo do not have electricity, so come prepared.  I use a 20000mAh/72Wh power bank which can charge several devices for up to 4-5 days. It's perfect for travelling.  I don't go anywhere without this!
Bluetooth camera shutter remote
We use a bluetooth camera shutter remote regularly to enable us to take photos of all of us without having to ask someone else to take it. A bluetooth camera shutter remote is just a button you press that clicks the button of your phone camera for you remotely, so that you can be in the photo too. They are brilliant when you are in remote areas and no-one is around to press the shutter for you. They are cheap and a brilliant bit of kit. Use with the iPhone tripod below.
Iphone tripod
We take most of our photos on our iPhone. A phone tripod is a handy piece of kit that allows us to take photos remotely with our bluetooth shutter remote. We love the JOBY gorilla pod for any smart phone which grips to almost anything.
JOBY also do a gorilla pod for DSLR users too. Highly recommended piece of kit. 
Headphones
We always travel with bluetooth headphones so that we can switch off from our surrounding noise (and family!) and get some me time. We love the basic JBL T500BT bluetooth/wireless headphones.
Phone bungee
A phone bungee is extremely useful when you need to be hands free but want to use your phone to take an occasional snap. For example if you are walking a canopy walk high in the trees, or if you're doing the Mount Kinabalu Via Ferrata (below).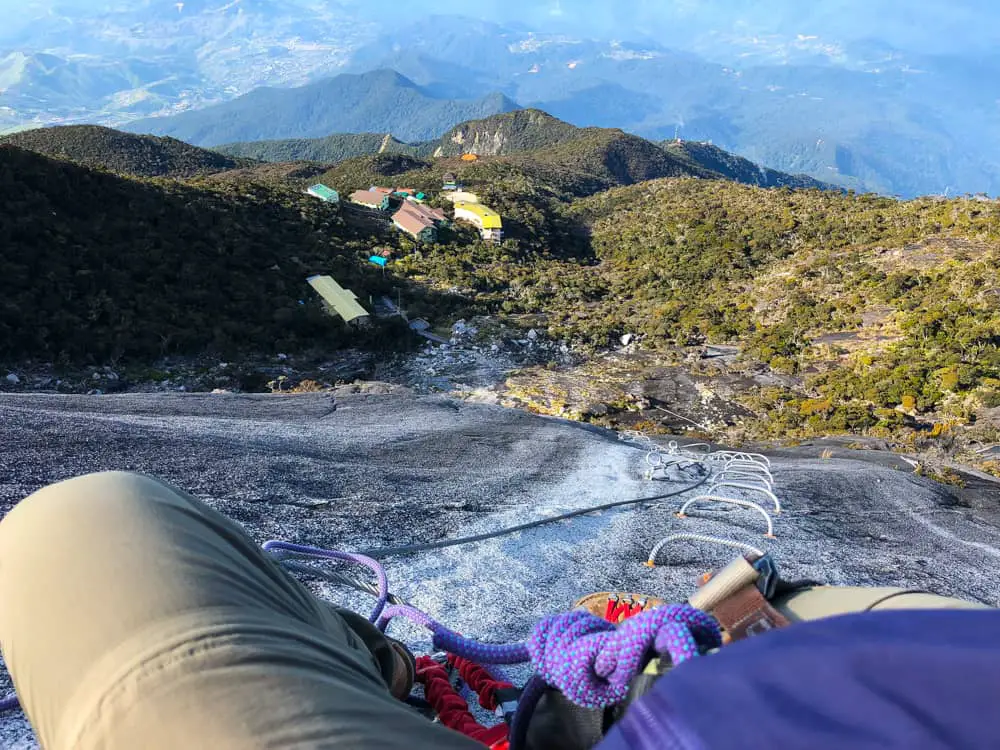 Backpack
A 40-50 litre backpack is perfect to take to Borneo. Avoid suitcases, even the ones with wheels as much of Borneo is dirt tracks and jungle.
I love this Osprey 55 litre backpack – it's ideal for travelling to Borneo. It opens like a suitcase which is brilliant for finding things easily and it pairs with the Osprey daylite travel pack which attaches to it for a day rucksack – invaluable when travelling. It has a built in rain cover too which is crucial for Borneo.
Backpack rain cover
A backpack rain cover is a must travelling to Borneo. Expect rain at any time in Borneo, even in the mild season (March – October). A rain cover is essential to make sure your backpack and contents escape being drenched.  If your backpack doesn't have an in-built rain cover, buy a separate rain cover for the appropriate size of your rucksack. 
Packing cubes
Okay I'm addicted to packing cubes and I swear if you try them, you will be too. Packing cubes allow you to easily segregate your belongings. This makes it super fast to find something from your backpack. In Borneo I separated my warm clothes for climbing Mount Kinabalu into one packing cube and then shoved this to the bottom of my backpack until I needed it. In another cube I had my trekking clothes, another cube was for dirty laundry, another toiletries  and a smaller one for book, notebook, pencil, etc. Packing cubes normally come in a set of varying sizes and have mesh on one side to allow for ventilation and to let you see the contents. 
Dry bags/ziplock bags
Dry bags are waterproof bags that you can put inside your rucksack to protect vulnerable items such as camera equipment or electronics. A number of dry bags will be required for jungle trekking in Borneo to keep your belongings dry from rain. Try to get a few different sized dry bags, one large to line the inside of your backpack and a couple of smaller ones for electronics and cameras.
Buy dry bags here
Ziplock bags are also useful to keep phones, paperwork, passports etc in. I always take a stash of different sized ziplocks away with us when we travel. 
Quick dry travel towel
Include a microfibre travel towel in your Borneo packing list. We always have one each on our travels, they are fast drying, pack down into nothing.

Scarf/sarong
Another essential to add to your Borneo clothing is a head scarf or sarong. I never travel without out one – ever!
A large scarf comes is practical and versatile in so many ways whilst on the move, from snuggling up as a blanket on the plane or in the airport, covering shoulders in temple, or as a beach throw.
Borneo is a diverse mix of religions from Islam, Buddhism and Christianity so you may on occasion have to cover shoulders as a mark of respect if you are visiting temples.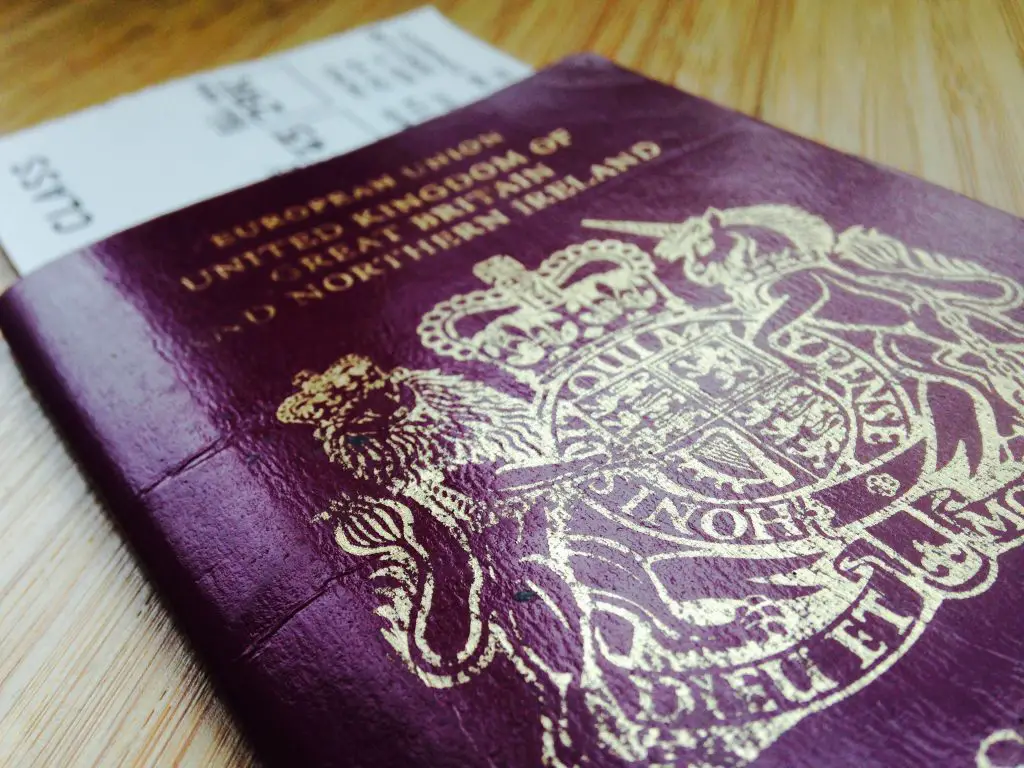 Passport & Travel Insurance
Make sure you've got good travel insurance for travelling to Borneo.
If you plan to climb Mount Kinabalu make sure your travel insurance covers you to hike at such a high elevation of 4,095m. Often trekking to such high altitude requires an additional premium and does not come in a standard policy. We really rate World Nomad Insurance. 
If you'll be diving in Borneo, check out World Nomad's specialist diving insurance.
Always print out a couple of copies of your travel insurance and distribute them around your group. That way if you're the one that becomes ill or injured, one of your other party knows where a copy of the insurance is, rather than having to search your belongings. I also take a photo and keep it on my phone.  Important documents such as insurance policy details and credit card details can also be saved on cloud based password management software such as 1Password.
DSLR camera & zoom lens
Borneo is one of the most diverse islands in the world, packed with incredible wildlife. The only way to capture decent photos of the animals you'll see is by shooting on a DSLR camera with a zoom lens.  A trip to Borneo is a trip of a lifetime, so my one piece of advice is, if you're planning a trip to Borneo and you don't own a DSLR camera, seriously consider investing in one. With a zoom lens you can take some fabulous shots of wildlife. iPhones and GoPros don't really cut it here!
Sunglasses
Even though it's cloudy most of the time in Borneo, don't forget to pack a pair of sunglasses with a good lens. Don't pack anything too flash though as they are going to get dirty and well used in Borneo.
Cheap Watch
We always use a cheap Casio watch which are perfect for travelling. You don't have to worry about theft or damage with these sturdy, reliable and waterproof watches coming in at well under a tenner. 
Read more of our posts on Borneo
Family volunteering re-planting the rainforest in Sakau, Kinabatangan River
A complete guide to Turtle Island Borneo
Staying at Bigfin Divers – a remote beach/dive resort 2 hours from Kota Kinabalu
Tips on climbing Mount Kinabalu
Borneo Packing List
Looking to book a room in Sabah? Check out these great options!
Looking to book your next trip? Check out the following services we use!
Kayak to find a cheap plane ticket or AirTreks for RTW tickets.

Booking.com to find a hotel deal.
World Nomads to insure your trip.

Viator for a good quality day tours.

G Adventures for a multi-day guided tour.