Our first family sailing holiday in Greece, without a shadow of a doubt, has been our best family holiday yet! Far from the maddening crowd, chartering a yacht in Greece epitomises pure freedom with the promise of certain adventure.
Whether you're an experienced sea dog or nervous first timer, sailing the Greek Islands is a breeze. With it's reputation for safe, easy sailing, we headed to western Greece's idyllic Ionian Islands – the perfect destination for families embarking on their first family sailing holiday.
"The sea, once it casts its spell, holds one in its net of wonder forever."
― Jacques Yves Cousteau
I'm greeted by a handful of friendly 'Kaliméras' (good morning) as I stroll the quayside in Kalamos, a small, mountainous island off western Greece. Organised heaps of yellow and green fishing nets line the quayside, while stray cats laze on the white washed port wall before the sun becomes uncomfortably hot. 
It's quiet. There's almost no-one around apart from a couple of fisherman still up mending their nets and a line of local men in a human chain, unloading food supplies from a mainline delivery boat.
It's my favourite time of day. My family are still snoozing onboard as I walk the passerelle, slipping away to steal a quiet coffee for myself. It's easy to soak up the beauty of a new day, carefree in a different port.
This is boating life. Everyday we discover a beautiful new port on a different island. Life just got simpler. 
We are sailing in the Ionian Islands in Western Greece. Incredibly we drove here through Italy from France, sleeping in a cabin onboard an overnight ferry across the Adriatic – a much more exciting way than the standard flying into Athens.
Post Covid it's dramatically quiet. The normal summer bustle of thriving village ports and busy tavernas is distinctly gone. There are few tourists. 
A family sailing holiday in Greece
We'd dreamt of this moment for six years. A family sailing holiday with us as skippers!
After years of watching care free families in tiny sailboats from the confinement of a super yacht galley, I bit the bullet approaching forty, embracing a milestone birthday by booking onto a day skipper course in Greece. 
Six long years later, my husband has his and with some scant experience gleaned from solo flotilla breaks or crew delivery missions, we're taking the plunge on our first family sailing holiday on a bareboat yacht charter. 
Covid nearly scuppered our plans after the original booking for May was cancelled. Now we gloriously have Greece to ourselves.
Seven days ago, driving into the village of Vilho (pronounced Flea'ho) on the south east coast of Lefkas, a largish island attached by an umbilical bridge to the mainland, my stomach turned over with apprehension. We are about to pick up our yacht with Sail Ionian.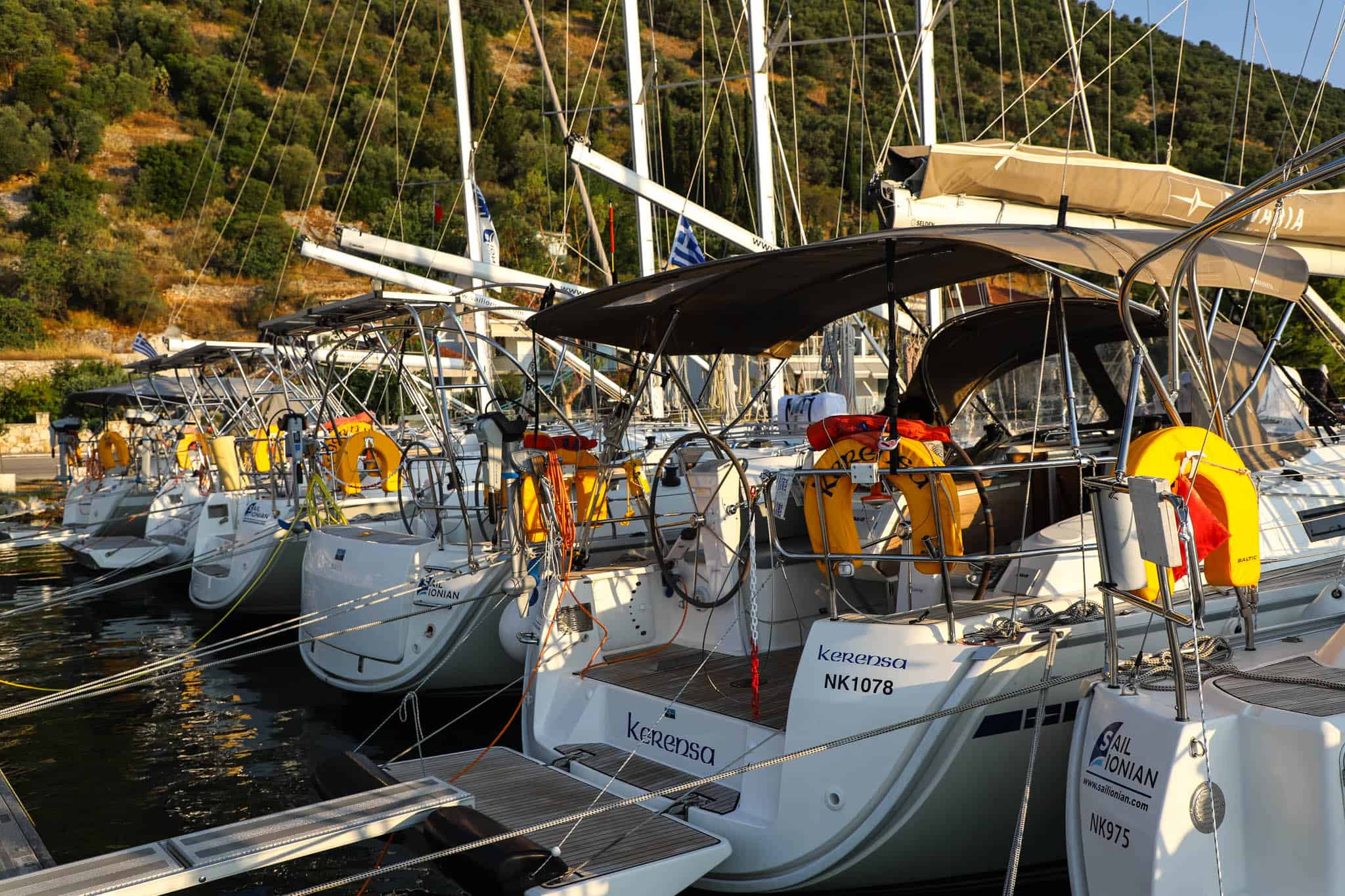 Flotilla holidays versus bareboat charter in Greece
My experience to date are flotilla holidays. Perfect for beginners, flotilla yachts follow a set course, are linked via radio and meet in the same ports each night. Flotillas have the safety net of a lead crew to offer advice, relay weather forecast reports during daily morning briefings and assist with moorings each evening.
Bareboat sailing holidays (sailing independently) comes with a refreshing (or dangerous) degree of freedom. You choose your own itinerary. You can sail wherever you want and mix beautiful ports with sleeping at anchor. You're on your own. Or so I thought.
"I wanted freedom, open air, adventure. I found it on the sea."
― Alain Gerbault, Sailor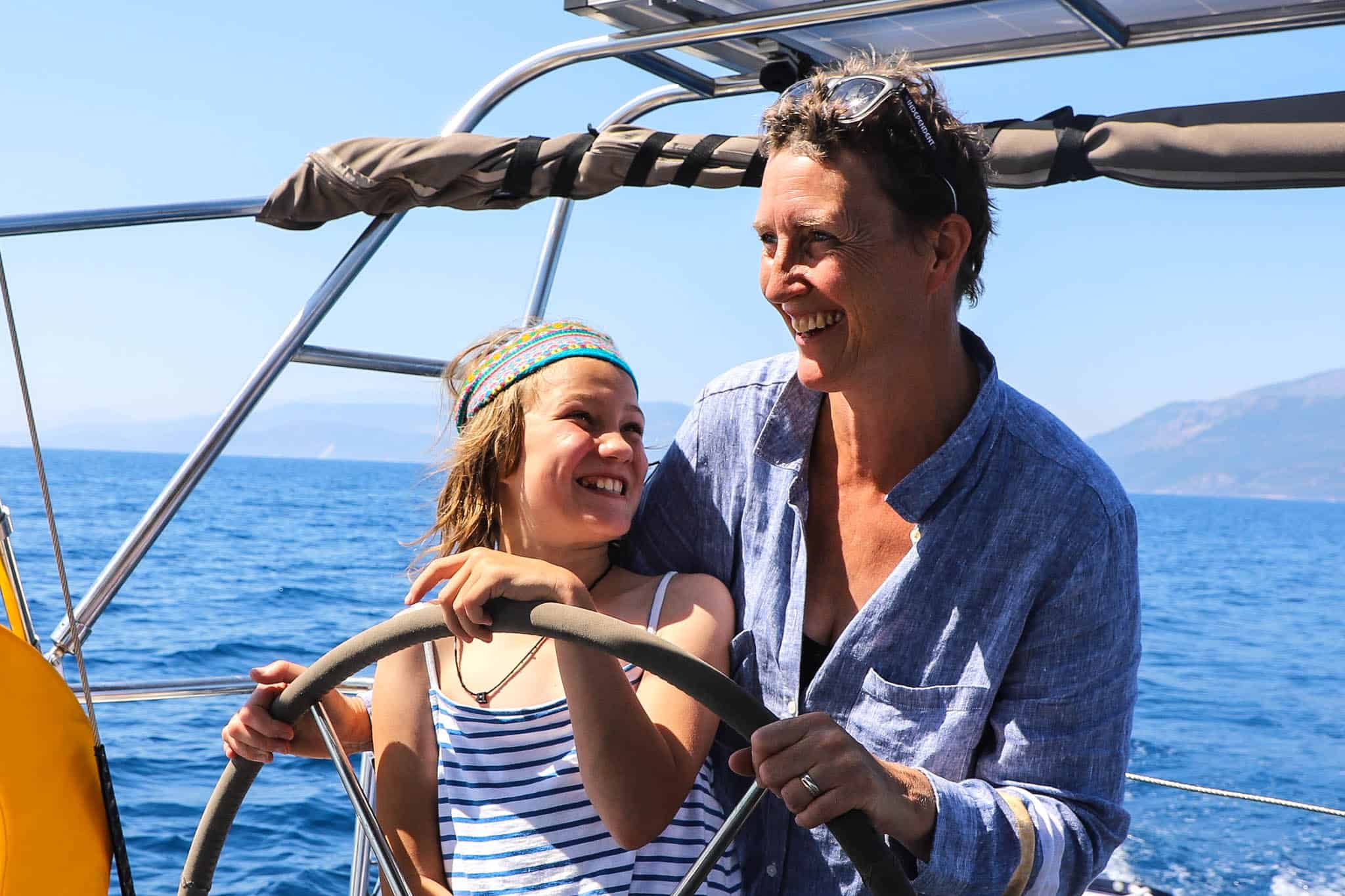 Assisted sailing & mooring practice with Sail Ionian
I needn't have worried. Sail Ionian totally get that their guests possibly sail once a year, or less and that it's in their best interests to make sure skippers can brush up on rusty skills before leaving port. They understand those embarking on family sailing holidays want to feel confident, safe and reassured before heading off into the deep, blue sea. 
I breathe a huge sigh of relief as an email pings into my inbox in a few weeks before our departure asking if we want to book stern mooring practice. A Sail Ionian skipper can even accompany us over to nearest island of Meganissi on our first afternoon if we'd like. For free. I'm impressed. And relieved.
Anchoring in remote bays without a soul in sight, diving into crystal clear water to escape the hot sun, a cacophony of a thousand cicadas filling the warm air
As it happened we didn't need the free skipper but we put full use to Craig, their oober friendly chief skipper, during our few hours of stern mooring practice.  He took our bombardment of questions in good stride patiently explaining everything. Our questions deemed never too silly or small. 

Sailing the Ionian Islands
Greece, being non-tidal, is perfect for family sailing holidays. The Ionian Islands, only a one hour from Preveza airport or a four hour drive from Athens, are a mecca for novice sailors with plenty of safe harbours and easy line of sight sailing.
The Ionian Islands are comfortingly close together so you're never more than a couple of kilometres away from land, with plenty of tranquil stretches of water suitable for beginners. Plus this being the Med, there's no swell to content with. 
This region typically has little to light wind each morning, so beginners can leave port nice and early in perfectly calm conditions, whilst those seeking more exhilarating sailing can take advantage of stronger north westerly breezes that generally develop in the afternoons.
Choose your itinerary from stunning Ithaca, Kefalonia, or Zakynthos in the south or sail through the Lefkas canal to reach beautiful Paxos, Antipaxos and Corfu in the north.
At sea, I learned how little a person needs, not how much."
― Robin Lee Graham
Calon Draig – a spacious 37′ Bavaria
Stepping onto our 37' Bavaria, Calon Draig, the sunbaked teak warms the soles of our feet. Our adventure has begun.
Calon Draig is surprisingly spacious. Built for comfort not necessarily speed, these boats are designed for recreation with plenty of space for dining and clever storage in nooks and crannies.
The girls run down excitedly to bagsy their cabins. We immediately throw them out of the main bow cabin (which is, of course, clearly ours) so they squabble momentarily over which stern cabin they'll occupy, broad grins plastered on their faces.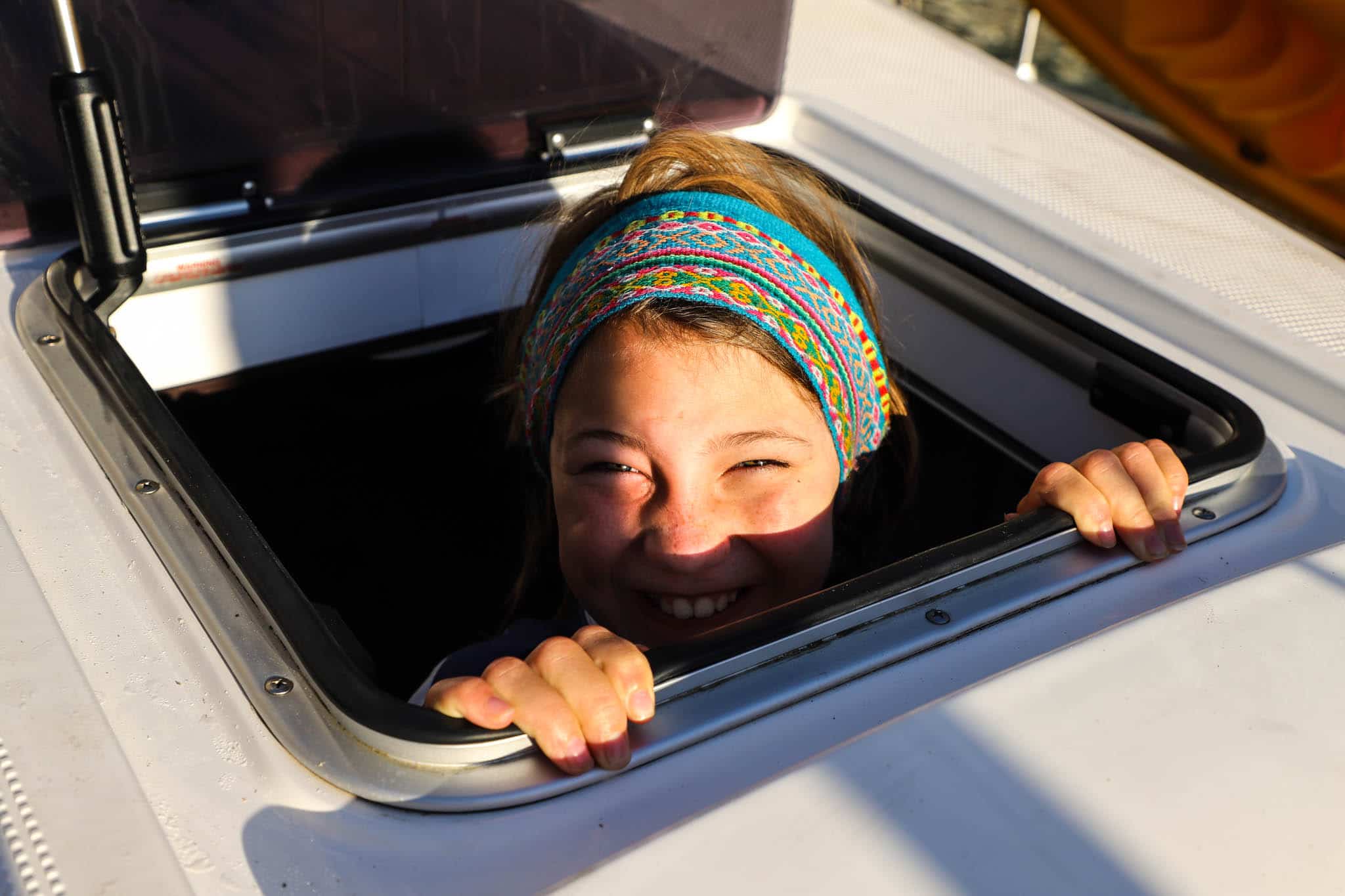 There are three cabins in total onboard. One upfront and two in the stern. The saloon can occupy another two guests.
Calon Draig holds a maximum of eight people onboard which means families (who get on well) can easily share the cost of the yacht, which isn't as much as you might think.
With the luxury of a double cabin each, the girls have room to stretch out. They love their portholes to the aft deck seating area, and make good use of them gleefully grabbing our ankles from below whenever the opportunity arises.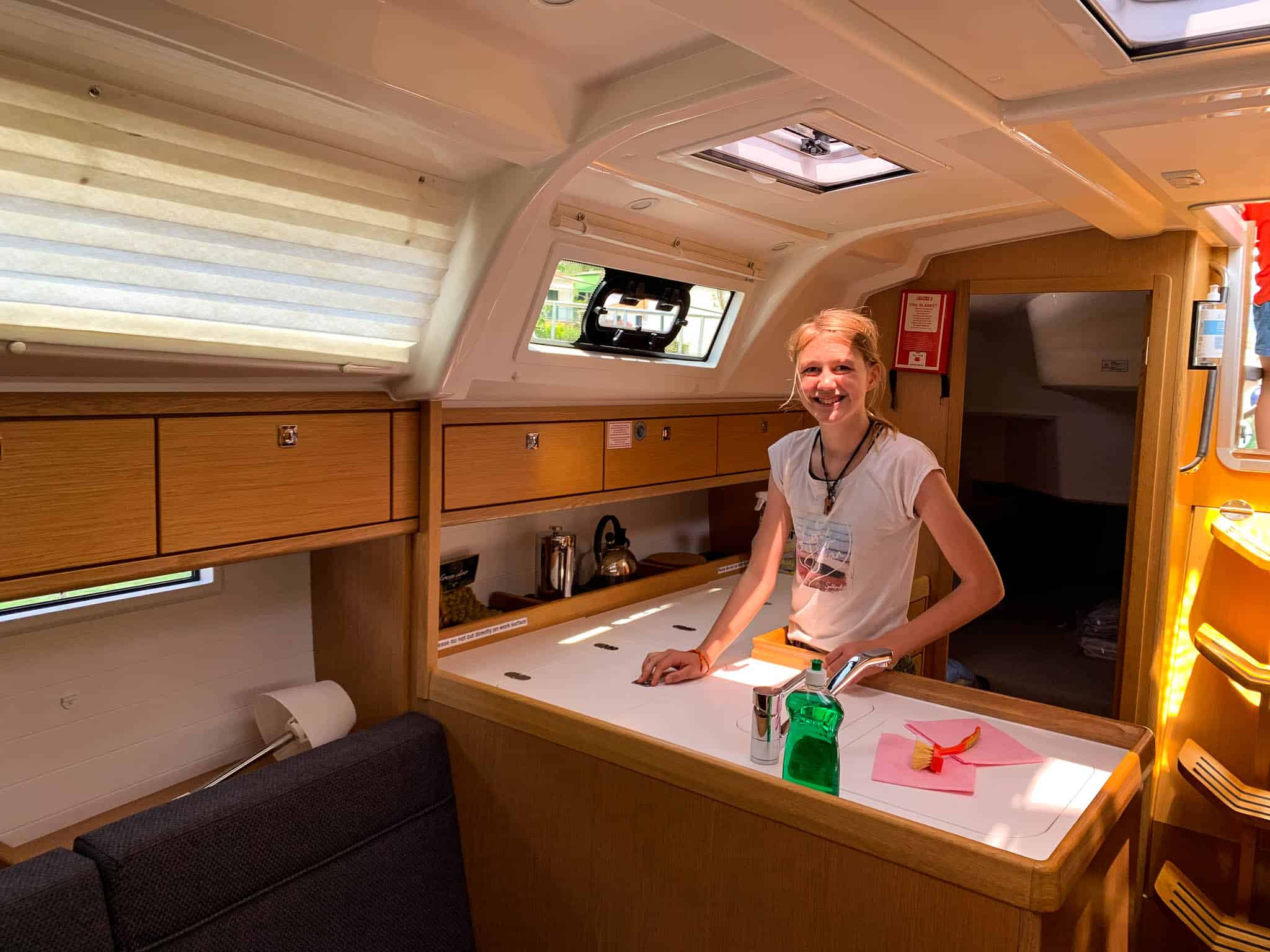 The changing game of solar
The galley is incredible – everything you could want and more has been squeezed into this yacht. I'm delighted by the large capacity fridge onboard and can't believe it's powered by solar! A game changer!
Goodbye to the era of frozen water bottles and a pool of stinky water swishing around at the bottom of a refrigerated hole. Not only that, the solar power charges all our onboard batteries too. It's perks like this that set Sail Ionian apart from the competition.
Daily life onboard
It's truly liberating to be masters of our own fate. It's exhilarating unfurling the sails, furiously working the winches, united as a team. Watching the wind fill ours sails, the yacht heels over, speeding along at 7.5 knots (faster than our diesel engine chugs at) and we skate over the vast glittering ocean.
In ten days onboard, we dust down our sailing skills and learn a ton of new ones, sail to seven islands and cover 85 nautical miles. 
Far from the flotillas I've experienced before, bareboat chartering is a giant leap into utter freedom. Pushing our boundaries we're learning new skills daily.
Long lining, a common practice in Greece, is totally new to us (we didn't learn that in our course!) and night anchorages, far from the safety of port, push us out of our comfort zone.
Step outside your comfort zone, push the boundaries, live life!
Water world
My girls practically live in the water. Diving off the bow, throwing themselves off the stern swimming platform or busy in the toys we have strapped to the stanchions (paddle boards and kayaks can be rented as adds on with Sail Ionian – highly recommended!).
They are in their element, whilst I swing contentedly in my hammock gazing out onto the arid landscape dotted with ancient olive trees, watching a herd of wild goats wander onto the empty beach. 
See authentic Greece
The traditional way of life here in the Ionian Islands hasn't really changed much in decades. Whilst tourism booms during the long hot summer months, local families revert to tending goats or pressing olives from family groves in winter.
It's refreshing to see little construction around the islands. Sivota, the most protected (and well hidden) port of the Ionian, has some new developments but generally families have hung on to their bastion of land, stuck to their roots and not sold out.
Throughout the many tiny ports we sail into, we constantly see strong family values in the tavernas and family run businesses, with the younger generation deferring respectfully to the elderly.  Businesses are still proudly handed down through generations.
Children the same age as ours run in and out of well lit tavernas carrying hot dishes or extra napkins helping their busy parents whilst the older generation sit overseeing the operation from a quiet corner.
These proud people give us a warm welcome and we hungrily devour traditional greek food with relish in every port.  
Cheese filo pies, greek salads with giant slabs of feta sprinkled with oregano and luscious red tomatoes fill our bellies whilst Kleftico, a traditional dish of slow cooked lamb with potatoes and feta cooked in a paper parcel, melts in our mouth.
Family sailing holidays are never dull!
Sailing is never dull. Either a flurry of activity or blissful peace, each day on a bareboat charter is packed with excitement.
This is the beauty of a family sailing holiday. There's so much to do in the flurry of activity leaving or entering port, getting the sails out or anchoring, that tasks are allocated. Everyone, even the youngest member onboard, has an important job to do.
After ten days onboard our girls are fully versed in the routine of leaving port. My youngest does her rounds, snapping closed each hatch and stowing below decks. Letting the stern lines go, she furiously pulls them in as we inch away from port.
My 12 year old quickly learnt the ropes of her prime position, operating the windlass for the anchor, watching for our signals & working as part of a team. 
"A sailor's joys are as simple as a child's."
― Bernard Moitessier, Sailor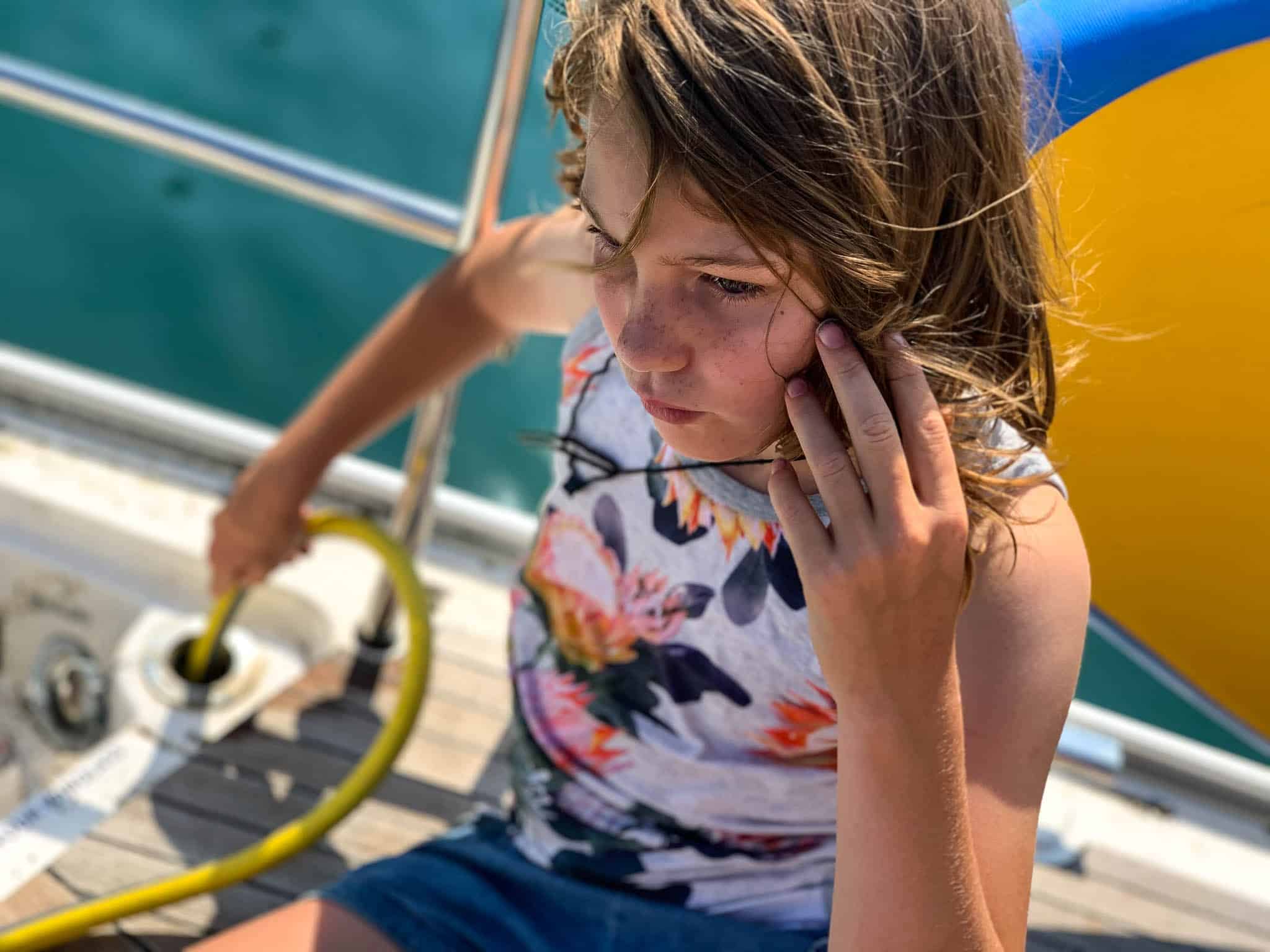 And both love a go on the helm once we're under way.
However, the task that bought the most glee to our girls was opening the sea cock under way, once clear of port.
With a twist of the magic blue plastic valve tucked under the 'head' sink, the holding tank releases all of our number ones and numbers twos in the ocean.
Yelping with glee they stand at the stern and watch it float out in a line. Fish fodder!
Easy sailing in Greece with the Bavaria 37′
The in-mast furling mainsail on our Bavaria 37′ makes it easy to hoist the sails, reef and unreef from the safety of the cockpit whilst underway – making it sailing much easier with a young family.
All the lines are clearly marked in their jammers too so we knew our outhaul from our kicker from our main sheet, which again made our family sailing trip easy and doubt free.
Something for everyone
A family sailing holiday really does tick all the boxes which is why, to date, it's been one of our favourite family holidays ever!
There is something for everyone to keep them happy. Whether it's swimming to their heart's content, the thrill of sailing close to the wind, or even something so simple as inserting the aft cockpit table light at sundown every day (my youngest was fascinated by this!)
There's always something to fix or work out sailing. And encountering a healthy dose of daily problem solving kept my other half happily busy.
"It is not that life ashore is distasteful to me. But life at sea is better."
― Sir Francis Drake
What if something goes wrong?
We were assured that Sail Ionian's engineers are never more than a 45 min high speed rib ride away and are on call 24-7. 
If we couldn't work something out, we called Matt, the chief engineer, who knew exactly what we'd done….
For example, returning from dinner late one night, our bellies full of Kleftico, we boarded Calon Draig to a horrible dry pump belching noise.
We called Matt. It was late. We felt bad.
However Matt, the most chilled out guy ever, didn't bat an eyelid. "You'll probably find you haven't switched off the transom shower properly".
Correct. And thank you. And sorry.
He wasn't phased. He told us it was absolutely fine and to call again if we needed him – day or night. Told us to enjoy our holiday.
A family run business
It's that total attitude that makes Sail Ionian stand out among the countless sailing operations in the Med. Nothing is too much trouble.
A family run business for over 17 years, Sail Ionian is run by husband and wife team Neil and Di,  their son, Chris runs the maintenance side of the business & the care fleet, whilst daughter Katie runs their Caribbean operation – Sail Grenadines.
Knowing exactly what it's like to sail with kids, from years of experience, they've thought of everything you would need on your perfect family sailing holiday in Greece.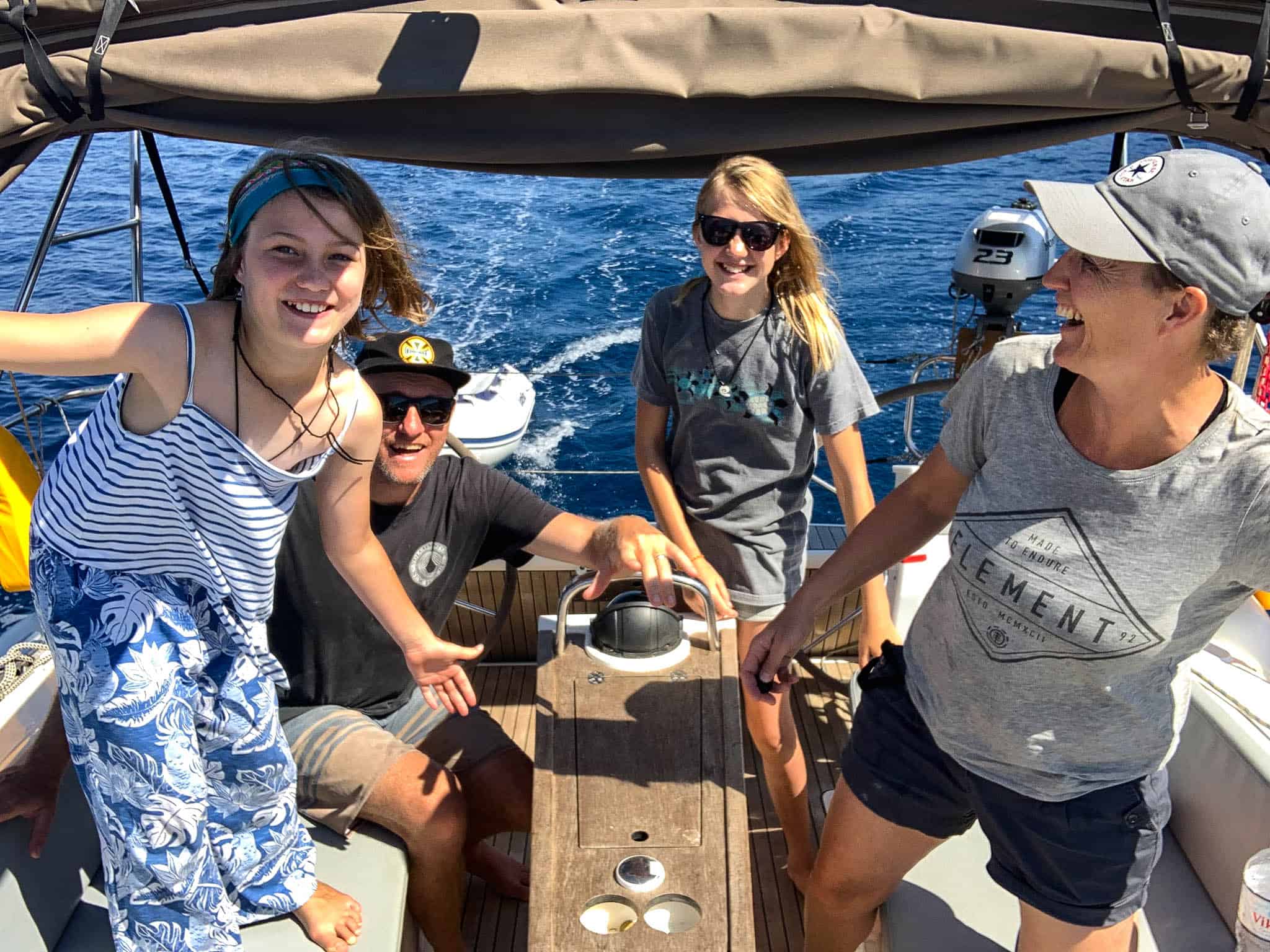 Long lining in Greece
We tried our first time long lining in Fiscardo, the beautiful St Tropez like port in Kefalonia.
Long lining, a technique when you drop the anchor and secure the yacht with two lines to shore, tied around a tree or a rock, prevent the boat from swinging as it would under anchor. It's a fantastic way to moor close to shore and creates a private area for swimming between the yacht and the shore.
Neither Scott or I had ever practiced this technique on our practical courses, however it's common practice around the non-tidal waters of the Med.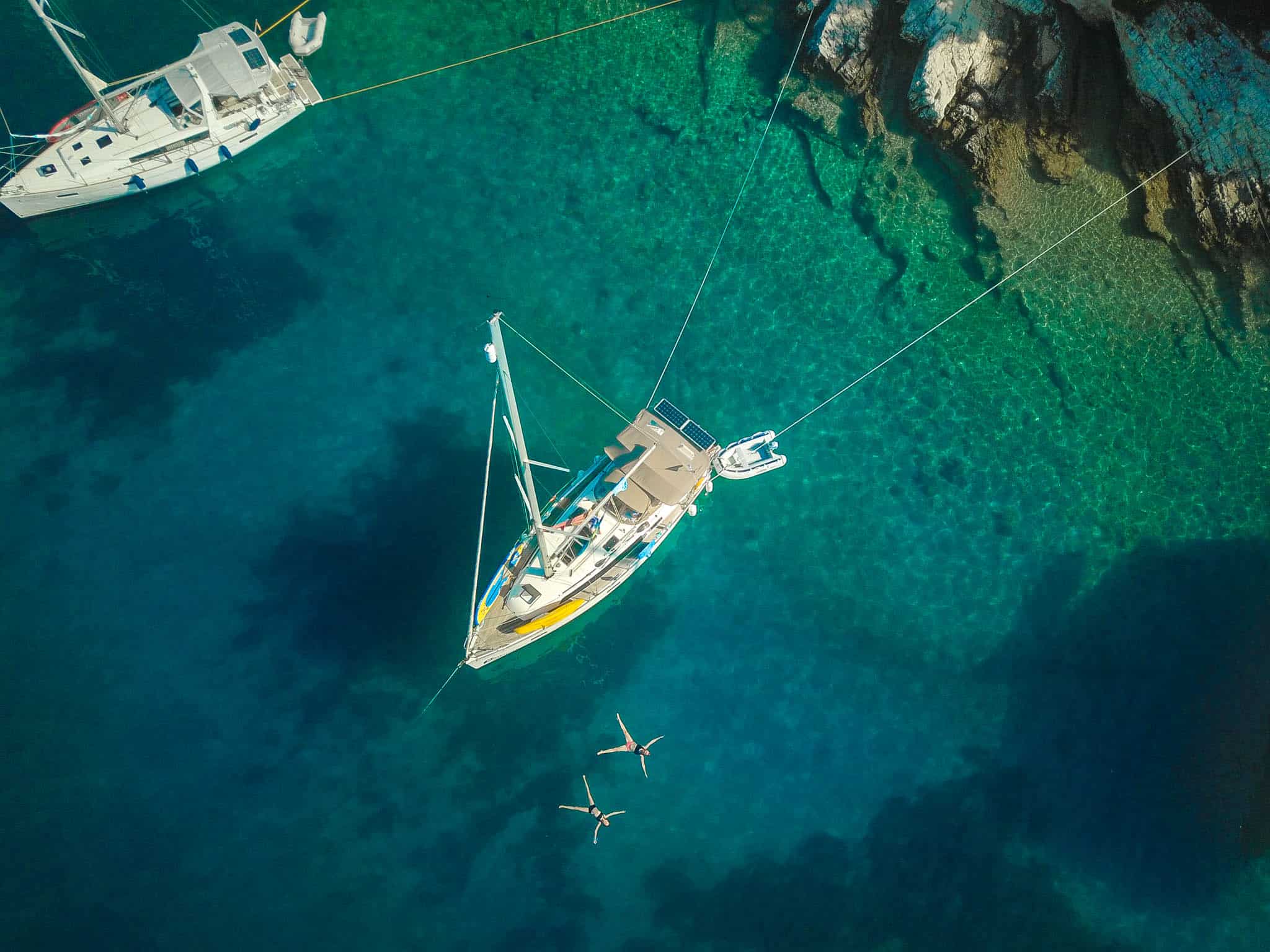 We ended up long lining for 3 nights of our 10 night stay. The perfect isolation of being solo in a remote bay was just idyllic.
Of course it's not possible to long line or anchor every night due to wind conditions so every morning we would check the weather text Sail Ionian would ping us at 09.30am 
If strong overnight winds were predicted, we tucked ourselves in pretty harbours such as Sivota or Kalamos, or if we needed to replenish our fresh water tanks or stock up on food.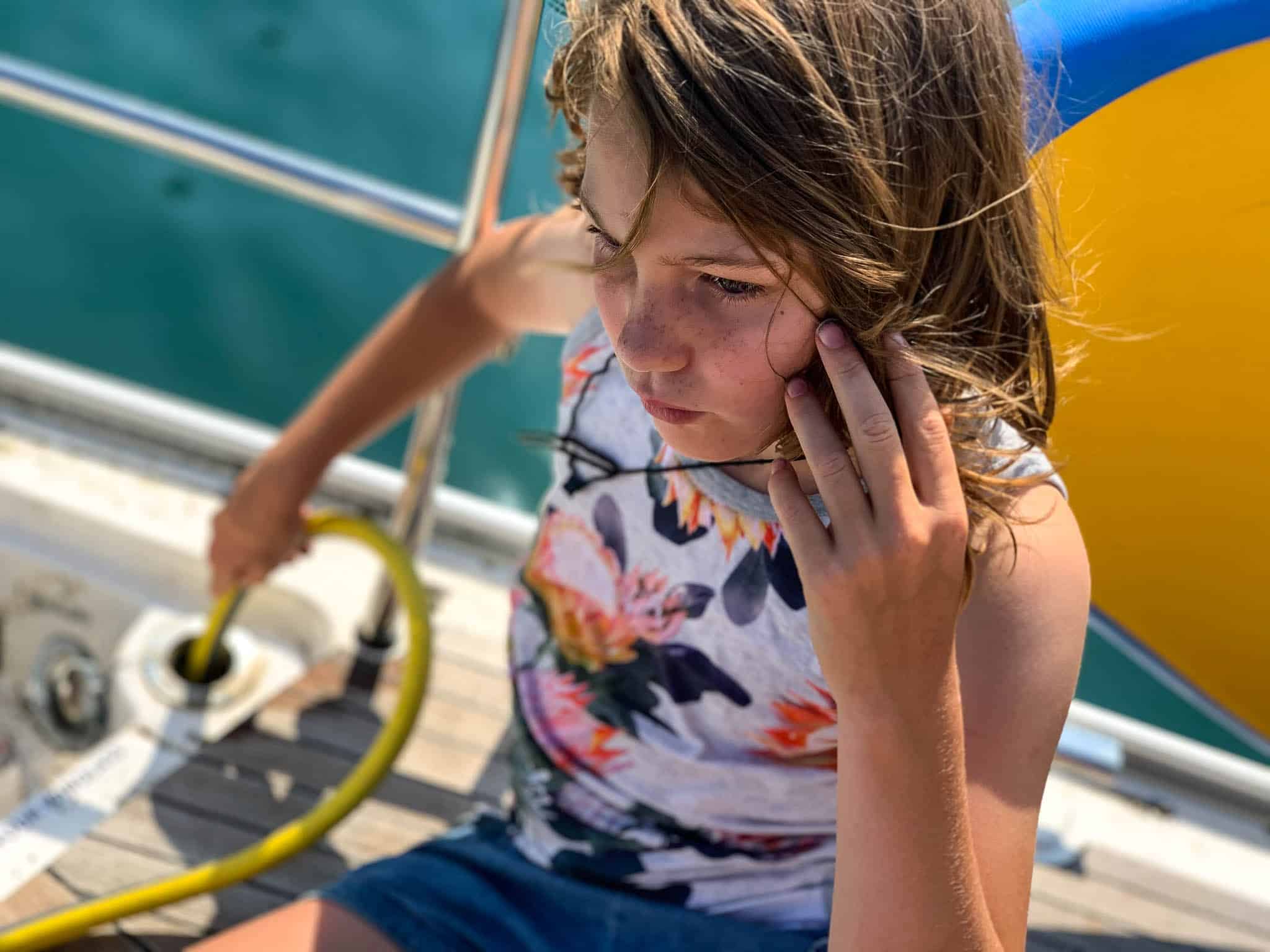 Beautiful Ionian ports 
Fiscardo on Kafelonia and Kioni on Ithaca are must visit ports on any family sailing holiday itinerary in the Ionian.
Stunningly beautiful, the pastel venetian houses lining the waterfronts on both these tiny village ports make them charmingly photogenic.
Fiscardo remains the St Tropez on the Ionian Islands with glitzy boutiques and up market restaurants. 
Don't miss mooring or taking the tender round to the next cove, Foki Bay, to explore the cavernous cave and endless dark mysterious tunnels.
In-between head to wonderfully secluded bays with just one single taverna. Meganissi's beautiful Spartahori will enchant you with it's private pontoon and turquoise water. 
Note: Mooring on private taverna pontoons in Greece, it's a given that you'll dine there for dinner and use their facilities, shore showers, bar, restaurant, fresh water and shore power. We were never charged a mooring fee in any of the ports or private pontoons we moored at, including Ithaca (although you do have to pay privately for water here)
"Twenty years from now, you will be more disappointed by the things you didn't do than those you did. So throw off the bowlines. Sail away from safe harbor. Catch the wind in your sails. Explore. Dream. Discover."
― Mark Twain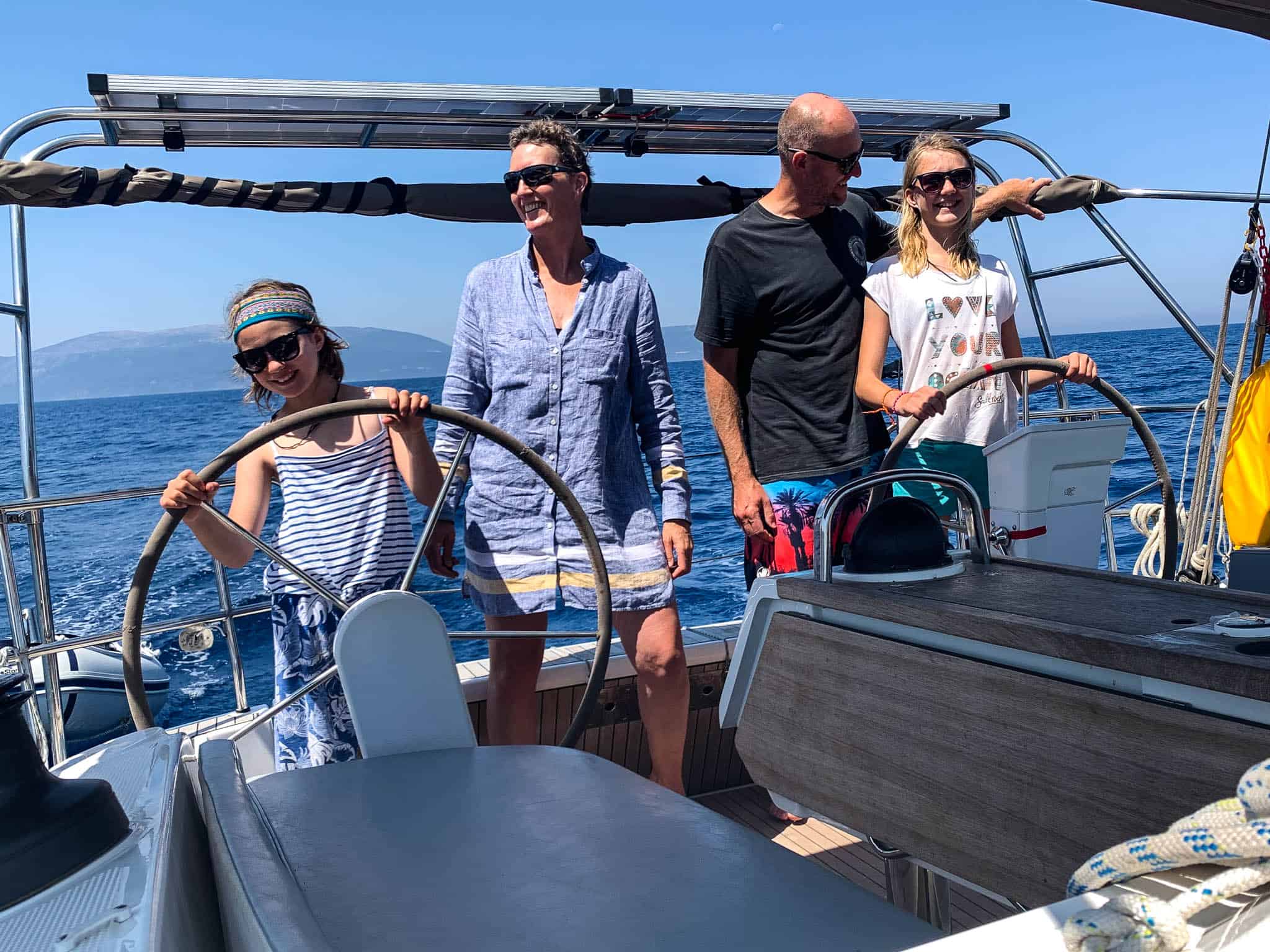 Sailing with Sail Ionian
Our family sailing holiday with Sail Ionian was perfect in every single way. Their staff and crew made us feel confident and supported throughout what can be quite a daunting prospect – taking the leap from flotilla to bareboat. We wouldn't hesitate to use them again.
Our first family sailing holiday was epic and we would encourage any adventurous family to start thinking ahead – it could easily be you next time.
Sail Ionian provide flotilla holidays, assisted sailing holidays and bareboat charters in Greece. Sail Ionian also provide RYA training for practical sailing courses such as Day Skipper & Competent Crew qualifications so you can legally charter a yacht in Greece.
For more information on booking a family sailing holiday contact Izzy or Di on info@sailionian.com or +44 800 321 3800
Our yacht was provided complimentary by Sail Ionian for the purposes of this review, but as always our opinions are honest and frank.
LIKE IT? PIN IT!
If you're looking for more family adventure inspiration, read about family volunteering on an elephant conservation in Sri Lanka or our 2 week itinerary in Borneo.