Chamonix for families: Eating out
It's seldom a relaxed affair, going out for dinner as a family. Chamonix has some damn fine restaurants, most of which you wouldn't even consider dragging your kids to.
Surprisingly, finding a good family restaurant in Chamonix is harder than you'd imagine and there aren't many guides to Chamonix for families. Most restaurants have tables packed in like sardines with no room for children to play. Play? In a French restaurant? Heaven forbid! Children in France are terribly well behaved. Mine in comparison must be an absolute disgust to most French families looking on. 
For us, we don't want to pay through the nose, we need to have ROOM, good food and a kitchen opening at 6 rather than 7 (terribly British!). Here are our pick of the pops on what we think are the best restaurants for families whether you're after cheap eats in Chamonix centre, healthy fast food or sushi overlooking Mont Blanc. The restaurants are in no particular order of preference, rather simply from one end of the valley to the other.

If you don't have kids or have booked a baby sitter read our post 4 epic restaurants to visit in Chamonix
>>>>> – – – – – >>>>> – – – – – >>>>> – – – – – >>>>> – – – – – >>>>> – – – – – >>>>> – – – – – >>>>>
1. Rocky Pop Hotel, Les Houches
Rocky Pop Hotel in Les Houches, a 10 minute drive from Chamonix, is a brand new hotel with an 80's retro pop feel. Young, fun and bursting with colour, this place is epic for families visiting Chamonix, with loads of games to keep kids entertained. Think space invaders, ipods and giant C3POs.
The menu is a simple affair of mainly burgers and pizzas, however they are absolutely delicious. The burgers are homemade whilst you could be devouring your pizza in Italy, it's that good!  Choose from pizza, burger or chicken off the kid's menu (€12) which includes a dessert (brownie & ice cream or a jellybaby ice lolly.
Non-residents are welcomed into the Rocky Pop restaurant, styled around an American diner theme (although you might be politely declined if the hotel is fit to burst on peak weeks).
With the kids happily running around, freaking out about how amazing this place is, you're guaranteed the chance to enjoy a well deserved quiet drink and quite possibly may even finish a conversation in it's entirety without interruption! Rocky Pop makes eating with a family easy. Simple.
Rocky Pop serves food from 5.30pm until 10pm.
Rocky Pop Hotel, 1476 Avenue des Alpages, 74310 Les Houches
Tel: 00 33 (0) 4 85 30 00 00
www.rockypop-chamonix.com



2. Kitsch Inn, Les Houches
The Kitsch Inn in Les Houches has the most epic location of all of our featured restaurants. Nestled slap bang under the Bellevue cable car, the restaurant occupies the entire floor of a traditional alpine chalet and boasts spectactular panoramic views!
Perfect for families, the Kitsch Inn is large, friendly and relaxed. Katy and Jon, the owners, a young family themselves, know what works for families.
The menu is varied with fresh, locally sourced (and organic where possible) ingredients. They also officially serve the best fish & chips in town!
The kid's menu is €8.50 with a choice of fishfingers, burger or spag bol. (Tip: the fries come with pepper on which was a no no with our fussy lot, but zero problem to swap them to plain.)
The Kitsch Inn is a great live music venue too. There's a clever stage that appears for aprés-ski gigs and children are welcome to boogie away too. We love the brilliant outdoor space – kids can bez around outside happily playing in the wendy house and outdoor play area whilst you bask in the Spring or Summer sun.  There's also a lovely playing area inside for Winter visitors and we adore the thoroughly cool kitsch interior!
The Kitsch Inn, 77 Place de la Fruitière, 74310 Les Houches
Tel: 00 33 (0) 4 50 34 41 74
www.kitschinn.eu



3. Le Vert Hotel, Chamonix



Strictly speaking Le Vert Hotel in Chamonix is a no no for families. A fabulous late night venue, an á la carte menu, a boutique, hip hotel …… the clientele here are generally very child free.  BUT hello … Le Vert Hotel does the best Sunday roast in the valley and absolutely welcomes families early doors. This place also has, hooray, space!! Get there for 5pm and you can wallow and unwind in the general conviviality of kids belting between tables and general family mayhem.
The food is impeccable. Choose from a 2 or 3 courses. Mouth watering starters such as 'wild garlic & potato soup with toasted pumpkin seeds' or 'confit duck & pork rillette', with mains of beef, chicken or yummy veggie pies.
Little ones can choose from a mini roast or the normal burger, goujon options for only €8.00. As Summer ramps up, look out for their legendary BBQs!
BOOKING IS ESSENTIAL at Le Vert Hotel so call up on your arrival or even before you leave the UK!!!
Le Vert Hotel – 964 Route des Gaillands, 74400 Chamonix-Mont-Blanc
00 33 (0) 4 50 53 13 58
4. Heliopic, Chamonix
If you're not short of a bob or too then head to the 4 star Hotel Heliopic in the centre of Chamonix, near the Aiguille du Midi for dinner. A hotel in the same family as the Rocky Pop Hotel in Les Houches, this is the next level. The restaurant is first class with the menu enfant €15.00 for a choice of fish (seabass!), chicken or red meat, accompanied by pasta/rice/steamed veg and an ice cream for dessert. No burgers or fries here – just healthy fresh fodder, all served very beautifully. You can choose to eat in the bar which we did as wanted to watch the fantastic live music (every Fri from 6.30).
My daughter was so blown away by the Heliopic in Chamoinx, she stated matter of factly that she wanted to live here! Designated kids areas dominate reception with a very cool art scribble room, various chill out areas (with films playing and giant bean bags) and giant chess.
There's free, yes free haribo dispensers (so keep an eye out for your kids suddenly doing a disappearing act) and a free juice fridge for kids. There's even a free popcorn machine. With so many kids areas cleverly designed to be within your eyesight, you can easily kick back and enjoy a bite to eat and a cocktail. This hotel & restaurant is impressive and extremely family orientated (with even tiny loo's in the toilets for little ones)
Hotel Heliopic, 50 Place de l'Aiguille du Midi, 74400 Chamonix-Mont-Blanc
Tel: 00 33 (0) 4 50 54 55 56
www.heliopic-hotel-spa.com



5. The MBC, Chamonix
Famous for it's on-site brewed beer, The MBC in Chamonix (Micro Brasserie Chamonix) has been packed for decades. Offering American style fare in a super relaxed environment, this rowdy place is a great place for apré-ski and grub for families. Rule number one book a table or don't expect one at all.
We're big fans of Monday nights at the MBC for half price chicken wings! The criss cross chips are legendary which my youngest insisted  'inside is a little piece of heaven' ….. need we say more. Expect sticky hands & mucky faces by the time you're done. Another bonus is they serve early from 4pm you can be in and out easily before bedtime. They also have a toy box of some sorts for younger children behind the bar (ask the waitress).
MCB, 350 Route du Bouchet, 74400 Chamonix-Mont-Blanc
00 33 (0) 4 50 53 61 59
www.mbchx.com
6. Poco Loco – Chamonixtown centre
A long established fast food joint run by super friendly Frenchies on the main strip and one of the best cheap eats in Chamonix. I've been frequenting Poco Loco in Chamonix for years. It's charming mini restaurant
'en haut'
(upstairs) is a fab place, if you're already in town, to get a bite to eat. Perfect to avoid a long drawn out mealtime with whacked kids.  Choose from a number of burger/fries combos from the dude downstairs and take a seat upstairs. It's a tight squeeze up there but people happily shuffle up on the benches plus there's a great buzz. You can also get beer there too – happy days.
Top tip: help little ones down to the loo – it's a little tight to get down the stairs!
Poco Loco, 47 Rue du Dr Paccard, 74400 Chamonix-Mont-Blanc
Tel: 00 33 (0) 4 40 53 43 03
7. Satsuki, Chamonix
Sushi and Mont Blanc? People are often amazed to find there is a fantastic Japanese restaurant called Satsuki in Chamonix. So if you need a break from your newly acquired fromage habit, Satsuki, Chamonix's Japanese restaurant, is the perfect place to escape it, and a fabulous experience for kids.
Rave reviews drew me here and we were not disappointed. Book one of the two downstairs tables for an authentic Japanese experience – you're required to remove your shoes and will be seated on traditional low tables.
The lunchtime menus are great value with miso soup, teriyaki chicken and green tea a steal at €10. The children options are kids sushi for €13, or chicken on a skewer with rice €10. The Japanese waitresses were simply charming and the girls loved finding out the Hello Kitty character (on their bowls & cups) came from Japan. The Japanese electric toilet with heated seat and electronic flushing options gave us a toasty bottom and lots of giggles. Satsuki is a very popular Chamonix restaurant so to be sure to book ahead. Conveniently they also do take outs so definitely an option for tired evenings if you're near town.
Opening times: 12:00-14:30 / 18:30-22:00
Satsuki, 288 Rue Joseph Vallot, Chamonix
Tel: 00 33 (0) 4 50 53 21 99
www.satsuki.eu
8. Le Stone Bar, Argentière
Pizzas are legendary in this friendly establishment. The Stone Bar has a separate restaurant next to the bar and is extremely family friendly. With food served from 6pm, margheritas from only €8.50 and  pizza with half and half toppings option for kids, this place is a gem for families. The atmosphere is very relaxed and the prices not too hefty. They also do take outs which is great if you're staying local and can't be bothered/too fatigued to make it out ensemble.
Top tip: call ahead and book table 12 & 13 for a family of 4. They are the best seats in the house next to the window and with a bench on one side, perfect for kids!
>>>>> – – – – – >>>>> – – – – – >>>>> – – – – – >>>>> – – – – – >>>>> – – – – – >>>>> – – – – – >>>>>
Did we miss your favourite restaurant or take away in Chamonix? Drop us a line if you can highly recommend somewhere and we'll add it to our list.
Disclaimer: Some of the above mentioned restaurants offered us complimentary food for the purposes of this review. As always though our opinions are our entirely our own.
LIKE IT? PIN IT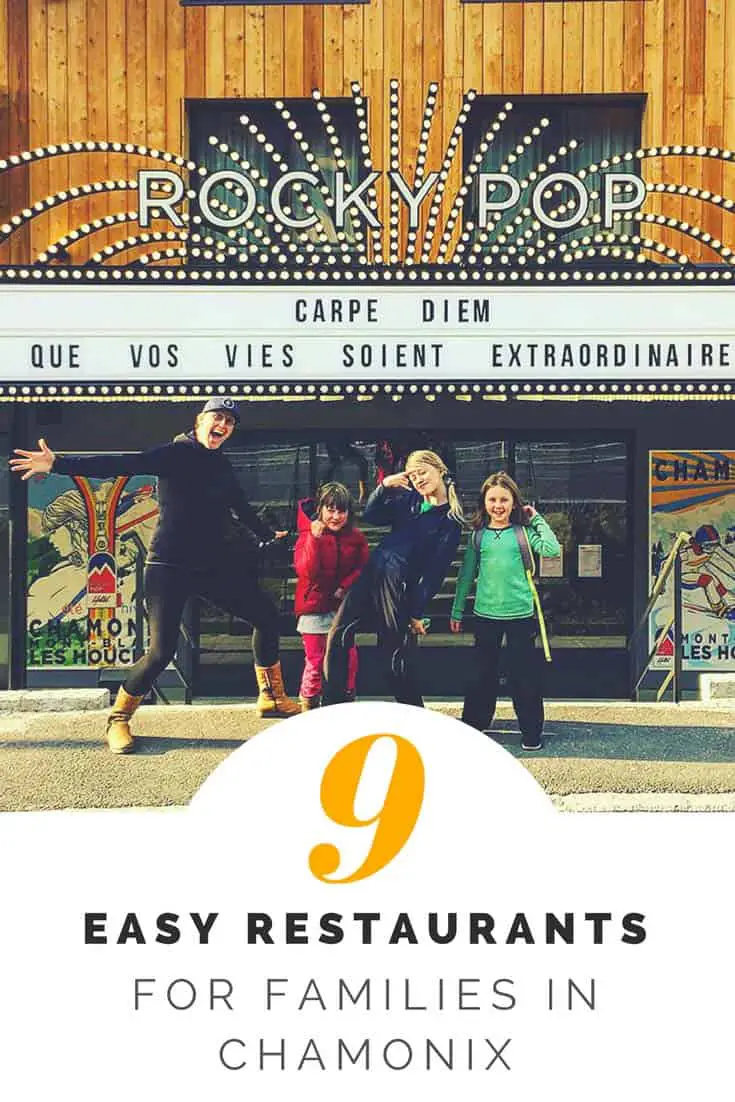 Save
Save
Save