Tour du Mont Blanc Itinerary
This is day 4 of our 6 day Tour du Mont Blanc itinerary hiking from Nant Borrant Refuge to Les Chapieux. (Read the day before from Les Houches to Nant Borrant via Les Contamines here).
In our TMB itinerary we've selected the stages with the most magnificent scenery and created the perfect Tour du Mont Blanc itinerary for half a circuit. Many trekkers choose to hike half the TMB walk one year, completing it the next. 
Our Tour du Mont Blanc itinerary starts in Tré-le-Champ in France, finishing in Courmayeur in Italy.
We also tried & tested all the public transport options on these stages to let you know about all the short cuts that will make the stages more accessible for families or older generations (without sacrificing any of the unmissable sections)
Read our our 6 day Tour du Mont Blanc itinerary as well as our guide to hiking the TMB self guided here
Day 4 (stage 2) Tour du Mont Blanc – Nant Borrant Refuge to Les Chapieux
Hike time:
10.5 hrs with kids & lots of stops (compared to 6 hours, without stops, in the Cicerone guide)
Hike length:
12.8 kms
Water fill ups?
There are a couple of places to fill up early on in the day (see below) but once you start climbing up to Col du Bonhomme and across to Col de la Croix du Bonhomme there is no clean water supply. Note there are plenty of streams on both sides of the cols if you're happy to fill up from running water.
Drinking fountain just after the campsite before the Rollaz farmhouse (20 mins from Nant Borrant)

Water tap outside public toilets at La Balme refuge (1 hr 20 mins from Nant Borrant)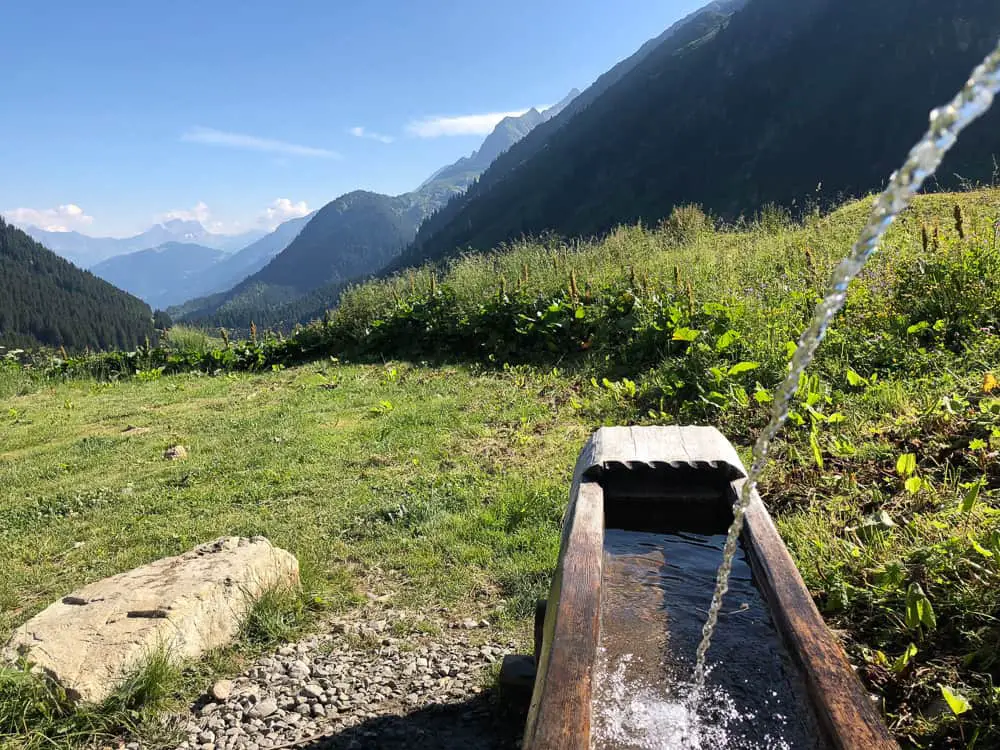 Trail Overview
Stage 2 of the Tour du Mont Blanc (hiking in the traditional counter-clockwise) is a long, strenuous day with climbs over two mountain passes (cols), Col du Bonhomme and Col de la Croix de Bonhomme, before descending into the hamlet of Les Chapieux.
Traditionally this stage is from the town of Les Contamines to the hamlet of Les Chapieux but we made head way on the trail the day before and stayed at the first refuge on this part of the trail, Nant Borrant, knocking almost 6km off our trail today. 
Many TMB hikers with limited time often miss out Stage 1 (Les Houches to Les Contamines) and start from Les Contamines. Something we would also recommend if you've limited time to hike the TMB.
Note:

There is an alternative steeper route (with fabulous views) that can be done in good weather via the Col de Four. This cuts out Les Chapieux and therefore an hour off the trail the following day (you head straight to Les Mottets refuge to stay the night). We did not do this route so we cannot comment on how suitable it is to hike with children. What I do know is that it is steeper and should not be done in any circumstances in bad weather. Both guidebooks talk about this route in more detail.
Short Cuts
Malheureusement (unfortunately) there are no short cuts on this section of the TMB. However, we hiked further than Les Contamines the day before to cut 6km of the trail off on this section.
 

Tip: Nant Borrant is the last food stop until the Col de la Croix de Bonhomme refuge. If you're staying at Nant Borrant I would highly recommend ordering a 'pique nique' (packed lunch) for around €10 each. We didn't and regretted it. The food at the Col de la Croix de Bonhomme was terrible and a stark disappointment after climbing the two cols to get there.

 
We set off at 8am from Nant Borrant after a filling breakfast of cereal, toast and eggs and bid a fond farewell to the cosy refuge, to which we'd become fond of during our brief stay.
WARNING 
Part of mountain hut etiquette is removing your muddy, dirty boots and putting on refuge slippers (normally crocs).
Do be careful to pick up your own boots!  Do not mistake them for someone else's similar pair!
Pick up your boots, not a similar pair!
I handed my 10 year old her boots, the last pair on the rack, to which she, after putting them on, insisted they "were not hers!". On closer inspection, they weren't. Panic stations.
I flew down the stairs to see a guided group, arms out in unison, conducting warm up stretches in the garden. My daughter, closely on my heels, immediately spotted her boots on a lady now doing squats, her arms stretched out in front of her. It was an embarrassing moment, when after negotiating in and out of the stretching group, we approached her mid stretch, to inform her that she wasn't wearing her own boots!
Disaster was narrowly avoided. If that group had set off, it could have been an abrupt end to our TMB adventure. From then on, I tied our laces together.
From Nant Borrant refuge the trail is welcomingly wide on a stone track initially uphill for 15 minutes through woodland, which quickly falls away to the open valley and the path levels off.
Tour du Mont Blanc 

Camping (

Stage 2)
Ten minutes beyond Nant Borrant at Rollaz there is a small informal camping area on the left, next to the tumbling river. Follow the 'bivouac' sign. It's the perfect sheltered place to camp for up to 6 tents near the trees, with, unbelievably a compostable toilet. As we passed, we spotted a huddle of tents bunched up by the rushing river. I would highly recommend camping here if you wanted to keep to our itinerary. Yes the river would be loud and the air filled with jangling cow bells, but ultimately, it's the perfect alpine soundtrack. No? (Take a pair of ear plugs in case the river doesn't loll you to sleep). 
Note: If you want to press on further before bedding down for the night, there's also a bivouac site that has rave reviews just over an hour on the trail at La Balme refuge.
The trail is nice and easy following the road track all the way to La Balme refuge. We pass cows a plenty contentedly chewing, their oversized bells jingling en mass.
There's a drinking fountain just after the campsite before the Rollaz farmhouse. Fill up here if your water levels are low.
The route ahead seems blocked by an impenetrable wall of rock that reach up into the Aiguilles de la Pennaz. I keep my eyes ahead constantly wondering at what point we will cross.  Where was the col? I'd heard so much about the Col du Bonhomme that I was nervous to see it before us, to size it up. But for now it's hidden and so I relax and plod on, enjoying the herds of beautiful honey coloured cows munching away, enchanted with their jangling bells. We could hear them well into the distance as we climbed further up to the track to La Balme refuge.
The track now starts to head upwards as you begin your ascent to La Balme refuge. 
By the time we reach La Balme Refuge we have been walking for 1 hr 20 minutes, compared to the 1 hr indicated on the signpost. However we've stopped many times to take photos!
Keen to take a peek inside La Balme (for research purposes) we were met with an unfriendly air and were told it was not permitted. Indeed many hikers we met, had not had the best experience there. It's a shame as it's location is perfect for those wanting to get further on the trail and to have fresh legs for the first Col climb of the day.
Check out La Balme's trip advisor reviews to get a better idea of if you'd like to stay there. If you're reading this having stayed at La Balme refuge, we'd love to hear from you in the comments!
There's a great bench to rest on however, just opposite the refuge which looks far back down the valley to whence you've come. A wonderful view and a great place to have an snack to boost your energy before the next section which is an uphill slog. There's also a water fountain to fill up at and some public toilets near the bivvy site (that were in much need of cleaning).
From La Balme the trail turns narrow and steep. Next stop Col du Bonhomme.
The signpost indicates two hours to the infamous saddle which we expect to be covered in snow. In fact it takes us 1 hour 50m to reach the Plan des Dames (2043m) which is the plateau before the final 300m ascent to the top. It then takes us 1hr 45 to climb that last 300m of ascent to the Col du Bonhomme.
That's a total of 3hr 35m from La Balme to the top of the Col du Bonhomme. Don't underestimate this section time wise, particularly if you're hiking with kids.
We set off 9.40 from La Balme, the footpath zig zagging over rough ground. It's hard work and we slowly put one foot in front of the other. A long slow procession of trekkers are above us and below us and the chatter seems to subdue as everyone digs in until we reach a bluff with an electricity pylon which is a good marker.
>>>>> – – – – – >>>>> – – – – – >>>>> – – – – – >>>>> – – – – – >>>>> – – – – – >>>>>
Read our 
Shortcuts via public transport on the Tour du Mont Blanc
>>>>> – – – – – >>>>> – – – – – >>>>> – – – – – >>>>> – – – – – >>>>> – – – – – >>>>>
It's taken us 50 minutes to get here and looking back down the verdant valley we can clearly see the white ribbon of the trail we've trodden winding it's way along and up to where we stand.
Just after the electricity pylon (thankfully) the path becomes more mellow and meandering through the Basin Jovet. Ahead of us the head of the Val Montjoie is beginning to close in on us and we still cannot spot the route over the pass of the Col du Bonhomme. 
>>>>> – – – – – >>>>> – – – – – >>>>> – – – – – >>>>> – – – – – >>>>> – – – – – >>>>>
Read our post
Tour du Mont Blanc Refuges – the Good, the Bad and the Ugly
>>>>> – – – – – >>>>> – – – – – >>>>> – – – – – >>>>> – – – – – >>>>> – – – – – >>>>>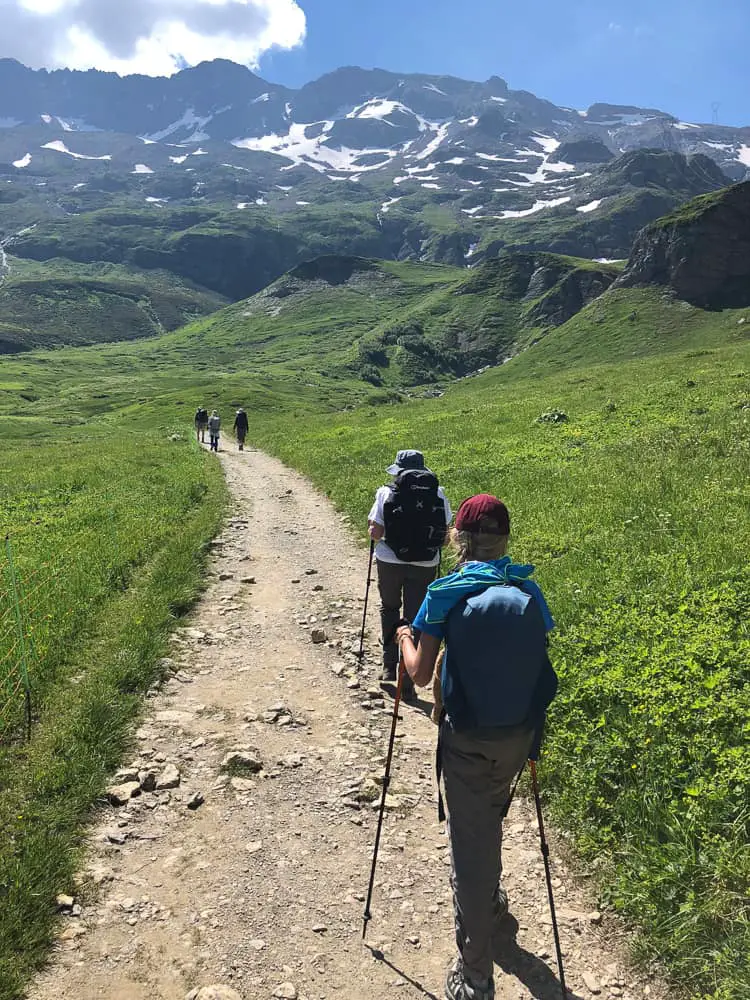 We cross a stream and the trail begins to head uphill again in-between banks of green. We arrive abruptly at a huge pile of stones surrounded by trekkers taking a break.
This cairn on the Plan des Dames (2043m) so the story goes, is to mark the spot an English woman once perished during a storm. It's something of a ritual for each trekker to throw a stone on as they pass and we solemnly do so before we have a well deserved rest before tackling the final 300m push up and over the col.
We set off from La Balme refuge at 9.40 and we reach the cairn at 11.30 so it's taken us 1hr 50 to reach the proper base of the Col. Before us we can see the snowy trail leading up and over the Col.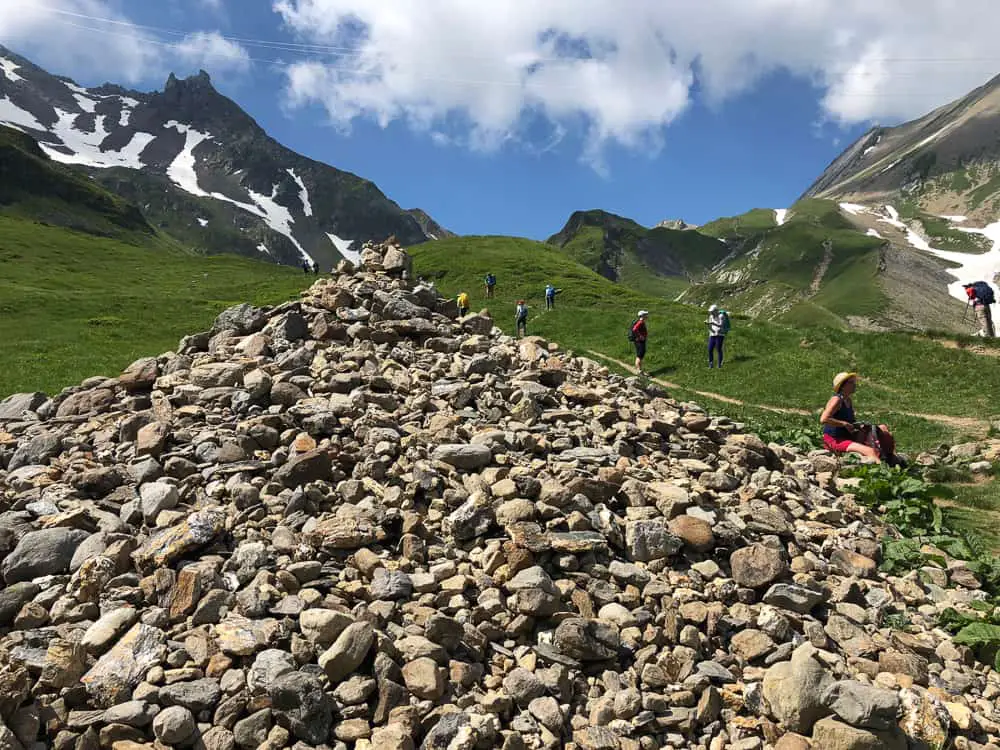 We strap on our hiking crampons (we highly recommend Grivel Ran Hiking Crampons) and start the snowy climb. It's been this point that has been weighing on me the entire time planning the trip. I was concerned about the snow on the trail for both my 65 year old mother and my 10 year old daughter. It's a funny sensation to be hiking in blazing hot sunshine over cold slushy snow. 
>>>>> – – – – – >>>>> – – – – – >>>>> – – – – – >>>>> – – – – – >>>>> – – – – – >>>>>
Read our complete guide to
Hiking the Tour du Mont Blanc Self Guided
>>>>> – – – – – >>>>> – – – – – >>>>> – – – – – >>>>> – – – – – >>>>> – – – – – >>>>>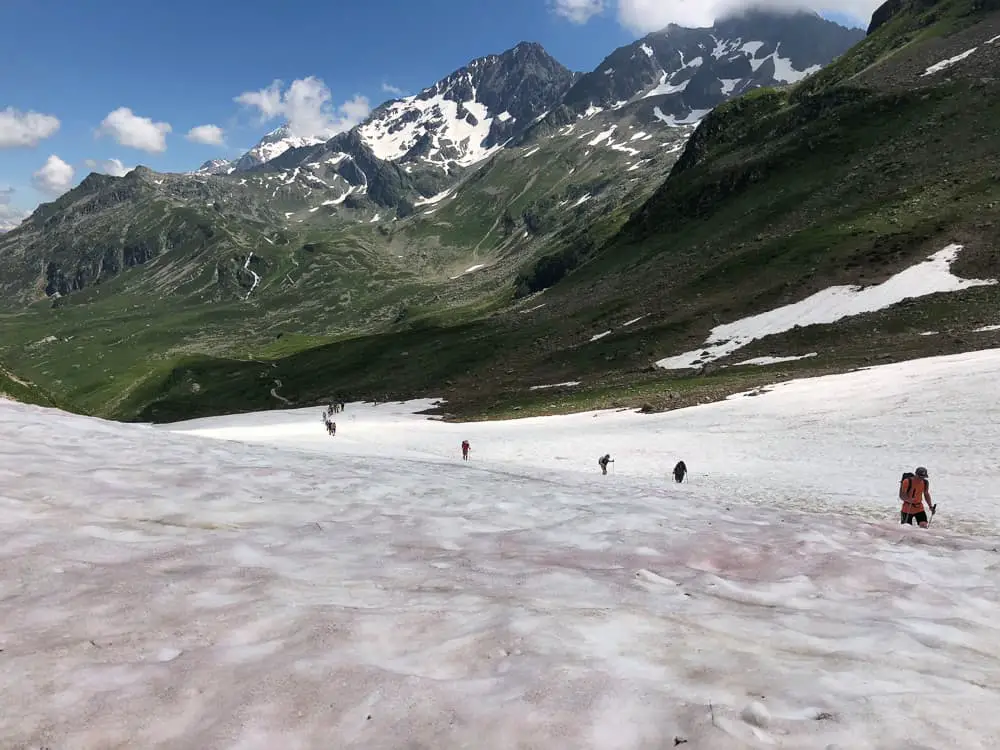 I needn't have worried. It doesn't take us too long to cover the névé patch. The snow is grainy and slushy, not icy and with our crampons, we don't slide at all.
My mother makes it easily across and my daughter thought it was, of course, fantastic fun, and much more interesting than hiking! However, we were blessed with exceptional weather. Negotiating this in cold mist or fog would of course turn it into a different beast altogether, so my advice is to be prepared. Hiking crampons are non-negotiable in my opinion, unless you are trekking the trail late Summer.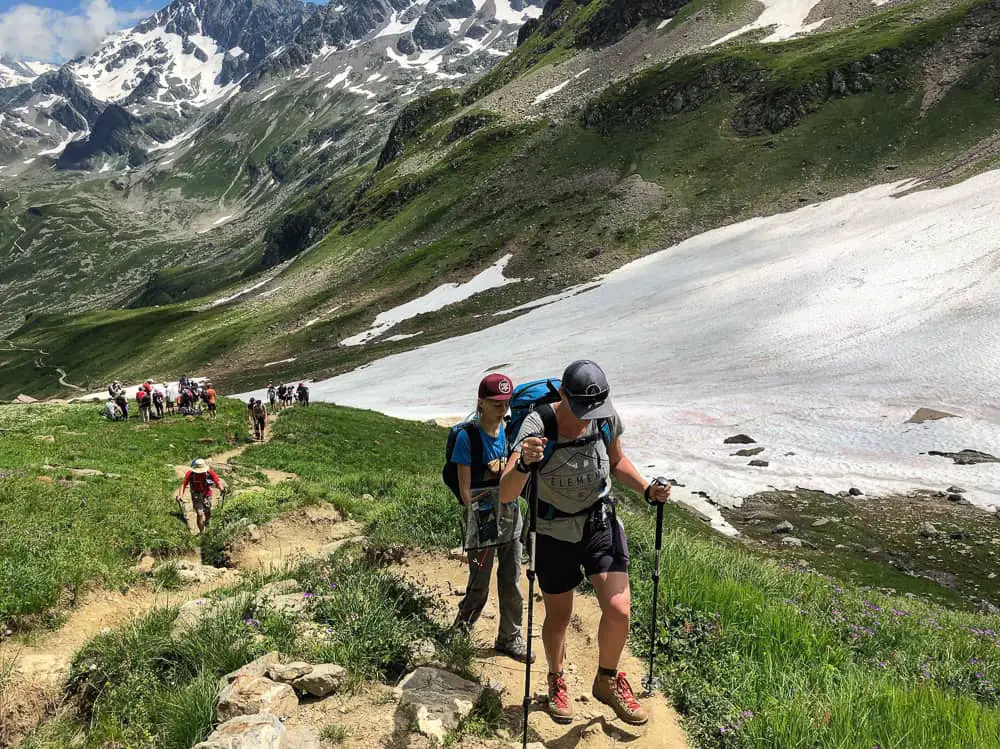 After the patch of névé snow, the trail continues steadily uphill until we reach the saddle of the Col du Bonhomme (2329m above sea level). We've climbed 870m of elevation so far today.
It took us 1hr 45 minutes to climb just the 300m to the top of Col du Bonhomme from the cairn at Plan des Dames.
The top is a wide saddle between the Rocher de Bonhomme, a large rock high above us to the left, and the Bancs de la Pennaz. The Col is simply marked with a signpost. To the left a doorless shelter is largely ignored by the trekkers on this fine day but must prove a welcome refuge for trekkers climbing the col in bad weather.
We take a well deserved rest before contemplating the snowy path skirting around to the Col de la Croix du Bonhomme.
From our vantage point we can see the long way down into the Monjoie Valley and ahead of us into the Vallon de la Gittaz in the Beaufortain district to the southwest.
We see a couple of lone trekkers, clearly abound with energy, that climb up to the square boulder, Rocher de Bonhomme, perched atop of the peak to our left. I'd have loved to have had the time (and energy) to scramble up here but I'm fatigued and know we still have a lot of the trail to cover today.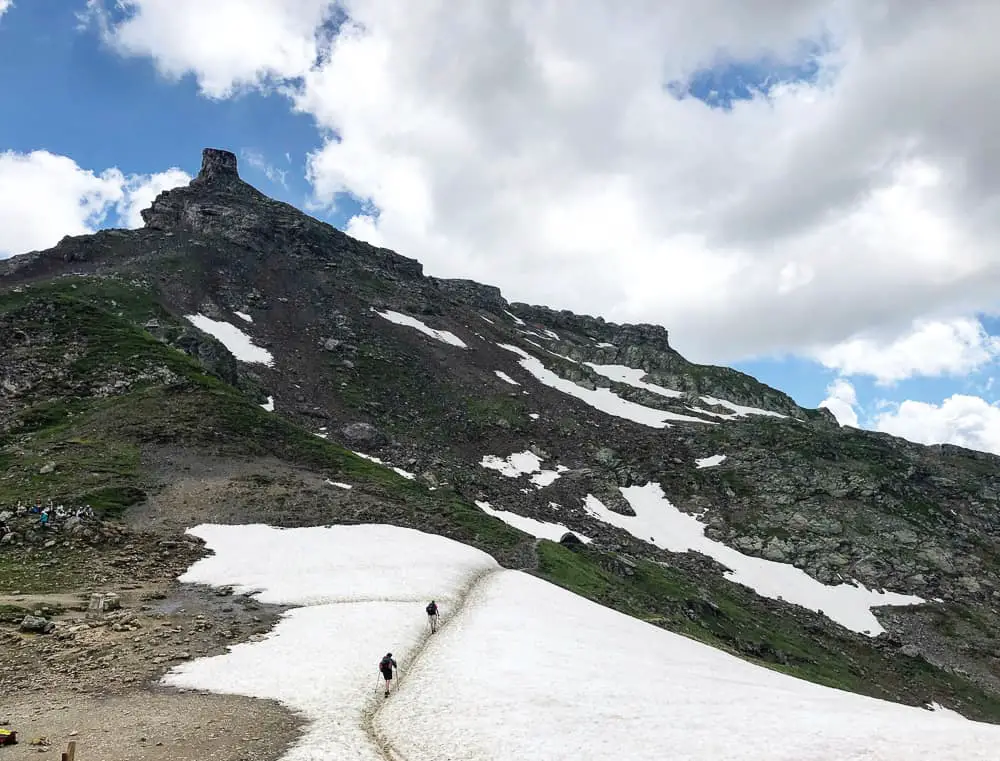 The road over the Col du Bonhomme is very steep, and dangerous on account of precipices: it is therefore only suited only for calm weather. The mules pass with difficulty in some parts from the slippery nature of the stones. This passage is probably very ancient, as coins of the first Roman emperors have been found on the summit. The scenery it commands is wild and savage.

 

Except from 'The Traveller's Fire-side, a Series of Papers on Switzerland, the Alps etc Samuel Miller, 1819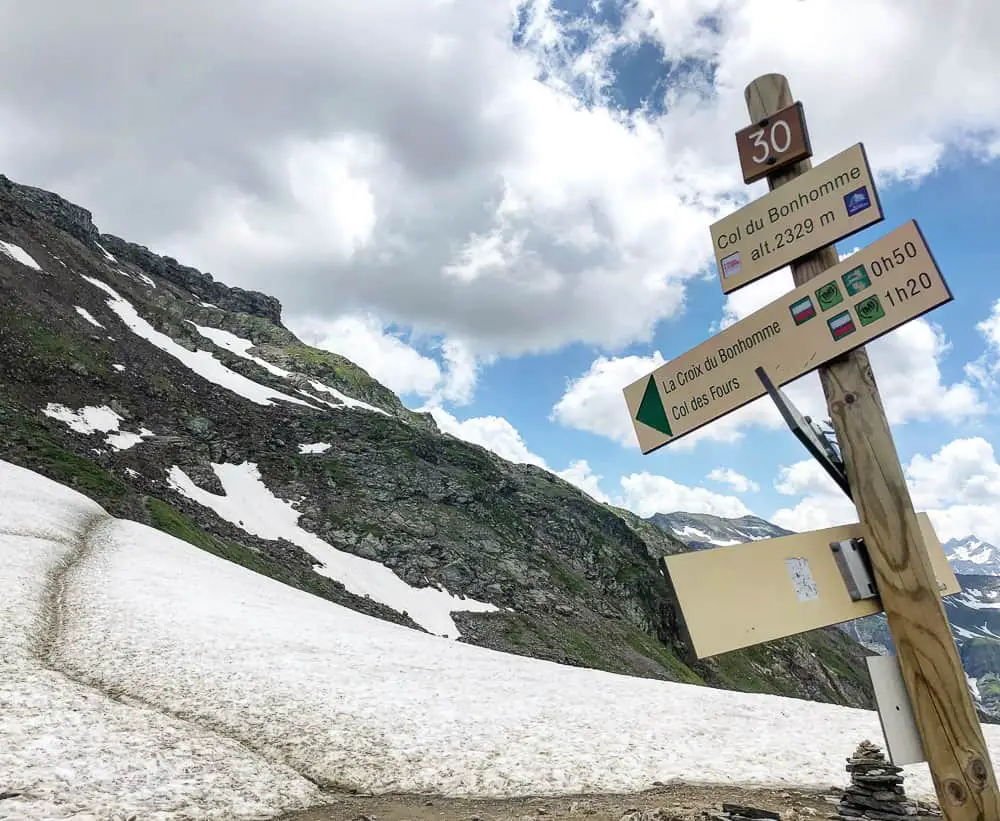 The signpost indicates the trail as being only 50 minutes to the Croix du Bonhomme (in fact it takes us an extra 20 minutes totalling 1hr 10 minutes).
The trail bears left along the saddle rising once more along a rough track across rocky ribs of stone. This part of the trail was the most precarious of the route so far with sections still covered in snow, and on some occasions boulders to clamber over. However, it's here that you really feel that you're in the wilds, off the beaten track and can truly appreciate the exposure of these incredible mountains.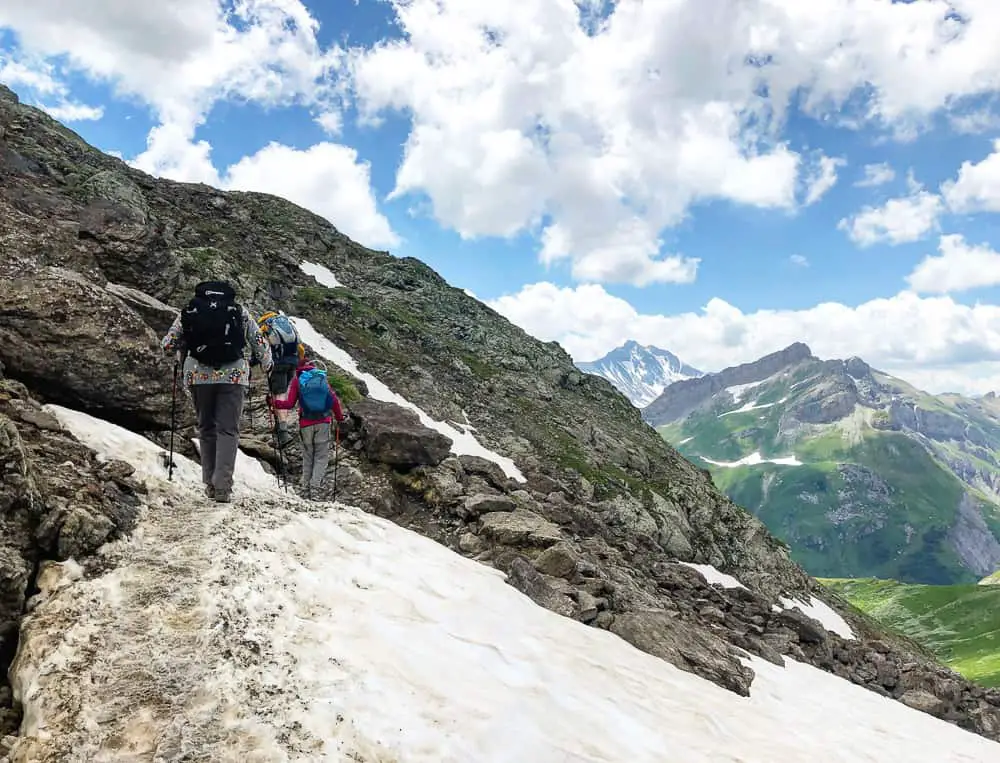 The trail narrows but is still well marked and the path is no longer particularly steep or demanding, but does have some sketchy sections with steep drops as it skirts around traversing the mountain around to the Col de la Croix du Bonhomme. So take your time and watch your steps.
Of course, this section of the trail in fog or bad weather conditions would be challenging. 
>>>>> – – – – – >>>>> – – – – – >>>>> – – – – – >>>>> – – – – – >>>>> – – – – – >>>>>
Read our post
Packing List Tour du Mont Blanc
>>>>> – – – – – >>>>> – – – – – >>>>> – – – – – >>>>> – – – – – >>>>> – – – – – >>>>>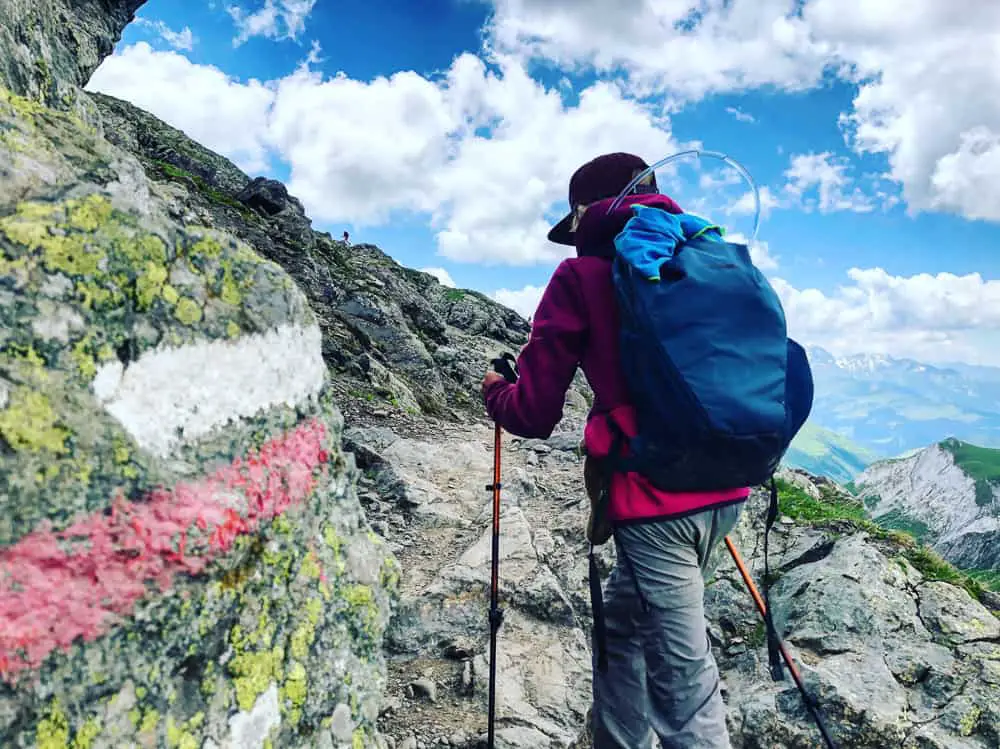 We press on marvelling at the savage terrain of the peak we've traversing. The blue sky is filled with cotton clouds whilst the snow dotted mountains and views down into the verdant Vallon de la Gittaz to our left are simply mind blowing.
There are no opportunities for water re-fills between the two cols so we were glad of our full camelbacs.
A large cairn marks the Col de la Croix du Bonhomme (2483m) and we arrive 1 hour and 10 minutes from leaving the saddle of Col du Bonhomme.
From the cairn the route north east to the Col des Fours (2665m) is marked for those wanting to take the high route to La Ville des Glacier. 
We're taking the normal low route to La Ville des Glaciers via Les Chapieux so we will continue down to the refuge and after a short break, continue on the trail in front of us.
We were tired and ready for food.
We'd decided ahead of time to have lunch at the Refuge de la Croix du Bonhomme and with it now being 14.42 we were starving.
From the cairn you can see the refuge down below and it's merely 10 minutes down the mountainside to reach it. 
The refuge must prove a most welcoming sight for those trekkers unfortunate enough to encounter bad weather over the Col. I can imagine the lit windows must be a huge relief after negotiating a tricky ridge with limited visibility.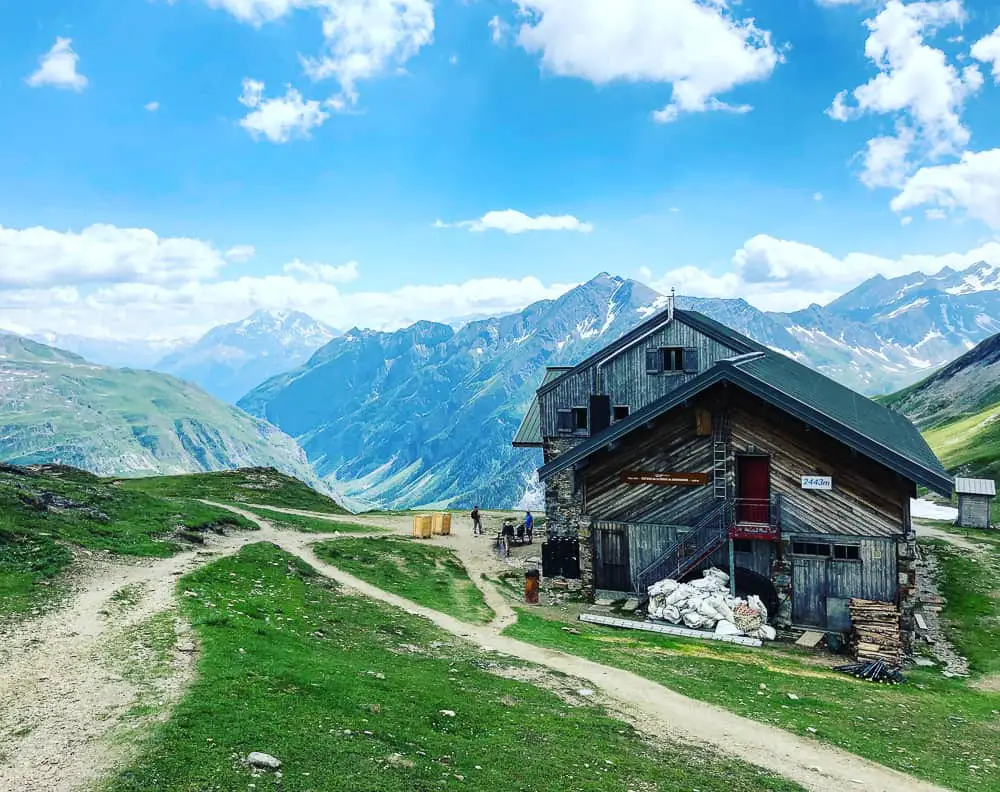 The Refuge de la Croix du Bonhomme is perfectly situated for trekkers walking the TMB. However, it's not the best refuge on the Tour du Mont Blanc and as such may not be suited to everyone.
It's pretty basic, as expected for a refuge at such a high altitude, and is run by young men. This huge mountain hut (can sleep up to 100) is powered by solar energy so hot water is often limited in bad weather or even if it's been cloudy.
There are stories of long lines of showers (even at 5am), cold dorms and bad service.
However the tales of candle lit evenings (due to the lack of electricity) and stunning views can lead to a romantic slant on staying here.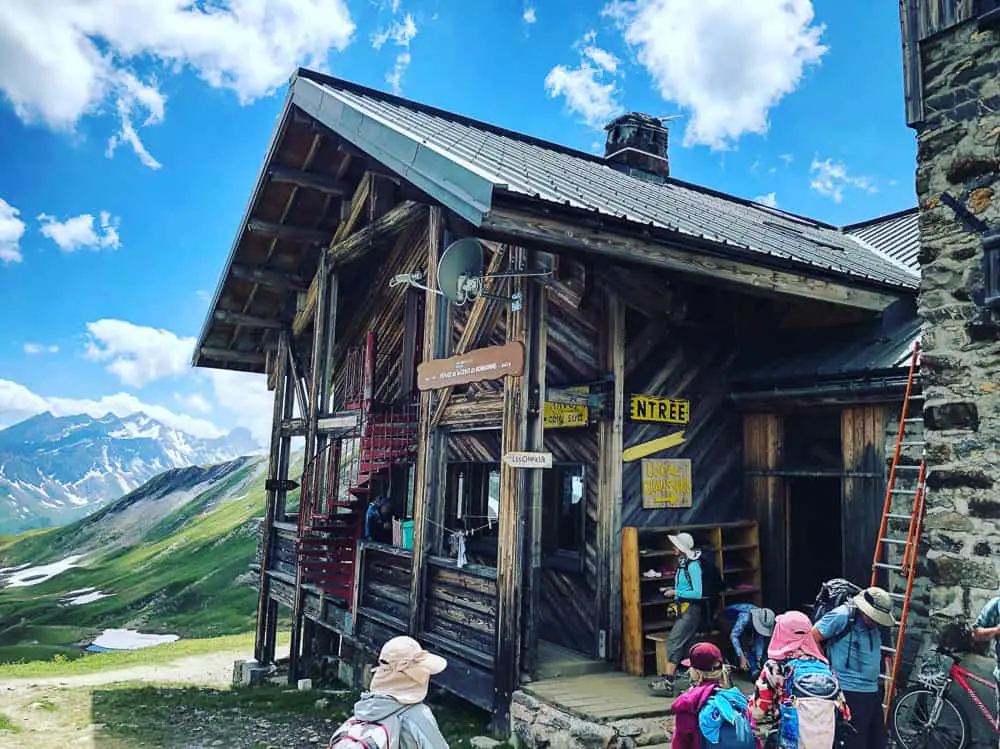 A word of warning. The food aint so good. 
We ordered several soups (plain €5) or with local Tomme cheese (€7), a salad (€12) and a soda (€4).  The soup resembled brown water. It was at this point that I rebuked myself for not having ordered a pique nice from Nant Borrant refuge (€10). I would without hesitation, recommend you do this, if you are following our itinerary!
It might be a good place to stop for a slice of cake and a cup of tea, however there were a cloud of flies circulating & landing on the the uncovered cakes as I queued up to order our lunch so I would even advise against that.
This refuge was originally on my perfect itinerary. Until I mentioned we would stop there to a friend of mine. Who has a friend who is a guide on the Tour du Mont Blanc. Who said it was the worst refuge on the tour.
Change of plan. I immediately went back to the drawing board and re-arranged our itinerary to avoid a stop here. It's difficult because it's perfectly located to make this particular day much easier. If I hadn't been trekking with my mother, I would probably have stayed here to be honest, roughing it a bit, as it really does break up a long day. If you're trekking with kids and you don't think they would make the long 10 hour trail time today, stop here. Your call.
Check out the trip advisor reviews for Refuge de la Croix du Bonhomme here.
We leave the refuge at 15.45. It's all downhill from here to the hamlet of Les Chapieux, so your knees will take rather a hit.
It will take us 2 and a half hours to reach Les Chapieux (arriving at Refuge de La Nova 18.15pm).
As you leave Refuge de la Croix du Bonhomme, there's a level grassy section where camping is permitted by the refuge (see photo above).
The barren terrain is a mass of grassy bluffs and streams as you descend the valley. The trail is, again, well marked and zig zags down the valley.
Stage 2 of the Tour du Mont Blanc took us 10.5 hours to hike (with kids) ……. even with cutting an hour off the trail by staying in Nant Borrant refuge, 6km into the trail from Les Contamines. Don't underestimate the time and energy used to climb 2 cols on this stage. The signpost indicated 2 hours from Refuge La Balme to the top of the Col du Bonhomme – it took us 3 hrs 45 mins.
It takes us 1 hr 50 minutes to weave our way down the steep downhill to Chalet de la Raja (altitude 1796m)
Chalet de la Raja are just a collection of farm buildings. There is no accommodation here at all, so don't be fooled by the name on the map!
Here the track turns right over an old stone bridge where you'll follow a wide track.  It's still a further 45 minutes of descent to reach Les Chapieux. The path then veers off to the left down through meadow pastures covered with flowers.
The trail is narrow and indiscernible at times but there are signs from the main track down to Auberge de la Nova and Chambres des Soleil.
It's impossible to spy Les Chapieux until almost the last minutes as this tiny hamlet is hidden from view by some trees at the bottom of the valley.  The signposts indicating an enticing 10 minutes to arrival, in actual fact meant around 20 minutes.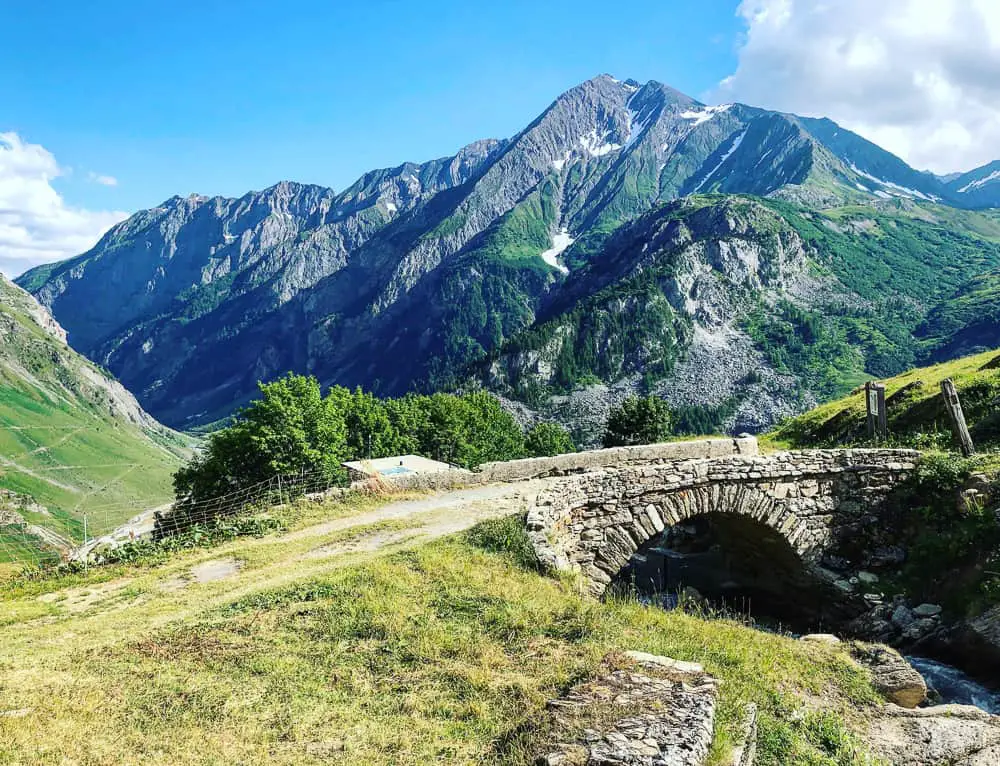 What a welcome sight this gîte is after 10 and a half hours on the trail. It's been an exhausting day and we fall into the refuge, dump our packs, release our feet from our boots and immediately order some vin et orangina – we've earned it!
Book your shuttle bus to Les Mottets or La Ville des Glaciers
One thing to do before you settle down though, is to walk over to the information hut (literally 50 metres outside the front door) and try to book your shuttle bus tickets for the following morning. The office closes at xxx so if you're late arriving at Les Chapieux you might find it closed. No matter, it's easy to book tickets first thing at 8? the following morning when it opens. We missed out on the first shuttle bus to Les Mottets as this was full already but we managed to get on the next one 30 minutes later. 
We cannot rave enough about Auberge de la Nova. Of course Les Chapieux was the kingpin the puzzle for this section of the trail. After trying to book too late, we were in a predicament of having no available accommodation in Les Chapieux (unless we wanted to camp). I continued to contact Auberge de la Nova in the hope of a cancellation and my prayers were answered when a 3 bed private room became available two weeks before we were due to start the trek. Hallelujah!
Refuge de la Nova is more like a gîte than a refuge. It is very comfortable and not basic in the least. This small hotel was built in the late nineteenth century to house pioneering English hikers on the Tour du Mont Blanc! The hotel became abandoned during the fighting of the second world war between 1940-45 and became a refuge for resistance fighters.
The staff are smiling and welcoming giving out advice about shuttle buses to Les Mottets or taxis to Bourg St Maurice and always happy to help. The evening meal (soup, beef bourginon, apple tart) was absolutely delicious and wolfed down by us in a matter of minutes, whereby we scooped up seconds. 
Our private room (without ensuite) cost us €66 each (half board) so it was the most expensive of all our accommodation on the trail (although we haven't yet trekked through Switzerland). The water was wonderfully hot and never ran out. Bliss.
Refuge de la Nova also has a couple of dorm rooms (8-10 bed), however the private rooms (3/4/5 bed) are only a fraction more than the dorms beds (€55 for half board) so my advice would be to book early & go for the private rooms. The beds were super comfy and we slept long and hard that night.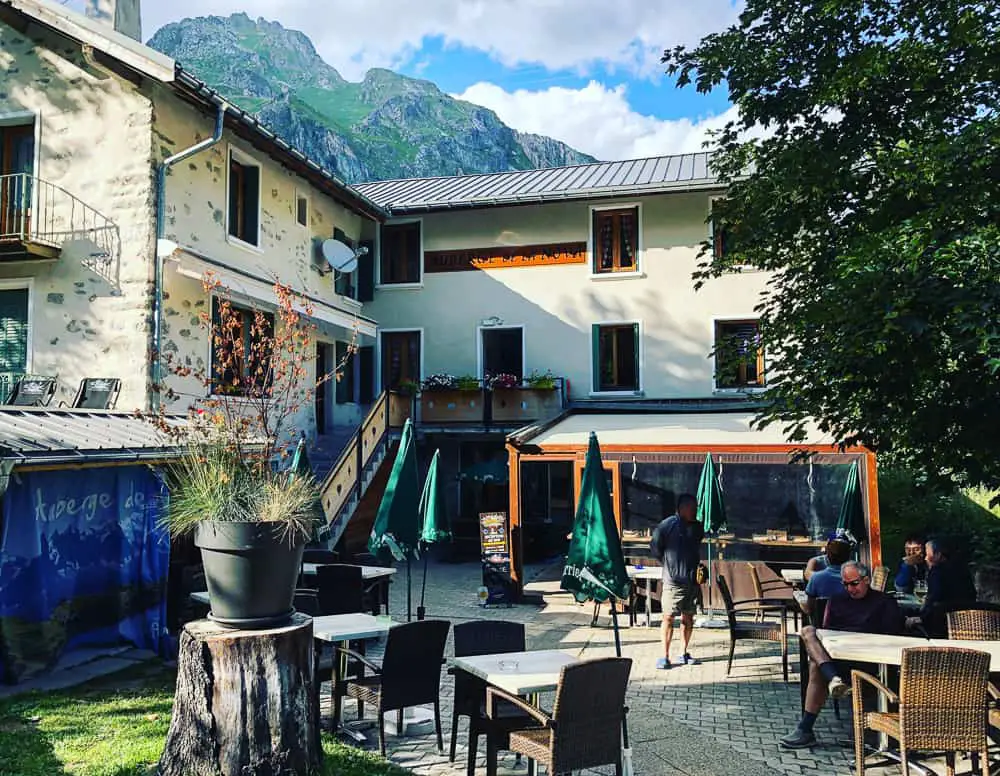 Note: if you really want a much more comfortable experience, the other place to stay in tiny Les Chapieux (apart from camping) is the wonderful B&B Les Chambres du Soleil which boasts rave reviews (€69-75 half board per person in 1/2/3 bed rooms all ensuite). You can even pre-book a massage here which sounds heavenly after 10.5 hours on the trail. Children between 4-8 sleeping in the parents bedroom are 50% of adult price.
Related TMB content
Read day 1 (stage 10) Tré-le-Champ to La Flégère
Read day 2 (stage 11)  La Flégère to Les Houches
Read day 3 (stage 1) Les Houches to Les Contamines (& onto Nant Borrant refuge)
Read day 4 (stage 2) Nant Borrant Refuge to Les Chapieux
Read day 5 (stage 3) Les Chapieux to Refugio Elisabetta
Read day 6 – Tour du Mont Blanc – Stage 4 – Rifugio Elisabetta to Courmayeur
Tour du Mont Blanc Packing List
Ultimate guide to your self guided Tour du Mont Blanc
Tour du Mont Blanc Refuges – the good, the bad & the ugly
Tour du Mont Blanc Difficulty? Transport options on the TMB