Autumn is almost here. There's a chill in the air, the nights are drawing in and the trees are resplendent in their rougey tints. Dartmoor National Park is beautiful in summer, but there are still plenty of things to do on Dartmoor in Autumn.
We love Autumn! There's always a race to squeeze in as many adventures as possible before Winter kicks in and we've got loads of suggestions for adventurous things do to on Dartmoor this Autumn.
If you're looking for an Autumn break, Dartmoor could be the perfect destination.
5 things to do on Dartmoor this Autumn
1. Dartmoor walks with a llama!
Hiking through the spectacular landscape of Dartmoor National Park with a llama on a lead has got to be one of the best ever things to do on Dartmoor.
Dartmoor Llama Walk's famous Hot Chocolate Llama Walks, available from October half term and throughout the winter, are guaranteed to be one of your best Dartmoor walks, certainly the most memorable EVER!
>>>>> – – – – – >>>>> – – – – – >>>>> – – – – – >>>>> – – – – – >>>>> 
Read our full review of llama walking on Darmoor here.
>>>>> – – – – – >>>>> – – – – – >>>>> – – – – – >>>>> – – – – – >>>>> 
Children will love leading their new furry friends over heather moorland or discovering deep wooded gorges and tumbling rivers in this stunning National Park.
The Hot Chocolate Walks are perfect for little legs, being a doable 2 hours long starting with a short introduction to the gentle llamas. Stop off to rest little legs and warm chilled bones by devouring a slice of cake and sipping a hot chocolate laden with whipped cream and marshmallows! It doesn't get better than that!
Children need to be able to hike the distance (there are no rides on llamas!) and will be sharing a llama between two.
To make your date with a llama, call Diane or Steve on  01364 631481.Cost: £32 adult/£20 child under 14.
Covid: Dartmoor Llama Walks are still open amid Covid. Groups will be restricted according to Covid guidelines. 
2. Wild camp on Dartmoor
Dartmoor is the only place in England where you can wild camp legally. So before the cold of Winter bites, seize one more opportunity to sleep under canvas by heading into the depths of Dartmoor.  
Make sure you check Dartmoor National Park's wild camping map here to make sure you're not pitching in one of the few areas where wild camping is not permitted.
Also bear in mind that Dartmoor has 3 firing ranges that you need to avoid at all costs! Check firing times here and watch out for red flags during the day and red lights at night.
Be sure to pitch at least 100m away from the road and don't forget the ethos of wild camping – pitch late and move on early. Easier said than done with kids but teach them young and stick to your guns – wild camping is one of life's true joys and it's only permitted in very few places so respect the environment.
Heading to Weymouth?
Look out for some great outdoor adventure suggestions on Emily Luxton's 50 Unique Things to do in Weymouth
3. Go caving at Pridhamsleigh Caverns
There's nothing quite as exciting as being underground! But with the deluge of rain that's fallen of late – is it safe?
Caving at Pridhamsleigh Caverns is one of the best things to do on Dartmoor in Autumn for adventuring families.
Pridhamsleigh Caverns is super safe and is the PERFECT cave for a family introduction to caving. No flash floods here – it takes nearly 3 weeks to flood, giving expert instructors from Isca Outdoors plenty of time to evaluate conditions.
The caves here are beginner friendly and ridiculously MUDDY! Kids will relish getting filthy exploring tunnels and caverns (don't worry you'll be provided with oversuits).
>>>>> – – – – – >>>>> – – – – – >>>>> – – – – – >>>>> – – – – – >>>>> – – – – – >>>>> – – – – – >>> 
Read our posts
Caving in Devon – the Ultimate Experience for Adventuring Families 
and
4 Good Reasons to Consider Caving in Devon as your next Family Adventure Day
>>>>> – – – – – >>>>> – – – – – >>>>> – – – – – >>>>> – – – – – >>>>> – – – – – >>>>> – – – – – >>> 
Nervous about small spaces? Fear not, Pridhamsleigh Caverns has routes for all levels with passages as wide as rivers and caverns as big as houses!
Local outdoors specialist company, Isca Outdoors, never mix groups so a family would have their own instructor allowing them to chose whichever route suits them best. 
Surprisingly caving is the ideal Autumn/Winter activity with temperature down below a steady 9-10 degrees!
So – what are you waiting for? Contact Simon at Isca Outdoors to book on 01392 340484.
2020 caving prices: £30 per person – 1/2 day (min charge £120, so it's 4 person min)
There is no minimum age but the equipment does have to fit, so this generally 6 or 7 years of age. Contact Simon to discuss.
4. Visit Lydford Gorge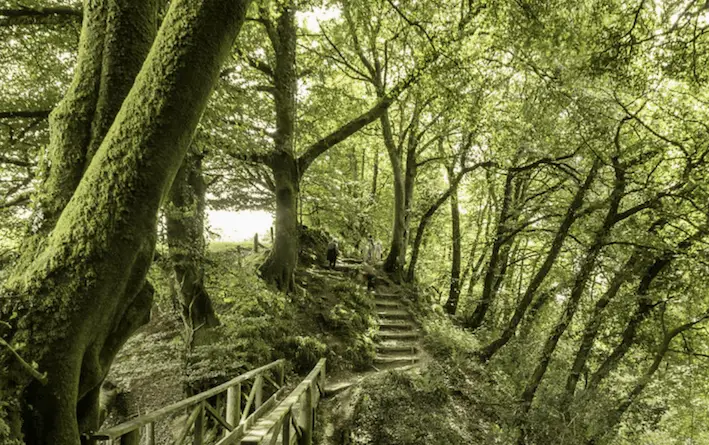 Lydford Gorge is the deepest gorge in South West England. Hidden in a magical woodland near Dartmoor, this adventurous 3 mile round trail from Devil's Cauldron along the gorge to the famous 30m high Whitelady waterfall and Tunnel Falls is a fantastic day out. This hiking trail feels wild and off the beaten path even though it's owned by the National Trust.
Take care – some of the trail can be slippery so wear practical shoes. There are lots of benches to rest on and take in the beauty.
Doggy friends are welcome on leads, whilst kids will love running wild in the woodland. Autumn in the perfect time to discover this woodland gem when the trail is quieter. There's also a cafe at the entrance to make a pitstop for rumbling bellies.
2020 entrance fee: family £12.50 
Covid restrictions: Lydford Gorge is open but you must pre-book your visit in advance via their website.
5. Get high at Tamar Trail's Tree Surfers
If you're looking for things to do on Dartmoor with older kids, get the adrenaline pumping by getting stuck into the Tamar Trail's Tree Surfer's high rope adventure courses in the Tamar Valley, just to the west of Dartmoor National Park.
Climb 50ft into the canopy to tackle three course of swings, bridges, and zip wires and much more. You've got to clear 1.5m to do the big one, but don't worry 1 metre or more kids can brave the Juniors course, still challenging, but lower down.
Tamar Trails also have an excellent number of off-roading mountain bike trails, walking trails and loads of other brilliant activities for families such as archery and canoeing.
2020 prices: Junior course (4-12) £16, Main course child £24, adult £30.
For more family activity suggestions around Dartmoor, read Tin Box Traveller's 14 things to do with toddlers (and older children)
Save
Save
Save
Save
Save
Save