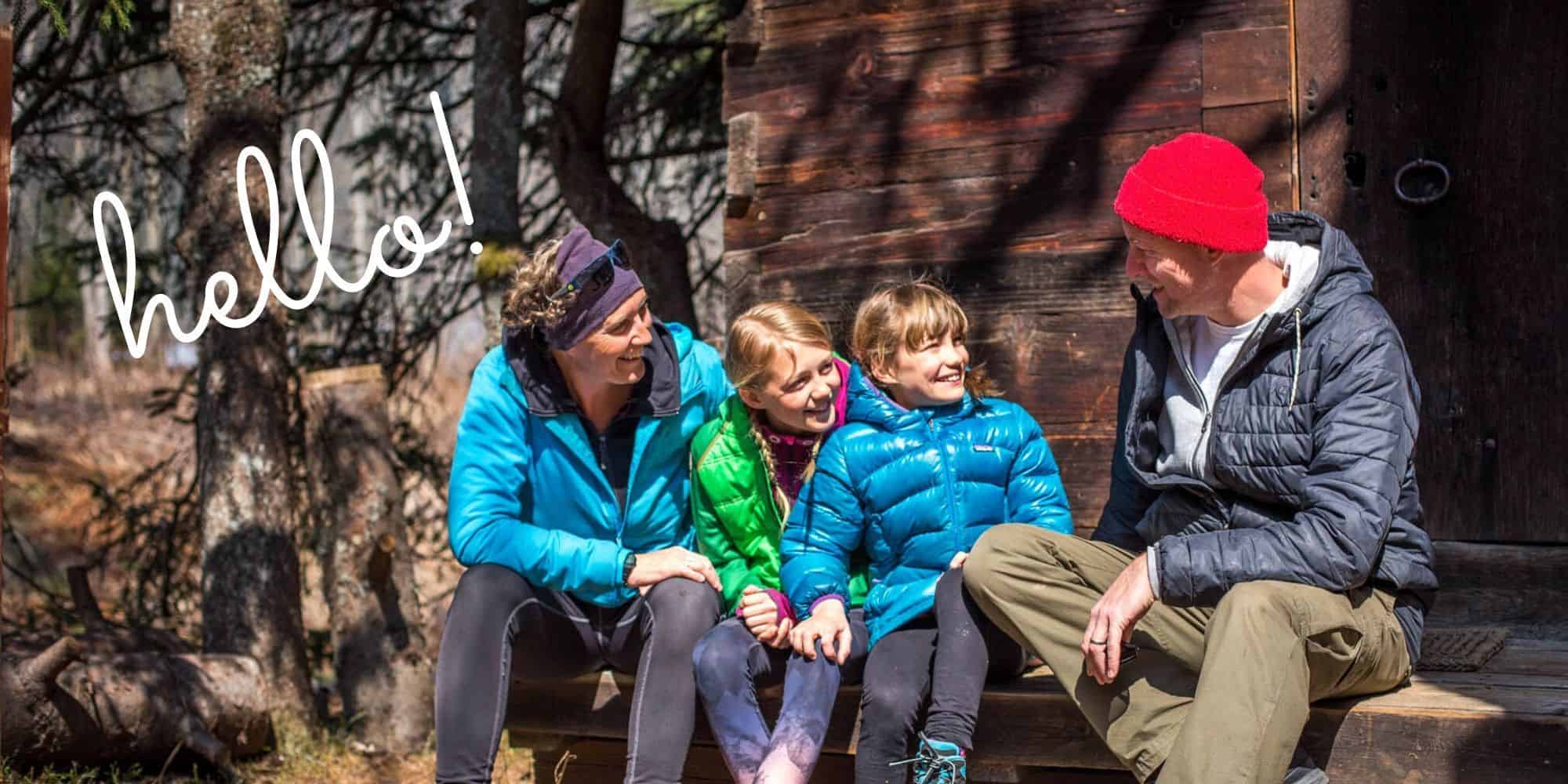 Welcome to our adventure family travel website. We are the Nixon family and independent travel is our passion.  
Having been addicted to travel before kids, we never stopped when our girls came along. We believe planet earth is the world's biggest classroom and travel never fails to make us humble and teach us life lessons.  Exposing children to different cultures from an early age breeds understanding, unity and tolerance, not to mention an awareness of global issues that school books just can't compete with.  We are complete advocates of travelling the world with your kids, whether it's a short holiday or longer term travel.
If you need inspiration on where to travel with your kids, or need confidence to plunge into a more adventurous type of travel, our website will give lots of ideas and tips. We focus on outdoor adventures, wildlife experiences and unique stays. Trekking, hiking, skiing, diving, cycling, whitewater rafting, ziplines … we're always seeking out thrilling adventures with our kids.
Our favourite countries are Sri Lanka and Borneo so we've written a lot of posts on these destinations as well as France and Devon where we live, and plenty of hiking content such as the trekking the Tour du Mont Blanc and Mt Kinabalu with kids.
We can highly recommend family wildlife volunteering holidays as a different way to travel.  We've family volunteered on elephant conservation projects in Sri Lanka and have replanted the rainforest in Borneo. Volunteering is the perfect way to discover a country from the inside out and once you've experienced this deeper level connection, going back to a bog standard beach holiday is impossible.  We've written a lot of posts about family volunteering such as why volunteering will change your life, how to choose an ethical volunteering project . If you need advice, hit me up.
I trek solo with my eldest girl and are steadily ticking off some of the world's best trekking routes. With a child with mild cerebral palsy in her legs, we've said goodbye as a family to hiking long distances.  We've been on an incredible journey with our youngest now having spent the last four winters skiing in Chamonix almost every day – we've proved beyond doubt that skiing DOES massively benefit cerebral palsy. My daughter is hugely enabled and we completed our first bike packing tour last year. She completed 70km over two days. We hope to inspire other families with less able kids that you can push those boundaries, and it's okay to do so. Question medical advice and strive to break the mould.
Come along and have a read. If we inspire you, leave us a comment.
You can read a bit more about us below. If you want to know more or ask questions, give us a shout. We'd love to hear from you and happy to share what we know.
And if you're an insta junkie, follow us on Instagram – it's our favourite platform x

I had a thirst for travel from an early age. Living in South Africa for 6 months, age 20, was a real culture eye opener & an obsession was born. Becoming a travel geek, I'm now an expert in research, spending many an evening poring over the internet or head in books planning the next big trip. I am the travel instigator in the family!

To feed my travel bug I've taught English in The Baltics, been a Governess on an outback sheep station, and cruised the seas as an onboard chef on superyachts for the rich & famous. I love the mountains and the outdoors & feel extremely lucky to have lived in the French Alps for 10 winter seasons.
I've never been more in my element or pushed my boundaries right to the limit, than being put on a blacked out lear jet, blindfolded and dumped in an unknown country. With no money. In a race against two other teams to get home to the UK.  Left on the ice lakes of Canada 200 miles from the nearest road, and on the remote mountains of Azerbaijan where I gibbered basic Russian. I won Channel 4's LOST adventure travel reality show – twice!

My passion is unquenchable, even now with two young children now in tow. I confess to being addicted to all things French, especially a fresh pain au chocolate with a strong coffee every morning. I'm passionate about injustice, rubbish at surfing and could do with a good doseful more of patience (I'm working on it).
Scott spent over 20 winter seasons based in the Alps, snowboarding every day & travelling the world as a professional snowboarder. His passions are surfing, skateboarding, music & snowboarding and art.
DJing back in the day at London superclubs Fabric & The Ministry of Sound, Scott is now an artist on the Stanton Warriors record label PUNKS and is a commercial music producer at Scott Nixon Music creating audio for big brands, when he's not packed up on family adventures.
Not shy from rad experiences himself, he set the Guiness Book of Records as the highest DJ set in the World during a freestyle event in the Himalayas, went on tour with Tony Hawk to the first ever skateboard event in India & can do 900's on his snowboard!
Scott hails from the island of Jersey and can you believe it was taught to scuba dive and surf in school!
Scott's main aim in life is to get the girls surfing – something they dip in and out of with differing levels of enthusiasm (normally in relation to the prevailing weather conditions)

Minnie is 14 years old. Her passions are aerial silks, conservation, nature and art. Her sketch book is never far away and she drags her aerial hoop and silks all around the world searching for the perfect place tree or training space. Home being Chamonix Mont Blanc, she's a pretty kick ass skier and bilingual too.
Her current favourite film is Scream.
Minnie climbed the highest mountain in SE Asia (4000m) at age 10 (doing one of the highest via ferretas in the world on the way down), has camped on top of a 3600m volcano in Guatemala and has snorkelled between the two tectonic plates in Iceland.
Minnie feels strongly about conservation. Minnie's favourite trip has been  volunteering in the rainforests of Borneo, re-planting the rainforest. She longs to return to Borneo and hang with orang-utans once more.

Bo is 12 years old and a fireball! Named after the British Celtic warrior queen, Bodicea, Bo was born way too early at 31 weeks (her middle name is Dicea!)

She loves skiing, playing video games and winding up her big sister!
Bo loves her food and isn't afraid to try something new. From mussels to olives to chorizo, wherever we are, it's almost pretty guaranteed that Bo will wolf it down – unlike her big sister!
Gungho Bo has a core of steel and a hugely adventurous spirit. Bo is the reason we made the the move to the French Alps. Bo was born with mild cerebral palsy and skiing has transformed her into an able bodied badass! 
Save
Save
Save
Save
Save
Save
Save
Save
Save
Save
Save
Save
Save
Save
Save
Save
Save
Save
Save