We completed the Tour du Mont Blanc self guided in two halves. One half from Chamonix to Courmayeur one summer and the remaining trail from Courmayeur to Chamonix the next Summer.
This is day 2 of our second summer hiking the TMB where we completed the second half of the trail from Courmayeur in Italy to Chamonix in France. This post describes  stage 6 of the Tour du Mont Blanc trekking from Refuge Bonatti in Italy to Ferret/La Fouly in Switzerland.
Read our Ultimate Tour du Mont Blanc Self Guided post here.
Tour du Mont Blanc Hike
Read our day by day accounts on hiking the Tour du Mont Blanc with kids. Our itinerary covers all the most spectacular sections and includes details of how to cut trail times for families or older generations.
This post is on Day 2 of our second summer hiking the TMB. We hike from Refugio Bonatti in Italy to Ferret in Switzerland whereupon we take the bus to Champex-Lac missing out stage 7 of the TMB.
Click here to read the stage before (Courmayeur to Refugio Bonatti). Links to all other days on our first half of the TMB trek and our second half of the TMB of can be found at the bottom of this post.
Day 2 (stage 6) Tour du Mont Blanc – Refugio Bonatti to Ferret
Hike time:
 9.5 hrs with kids stopping frequently  (compared to 5.75 hours, without stops, in the Cicerone guide)
Hike length:
20 km 
Water fill ups?
Chalet Val Ferret, Rifugio Elena, Alpage de la Peule
Trail Overview
Climbing the Grand Col Ferret today you will wave goodbye to Italy and step foot into Switzerland. Leaving the wonderful Refugio Bonatti behind you, the trail is a pleasant continuation of the traverse along the flank of Mont de la Saxe, finally descending onto the floor of the Val Ferret valley. From here it's a gentle up to Refugio Elena before the real climb starts up the Grand Col Ferret. However, taking your time it does not feel as strenuous as either Col du Bonhomme or Col de la Seigne. From the top of the Grand Col Ferret it's all downhill into the Swiss Val Ferret and to the village of Ferret.
Short Cuts
There are no short cuts on this section of the TMB up until Ferret. It's a long stage to hike, perhaps too long for kids …… as you can see it took us a whopping 9.5 hours to trek with our 11 year olds, and that was only to Ferret where we caught the bus to Champex-Lac. We did however stop at Chalet Val Ferret for half an hour for an incredible hot chocolate and just over an hour for our picnic lunch outside Refugio Elena.
The bus from Ferret is easy to catch and can take you either into La Fouly or onto Champex-Lac (with a change at Orsières).
Taking the bus from Ferret to La Fouly and onto Champex-Lac
The bus goes from Ferret to La Fouly to onto Champex-Lac 7 times a day.
You have to take a first bus from Ferret or La Fouly to Orsières, and a second from Orsières to Champex-Lac (very easy to change from bus 1 to bus 2).
You find all the details of the schedule on www.cff.ch, where you can put your starting point (Ferret or La Fouly) and your arrival point (Champex-Lac), the date and the time you want. It will give you the price and you can book online if you wish, or pay cash to the driver. Remember to take cash in Swiss francs for Switzerland, however you can pay for the bus either in euros or Swiss francs
It cost us for a single ticket from Ferret to Champex-Lac CHF12 (or €12) for an adult and CHF6 (€6) for a child. 
The bus stop is literally on road as soon as the trail ends at the cluster of houses that is Ferret. It's unmissable.
You can shorten this stage significantly by staying at Refugio Elena and/or staying at Alpage de la Peule, an authentic dairy farm an hour before La Fouly on the route downhill from the Grand Col Ferret.
However, Refugio Bonatti still tops Refugio Elena in our book for charm and authenticity, plus it's far from the maddening crowds (Refugio Elena is very accessible to day tourists). Alpage de la Peule only has a large dormitory and the cows are milked at 4am … however kids would adore it, and it would save your legs the extra hour, that seems interminably to go on forever!
TIMINGS
Refugio Bonatti – Chalet Val Ferret = 2 hrs 15
Chalet Val Ferret – Refugio Elena = 1 hr
Refugio Elena – top of Grand Col Ferret = 1 hr 40
Top of Grand Col Ferret – La Peule dairy farm = 1 hr 10
La Peule dairy farm – Ferret = 1 hour
We were sad to leave Refugio Bonatti behind us. We couldn't falter it one bit and would highly recommend a stay here be it in a dorm or a private room. We paid €55 each to stay in a dorm. There is no reduction for kids.
Leaving at 08.30 we picked up the trail which leads up and over the back of the refuge and hugs the flank of the Val Ferret once more traversing along this stunning valley. You can see the incredible vista behind us (above) as we leave Refugio Bonatti.
Within five minutes you cross a little mountain bridge over a bubbling glacial stream (see photo below) and with a brighter sky today, our vista is nothing but ice clad peaks and dominating rock walls.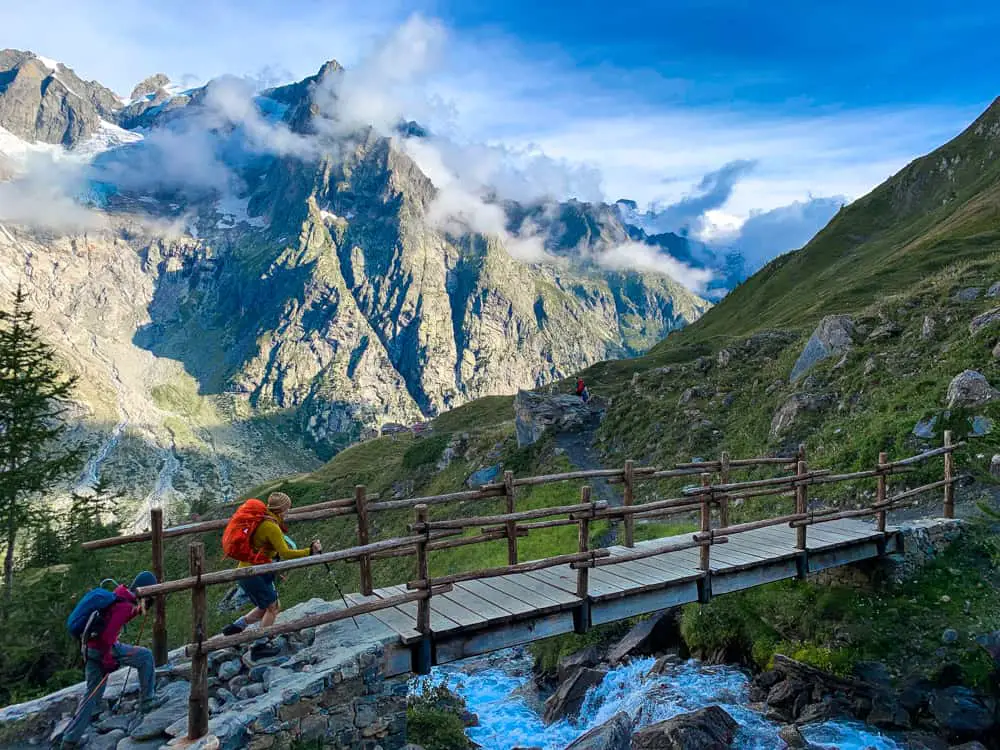 It's a pleasant traverse crossing several streams and takes us an hour and 30 minutes to reach an alp building at a junction which is well sign posted (photo below) and from here the route descends to the valley floor of Val Ferret.
It takes us 30 minutes to descend with the trail popping out almost immediately into Chalet Val Ferret's lovely garden.
Chalet Val Ferret is a good spot to have a breather. They serve excellent coffee (latte €3), incredible hot chocolates (€5) and scrumptious cake.
If you forgot to order a picnic the night before from Refugio Bonatti, you can pick up lunch here – they serve tasty sandwiches (€4.50) chocolate bars, fruit and drinks. They also had a small football pitch here and some hammocks which was nice for the kids to have a run around and play before heading for the climb up the Grand Col Ferret.
Chalet Val Ferret is right at the end of the Val Ferret. The road (only open in summer) stops here and it's an easy drive from Courmayeur making it popular with tourists eager to day hike up to the extremely accessible Refugio Elena whose terrace has fabulous views of the mighty Glacier de Pré de Bar. 
From here the uphill climb starts for the push over the Grand Col Ferret into Switzerland. The first stage up to Refuge Elena takes about an hour and is easy enough. Looking back you have a stunning view of the valley all the way back to Col de la Seigne, where we walked into Italy from France!
You can just see Chalet Val Ferret in the photo below (brown building on the left) 
Refuge Elena has been completely refurbished after an avalanche destroyed the refuge in 1950. Whilst we didn't stay here, we have heard excellent reports on all aspects of staying here.
However, as the refuge is so accessible to day hikers and tourists, the refuge was packed when we arrived at lunch time. It has a little less charm than Refuge Bonatti because of this accessibility but nevertheless it's a good refuge to bed down in if you want to shorten the traditional Tour du Mont Blanc stages or if Bonatti is full. 
Refuge Elena has a large expanse of grass behind it which was busy with many hikers scoffing down their lunches. We followed suit and rested here for half an hour hungrily tucking into our excellent picnic from Bonatti and fighting our way to the bar for a coffee before tackling the looming Grand Col Ferret.
The real climb starts after leaving Refuge Elena. It takes us 1 hr 42 minutes to climb the 475 metres elevation to the top of the Grand Col Ferret – the border of Italy and Switzerland.
We're beginning to feel the time constraints now. It's 13.54 and I wished we'd dawdled less along the route in the morning. The last bus from Ferret is at 18.13 (the timetable may change for your TMB trip so check the website here in advance and make sure you KNOW what the last two departure times are if you are planning to take the bus). 
We have just over 4 hours to climb the col, and walk down the other side into Ferret. It should be enough time but hiking with kids and the fact that hiking the Tour du Mont Blanc is always longer than it seems, makes me slightly worried we've bitten off more than we can chew on this section.
The climb is steep but steady.
Did you know you can actually hire mules to trek the Tour du Mont Blanc with you?
We were in awe to see for the first time on our Tour du Mont Blanc mules trekking down from the Grand Col Ferret, and since then I've tracked down who and how you book through.
You need to have a minimum of 8 bags (maximum 16 bags). The cost is €20 per bag per stage, plus the payment of the board and lodgings for the mule driver. The maximum weight per bag is 7/8 kg.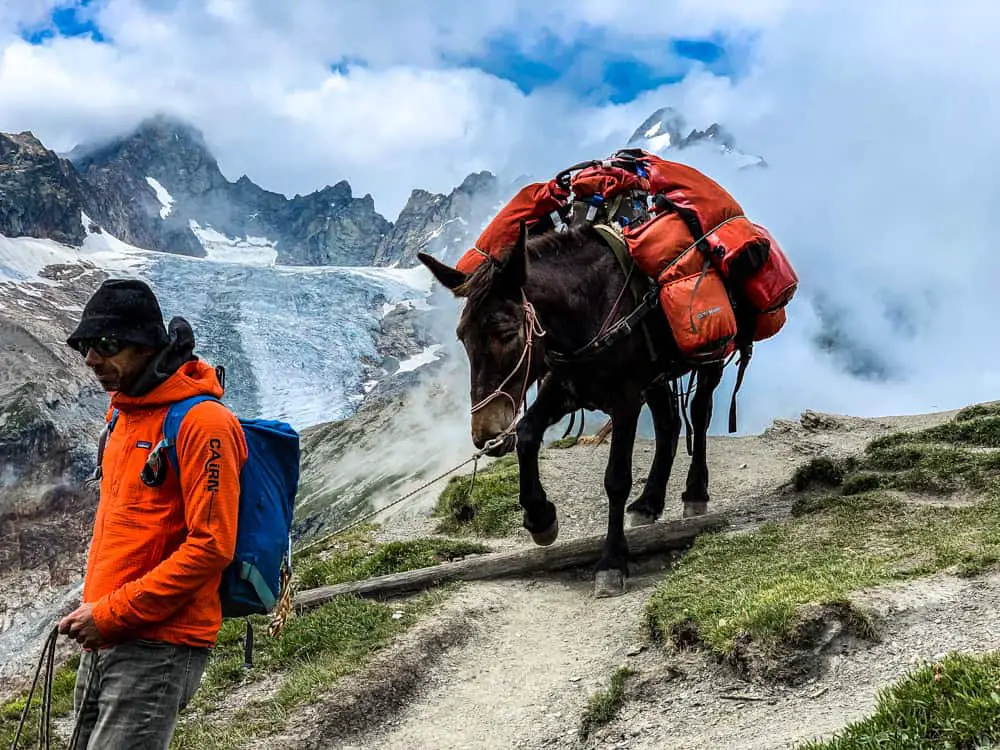 The mule must be accompanied by a mule driver, so you cannot just take the mule and lead it yourself.  This means that it would be a minimum of €160 per stage if you had 8 bags + the cost of the refuge & food/drink for the mule driver. This makes it only cost effective if you are a large group trekking together. 
Contact Marco on the follow email address – eltransportedemula@libero.it
Reservations must be made at least 20 days in advance, however if you have your heart on using mules as transport, book early. They have two mules available.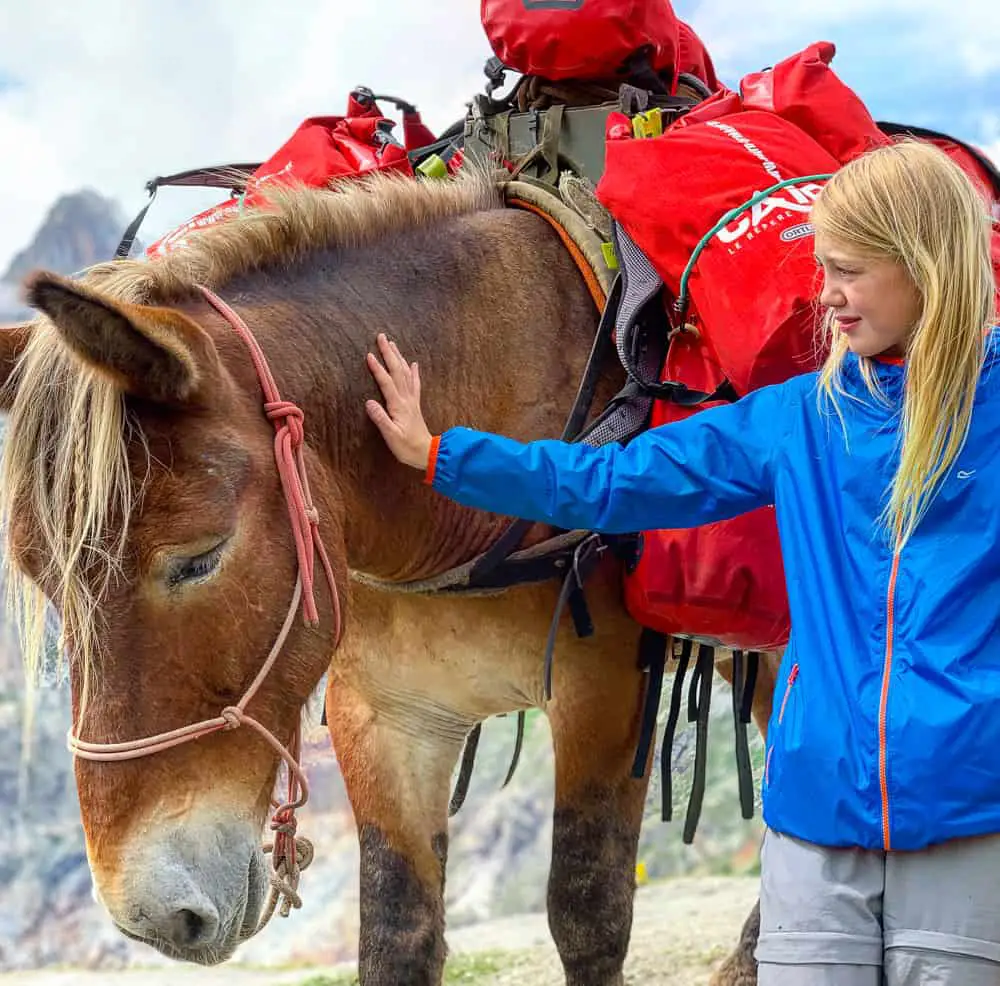 Looking back down the valleys of both Val Ferret and the distant Val Veni, you can see the Col de la Seigne that you climbed over just a few days before. It's glorious to see how far you've trekked and the view will take your breath away. 
This will be your last look at Italy before heading down into Switzerland.
After 1 hr and 42 minutes we make it to the top of the Grand Col Ferret and had our first look over into Switzerland. The Grand Col Ferret didn't seem so hard to climb. It's certainly not the most challenging col on the Tour du Mont Blanc so have no fear of this one.
It was rather windy so we didn't hang around for long at the top, plus we were mindful of the last bus leaving Ferret at 18.13 and since our accommodation had all been booked in Champex-Lac we didn't want to get stranded in Ferret for the night.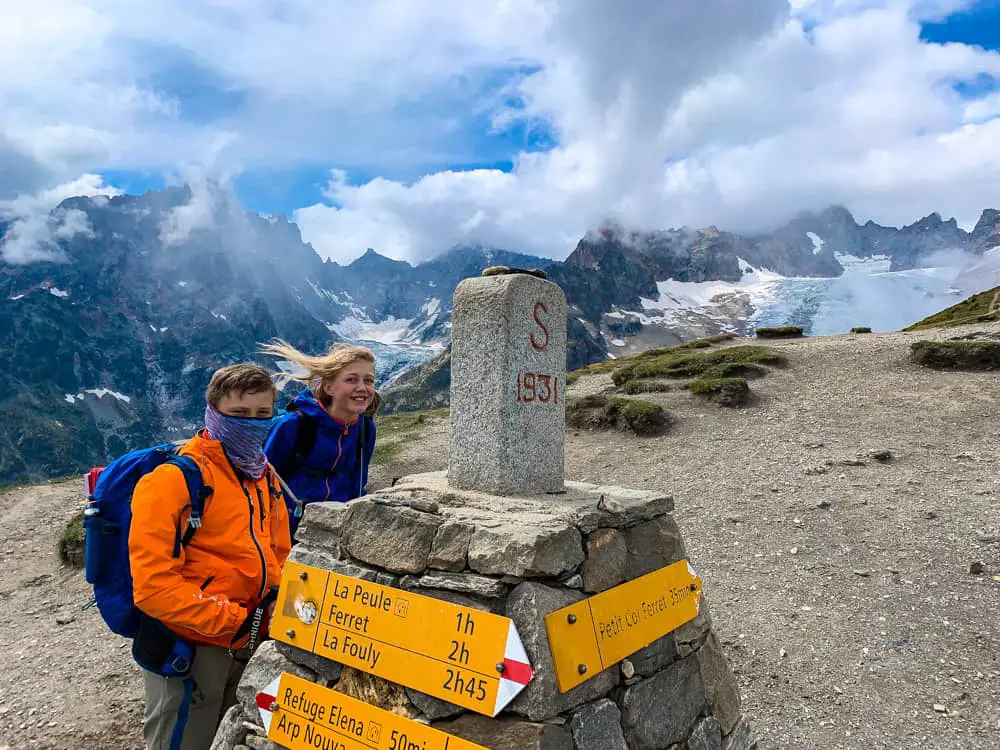 It was cool however to see the mountain borders again though.
The stone slabs with just the letter of the country gouged in is pretty exciting to see.
Now the sign above states 2 hours to Ferret and actually this wasn't far off. It took us just over 2 hours. 
It's all down hill now into Ferret. The green verdant valley of Swiss Val Ferret lies before you.
We were lucky, the clouds were moving fast and so didn't obscure our view for too long.
The magnificence of the high mountain peaks and rock turrets of the Italian and French side fade away now, as you hike further into this charmingly, gentle valley green valley.
The Swiss side has none of the aggressive terrain you've just hiked through, although it is charmingly Swiss with herds of cows with clanging bells and super cute wooden houses.
For me, though, personally I love the violent nature of the big mountain scenery so for me, the Swiss section of the Tour du Mont Blanc was less exciting to hike through.
The trail is very easy to follow and contours gently down into the valley.
It takes us an hour and 10 minutes to reach the La Peule dairy farm. We were, however, hopping, skipping and even doing some sprint runs down the hill to try to gain time.
We were worried still about making that bus! If I were you, I'd set off earlier than our 08.30 start or shorten this stage if you are hiking with kids.
La Peule dairy farm was a complete surprise to me. It hadn't been at all on my radar when planning our trip. You can find more info about it on our TMB Refuges post.
I imagine it would be good stop, particularly for those with kids. It's a good choice to shorten this stage (it's one hour's hike before Ferret).
However accommodation is only in a large dormitory so if you're after a bit of privacy, this is not the place for you. The cows are also milked every day at 4am, which WILL wake you up with the clanging and lowing as they gather the herd together and during milking.
Take this as part of the adventure and cherish it, rather than complaining about it. As long as you know in advance, you can make your decision on whether this place is for you. It is an authentic Swiss dairy farm so immerse yourselves people.
It's also a good price for children so if you're a family planning your Tour du Mont Blanc adventure as it's a much more affordable place to stay than further into Switzerland. Adults are 69CHF half board and children are 49CHF.
From La Peule dairy farm it takes a further hour to walk down into Ferret if you follow the wide vehicle track winds down from the farm. This is not actually the official TMB route which takes a higher and more scenic route contouring the hillside and coming down steeply between Ferret and the gîte La Léchère. However, we were rushing for time and were dog tired so we followed this easy variant. It's an easy descent before you finally cross the river and continue onto the main tarmac road that brings you into Ferret.
From our easy variant route the bus stop is immediately on your left hand side. Make sure you've consulted the online bus timetable www.cff.ch and print off your times as we couldn't make head or tail of the strange Swiss timetable on the bus stop!
The price is CHF12 or 12 euros for an adult and 6CHF or 6 euros for a child to get to Champex-Lac. Depending on which bus you catch it will take either just over an hour (the fastest), to an hour and a half or even nearly 2 hours (for the slowest). You will need to change in Orsieres.
Related TMB content
Read day 1 (stage 10) Tré-le-Champ to La Flégère
Read day 2 (stage 11)  La Flégère to Les Houches
Read day 3 (stage 1) Les Houches to Les Contamines (& onto Nant Borrant refuge)
Read day 4 (stage 2) Nant Borrant Refuge to Les Chapieux
Read day 5 (stage 3) Les Chapieux to Refugio Elisabetta
Read day 6 (stage 4)  Rifugio Elisabetta to Courmayeur
Read day 7 (stage 5) Courmayeur – Refugio Bonatti
Read day 8 (stage 6)  Refugio Bonatti – Ferret or La Fouly
Tour du Mont Blanc Packing List
Ultimate guide to your self guided Tour du Mont Blanc
Tour du Mont Blanc Refuges – the good, the bad & the ugly
Tour du Mont Blanc Difficulty? Transport options on the TMB