Whether you're planning to trek the lofty heights of the famous Tour du Mont Blanc circuit, or cross the lava fields of Iceland's Laugavegur trail, one thing that your kit bag can't be without are trekking poles.
But what do you need to look for in choosing the best trekking poles for women? We talk ergonomics, weight, and construction materials below, as well as why trekking poles are crucial on multi day hikes. Whilst there are plenty of budget hiking poles on the market, today we're reviewing Black Diamond's Trail Pro trekking poles from Ellis Brigham, a lightweight trekking pole for the serious trekker.
Why do I need trekking poles?
Trekking poles reduce the strain placed on your knees and leg muscles significantly. Used correctly, studies have suggested trekking poles can save up to 25% of your energy. Boom.
Laden with a heavy backpack, trekking poles help you keep your balance on uneven terrain, and having two extra anchor points is a big help crossing streams or whilst crossing névé snow during early season. I'll definitely be stashing a pair in my pack in July when we tackle the Laugavegur trail in Iceland – the route requires wading through five rivers!
Also proven is that using hiking poles prevents hand swelling. Pole position keep hands above the heart whilst the action of using poles keeps your arms moving constantly.
AND from a safety point of view, hiking poles can come to the rescue as a support if you hurt yourself on the mountain or in an emergency can be used to erect a shelter from adverse conditions.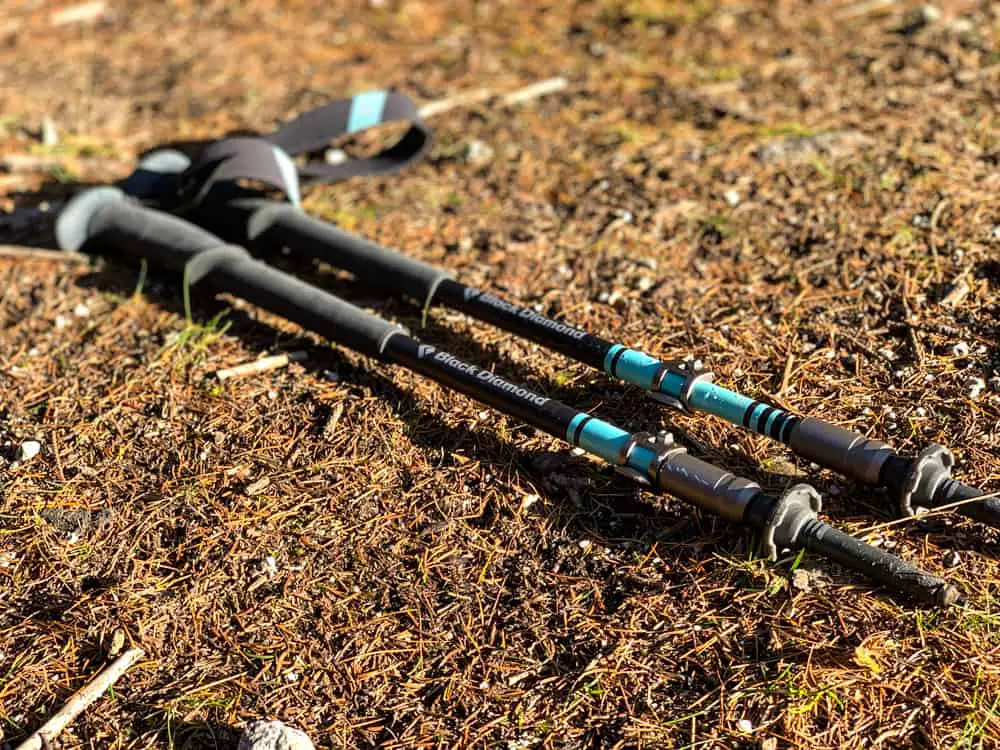 Back to back days on the trail take a toll on your body.  Be kind to it. Take my advice and make use of any kit that's going to give it a break.
I'd never hiked with trekking poles before training for the Tour du Mont Blanc and at first, I have to be honest, I felt clumsy and rather insect like using four points instead of two. It annoyed me I couldn't munch on an apple or protein bar whilst on the move because my hands were in constant use.  Now …  I'd never be without them. 
What to look for in the choosing the best trekking poles for women
Durability:  Look for a good quality pole that's going to last. It's far better to pay a little more for a quality brand than buy cheap poles that will simply add to landfill within weeks. A pair of good quality trekking poles should last years. Durability will depend on the construction material. Aluminium offers excellent durability but is heavier than super light carbon fibre which comes at a cost.
Compact: Collapsible hiking poles are best for long distance trekking. They pack up nice and small & can be strapped onto your backpack when not in use.
Weight: Weight is one of the biggest factor in choosing the best trekking poles and this largely depends on the material the poles are made from. A hiker's main aim, for multi-day treks, should be keeping weight to an absolute minimum, and that includes poles. However super lightweight poles, made from carbon, don't come cheap so you might have to weigh price into your equation.
Seasons: Will you be hiking summers only or is it more practical to buy a trusty all rounder you can use all year? Having the functionality to swap out low-profile trekking baskets for powder baskets for deep snow in the long run will be more cost efficient for those that need year round poles.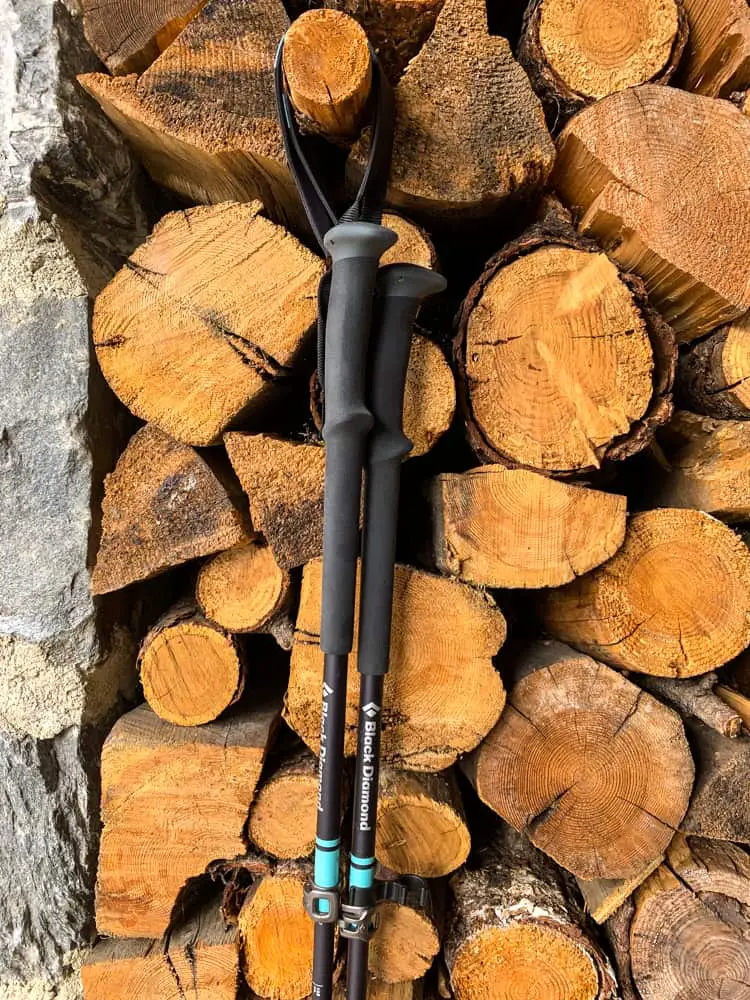 Review: Black Diamond Trail Pro Trekking Poles – Women's
Technical Specifications
Series: Mountain
Weight Per Pair: 506 g (1 lb 1.85 oz)
Usable Length: 95-125 cm (37-49 in)
Collapsed Length: 60cm (23 in)
Features
Soft-foam grip with solution strap for added security and better handling
SmashLock quick Release technology for quick deployment and collapsibility
New FlickLock Pro adjustability made from aluminium so lighter & easier to use
Interchangeable carbide Tech Tips, 38mm Trekking Basket
Ski compatible ferrule will accept 100mm powder baskets for deep snow
Whilst the Black Diamond Trail Pro trekking poles are not the lightest on the market (but pretty light at 506g) they are an excellent choice for day hikes or multi-day treks, and one of the best trekking poles for women on the market.
The Black Diamond Women's Trail Pro are a high performance and affordable pole which retails at £99.99.  With a solid locking system and being extremely durable, they are excellent all year round trekking poles – you can change out summer hiking low-profile trekking baskets to powder baskets for performance in deep snow whilst backcountry skiing or splitboarding. Bingo.
Whilst admittedly I was getting hung up on ultra minimal weight whilst planning for our Tour du Mont Blanc trek, I came to a compromise with the Black Diamond Trail Pro. It's advantages of price, durability, and the biggest draw – being able to double up in the winter splitboarding, made it a no brainer.
Lets talk about some of the Black Diamond Women's Pro Trail features:
D
ual FlickLock Pro Closure
The dual FlickLock Pro closures that enable the pole to telescope is a strong, efficient system. It's fast and easy to make adjustments to the height of the pole when terrain changes.
SmashLock quick release technology
The adjustability of the FlickLock Pro is combined with Black Diamond's new SmashLock quick release technology. The SmashLock is the lower quick-release mechanism that enables you to quickly deploy the telescoping pole locking it into place with an easy-to-hear click (keep FlickLock Pro closed whilst you do this).
The system works well, is solid and lightweight. I've put these poles through their paces and I'm impressed with both the SmashLock quick release and the FlickLock Pro closure.
Dual-density grip & padded wrist strap
I was also seriously impressed by the dual-density grip, padded wrist strap and foam grip extension. Previously I've had blisters from walking poles and many of the long distance hikers I know, wear gloves when trekking with poles.
I didn't need any gloves at all during our Tour du Mont Blanc, apart from a couple of chilly mornings – certainly not down to sore hands from a rubbing grip.
The Black Diamond Trail Pro grip is oober comfortable (congratulations Black Diamond), ergonomic and designed for women. Not a hint of a blister. Seriously the most comfortable trekking pole I've used to date.
The Trail Pro's updated grip is now softer and more ergonomic while the strap draws inspiration from Black Diamond's harness technology for better security around the wrist and better handling when tackling steep terrain.
Interchangeable carbide tech tips are designed to grip trail surfaces of all terrain. 
Watch Black Diamond's video on the Women's Trail Pro trekking pole
Verdict: 
I totally rate these Black Diamond Women's Pro Trail trekking poles. I agree they are very much one of the best trekking poles for women on the market right now.
The Women's Pro Trail is an affordable, strong, durable trekking pole that doesn't compromise too much on weight. A happy mid range pole that will pass the test of time and will help you on your many hiking adventures for years to come.
Disclaimer: we were provided with the Black Diamond Women's Pro Trail trekking poles by Ellis Brigham for the purpose of this review. We only review kit that we have tried and tested and only promote products that we love. 
Trekking Poles for Kids?
I would definitely recommend the Black Diamond First Strike trekking poles for children. I bought a pair for my daughter locally in Chamonix (but you can buy them at a fraction of the cost on Amazon, see link above). These are brilliant value (compared to the price of adult poles!) and she loved them. They are lightweight (431g) aluminium poles with comfortable hand grips and available in lengths 66-100cm. My daughter really felt the part on our TMB adventure with her new poles and I'm confident that it's partly due to them that she managed to make it around the trail!