Fitness levels and quality of kit all contribute to how successful your planned multi day hike pans out. The most important piece of kit hands down has to be a pair of good quality hiking boots.
During our Tour du Mont Blanc trek this summer,  I tested the performance of the Salomon X Ultra Mid 3 GTX hiking boot. Rave reports of this new improved performance hiking boot had me excited to try them in real time.
Well fitting, quality hiking boots are crucial before setting off on the Tour du Mont Blanc or any other multi-day hike. Comfort and the level of waterproofness are the biggest factors when choosing hiking boots. Comfort, of course, is the hardest to judge in a few minutes of test striding up and down the length of a shop. That's when kit reviews are a gods send. I ALWAYS read kit reviews before investing.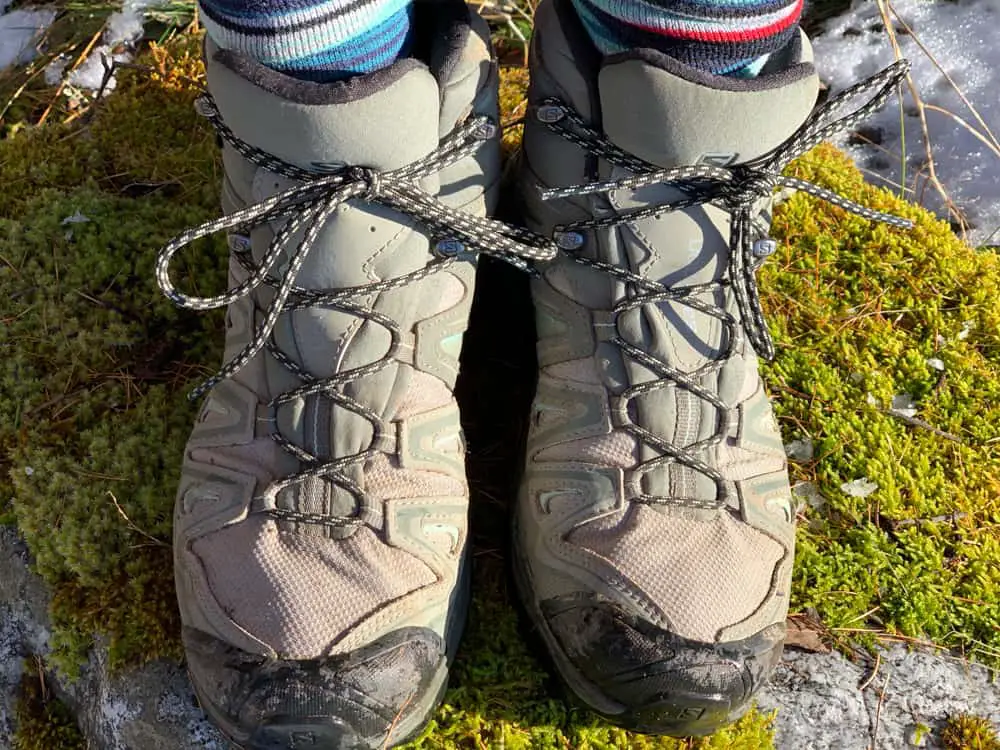 Review: Salomon X Ultra Mid 3 GTX Womens hiking boots
Specially designed for women's feet, Salmon state "the best selling X ULTRA MID 3 GTX has evolved into an even more effective hiking shoe. Thanks to Descent Control technology, this shoe efficiently tackles technical hikes and really shines during tough descents. Wear this pair and head downhill with a spring in your step, even in wet conditions"

Salomon X Ultra Mid 3 GTX key features
Lightweight – 420g

Advanced Chassis™

GoreTex waterproof lining

Women specific construction

Contagrip® TD

Chevron lugs

Ortholite, EVA footbed

PU coated leather

Gusseted tongue

Protective heel & toecap

SensiFit™ technology 

Protective mudguard

Molded OrthoLite®

Traditional lacing system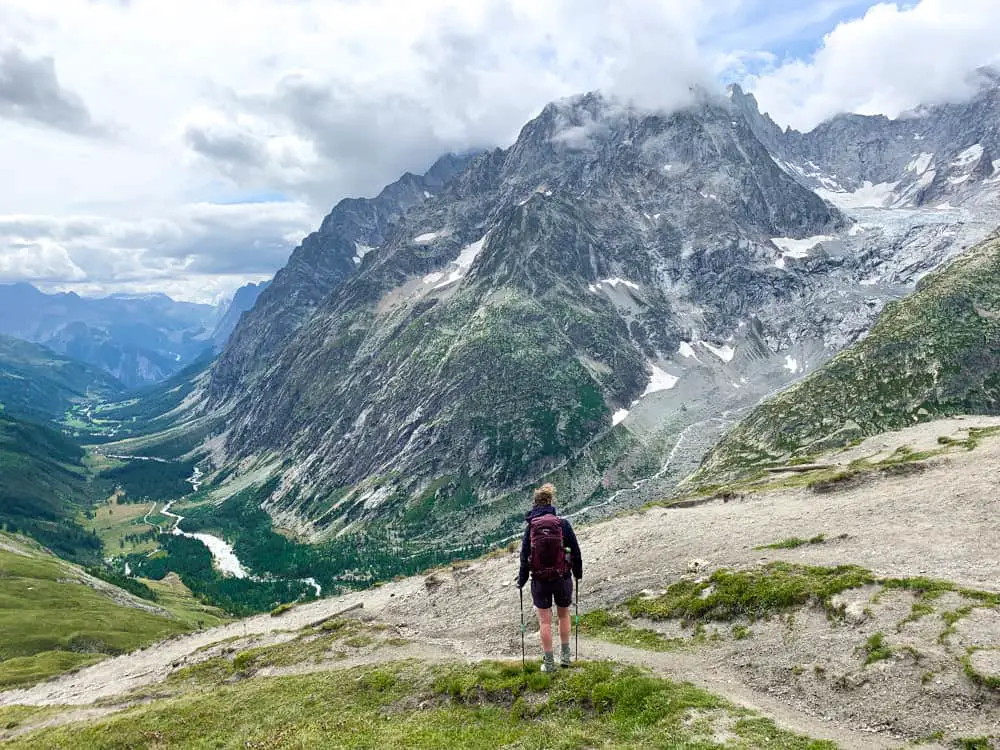 Lightweight
The first thing that struck me when I first put on these boots were how light they were. I'm talking seriously light!
Weighing in at a mere 420g,  these boots are perfect for eating up the miles on casual day hikes or fast paced multi day treks.
Lightweight boots keep fatigue from setting in early whilst keeping your feet nimble on tough terrain.  This factor alone makes the Salomon X Ultra Mid 3 GTX the ultimate hiking boot for tackling hard terrain days back to back. The combination of such lightweight, durable materials makes this hiking boot the perfect hybrid between a burly hiking boot of old and a lightweight hiking shoe.
I'm always championing weight reduction wherever possible,  especially during multi-day treks. And that means hiking boots as well. Bingo.
Read more: the perfect backpack to tackle the Tour du Mont Blanc – the Osprey Sirrus 36 
Waterproof
Constructed with a GoreTex membrane, the Salomon X Ultra Mid 3 GTX kicks ass when it comes to waterproof credentials, making these the perfect all year round hiking boot.
I've tested these boots in wet conditions and I have yet to have damp socks at all. Impressive. 
The Salomon X Ultra Mid 3 GTX is made from breathable materials. This allows the GoreTex membrane to perform optimally and prevents moisture from hot, sweaty feet from the inside.
I'll definitely be taking these boots with me next July when we are hiking in Iceland, they are perfect for rugged terrain in changeable environments (plus we have to hike through 5 rivers – but I'll be swapping into Tevas for that part!)
Grip
The Salomon X Ultra Mid 3 GTX feature's Salomon's patented super durable outsole technology – Contagrip®.
I've tried to break down the jargon so it's more understandable. Bear with me! What's certain is that hiking boots are now oober technical, with a real focus on the sole and what the boot is designed for.
Contagrip® soles are a mix of different compounds in different areas of the sole. In areas that wear out quicker, such as the edge of the outsole, Salomon have used a higher density compound, whereas in the middle, a lower density compound has been used to increase flexibility and grip.
On the Salomon X Ultra Mid 3 GTX hiking boot, the Contagrip® soles boast deep chevron lugs (the raised bits on the outsole) to offer better protection from penetrating sharp stones on tough terrain and multi-directional grip designed to improve traction on soft surfaces like mud or loose dirt. Two different types of rubber result in better grip. A patterned area on the heel grabs terrain more aggressively, giving you more control especially on descents.
Read more: Tour du Mont Blanc Packing List
Still with me?
Now onto the  Advanced Chassis™
By chassis Salomon refer to the structure of a boot. Trust me, Salomon put a lot of design into their soles impacting performance and comfort massively.
The lightweight Advanced Chassis™ is positioned low to the ground on the X Ultra Mid 3 GTX hiking boot, placed between the outsole and midsole for maximum stability over uneven terrain.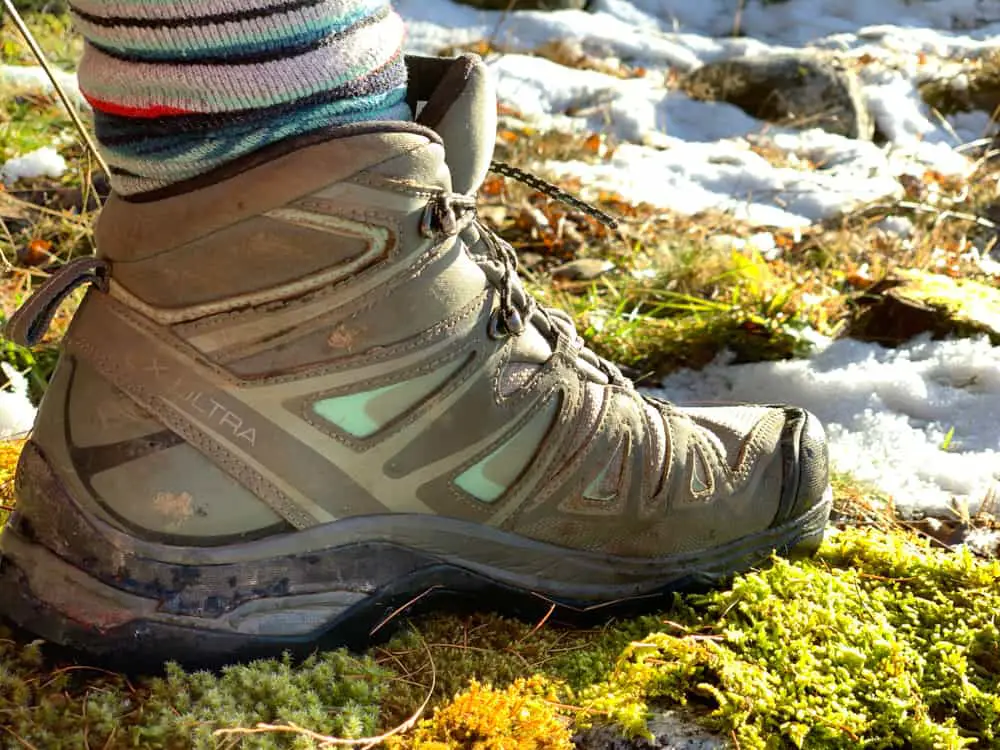 Comfort
The Salomon X Ultra Mid 3 GTX has good support and padding resulting in these boots being comfy from the off.  I mean, literally straight from the box.  I could have trekked the TMB easily with them without even wearing them in.  True fact. 
The soft and breathable ortholite liner cushions your foot on every stride and the high performance EVA foam provides shock attenuation (Shock attenuation during running is the process of absorbing impact energy due to the foot-ground collision, reducing shock wave amplitude between the foot and head). 
SensiFit™ cradles the foot from the midsole to the lacing system, providing a secure, snug, and virtually customized fit all around the foot.
Read more: Black Diamond Women's Pro Trail Trekking Poles – durable, affordable poles for the TMB
These boots are seriously comfortable and give excellent ankle support. If you're after more of hiking shoe with less ankle support, check out the low cut version of the Salomon X Ultra GTX W.
The gusseted tongue (connected to the upper on both sides) adds to comfort levels and is super practical. Because the tongue is not flapping around but secure with the gusseting,  the tongue is kept centered and dirt/stones/sand are prevented from getting into the boot. 
As always size up for walking boots. I'm an UK 8 but I'll choose either a half size or even a whole size up for hiking boots, so that my toes aren't in excruciating pain slamming into the boot on every downhill .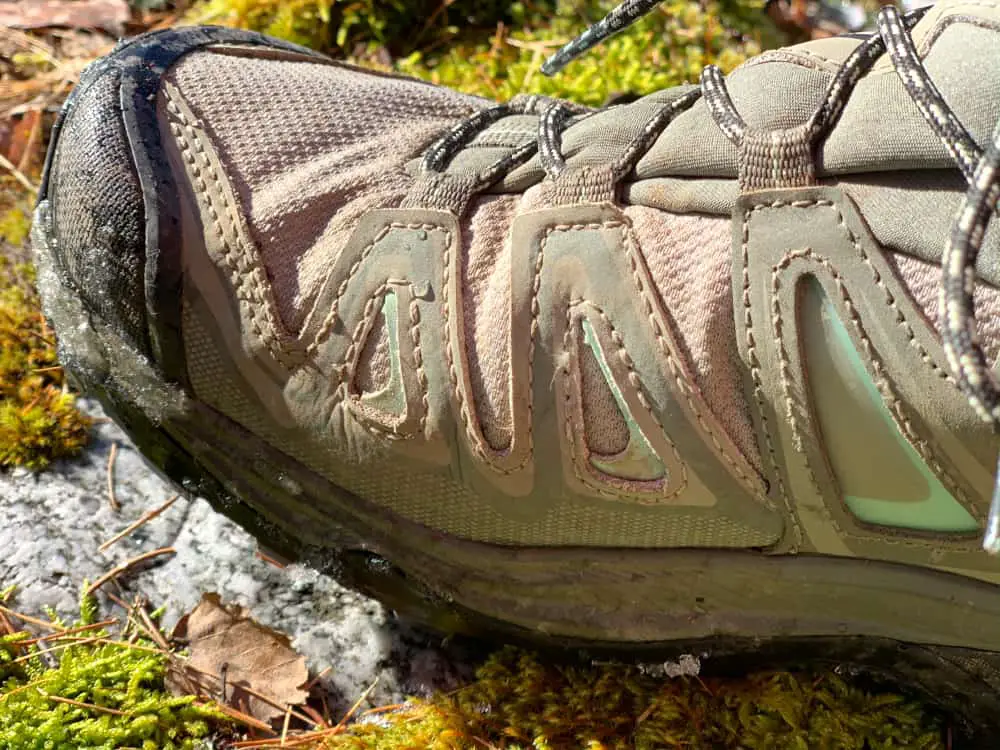 Durability
The polyurethane coated leather protects the boot, increasing it's life. Yes please to that. The boot also features a protective toecap from sharp stones and constant scuffs from hard terrain.
Price
One of the surprises of the Salomon X Ultra Mid 3 GTX women's hiking boot is that they are not more expensive. The recommended retail price is £145.00 for these hiking boots but they can be found cheaper online or on sales such as Black Friday.
Verdict:
Waterproof, super light and oober comfortable, even straight from the box, I'm ready to shout from the rooftops about the Salomon X Ultra Mid 3 GTX. I really rate them.
They are the perfect hybrid of lightweight, nimble mountain shoe and durable bulky hiking boot.  Light enough to take backpacking and durable enough to last long days on the trail. 
If your hiking boots are on the way out and you're looking for a reliable, new boot to replace them – I'd highly recommend the Salomon X Ultra Mid 3 GTX to be your new hiking buddy. I'll be wearing them for years to come.
Disclaimer: I was supplied with these hiking boots from Salomon for the purposes of this review. We only review kit that we have tried and tested and only promote products and brands that we love.