Our Tour du Mont Blanc blog gives detailed information on trekking the Tour du Mont Blanc from how to cut sections taking public transport (cable cars, buses or post vans) as well as what sections of the Tour du Mont Blanc are totally jaw droopingly unmissable.
We completed the Tour du Mont Blanc self guided in two halves. One half from Chamonix to Courmayeur one summer and the remaining trail from Courmayeur to Chamonix the next Summer. This is day 3 of our second summer hiking the TMB from Courmayeur in Italy to Chamonix in France.
We hope you enjoy all of our posts on our Tour du Mont Blanc blog. We are happy to answer any questions in the comments to help you plan your Tour du Mont Blanc adventure.
Read our Ultimate Tour du Mont Blanc Self Guided post here.
Tour du Mont Blanc Hike
Read our day by day accounts on hiking the Tour du Mont Blanc with kids. Our itinerary covers all the most spectacular sections and includes details of how to cut trail times for families or older generations.
This post is on Day 3 of our second summer hiking the TMB. We hike from Champex-Lac in Switzerland past Col du Forclaz and onto Trient.
Click here to read the stage before (Refugio Bonatti to Ferret/La Fouly). Links to all other days on our first half of the TMB trek and our second half of the TMB of can be found at the bottom of this post.
Day 3 of the second half of the Tour du Mont Blanc
Stage 6 – Champex-Lac / Col du Forclaz /  Trient
Hike time:
10.5 hrs with kids stopping frequently (with at least 1 hr 40 taken up in lunch & a buvette stop 🙂
(compared to 5.5 – 6 hours, without stops, in the Cicerone guide)
Hike length:
16km to Col du Forclaz, 18km to Trient
Water fill ups?
Plan de l'Au Buvette, Alp Bovine, Col de la Forclaz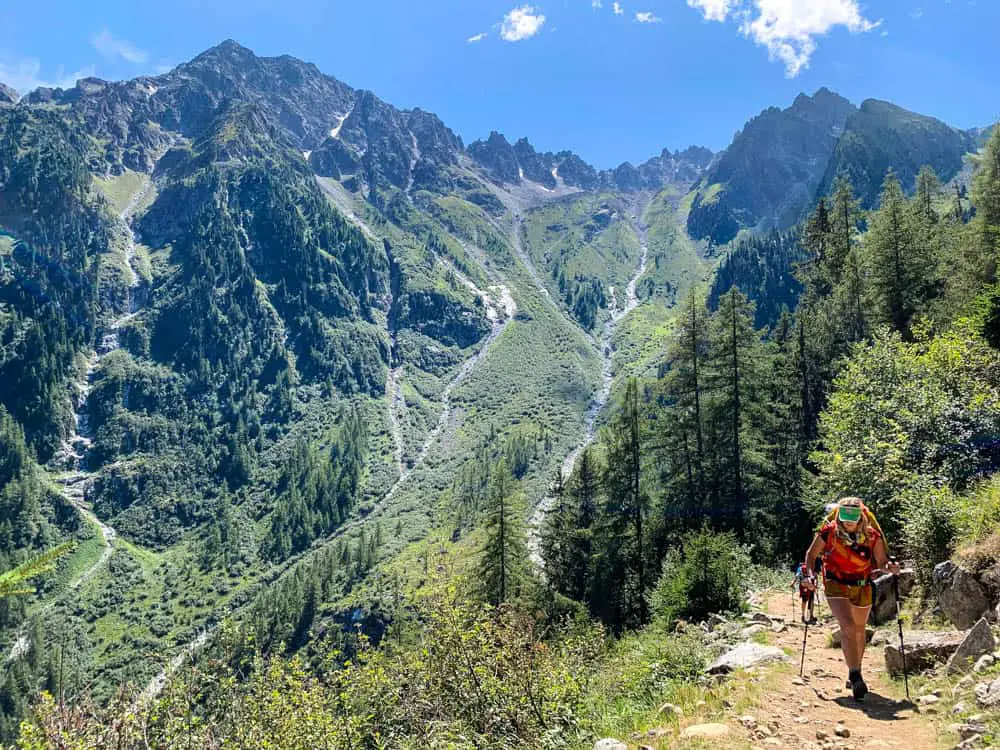 Trail Overview
Kev Reynolds plays this stage down ridiculously in the Cicerone guide book. The route starts from beautiful Champex-Lac with it's stunning Canadian like lake. The trail undulates through green pastures with cute chocolate box chalets proudly flying the Swiss flag, and into a pleasant track winding through the forest. Whilst there is no col to climb, do not underestimate this stage. The climb from Plan de l'Au buvette (1330m) to Alp Bovine (1987m) was hard, very hard. Much more challenging than the Grand Col Ferret from Italy into Switzerland the day before. Once you make it to Alp Bovine, overlooking the Rhône valley, it's only a further 53m of elevation until the trail thankfully, reverts to a descent through beautiful woodland to the top of the Col de la Forclaz, and on downwards to Trient.
Short Cuts
There are no short cuts on this section of the TMB up until the Col de la Forclaz. From here it's possible to catch the post bus down to Trient, shaving an hour off your day, if you are pushing onto Trient.
Unfortunately for us, the last post bus had left an hour earlier….. 
You can check www.carpostal.ch/valais for details or email valais@carpostal.ch for details of the timetable for the post bus.
It's also possible to hitch from the Col de la Forclaz down to Trient. The road is very busy as it's the main road into Switzerland from the French border. Trient is only 10 minutes in the car via the road, whilst the TMB hiking route takes you directly down through the forest, taking around an hour.
It's also possible to miss this entire section out altogether by taking the bus from Champex-Lac to Orsières, then catch a train from Orsières to Col de la Forclaz (you will need to change in Martigny. It takes around 2.5 hours. You can check the timetable (horaires) and the price at www.sbb.ch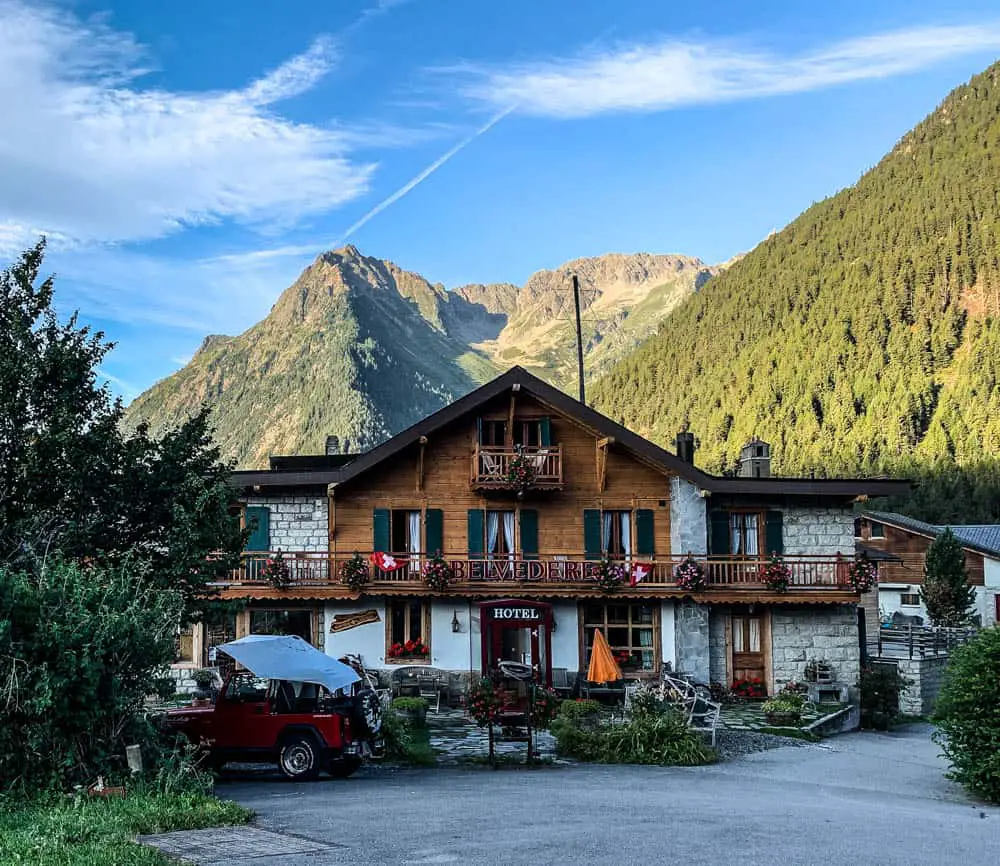 After a very comfortable night at Hotel Belvedere (the most comfortable beds, and most plush room (ensuite) out of all our TMB accommodation and an excellent dinner) we laid out our maps once again over a feast of a breakfast (Irene makes her own apricot jam!). We under estimated this stage massively, and one mistake we made was leaving so late at 09.10am ……
You can read more about Hotel Belvedere in our TMB Refuges post. It's quite pricey but then compared to other Swiss accommodation, it's actually excellent value for money. Plus the rooms are beautifully Swiss with beautiful wood carvings, thick velvet curtains and fabulous en-suites. Hotel Belvedere also discount for kids which is not the case in all Swiss hotels so compare the final price when deciding your accommodation.
Champex-Lac also has a good campsite with cabins or tents if you are need to make Switzerland work on more of a budget.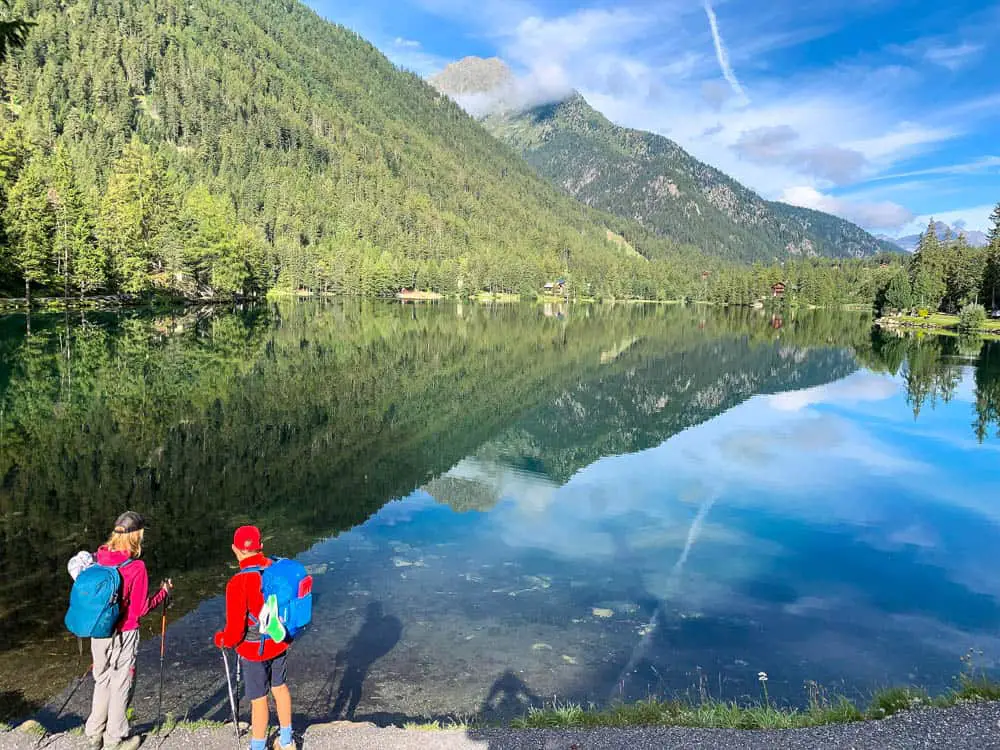 It takes us a mere 5 minutes to reach the stunning alpine lake circled by thick forested hills. It's this view that Champex-Lac is famous for. It's stunning. The landscape resembles a typical Canadian lake which is why this village is often called Switzerland's Little Canada.
Walking along the main village road, we pass the post office, shop and ATM. Remember the Col du la Forclaz or Trient DO NOT have ATM machines so stock up on cash if you need to. However the hotels at both Col de la Forclaz and Trient do take debit and credit cards so it's critical to have a lot of Swiss francs on on you.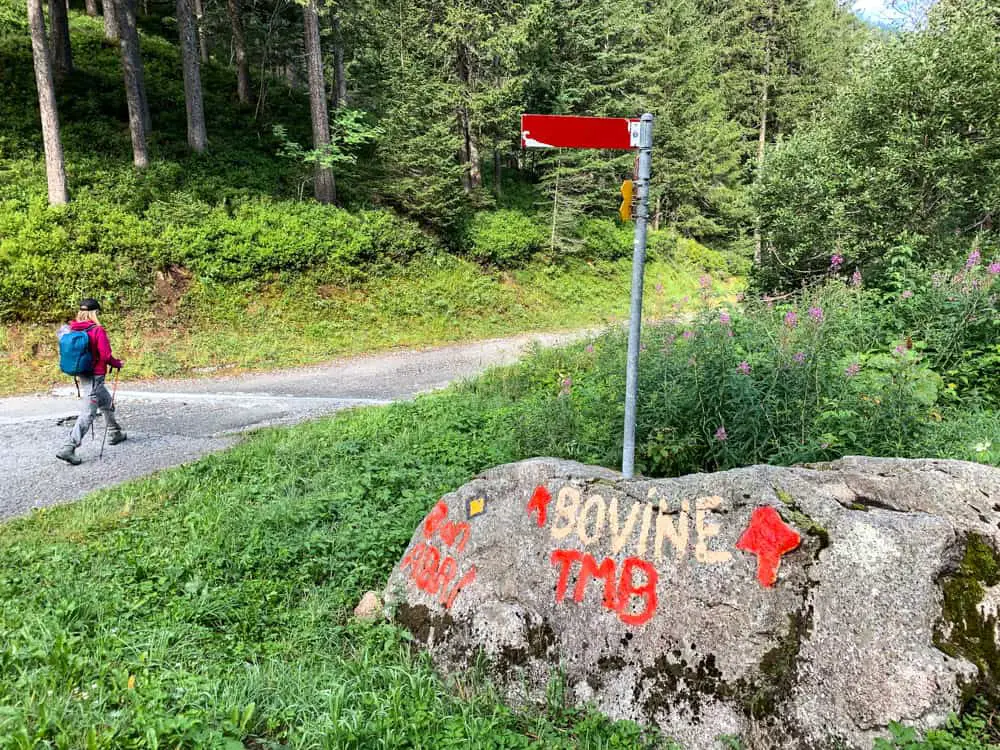 Continuing along the main road of Champex-Lac, you will pass the campsite on your right and continue round a large hairpin bend. It's here that you will turn off if you are hiking the alternative Fenêtre d'Arpette route. This is the high terrain route that should not be attempted in bad weather. Turn by the café into a narrow road sign posted Val d'Arpette.
Because we were hiking with our kids, we did not wish to take the variant route. We weren't sure how much longer it would take us with the altitude being higher (in fact the Fenêtre d'Arpette is the highest point on the entire Tour du Mont Blanc at a top elevation of 2665m), however I am aiming to do this stage at some point without kids so I can write this stage up.
For now though we round the bend to pass the La Breya ski chair lift on our left hand side. This ferries walkers up in Summer and is a lovely little ski resort (with brilliant luge!) in the winter.
Shortly you will turn off to the left to follow a rough road, well marked with TMB signs and a large boulder with the painted letters of BOVINE on (see photo above).
I clearly hadn't read my TMB route very well as I still wasn't entirely sure what Bovine was. For your information! 🙂 Bovine is a working dairy farm and a buvette (snack restaurant) in the summer. It's a good spot, busily fortifying Tour du Mont Blanc hikers with refreshments after the incredibly steep climb. Yes!  Bovine is the highest point to climb today and boy is it a climb!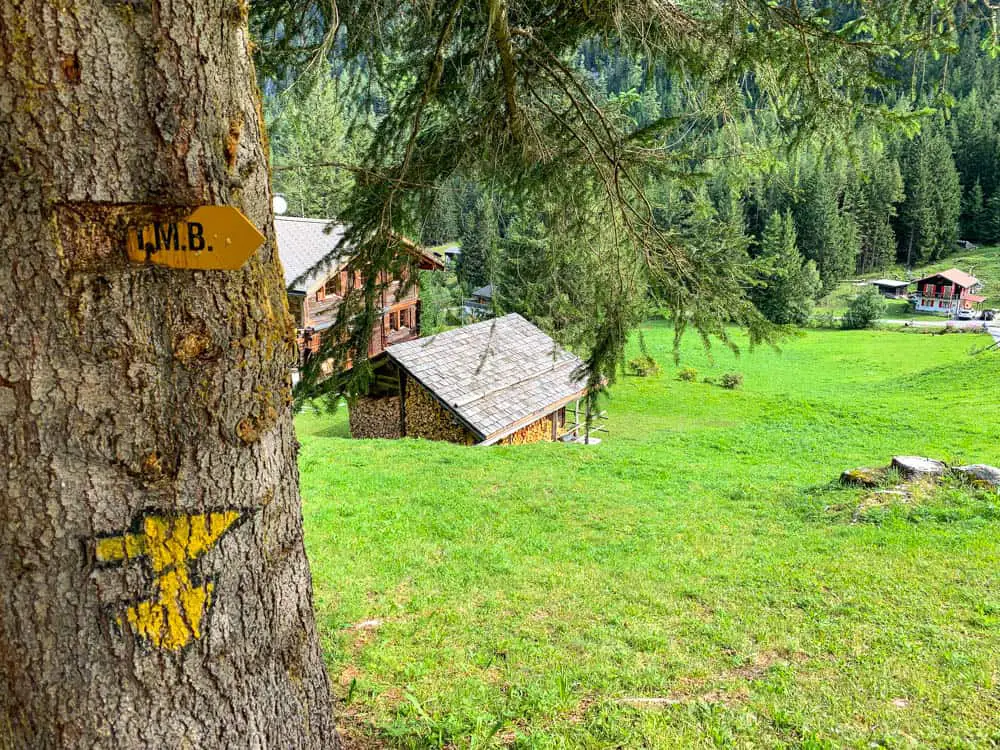 The trail passes the Bon Abri Gîte to the right which has 33 dormitory beds plus private rooms. I haven't heard any reports back on the quality of the accommodation here so if you've stayed here, please do leave some feedback in the comments section below.
This would be a good place to stay if you are on a budget as hey allow tents for 12CHF per person if you bring your own or 49CHF half board.
The private rooms with ensuite are 89CHF per person half board. They do note state if kids have a reduction. If you compare this to the Belvedere price of 110CHF for an exceptional room and kids at 50% then there's not much difference and the Belvedere would be much more comfortable. 
Bon Abri Gîte 2020 tariffs
Bivouac (votre tente) = 12 CHF+Tax (49 CHF+Tax en demi-pension)
Pagode (tente avec lit de camp + matelas air + couverture) = 22 CHF+Tax (59 CHF+Tax en demi-pension)
Grand dortoir (18 lits) = 32 CHF+Tax (69 CHF+Tax en demi-pension)
Petit dortoir (6 lits) = 42 CHF+Tax (79 CHF+Tax en demi-pension)
Chambre lit double, douche et toilettes extérieures = 47 CHF /personne+Tax (84 CHF /personne+Tax en demi-pension)
Chambre lit double, douche et toilettes intérieures = 52 CHF /personne+Tax (89 CHF /personne+Tax en demi pension)
Petit-déjeuner = 12 CHF
Repas du soir = 25 CHF
Pique-nique = 13 CHF
Serviette = 5 CHF
Contact Andras Kalman on +41 27 783 1423 or email on contact@gite-bon-abri.com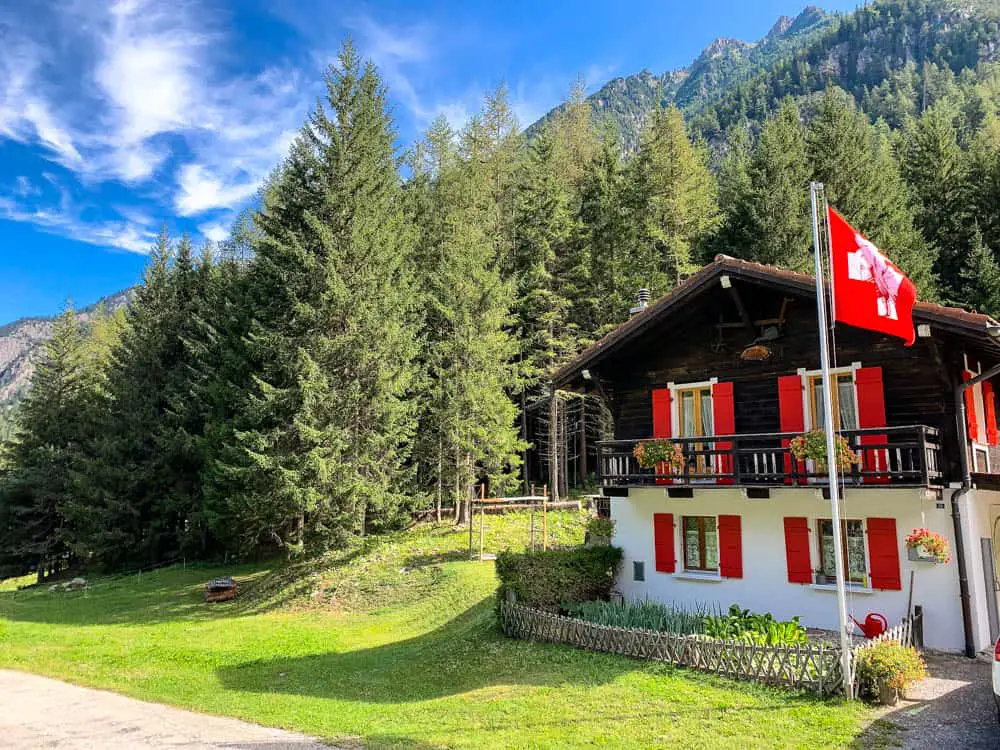 The trail skips along pleasantly for the next 20 minutes through green meadows dotted with charming wooden chalets spilling with flowers and beautifully stacked wood piles.
Red and white national flags flutter proudly in the breeze and it's a joy to revel in the quintessentially Swiss landscape you find yourself in.
So far. So good. We are in high spirits.
The trail continues into the forest becoming a wide track, and it's a relief to have some respite from the scorching sun.
Don't forget your sunscreen or your hat! Read our Tour du Mont Blanc Packing List to make sure you take all the necessities.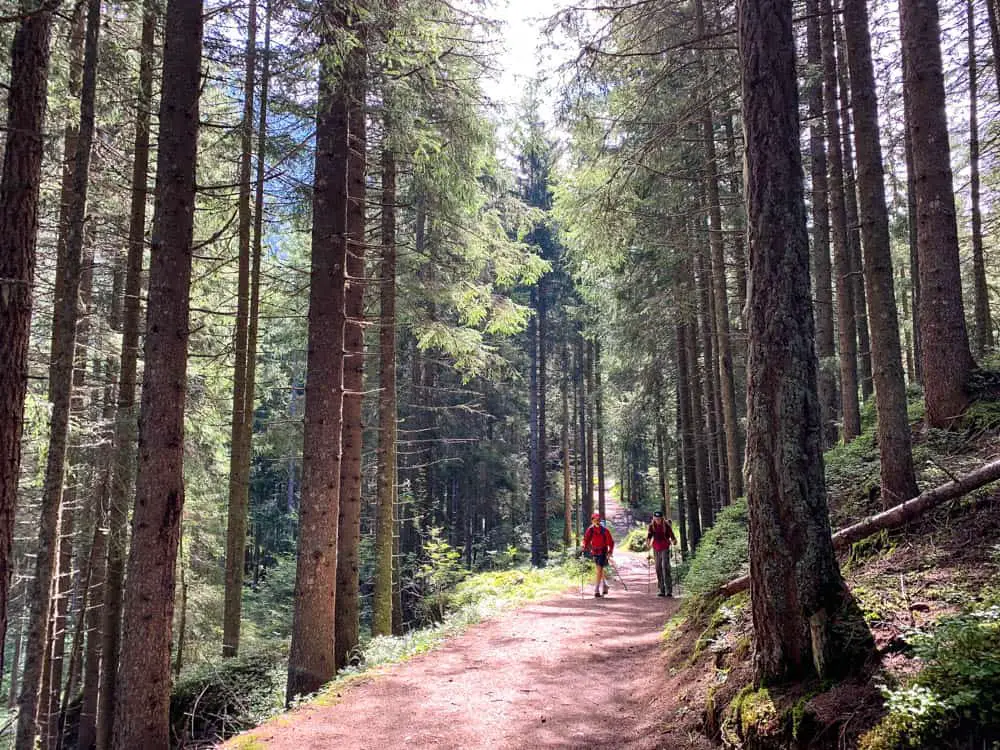 We ahhh and ooh over gorgeous baby cows with large leather collars and tinkling bells.
Again perfect Swiss landscape.
We arrive at the buvette Plan de l'Au where we decide to stop for a coffee to fuel ourselves for the uphill battle about to begin.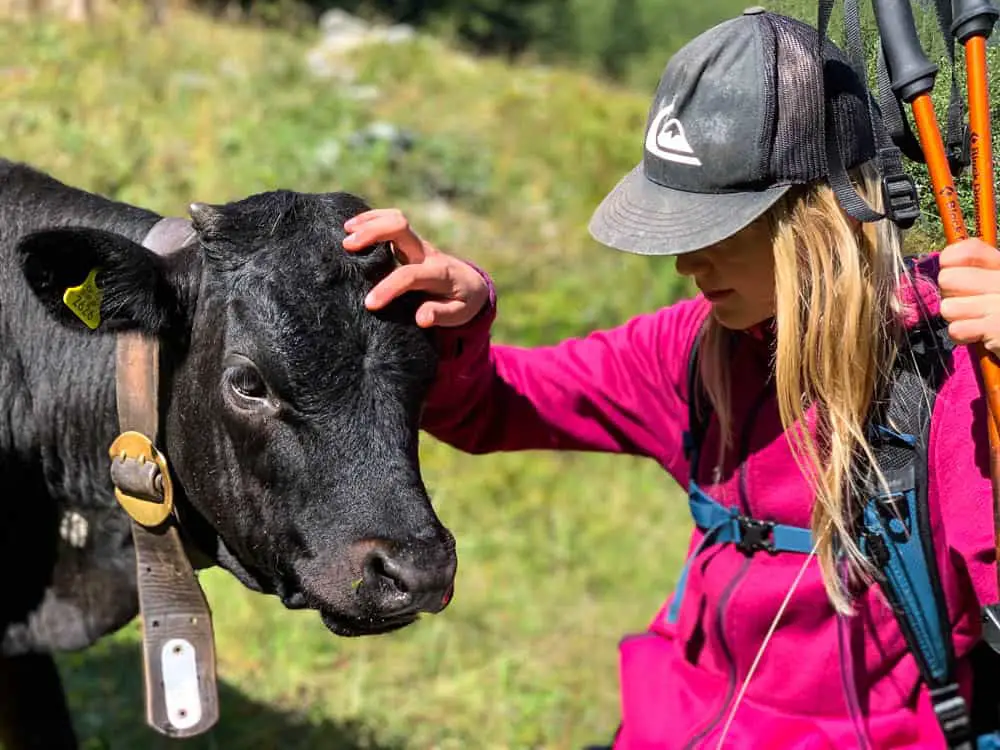 The buvette Plan de l'Au is a great place to stop, however we were greeted quite belligerently by the staff there. Strange.
I'm not sure whether it was because we arrived too early for lunch or whether it was because we were foreign (? surely lots of foreigners traipsing through on the TMB) but the folk there were definitely not friendly.
Don't let this put you off if you're in dire need of a refreshment before the climb. The climb is LONG and there is nowhere else to stop until the buvette at Alp Bovine.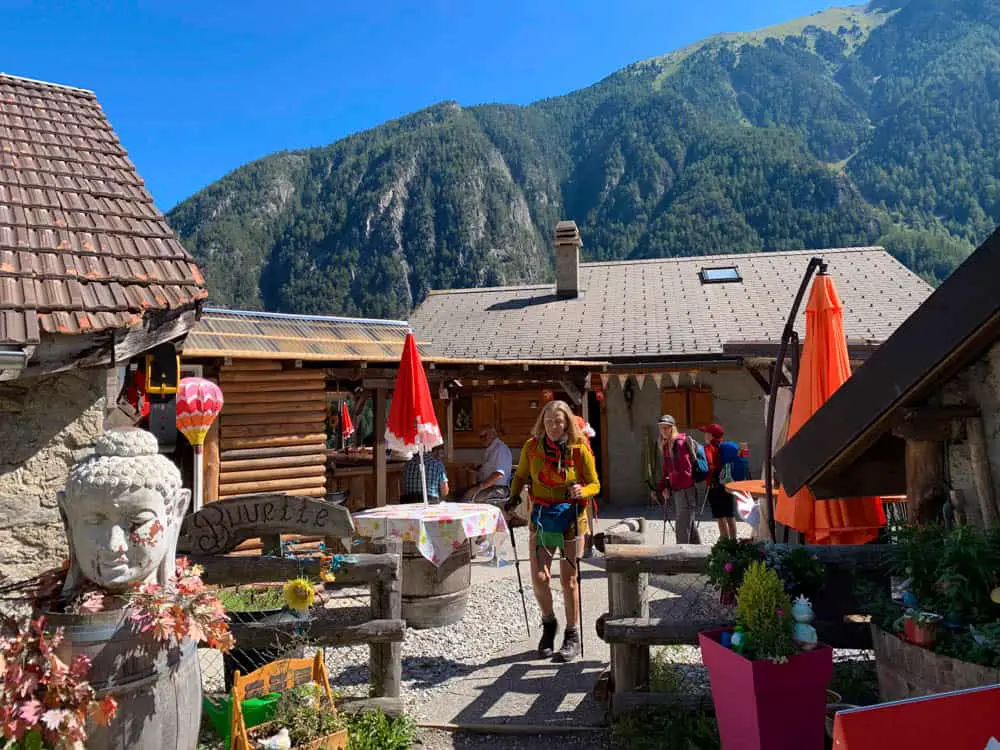 My persuasive and rather naughty friend ended up ordering several glasses of chilled rosé for us. Hardly the most appropriate beverage before climbing 647 metres in elevation. My sensible demeanour vanished as she insisted we were on holiday (which we were!).
However, I finally put my foot down after she requested a third round and demanded it was time to hit the trail. 
Maybe this explained the fact it took us 2.5 hours to climb from here up to the Alp Bovine dairy farm!
Whatever it was it was a long haul slog, and if I have to be honest, not that enjoyable. I'm convinced it wasn't the rosé (!).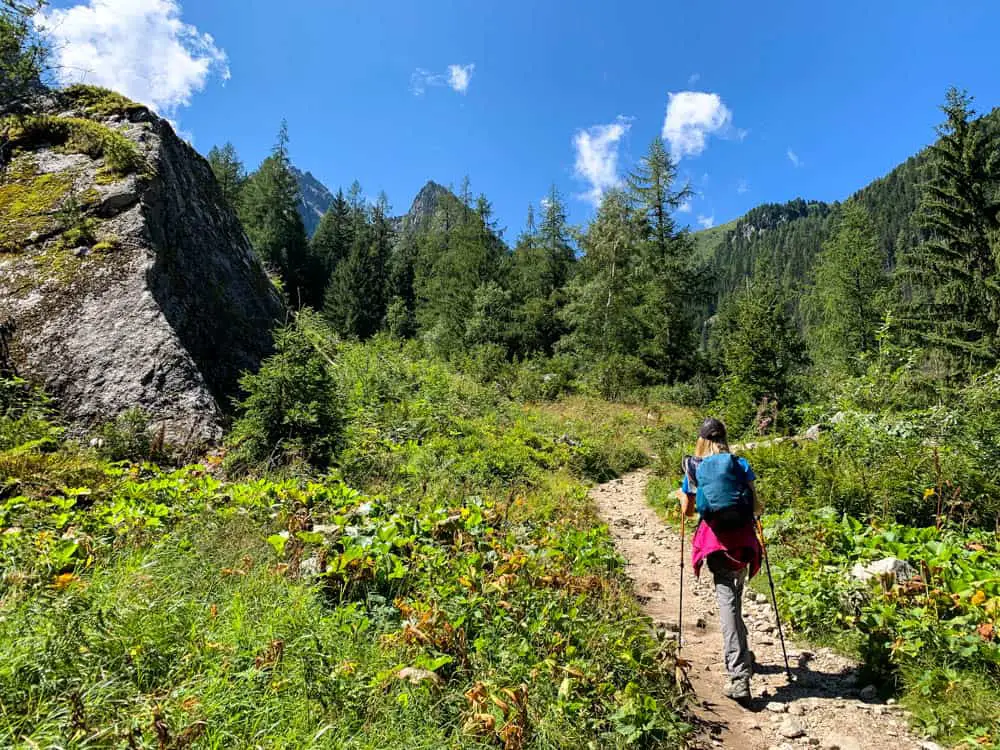 Picking up the trail again we follow a rough 4 x 4 track which rises gently and then after 20 minutes or so narrows to a footpath after a gate.
This path winds through the verdant foliage of the combe, La Jure. Looking ahead, the trail is hard to predict. We walk towards what seems like the end of a valley and it's difficult to call where the trail will lead and where we will climb in elevation, eventually crossing the mountain.
There are a few streams to cross here, all of which are easy enough.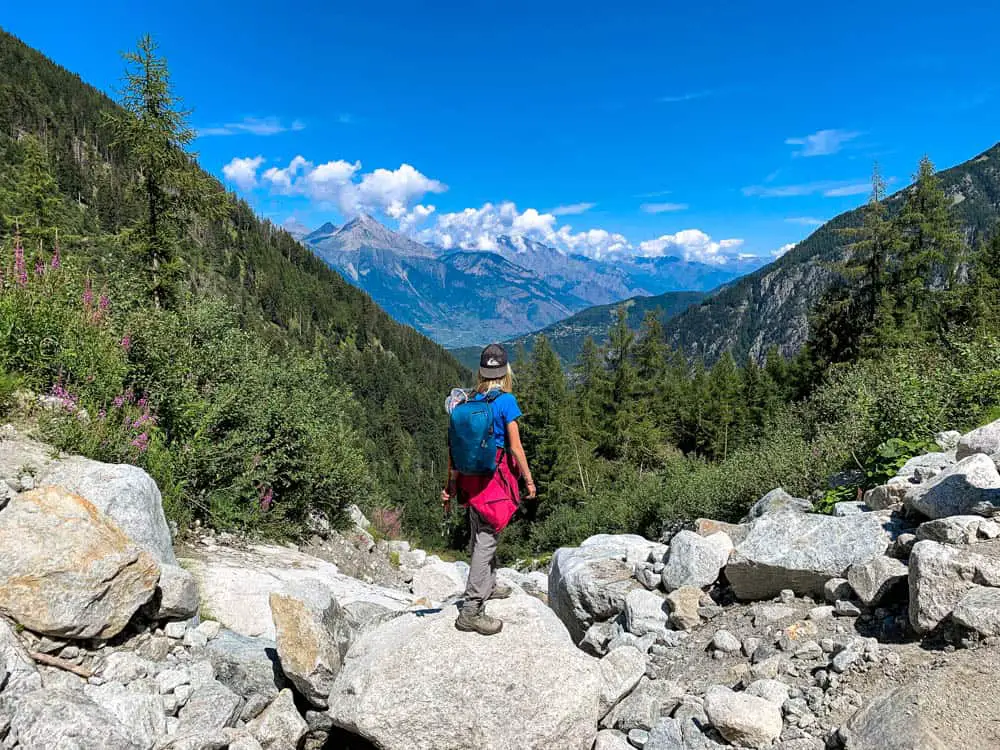 In fact, as there is no col to climb, we are not actually going up and over. Instead the trail traverses very slowly around the mountain.
The trail the becomes super steep and it's time to dig in.
For what seems like a hell of a long time, the trail continues up and up and up.
The ground is dusty and dry and the landscape isn't wowing me enough to take the pain away.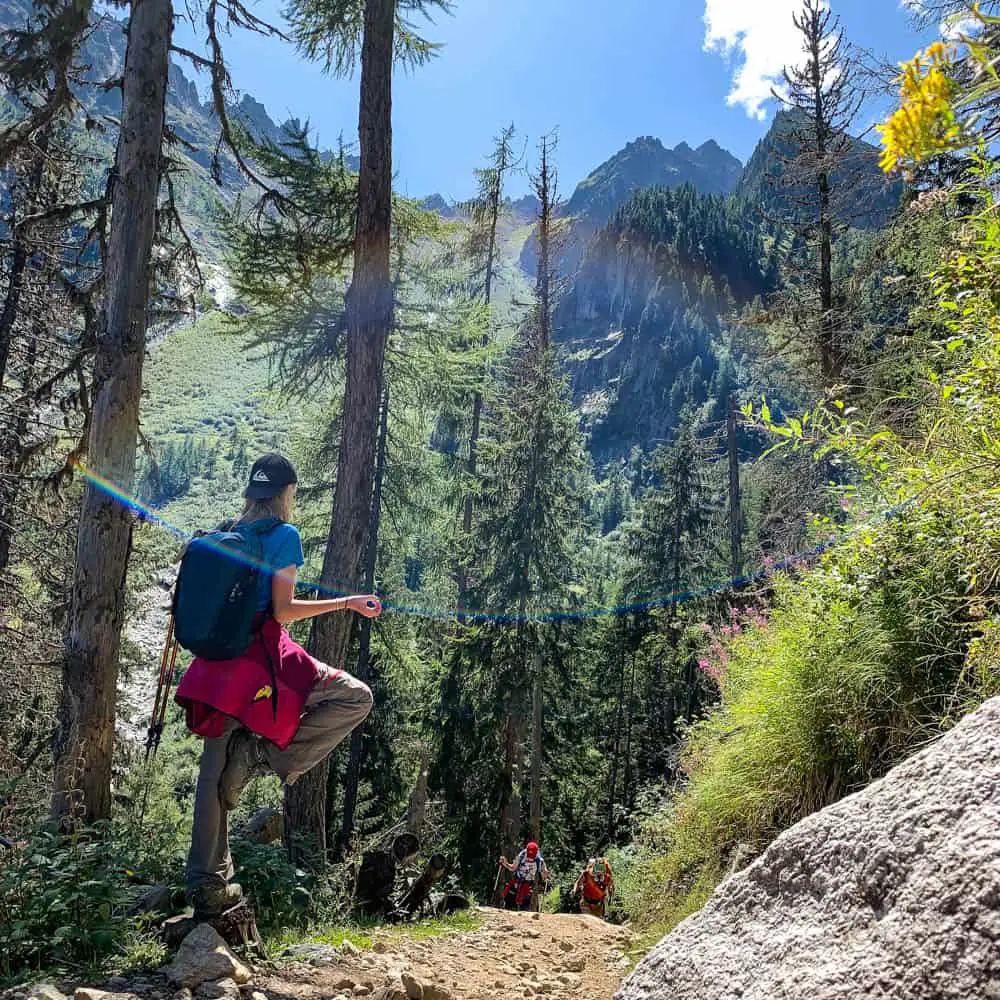 It's times like these when the resilience of kids kicks in.
Their energy is boundless and it's exactly when you think they will flag, that they will run on ahead and play.
Come on. You can do it. 
The 2.5 hours that it takes to climb the 647 metres of elevation goes on forever!
We end up knuckling down. The jokes and camaraderie wearing thin to silence, we revert quietly to our stamina reserves to push on through.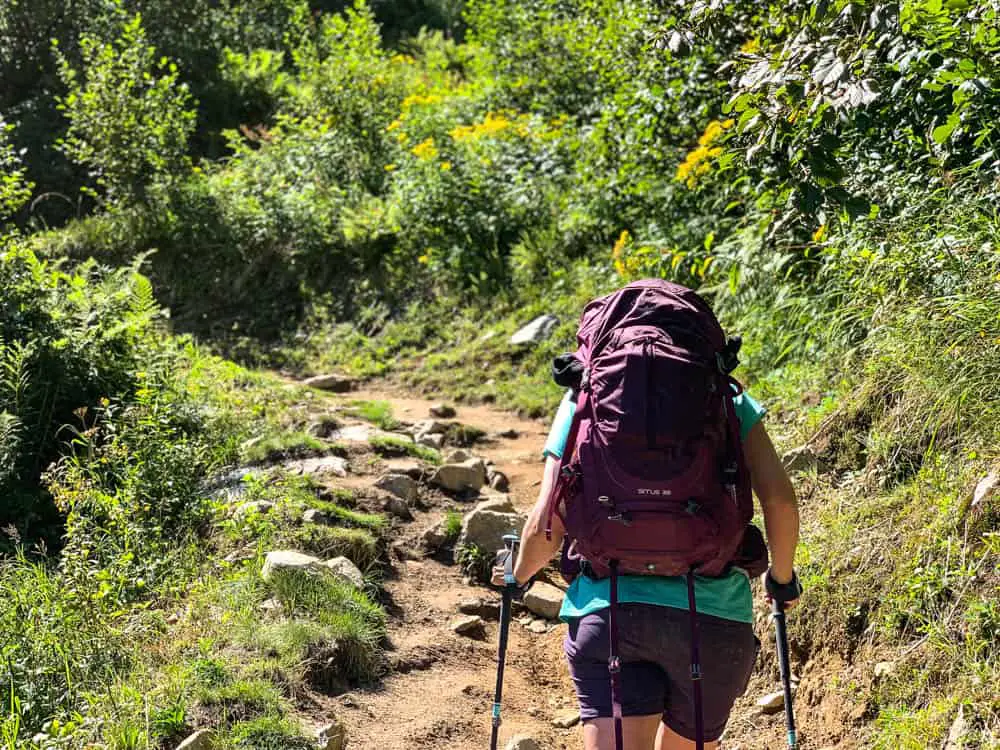 What I can say, is that – thank goodness I had an extremely comfortable rucksack! One of our top tips on trekking the Tour du Mont Blanc is to make sure you take a good, comfortable rucksack that is lightweight and has breathable back support. I trekked with an Osprey Sirrus 36 women backpack (above). You can read my review of this amazing backpack here. 
I can highly recommend it for those trekking the Tour du Mont Blanc without luggage transfers but who are not camping. A 36 litre is the perfect size for all the essentials, but without extra capacity to avoid overpacking – something that you must be extremely careful to avoid when trekking the Tour du Mont Blanc!
I've since become a gear ambassador for Osprey. And no this doesn't mean I get paid by them (I wish :)) and no I don't make commission either. Osprey are the best backpack brand out there. They stand behind their top quality products which are guarantee for LIFE!
Okay, back to the trail ……..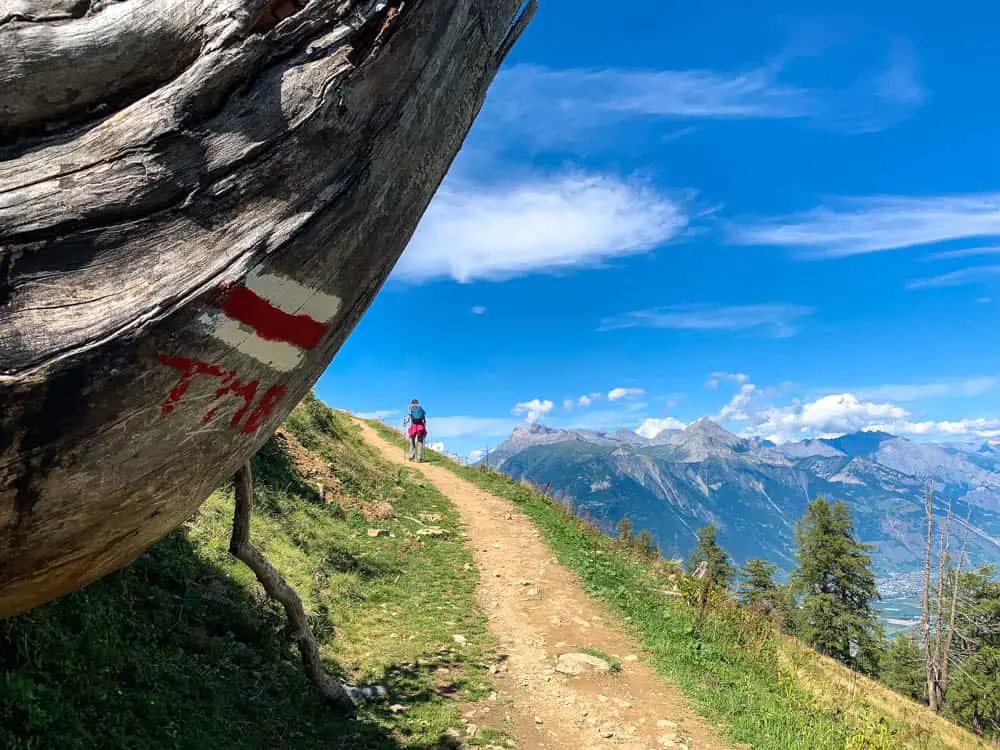 The trail finally levels off and as you round the last corner, you can see all the way down the  Rhône valley.
Look closely and you can see thousands of vineyards growing stubbornly on the steep flanks of the valley 1500m below, whilst the town of Martigny is sprawled along the valley floor.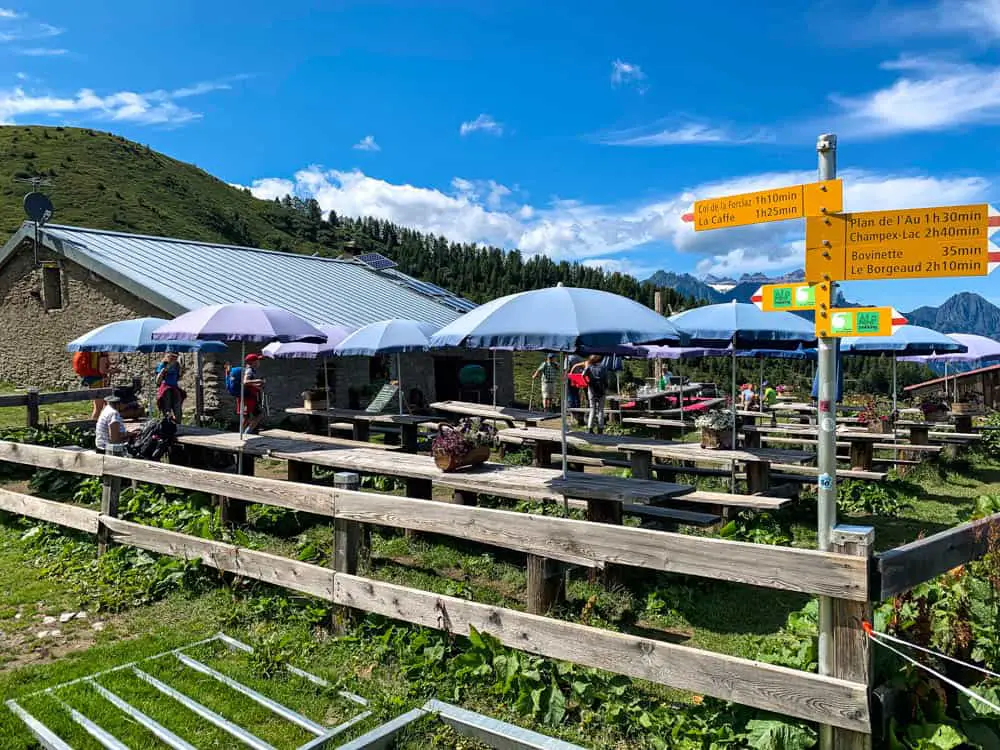 Relief is the most prominent emotion you'll feel when Alp Bovine finally comes into view.
This delightful buvette is family run and is only in operation in the summer months. The family take their dairy cows down the valley during winter and abandon the old farm stead to the winter snow  for 4-5 months.
The family are lovely and friendly and offers a limited menu of refreshments to Tour du Mont Blanc trekkers. We ate hearty mountain soup and cheese and cured ham platters, washed down with a refreshing cold beer.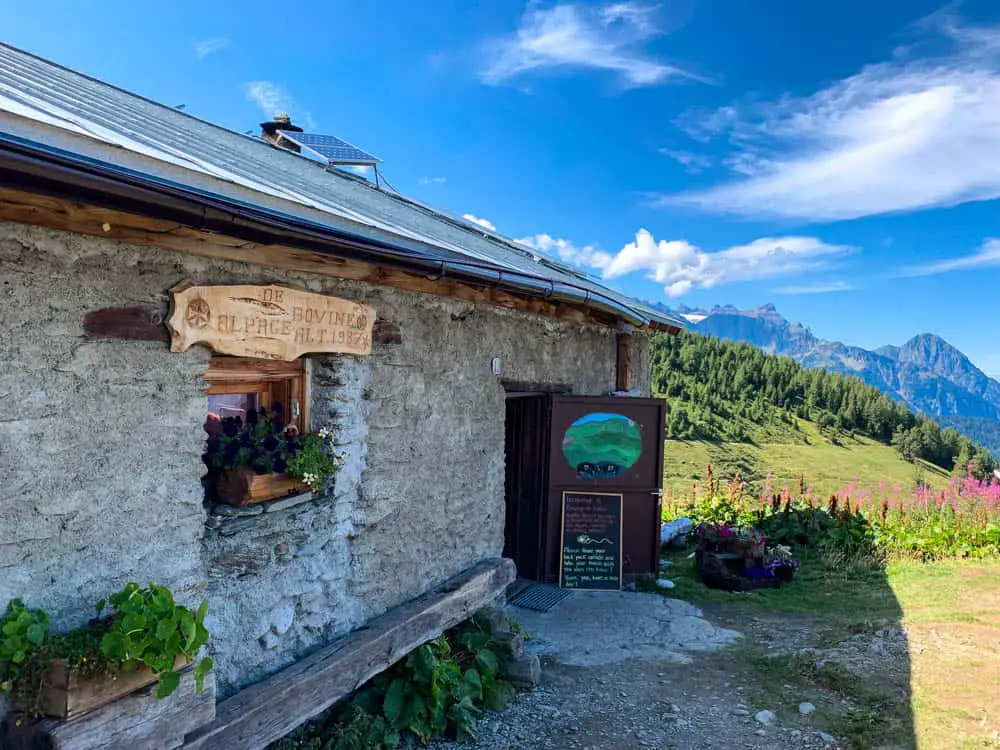 You won't want to leave Alp Bovine but keep an eye on the time. We ended up arriving in Trient late. Very late, in fact hikers were tucking into their main course when we sidled into the dinner hall with red faces at 7.30pm that night.
The trail from Alp Bovine goes up only for another 53 metres before contouring the mountain again and beginning the final descent to Col de la Forclaz. There's a small window through the foliage to peak as you hit this high (2040m) at Collet Portalo (below).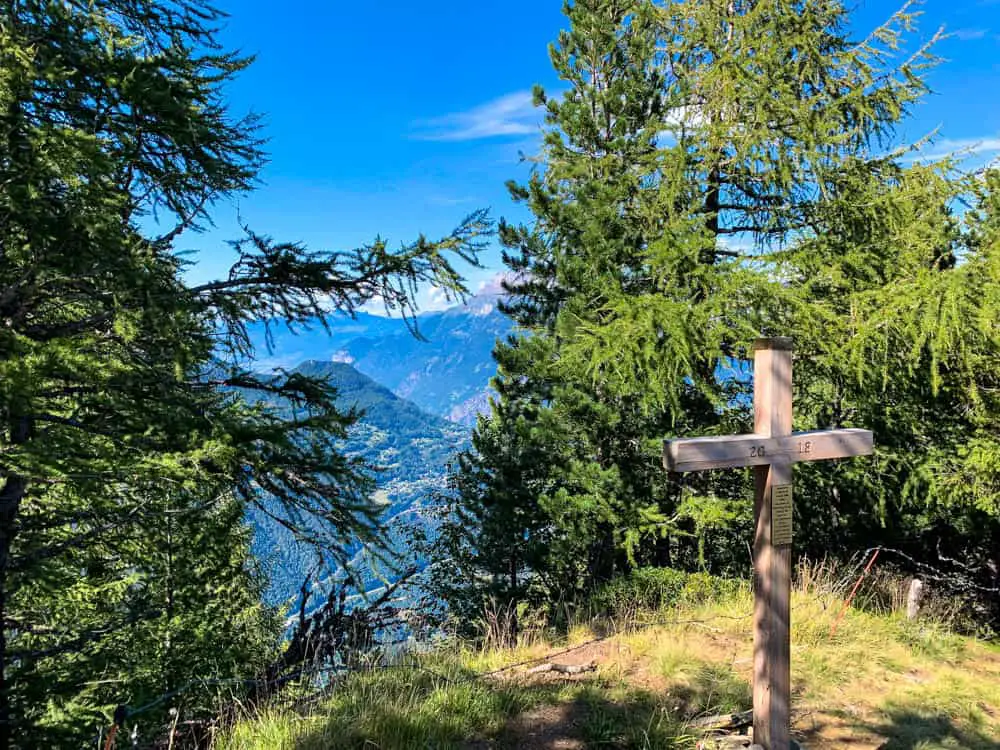 After going through the gate, it's a pleasant descent through the forest. It's wonderfully shady on some sections which is cool in the heat of the afternoon sun.
There are some glimpses down the Rhône valley between the trees and the path is steep in some sections so trekking poles are definitely needed.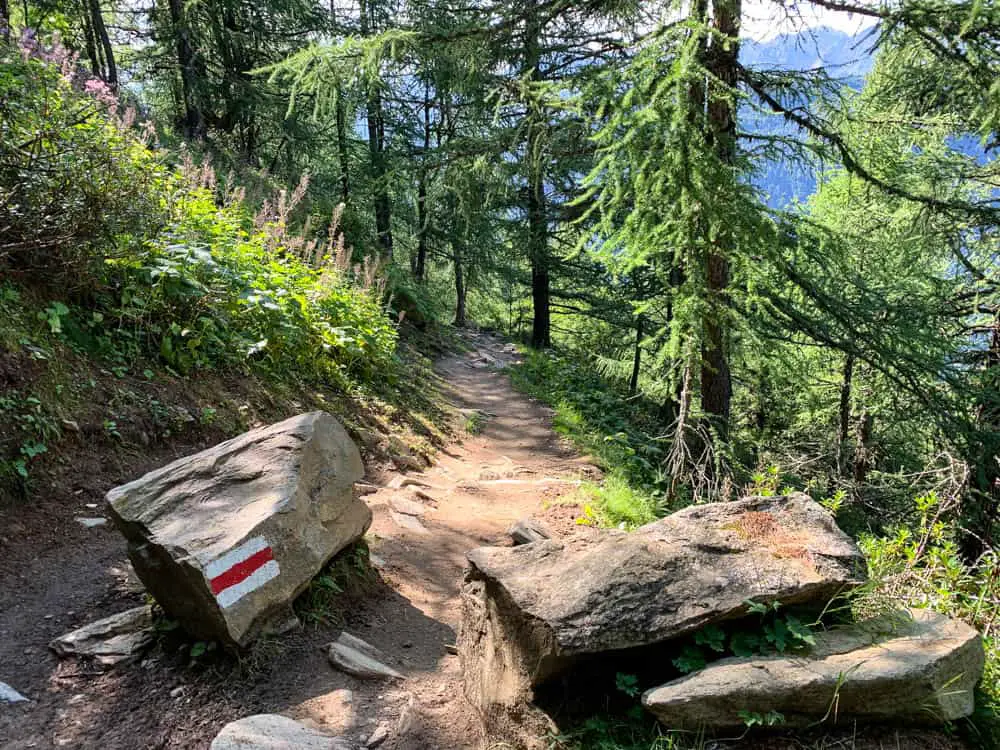 Finally the trail breaks out of the forest and into wide alpine pastures. There's a pleasant place to stop on some huge boulders under the shade of a tree.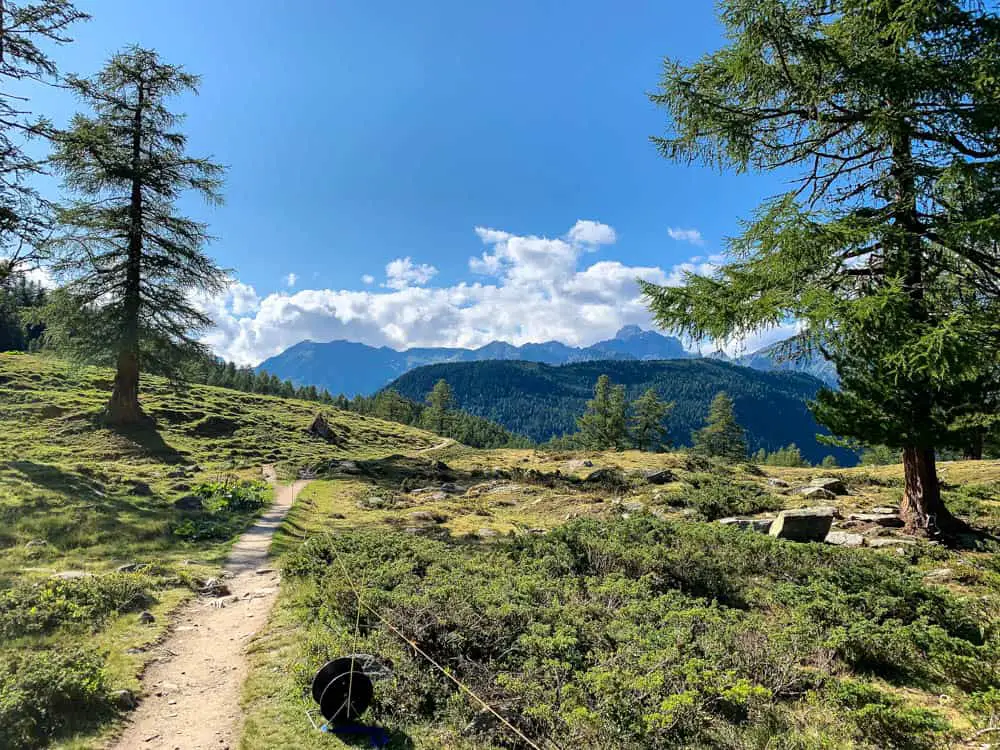 Finally you'll round a corner to the lowing of cows and the tinkle of bells and arrive immediately onto the top of the Col de la Forclaz.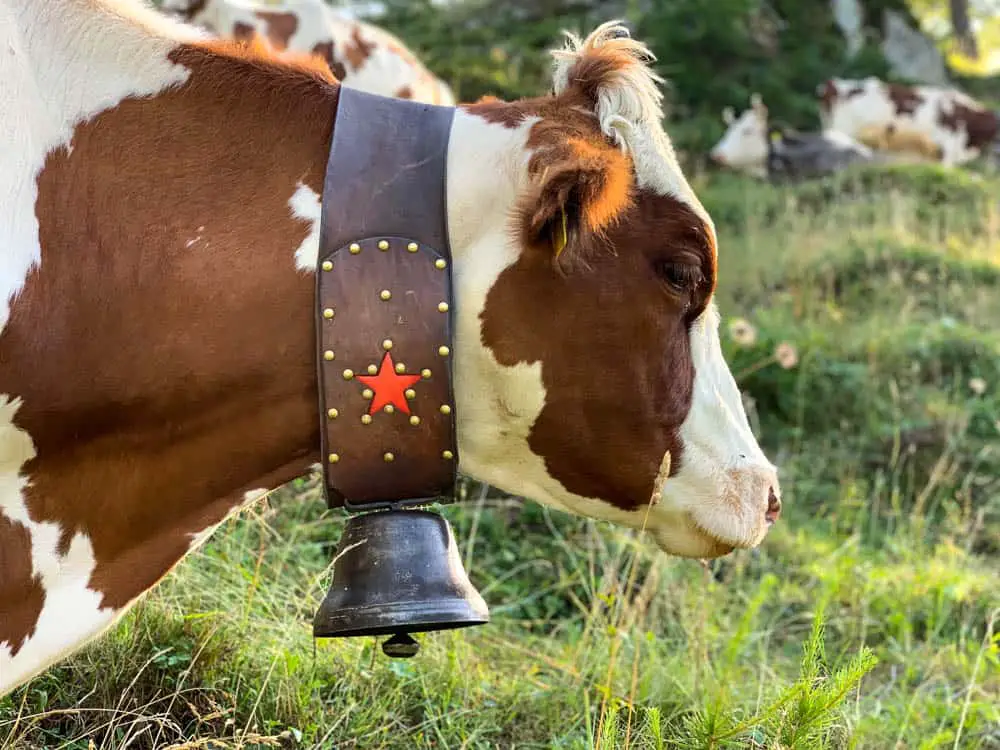 The Col de la Forclaz is dominated by the hotel perched on the bend in the road on top of this high mountain pass. I've heard it's a decent hotel. The only hotel at the Col de la Forclaz! Certainly it has some pleasant exterior seating to relax and sun yourself and reports from hikers we chatted to who stayed there, said their rooms and food were decent enough.
The views from the hotel aren't great as the hotel faces away from the Swiss valley.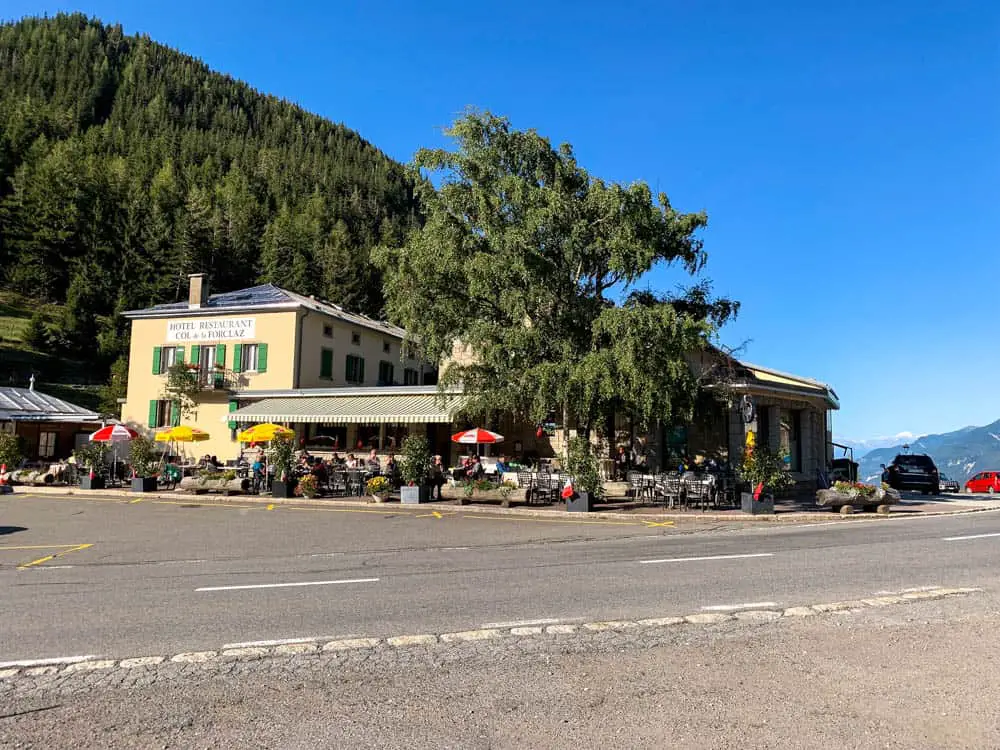 We arrive weary and irritable and discover the post bus timetable. We didn't know about this short cut in advance and believe you me, we would have set off earlier to have caught the last post van down the valley to Trient.
Why didn't we just stay at the Col de la Forclaz as the stage is described in the Trekking The Tour du Mont Blanc Cicerone guide by Kev Reynolds? Well, truth be told, living in Chamonix, we knew that the Col de la Forclaz isn't a particularly enchanting place – it's just a hotel perched on a hair pin bend on a mountain col with a busy road beside it. However, Trient isn't particularly scintillating either……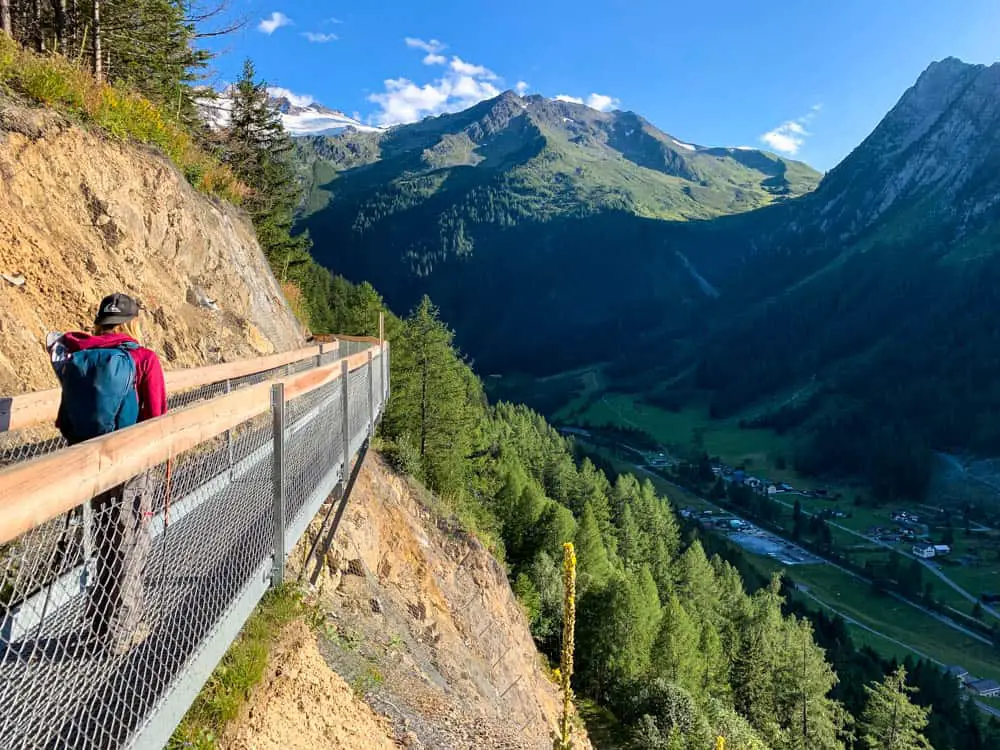 We are almost broken by this point, and, after having attempted hitching for 15 minutes, we tore ourselves away from the road and set out off on the trail again (sign posted to Chalet du Glacier and Le Peuty) descending through the forest and walk along a steel bridge hugging the bare rock in sections.
The trail descends steeply through a thick forest and pops out on a pedestrian bridge over the road.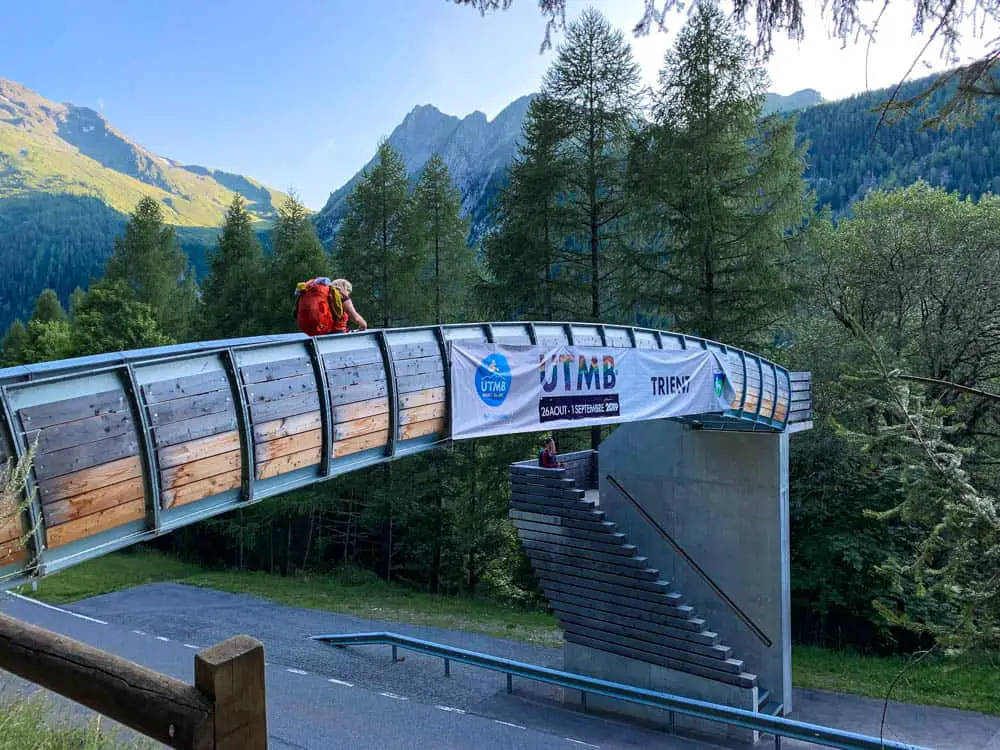 The trail continues through the forest to Trient and we end up hiking down a wide 4 x 4 track which is actually a luge run in the winter.
It leads us directly to the hamlet of Trient centered around a pretty pink church and a handful of accommodation.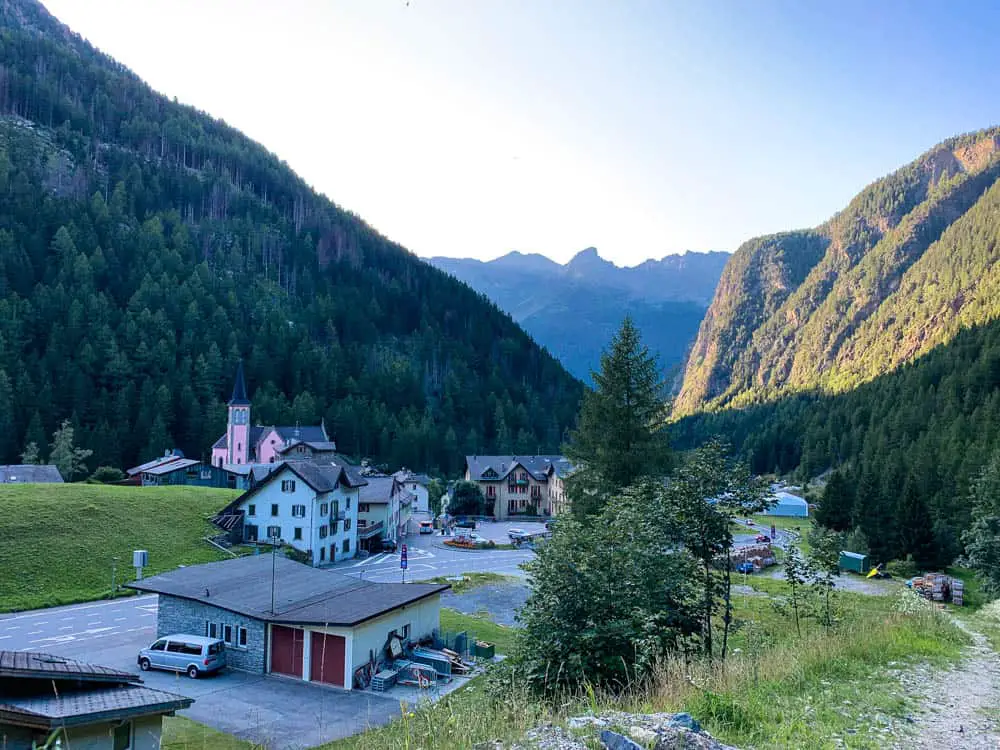 We had booked accommodation in the Hotel La Grande Ourse (The Big Bear) which is a large, very basic hotel. We rocked up at 7.30pm in the middle of dinner service to the clever comment of 'glad you could make it' from one idiot trekker…. 
We were exhausted and broken, having heavily underestimated the day's length. Be advised to set off early from Champex-Lac and do not drink rosé along the route 🙂
We paid 85CHF each to stay in a basic 4 bed room with no ensuite. Kids were given 15% discount only when I mentioned it stated it on the website. In all we paid 340CHF for 2 adults and 2 kids sharing. It's A LOT of money!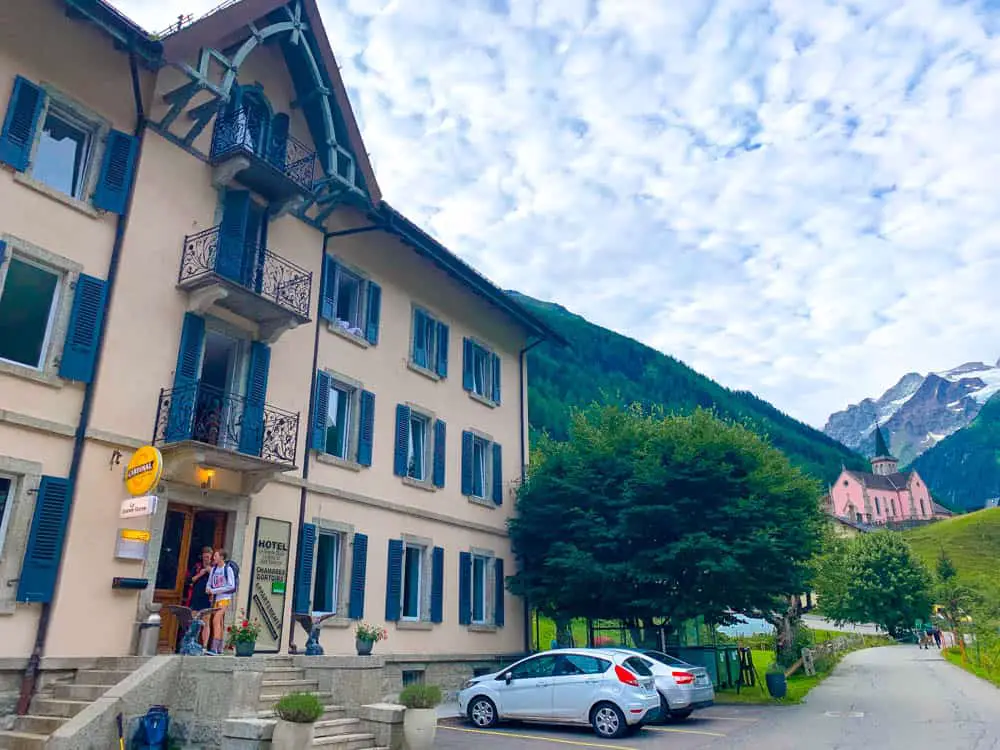 I'm not sure what the alternative is really on the Swiss side near Trient. There's a basic gîte, Refuge du Peuty in Le Peuty slap bang on the TMB route (Trient is actually 10 minutes or so from the TMB trail). Refuge du Peuty has 22 beds in one large dormitory, however the tariff is 65CHF half board so only fractionally cheaper. Camping is allowed on the opposite green for 20CHF per person (night only).
The only way to make the Swiss side of the Tour du Mont Blanc is to either make the stages per day longer (and therefore less night's to stay) or to miss a stage on the Swiss side. Whatever, hiking the Swiss section of the Tour du Mont Blanc is going to give you a hole in your wallet.
I would only hike the Swiss side of the Tour du Mont Blanc if you really want to complete the entire circuit of the Tour du Mont Blanc. For me, scenery wise it does not compare at all to the raw rugged terrain of the French and Italy sections. If you're looking for an inspirational, jaw dropping 6 day hike, then check our 6 day Tour du Mont Itinerary here.
Related TMB content
Read day 1 (stage 10) Tré-le-Champ to La Flégère
Read day 2 (stage 11)  La Flégère to Les Houches
Read day 3 (stage 1) Les Houches to Les Contamines (& onto Nant Borrant refuge)
Read day 4 (stage 2) Nant Borrant Refuge to Les Chapieux
Read day 5 (stage 3) Les Chapieux to Refugio Elisabetta
Read day 6 (stage 4)  Rifugio Elisabetta to Courmayeur
Read day 7 (stage 5) Courmayeur – Refugio Bonatti
Read day 8 (stage 6)  Refugio Bonatti – Ferret or La Fouly
Tour du Mont Blanc Packing List
Ultimate guide to your self guided Tour du Mont Blanc
Tour du Mont Blanc Refuges – the good, the bad & the ugly
Tour du Mont Blanc Difficulty? Transport options on the TMB
6 day Tour du Mont Blanc Itinerary (half circuit)