Are you a big hiking family? Maybe you're seasoned family trekkers planning your next great adventure, or perhaps you're new to multi-day hikes but keen for inspiration to do one with the kids? Read on to be inspired by 9 incredible treks around the world by professional travel bloggers who've embarked on epic long distance treks with their kids – family hiking just got serious!
11 amazing multi day treks
around the world with kids
Hiking with kids can, as we all know, be frustrating, wearisome and super slow! But put the time in discovering small adventures in your backyard and those little legs will become strong, steady and bold.
If you've never done a multi-day trek as a family, it can be a little daunting to wander off into the wilderness for days at a time. Don't worry. Take your time to find a trek that ticks all your boxes. Start small and work up to longer, more challenging treks. And for those with young kids, you don't have to necessarily wait until they're older – there are plenty of multi-day treks around the world where you can get a helping hand either through porters or mules.
These over night trails are packed with adventure, excitement and daring. Whether you've got older kids who can stomp all day, or whether you've still got little ones with tiny legs,  you'll find a trek below that will put fire in your belly and a thirst for adventure.
Happy hiking!
1. NEPAL
Trek: Poon Hill        

 

Length: 4 – 5 days

The Poon Hill trek in Nepal takes you right up into those jagged untouched peaks of the Himalayas, but is one of the relatively easy treks in the region. In fact we hiked Poon Hill with kids aged 2 and 4! Admittedly our boys didn't walk the entire way, as we hired porters to carry them in dokos (like baskets) when they got tired. But what we didn't have to worry about too much was altitude, as we were only above 3000 metres for a short amount of time, and we took it VERY slowly. Poon Hill itself is 3210m and many people complete the circuit trek in 4 days. However, we took 5 days.
There are A LOT of steps and barely any of the trek is 'flat'. I advise purchasing walking sticks and knee braces for the extra support. Along the way you stay at tea houses. Accommodation is basic and often heating only consists of a log burner in the common area. But the tea houses are always so welcoming, and nothing beats a chai with your feet in front of the fire after a day of strenuous hiking.
The best time to visit is October to November, when the passing of the monsoon season (June to September) brings crystal clear skies and the weather is still comfortably warm. Generally speaking though, it is advisable to plan your visit with the dry season (October to May).
Did you need to pre-book porters? Yes, we hired porters before we arrived in Kathmandu through Drift Nepal. I whatsapped him before we arrived, met up in KTM, and then met the porters the day before the hike in Pokhara who sorted all our permits. We took a jeep from Pokhara (about 2 hours) and got the jeep to take us as far up the track as possible.
How long did you need to book ahead ie the accommodation in tea houses? Just rock up at a teahouse. No need to book. We just followed the advice of our porters as to where to go – they were amazing. Plus, some days we went further, other days we stopped early. We needed the flexibility.  Generally it was 5 hours of hiking average each day, but we often made that into 9!
Jenny from Travelynn Family
2. NEW ZEALAND
Trek: Abel Tasman Coastal Track        Length: 4 – 5 days
The Abel Tasman National Park perched on the northern edge of the South Island is home to an epic 5 day trek along some of the most stunning coastline in New Zealand.
The Abel Tasman Coastal Track is the easiest of the 'Great Walks of New Zealand', so is perfect for trekking with kids. The track is maintained to a very high standard, there is no point higher than 200 metres and even heavy hiking boots are not necessary. 
Closed to vehicles, access is limited to foot, water taxi or kayak! It's a real adventure for families, however feels very safe with rangers at the huts, and the many water taxis zipping along the trail. Plus the trail itself is very busy.
Accommodation is in either in DOC huts or one of the 20 campsites dotted along the trail (book well in advance on the DOC website). Huts are basic with only washing facilities, sleeping platforms and drinking water – no electricity. All food & equipment needs to be carried in. Provision up in the town of Kaiteriteri, the gateway to the National Park, before setting off.
It's a long trail at 32 miles in length (although you can shorten it to 24 miles by finishing at Totaranui). But what's great for families is that you can easily catch water taxis (from $25) from hut to hut or even kayak some stages ($65 per day, minimum age 8). Water taxis will even drop off & collect your kayak from different points along the trail.
These transport options are brilliant for differing ages or mobility of family members. If you're happy to split up, older kids can hike the trail with one parent while younger ones which might be too small to manage the trail, can take a water taxi in with the other parent.
There is no permit required to complete a day walk or for entry into Abel Tasman National Park, however prices have doubled for international visitors from last year in a bid to combat overcrowding. This may make staying in huts (previously $32 a night) prohibitive for non NZ families where children, previously free, will now be charged $75, the same as adults. Campsite fees are now $30 each per night.
Tip: the trail can get choked up with summer crowds in January, particularly the first leg which is popular with day visitors. November is the perfect time to visit being slightly cooler & out of school holidays.
Mags from The Family Freestylers
3. AUSTRIA & ITALY
Trek: BERLIN HIGH TRAIL       Length: 4 days
The Berlin High Trail is a mulit-day hike of around 85 kilometres in the Zillertal Alps in Austria. It takes approximately 7 days to complete if you do it all in one go. However, the great thing about this trail is that you can break it up into shorter parts if you're doing it with kids. You can even leave out the longest or most difficult stages.
Why is it called the Berlin High Trail if it's in the Austrian Alps? Because the trail is named after the Berlin Hut, a very popular old mountain hut which is famous for its "grand" interior. I mean, there are chandeliers hanging from the 5-metre high dining hall ceiling!
The trail officially starts in Finkenberg, with the first overnight stop at the Gams Hut about 5 hours away. The next day's hiking leads to the Olperer Hut with its amazing views over the Schlegeis Dam. Experience hikers can choose to continue from here to Furtschaglhaus Lodge on the same day, but I'd recommend sleeping in the Olperer Hut if you're hiking with kids.
It's also possible to end your hike here by walking down to the dam and taking the bus back to Finkenberg from there. Otherwise, you'll continue to the Furtschaglhaus Lodge, then the Berliner Hut, the Greizer Hut, the Kasseler Hut, and the Karl von Edel Hut over the course of the next 5 days. The trail ends in Mayrhofen, the pretty "capital" of the Ziller Valley.
The Berlin High Trail isn't for novice family hikers, but it can definitely be done by kids from 10 years and older. Our son was 8 when he easily managed the Olperer Hut stage of the trail. However, everyone should be hiking fit.
The huts along the Berlin High Trail all offer great Tyrolean meals and comfortable beds, either in family rooms or dormitories. They are generally open from June to October, depending on the weather conditions.
Linda from Travel Tyrol
4.

PERU
Trek: Lares Trek       Length: 4 days

The Lares Trek, in the Cusco region of Peru is a fabulous multi day trek with kids. The reason?  For the Andes, it is relatively easy, with a number of options and also allows you to get in contact with the local people and culture.
We liked this trek with the kids because it is not the most spectacular scenery wise, but it offers more diversity. You can see alpacas, high mountain animals like the viscacha, people working in their fields and also play soccer with the locals.  Scenery wise there are thatched stone huts set amongst imposing mountains, and blue high mountain lakes. 
The classic Lares trek is 4 days starting in Huaran and finishing at the hot springs of Lares.  For little ones, there is the option of taking a horse along the trail ($10 a day and it came with a handler for another $15 a day), or you can do 2 days for a short taste of hiking with kids
Cusco is the base city, but the trek started in the mountains above Ollantaytambo. (you need transport from Ollantaytambo to the trailhead). We hiked for 3 days from the Patacancha valley through to the Lares Valley over two passes, both around 4400m (this is higher than the highest point of the Inca Trail, but the ascent is not so steep as you start the trek pretty high.) We camped and had our tents carried by horses/ mules. One night we stayed in local people's home, which was warmer than the tents. (It was below freezing). 
Tip: make sure you are fit, that you acclimatise really well (more than 3 days before departure) and prepare yourself for all weathers!
Was the trek easy to arrange? Did you need permits? 
Yes it was easy to arrange (I did it through friends) but there are lots of travel agencies in Cusco and in the Sacred Valley. No, you don't need permits. The only trek in Peru that needs permits is the Classic Inca Trail which sells out months in advance.  That is one of things that makes Lares far more practical.
5. JORDAN
Trek: Wadi Rum        Length: 4 days

Hiking in Wadi Rum is a highlight of any trip to Jordan. Exploring the Red Desert, the White Desert and the many natural and historic sites of this protected desert wilderness takes you back in time to a simpler more basic existence.
In our opinion the best way to experience Wadi Rum is to do a multi-day trek with a local Bedouin Guide. There is something magical about hiking through desolate desert landscapes by day and sleeping under the stars in a traditional Bedouin Camp by night.
Wadi Rum is a protected desert wilderness in southern Jordan. It is approximately 1 1/2 hours by car from Petra and 5 hours by car from Amman along the Desert Highway. Since this is a protected area, treks must be organized through a recognized tour operator. There are many different tour operators to choose from, but we chose to arrange a Pure Hiking Tour through a company called Bedouin Directions. No matter which company you choose, every tour starts at the Visitor Center where you must first purchase a ticket for 5JD. With ticket in hand you then drive through the check point to Rum Village where you will meet your guide.
Most hiking tours are a three day desert trek, but it can be tailored to suit your personal needs and abilities. The trek includes long and beautiful stretches of hiking through the Red and White Deserts while stopping at various natural wonders along the way. You are free to hike, and explore at your own pace while being led and accompanied by a Bedouin guide. Each day is approximately 15km of hiking, but it is broken up with stops at natural wonders including large sand dunes to run and play in, rock bridges formed by years of wind erosion, natural springs, and small canyons in the rock with ancient rock carvings. Our kids were 9 and 12 and were able to keep pace on this trek. 
The tour will include a personal guide, accommodation at the traditional Bedouin camp, packed lunches for hiking days, and breakfast and dinner at the camp. Traditional tea and water is also provided. We carried a small day bag with only the items we needed for the hike as well as the provided packed lunch. 
The magic of this trek is the combination of experiencing the traditional culture of the Bedouin people while enjoying the natural wonder that is the desert!
The tour company we used (Bedouin Directions) offered hiking tours, jeep tours and camel tours so I know they have access to camels. The tour was completely adaptable and can be tailored to suit your needs within certain parameters so I am sure this could be arranged!  It would alter the price though
.
The hiking tour was by far the most economical choice. At the time we went (Dec. 2018), the cost for one adult was 45JD (Jordanian Dinar) per night and one child was 40JD per night. So a nightly total for a family of 4 was 170 JD (approx. $240 US per night). This included private guide, all meals, tea and water and accomodation. The total cost would depend on how many nights you decided to do the trek. 
Gina from The Driftwoods Family
6. BORNEO
Trek: Mount Kinabalu     Length: 2 days
Mount Kinabalu, in Borneo sits at a lofty elevation of 4095m and boasts to be the highest peak in SE Asia. It's a two day trek to reach the summit and is one of the 'easiest' 4000m peaks in the world, being extremely accessible with no mountaineering skills necessary to make the climb.
Make no mistake though, the climb is tough and anyone that says otherwise is lying. It will also take a big chunk out of your wallet – we paid $400 EACH to make the climb, this includes permits, a porter and an over night stay at a hut before summiting at 2am the following morning. 
Children can do the climb but recommendations are that they are over 10 years old, although some porters told us they'd carried children as young as five.  Setting off from the Mt Kinabalu Park headquarters at 1563m, every single step is uphill! It's a 6 hour hike in sweltering temperatures (with 98% humidity) on the first day through dense jungle to reach the huts at 3289m, where you will rest your weary head for a few hours. The 2.00am start is brutal with cold, windy conditions to deal with on the ascent to the summit. Hikers have to make the last check point before 5.30am to be able to summit, before a knee wrenching 8 hour hike back down to base.
It's also possible to do one of the world's highest via ferratas at the top. It's a good way to bag permits if there are none left as the via ferrata group stays in a different hut to in the main Pendant Hut, which have a certain amount of permits allocated.
My 10 year TOTALLY wanted to do the via ferrata. In fact, it was this, rather than hiking the mountain, that drove her on during the challenging sections. 
Warning: the elevation is high and altitude sickness is a real possibility towards the summit. There is also no refund in the case of a non-summit due to bad weather. This trek is not for the faint hearted. Serious hiking families only!
Mags from The Family Freestylers
7. MYANMAR
Trek: Kalaw – Inle Lake        Length: 2-3 days
One of the most common treks in Myanmar is the 3-day trek from Kalaw to Inle Lake. Not wanting to follow the path-well-trodden, we chose instead to do a 2-day village trek starting and ending in Kalaw.
This turned out to be a good decision because there are numerous trekking options and we were extremely unlikely to see any other tourists along the route. The scenery is a mix of small villages and rolling hills with patchwork farmer's fields. Along the side of the roads were numerous flowers, plants and insects. One of the new plants we found, and the kid's favourite, was a plant with leaves that closed when touched. It quickly became a game to find these little "don't-touch-me" plants (named by the kids, not their actual name!!).
The trekking is relatively easy, as the paths are infrequently used gravel roads, and it's also possible to pick up lifts by passing vehicles. The hills gently slope and the terrain is perfect for little legs. making the trek as short or as long as you wish. We chose to trek approximately 5km each way, taking 2-3 hours both days with the kids. This allowed for a lot of time to explore the village the afternoon we arrived and the following morning before leaving.
The best part of this trek was the overnight homestay. We had the opportunity to wander around a small village and observe every-day life without any visible effects of over-tourism. The family we stayed with made us a traditional dinner, and we ate in the raised bamboo hut by candlelight. It was such an incredible experience for both the adults and kids.
Before you go, know that the homestay is very rustic, with no electricity. Be sure to bring headlamps and some biodegradable toilet paper with you, as well as a powerbank if you'll need to charge your phone.
Kyla from Where Is The World
8. CHINA
Trek: Leaping Tiger Gorge        Length: 2-3 days
The Tiger Leaping Gorge is a magnificent place in China for a 2-day hike and a must add-on to any Yunnan itinerary. It's located on the border between the Yunnan province and the Shangri-La province and perfect to do with kids as altitude gain is just 300-400 meters. Do keep in mind that you're hiking at 2700-2900 meters so make sure you're used to the altitude to avoid altitude sickness. Allow 6 hours hike time each day, which is plenty to complete the hike there & back in two days.
The nearest larger city is Lijiang which is the best starting point. It takes approximate 2 hours by car to get to the Tiger Leaping Gorge ticket office in Qiaotou. Make sure to have a quick look at the river below where legend says a tiger jumped the river. After a short visit have the car drop you at the trailhead to start the hike to Halfway Guesthouse. Do carry light snacks and water for 5-7 hours but it's no need to carry for the next day too. You can resupply at Halfway Guesthouse, where you will stay the night. It's basic but very clean and they serve delicious food!
The scenery you'll encounter during the Tiger Leaping Gorge hike is beautiful. Opposite the valley you'll see Snow Dragon Mountain in a distance, which is worth climbing too. Goats might follow you for a while which is quite amusing. You might run into a farmer and other locals but don't expect any English. Just say "Ni Hao" and you'll get a smile for sure. At certain points the path is narrow with a steep cliff hundreds of meters down. It's not dangerous but just be sure to not slip. Tiger Leaping Gorge is one of the deepest gorges in the world and you will love the scenery!
Tip:  I'd advise pre-booking the guesthouse (available on many websites) 
Chris from Chris Travel Blog
9. NEW ZEALAND
Trek: Waikaremoana       Length: 4 days
The track is 46 kilometres all up and the terrain is mainly undulating forest track
Waikaremoana Great Walk is a 4 day trek around Lake Waikaremoana. My 12 year old, Joe, and I have made a 'great walk challenge' and intend to tick off all the Great Walks in New Zealand. This was our first and it was a fabulous one to start with. As this is a Great Walk, you will need to book your accommodation early. There are several campsites around the lake or you can opt to stay in one of the backcountry huts. We opted for huts so we didn't have to lug tents up and down the hills.
The hike itself is jaw droppingly stunning. Located in remote New Zealand, the nearest city, Rotorua, is over an hour away, it feels like you have stepped back in time before civilization took over. Waikaremoana is a fantastic multi-day trek to take children on. The days are not too long, averaging between 4 and 6 hours per day while still providing ample variety and spectacular views.
Start at Onepoto and climb up to Panekiri hut to view the expanse of the great lake and what you have still yet to conquer. Native bush covers the land contrasting the turquoise blue. Subsequent days undulated along the lakeside. Swing bridges provide a great opportunity to try and knock the adults off balance and Korokoro Falls gave a chance to jump from rock to rock across the creek up to the massive waterfall.
One section of the track is closed due to a recent storm but when you organise the transport shuttle to and from the start and end of the track, they will also organise a water taxi for you at the same time. This was a bonus for my 12 year old as this was his first boat ride.
We both thoroughly enjoyed this multi-day trek and my son is already planning our next one.
Jem from That Kiwi Hiker
10. FRANCE, ITALY & SWITZERLAND
Trek: Tour du Mont Blanc       Length: 11 days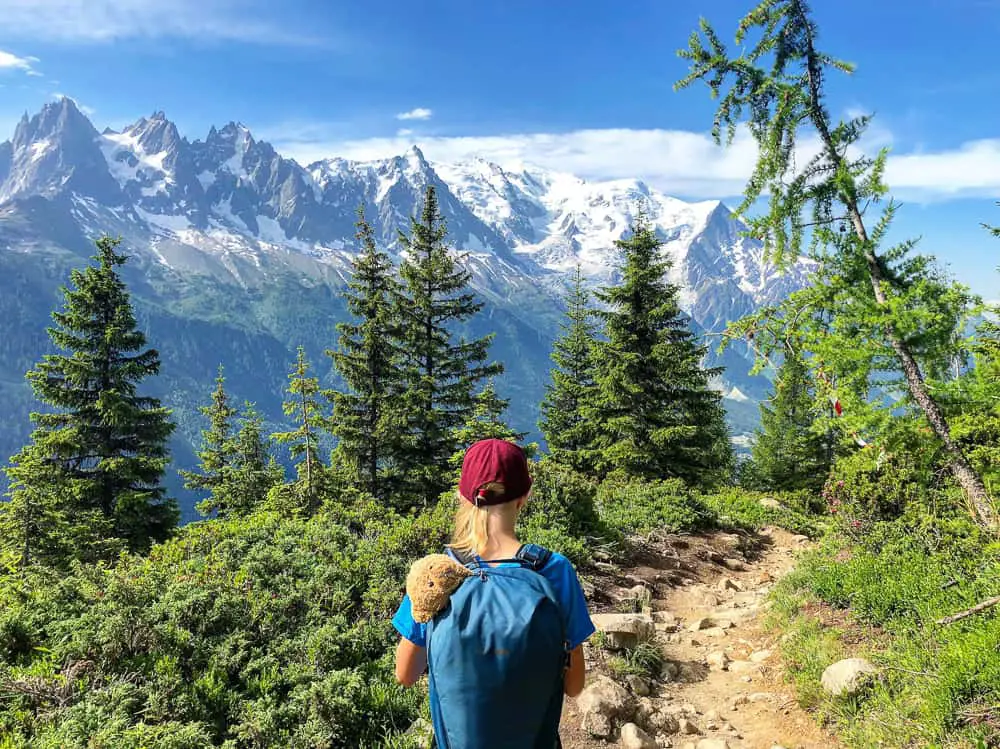 The Tour du Mont Blanc is one of the world's classic high altitude multi-day treks which circles Mont Blanc, the highest mountain in Western Europe and goes through three countries – France, Italy and Switzerland.
This famous 170km (105 miles) trek boasts magnificent alpine scenery with breathtaking views over the snowcapped Alps. The trek is difficult in places with an accumulated height gain and loss of approximately 10,000m climbing over 10 mountain cols (mountain passes) and descending into seven valley floors. The elevation climbed over the entire route is higher than climbing Everest!
Accommodation is either in hotels and B&B's in the valleys, and more excitingly, in high altitude mountain huts (refuges).
The entire hike is normally undertaken in 11-12 days but many people choose to hike half one year and half the next, cutting the circuit into more manageable one week chunks that fit more practically into their schedule.
The Tour du Mont Blanc is a challenging trek so it's advised that children should be at least 10 years old before embarking with their parents. The days are long and the elevation strenuous. That said, there are a number of public transport options to shorten many of the days, from shuttle buses to cable cars and chair lifts. Expect to hike between 7-10 hours each day if you're hiking with kids. 
To read more about our family hiking experience of the Tour du Mont Blanc, read our full guide here.
Mags from The Family Freestylers
11. USA
Trek: Havasupai      Length: 3 days
If you're from the States or are well-versed on famous hikes across the globe, you might know of one situated in the Southwestern corner of the U.S., just outside of the South Rim of the Grand Canyon in Arizona. Named Havasupai, this hike is one of epic proportions and should be added to your bucketlist. Picture a desert oasis of stunning red rock canyons (such as though pictured in the Grand Canyon), accentuated with turquoise waterfalls and creeks and lush greenery dotting the landscape. It is truly a sight to behold! Havasuapai isn't exactly super accessible, nor easy to score permits for, but this hike is more than well worth the effort in getting here.
To get to Havasupai, the closest big city from the trail head is Las Vegas, and then it's a 4 hour drive south before you make it the trailhead. It is best to sleep at a hotel at the nearest town, Peach Springs, or better yet, camp at the parking lot the night before so you can get an early start on the trail the next day. If you're hiking in the hotter months (April-October), you might even consider starting your hike in the middle of the night to avoid the middle of the day heat. This trek takes you 8 miles from the trailhead to the Havasupai village where you pick up your permit (secured ahead of time), and then hike an additional 2 miles to the campground where you set up camp. There are also lodging options in the village if backpacking/camping isn't your style.
With new rules and regulations as of 2019, not only is it required that you get your permit ahead of time (permits open Feb 1 of each year), you also must stay TWO nights now. Staying two or even three nights will give you the best experience too–you won't feel rushed, and you will also have a day or two in between to enjoy the amazing waterfalls of Havasupai–Havasu Falls, Mooney Falls, 50 Foot Falls and Navajo Falls are the main ones. If you are up for an extra adventure, consider hiking to Beaver Falls, an additional 6 mile round trip from Mooney Falls and even farther, you can hike to the Confluence, where Havasu Creek meets the Grand Canyon. Well worth the extra mileage!
This hike can be done with kids, however, we recommend if you want a more enjoyable experience to go with older kids or kids that are very experienced at hiking longer treks. For all our tips, info on the hike, sample itineraries, and packing list for this hike, go to our blog post on The Ultimate Guide to Hiking Havasupai With Kids. 
Christina from Adventure Together