New Zealand with young children can be tricky if you're eager to do some serious stomping. Most trails are just too hardcore for little ones, and the landscape is often not varied enough – crucial to keep interest and banish boredom.
Whilst there is plenty to do on the North Island of New Zealand, we spent most of our time travelling with our girls, then 3 and 6 years old. around the South Island in a loop from Christchurch, up to Abel Tasman and back down the West coast and then hanging out in Wanaka and Queenstown. There are loads of amazing hikes on NZ's South Island and hiking the Abel Tasman was one of the highlights of our trip. With it's flexible transport options, it was a great choice for us with such young children.
If you're in New Zealand with tweens or tweens the Abel Tasman is perfect. Also you might want to consider the Central Otago Rail Trail ride, an iconic NZ cycle trip.
The Abel Tasman hike
The Abel Tasman hike is a multi-day coastal trek that offers plenty of adventure and more importantly several transport options to help families complete it with kids.
Abel Tasman National Park
Abel Tasman National Park perched at the northern edge of the South Island, is the smallest of NZ's national parks but brilliant for kids. Not limited to purely hiking the coastal trail, families can mix it up by catching water taxis and kayaking different sections of the 5 day trail.
Surrounded by turquoise water, golden sands and verdant rain forest, four remote huts offer simple dorm accommodation. With no electricity, these huts are a real adventure for families who can get back to basics and really connect with nature, whilst having a safe option 'out' via water taxis should it all become too much.
The Abel Tasman Coast Track is one of the easiest trails in New Zealand so a great option for families (we also recommend the Hooker Valley Track in Mount Cook National Park). The Abel Tasman track is maintained to a very high standard, there is no point higher than 200 metres and even heavy hiking boots are not necessary. Tick, tick, tick as far as children go.
Closed to vehicles, access is either on foot or by boat, which seriously ticks the adventure box too.

>>>>> – – – – – – >>>>> – – – – – >>>>> – – – – – >>>>> – – – – – – >>>>> – – – – – >>>>> – – – – –
In the market for some new hiking boots?
Read my review on these gorgeous Danner hiking boots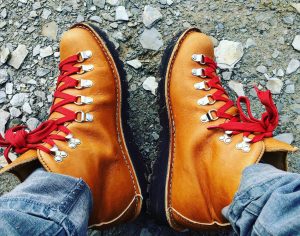 >>>>> – – – – – – >>>>> – – – – – >>>>> – – – – – >>>>> – – – – – – >>>>> – – – – – >>>>> – – – – –
Kaiteriteri – the gateway to the Abel Tasman hike
Kaiteriteri, a tiny town on the fringe is the Park's gateway. This is the place to provision and bed down for a good night's sleep before heading off. Burgeoning with commercial trekking and adventure operators, whatever you're after, book it here before leaving. It's also the start point for the water taxis. A mere 10 minute drive to the start of the trail at Marahau and you're set to go.  Inaccessible for horses, it's impossible to ride part of the trail on horseback but you can book with a number of operators for spectacular beach rides here at Marahau.
How long is the Abel Tasman hike?
The full trail is 51km (32 miles) finishing officially at Wainui, although many visitors cut the last section short and finish at beautiful Totaranui (38 kms/24 miles). Here the only other access road winds in through the hills turning Totaranui into a viable start point to walk the reverse direction and home to a surprisingly large campsite. Most trekkers take 5 days to complete the trail and stay in one of the four huts or in the twenty campsites dotted along the route.
ALL equipment & food need to be carried in – even if you're booked into a hut, nothing is provided other than drinking water and washing facilities. The huts are super basic, bunks mere platforms with mattresses and there's no electricity or cooking equipment, so pare down kit to essentials.
We had hoped to kayak one section and were gutted to hear that our girls were too young, even if we were experienced kayakers. Most bays and lagoons are beautifully sheltered but it is open water and tidal, so whilst disappointed, I understand the restriction. The minimum age is 6 for day beach paddling and at least 8 for completing any hut legs, so we've a few years before we can go with this option but will look forward to setting this challenge another time, and a great way for families with older children to cover some of the trail.
Abel Tasman water taxi
Bo, now 7 years old (but only 3 when we did this trek), has mild cerebral palsy which affects her legs. She can't walk distances her peers would easily and tires earlier – an obstacle I'm keen to override when possible with other transport options. That's why, for us, the water taxis come into their own.
From $25 upwards you can zip via aqua taxi from point to point on the trail. The great thing about the Abel Tasman water taxis means flexibility – you can chop and change your plans if you inadvertently bite off more than you can chew, or if you don't relish lugging your equipment along for the ride and don't mind splitting your group. I'm the trekking enthusiast and after discussing the trail sections with a ranger at the DOC, we decided that even though the first day was a relatively easy flat section, (four hours for an adult to trek) it was possibly too much for us to do as a family. We ended up booking my other half and the girls onto a water taxi (with all the kit!) which would take them round to the first hut.  
Travelling as a family is all about compromise. The girls were, it turns out, a little bit too young for this trail, but with the water taxis, the adventure of staying in the remote huts is completely doable for a family.
Whilst they happily bump over the turquoise sea to the first hut, taking in the famous Split Apple Rock (above) on the way – I'm on the trail, getting my fix.
The beach at Anchorage is stunning – an expanse of gold, fringed with lush rainforest. The girls excitedly explore the beach & rock formations while they wait for me to trek in.
The track starts through open country leading into beech forests with large kanuka trees. Wide without difficulty, the trail hugs the coastline and allows me spectacular views out to sea between giant dense foliage.  I trot along happily drinking in the tranquility and peace of the lush rainforest as the trail turns inland dipping up and down through gullies. Huge tree ferns stretch out round every bend and I'm constantly amazed by the sheer enormity of New Zealand's fauna.
The trail can get choked up with summer crowds in January, particularly the first leg which is popular with day visitors, but we've come in November so the trail is relatively quiet. Whilst we chose not to walk the trail with the girls, older children would easily enjoy it and I met plenty of other families of all nationalities winding round the bends.
The Anchorage 34 bunk hut is brand spanking new, nestled right in on the beach.
It's the busiest point of the trail being so accessible for day-trippers and school children. Having recently been entirely re-built – its polished metal gleams in the sunshine. As the last water taxi picks up lingering day tourists, the beach falls quiet and it's now that you realize what a piece of paradise this is.
It's Spring and so as the sun disappears and crisp darkness falls, the adventure ramps up a notch as everyone hunkers down in front of the fire while late-in trekkers fumble with gas stoves.
There's a real sense of togetherness and the girls chat animatedly to other hikers recounting their NZ stories. I'm proud of them.
We might not have hiked the trail as a family but there's something so special about beginning "off grid" – inaccessible by road, a real thrill and I can tell they are exhilarated by it.
---
The next day we wake early and pad down onto the sand. Abel Tasman is, quite simply, one of the most beautiful places I have ever been to. It definitely one of the most unforgettable things to do in New Zealand. The trail beckons so it's time to don my trainers, fill my water bottle, and find the opening on the far side of the beach heading up and over to Bark Bay. I turn to wave, as I leave three little figures at the end of the beach, their hands wave furiously in return. As I trek this incredible stretch of coastline, they'll pack up their kit, swim in that ever so azur ocean, and then hop on another water taxi to the next hut, happy as Larry. What a fantastic way to discover some of NZ's prime tramping ground, even with a young family. We will, I promise, be back.
COST OF HIKING THE ABEL TASMAN TRAIL 
There is no permit required to complete a day walk or for entry into Abel Tasman National Park.
To book visit: https://booking.doc.govt.nz/
DOC Hut: $32 per adult per night. Children under 17 free. Booking essential.
Camping: $14 per adult per night. Children under 17 free. Booking essential.
KAYAK: $65 a day each. Water taxis can drop off & collect your kayak at different legs on the trail.
For more information contact www.freedomrentals.co.nz
TIPS ON THE ABEL TASMAN HIKE
1. PLAN YOUR TRIP – consult a tide timetable as the Awaroa estuary area on the track is only passable at low tide
2. TELL SOMEONE – as always inform the wardens and a relative or friend before heading into the park.
3. BE AWARE OF THE WEATHER – the climate is mild with sea breezes. Average rainfall is 1800mm annually so make sure you have quick drying clothes & a couple of spares for kids. Wet kids for prolonged periods is no joy.
4. KNOW YOUR LIMITS – chat to the wardens before heading into the park. Make sure that your kids are able to hike the distances and if not book water taxis. Take a water taxi timetable & a map and make sure you know the drop off/pick up points – you can pick up the taxis when in the park without booking if they have space, which is often.
5. TAKE SUFFICIENT SUPPLIES
Cookers and lighting are not provided. Take provisions to boil/purify water in case there's a problem with the Hut's filters. Take medication such as antihistamines with you if you are allergic to stings. Take insect repellent – NZ is renowned for it's sandflies.
Save
Save
Save