Looking for a pair of ultralight hiking shorts, that are quick drying and oober comfy? Look no more. During our recent epic Tour du Mont Blanc trek I put the Rab Womens Helix Shorts (£50.00) to the test and boy did they perform.
Review: Rab Womens Helix Short
Product description: 
The Women's Helix Short is a light-weight, quick drying and stretch fit short, designed for general outdoor and climbing use in warm conditions. The Matrix SWS™ fabric is light-weight and quick drying, and also has a high wicking treatment applied. The Women's Helix Shorts feature 2 open hand pockets and 2 open rear pockets for all your summer essentials, and also offer 35+ UPF protection.
Rab is synonymous with serious high quality outdoor kit, based on a climbing and expedition heritage started over 30 years ago, so I was super stoked to be able to review these gorgeous Rab plum coloured hiking slash climbing shorts on the Tour du Mont Blanc.
Comfort
If you're a serious hiker, you'll know the TMB is no easy feat, with long days walking between remote mountain refuges (we averaged 7 hrs a day). Hiking shorts needed to be comfortable full stop. I did a few trial runs in these shorts during my training hikes beforehand (just to make sure!) and was delighted at how comfortable they were. Rab use a  lightweight Matric SWS single weave stretch fabric (93% nylon, 7% elastane) and with the regular fit, these Helix shorts allow freedom of movement, while keeping you cool in warmer weather. 
Quick-drying and lightweight
All of our kit on the TMB was stuffed in our backpacks and carried along every single kilometre of the trail. It was crucial therefore that every single piece of carefully chosen kit was lightweight and packed up small.  And with the risk of unpredictable high mountain rain showers or storms, our kit needed to be waterproof or quick drying. This wasn't a problem for the Helix Shorts at 120g – super quick drying and packing up tiny. In reality though they rarely left my side (!) Becoming my definite go to shorts, I wore the Helix every day (preferring to wash them out overnight if needed, rather than wear my spare pair). Yep – that good!
Regular fit
The helix shorts come as a regular fit. They are the perfect mid length shorts – not too short and not too long. The shorts are a snug, slim fit – fitted but roomy enough to move around easily without being baggy. The double snap waistband closure is quick and easy to use and comfy against skin. These shorts have convenient belt loops so you prefer a bigger fit, I'd recommend the next size up and adding a belt.
Pocket wise these shorts are full of them. Two open front pockets, big enough to warm your hands in or to store your phone for easy access. On the rear, another two open patch pockets keep essentials handy when on the move. The only feature I think these shorts lack is a zipper pocket for added security but it's certainly not a deal breaker!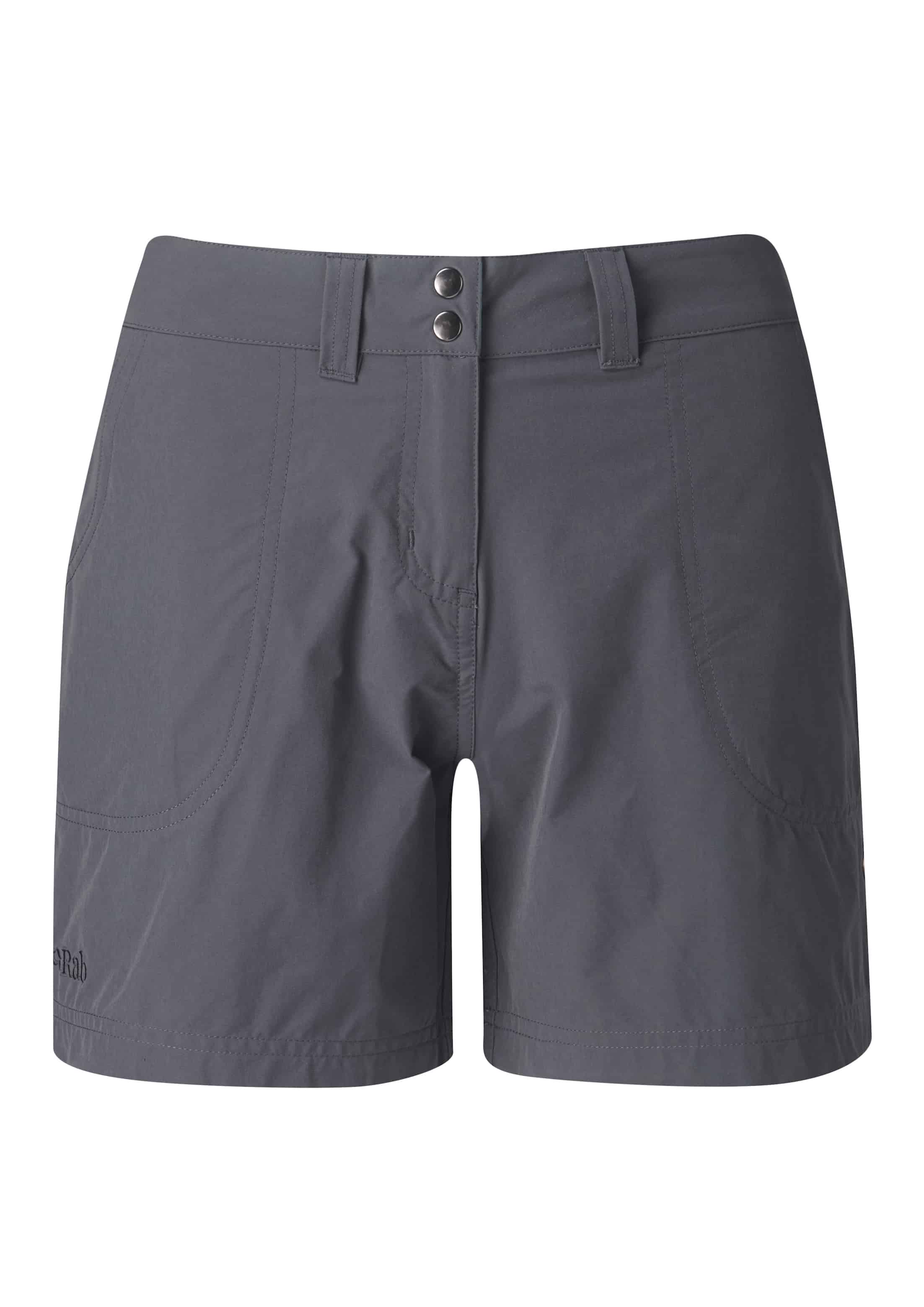 Verdict
I love these Rab Helix womens shorts! Perfect for summer hiking or climbing yet comfy (& stylish) enough just to chill out in the sun with a beer! Available in light grey or fig (I'm in love with this purple shade!) they are a fantastic addition to any adventuring woman's wardrobe. I'd be inclined to get both pairs – trust me you're going to love them!