Via Ferrata Chamonix
Climbers flock to Chamonix to push their limits on some of the world's best climbing routes. So it's of little surprise then that the valley holds very few via ferratas routes.  Via Ferratas (Italian for 'iron path') are protected climbing routes with a steel cable that allows the relatively inexperienced to ascend to some serious heights and thrills, by clipping in securely every step of the way.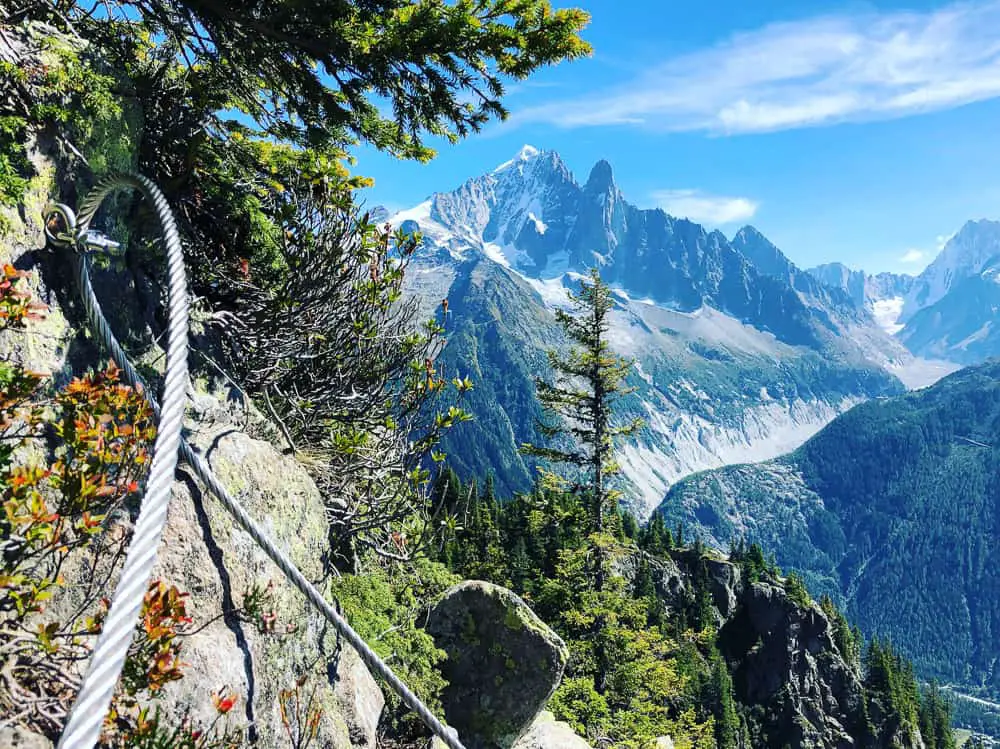 Via Ferratas are great for adventurous families and can give kids a real taste for climbing, adventure and heights.
Chamonix has now (hooray) got an exciting new via ferrata route that is proving very popular. Compagnie du Mont Blanc (the lift station in the Chamonix valley) and the Guides des Chamonix created the new route only 24 months ago at the top of La Flégère (Domaine Brévent-Flégère). It's free (just buy a return lift ticket for La Flégère cable car for 18 euros) and unmanned – so you don't need a guide if you have via ferrata experience. If you're an experienced climber with no via ferrata experience just make sure to look up a bit more about how the via ferrata lanyards work. There's a good guide for via ferrata virgins here. 
It's super accessible via the La Flégère cable car (20 min walk to the start point from the lift) and is arguably one of the best via ferratas in the world for jaw dropping views. The route, opposite Mont Blanc, looks down over the glorious Chamonix valley and it's snaking glaciers. 
Via Ferrata des Evettes, La Flégère
Location: La Flégère                                  
Level: Intermediate
Access: Easy                                                 
Time: 1hr 30 mins (2hrs + with kids)
Length: 200m                                           Altitude: 2000 – 2,150m

This route is 'AD' in French – assez difficulte, which translates as 'quite difficult'. Out of the French grading though AD is not even half way up the difficulty levels on their chart so I would class it intermediate. The Guides des Chamonix class it as 2 out of 5 for difficulty.
This via ferrata has little exposure, so totally doable for experienced families whose kids have done some climbing, are not afraid of heights and are above a height of 1m 40. There's a recommended minimum age of 10.
If you've never climbed before, then it's recommended to hire a guide.
The route consists of two sections. First, a Via Ferrata (with stainless steel cable all the way), and secondly, a Via Corda (an easy level alpine route with climbing up to F3c and bolts indicating the way and protecting the more difficult sections). It's possible to do just the Via Ferrata (which is what we did) which takes around 1.5 hours to complete (around 2 hrs with kids).
For this review, I'll be just talking about our experience of completing the Via Ferrata section, not the second Via Corda section.
The Via Ferrata should take around 1.5-2 hrs with kids. There are two exit points which we were pleased to see on the map. This means if you really feel you can't go on, you can duck out from the course. The first exit is about half way after three pretty vertical ladder climbs. The second, understandably, is just before the finale, a 50m Himalayan bridge (suspended bridge) (above).
Equipment required: Via Ferrata harness, helmet, gloves
The very minimum equipment you should be heading up to do the Via Evettes is a helmet, gloves and a specialist via ferrata harness (which have a purpose designed energy-absorbing lanyard). Don't attempt to use an ordinary climbing harness and slings to connect to the cable. Without an energy absorber (rope or tape running through a friction brake, or a block containing tear-out webbing) a fall might cause serious injury or death. You can rent the specialist via ferrata harnesses easily from many shops in Chamonix. We rented ours from Namaste in Argentiere for 15 euros a day each.
Note: a specialist via ferrata harness has two long karabinas to connect to the cable and one short karabiner attached to the energy absorbing lanyard. The short karabiner should hang loose and NOT be clipped onto your harness (there are instructions showing this on the lanyard itself).
Start Point:  La Flégère
Access to the start point is super easy. Take the La Flégère cable car in Les Praz, Chamonix up to the mid station (18 euros return trip for adults). Swing a right out of the cable car building & immediately you'll see the Via des Evettes information sign to your right. Turn right down the slope to the Refuge Flégère and at the signposts take a right following the traverse towards Planpraz. It's clearly indicated with a 'Via Evettes' signpost (above photo).  It's an easy 20 minute walk. Follow the horizontal path for 5 mins, descend some steps & continue for a further 10 minutes or so under across some scree slopes. You'll soon see a signpost 'Via des Evettes' pointing upwards. Leave the main path and follow this faint path leading up to the beginning of the route.
Via des Evettes
At the start point, if you've got kids, I'd suggest them to have a quick wee behind a bush before clipping in. There are not so many places once you've clipped in to relieve yourself! Take your time to get your kit ready and if you've got kids with you, be sure to let any other groups kitting up to go ahead of you. You don't want pressure from behind. It's important to go at your own pace. 
The first section traverses across the slope and is nice and tame to ease into the route (photo above).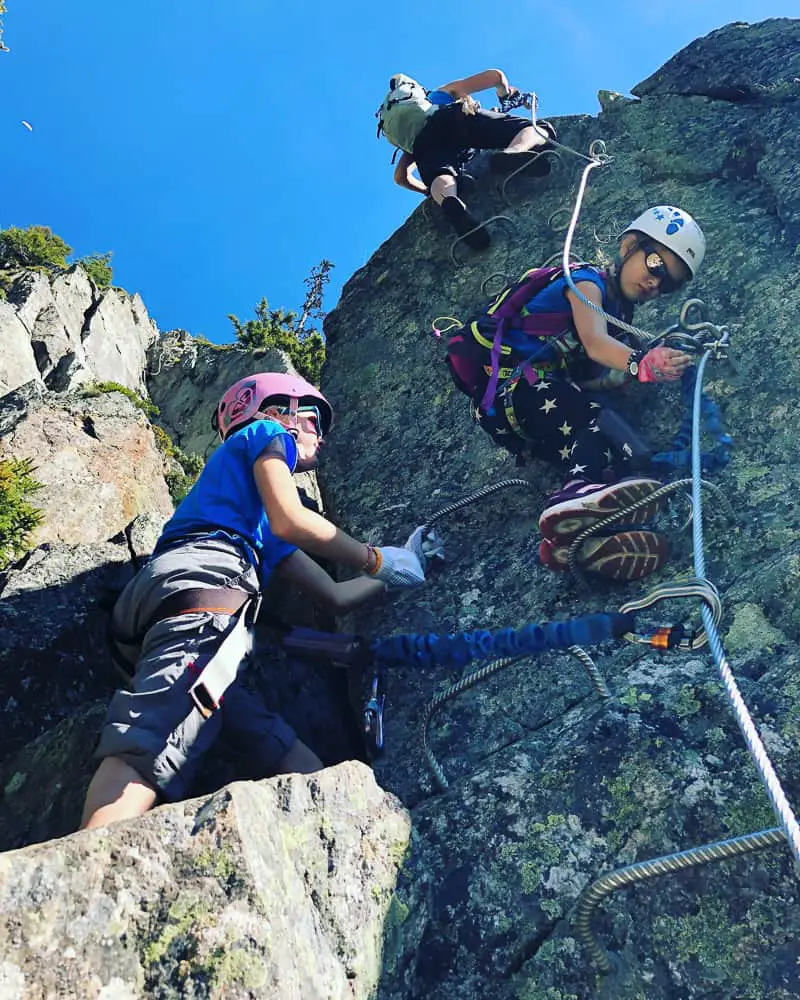 Then it's up, up, up!
There are three fairly vertical cliffs one after the other, which take you roughly to the half way point to where there is the first exit. The first face is easy to navigate with good metal rungs. 
The second (above & below photos) is more challenging but on a corner, which helps. The metalware is even spaced and the cable anchored regularly. This face posed no particular problems and we raced up it.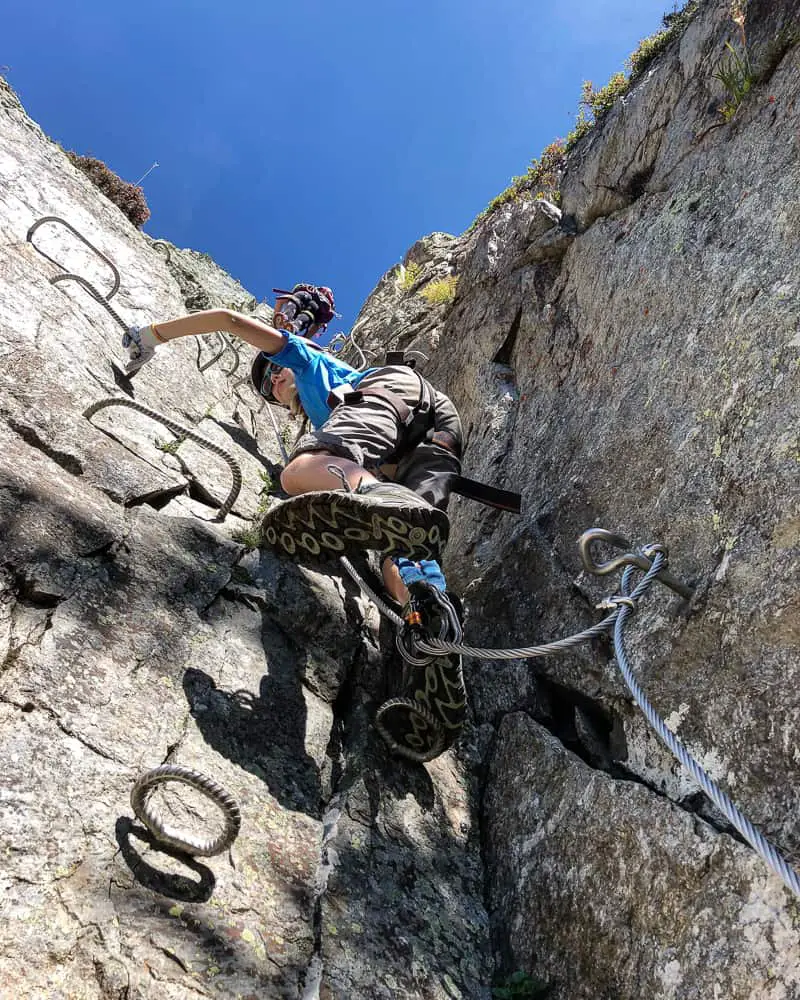 The third face (below) is pretty steep (don't look down!). There are lots of holds and rails all the way up, although they can be a stretch at points even for adults (hence the height restriction of 1m 40). This section is a lot harder which some tricky manoeuvres to tackle the face.  
Expect arms to get tired here with the stretching and pulling up. Instruct the kids to clip in on the short karabina to have a mini break if needs be, to rest their arms. The below photo looks a lot tamer than it is!
After this face you're around half way. It took us 50 minutes to get to this point under a no rush schedule. There's a small clearing here between some trees with your first exit point. It's a good place to unclip to have lunch in the shade. Be sure to make sure the kids sit well away from the edge & are not fooling around.
We thought the first half was pretty full on and were a little apprehensive of the second half, especially the 50m Himalayan bridge at the end which looks rather daunting from below & from photos online. But actually we felt it got easier on the second section so read on!
Follow the cable to continue onto the second half and you'll soon arrive at the first bridge, Pont des Chamois. Its around 6 metres long and you need to lean over one side to hold the higher cable and walk crablike along the wire.
After this you're climbing up and over a ridge. It's easier and more exciting with named sections such as Diedre et Lola, and the Boîte aux Lettres.
This face (above) looks impressive but was much easier than the vertical sections on the first half.
You're getting high now, nearly at the highest point of 2,150m altitude, with a fantastic view of the whole valley.  After the Dièdre et Lolo section, you shimmy around the rock jutting out, which is exciting and then make the final ascent up.
The last section is a vertical section (below) before the finale – the 50m himalayan bridge.
Bringing up the rear, I was the last to climb this section and as I hauled myself over the ledge, could hear the discussions of the bridge taking place. Surprisingly all I could hear were exclamations of how it didn't look that bad! 
So it turns out that himalayan bridge, which looks menacing from so far below, isn't in actual fact as bad as it seems. It definitely looks more terrifying in photos, than in reality.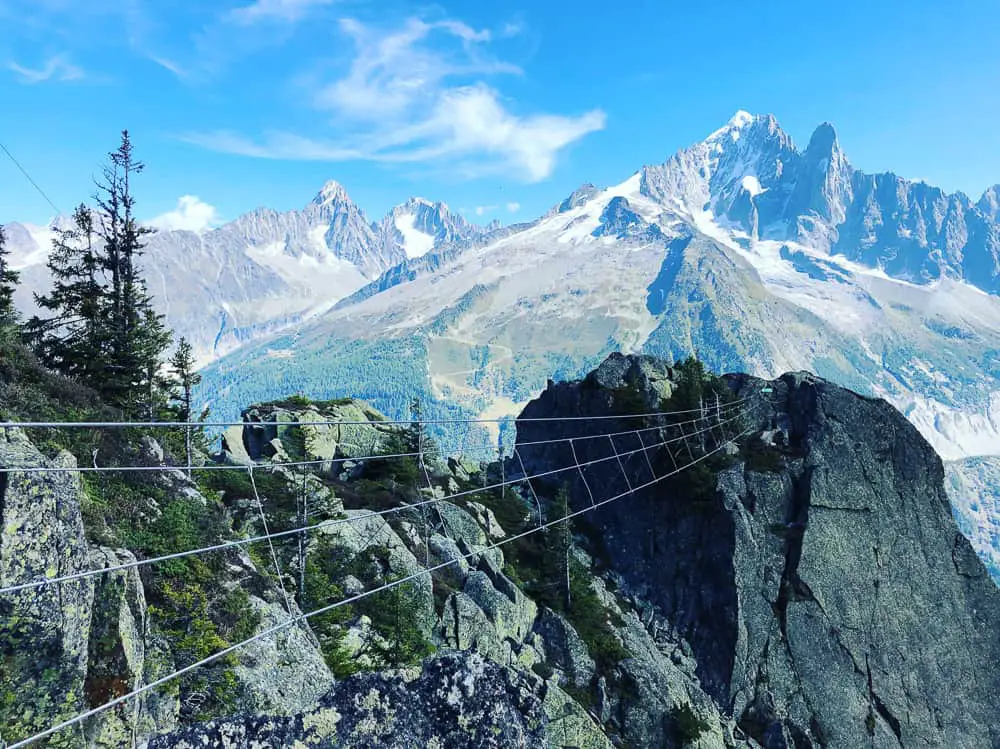 There is an exit point immediately before it, so if you really don't think you can handle it, you can opt out here and watch the rest of your crew tackle it.
Our kids though, had no fear. I had to stop them jumping up and down on it as, I admit, I was quite nervous about crossing it. In actual fact, it wasn't that bad – we sang Abba over it and tried not to look down. We still maintain the first half of the route is more challenging.
 After the bridge, the way back to the Flegère cable car station (20mins) is marked by green daubs of paint and signposted. Alternatively, continue up the Via Corda.