Diving Kota Kinabalu in Borneo is a great place to start your Sabah adventure. Whilst the famous world class dive site of Sipidan is on Sabah's east coast, it's cheaper to fly direct into Kota Kinabalu. It's also the best city to fly to, to embark on trekking SE Asia's highest peak, Mount Kinabalu (4,095m).
If you're after an idyllic dive or beach resort close to Kota Kinabalu, forget Tunku Abdul Rahman Marine Park, a fast 15 minutes boat ride from Kota Kinabalu. It's full of Chinese tourists being such an simple hop from the busy city. Instead head North for 1.5 hours to find a true slice of paradise in remote Borneo and the perfect alternative from diving Kota Kinabalu.
Thinking of diving Kota Kinabalu? Head 1.5 hrs north to find Big Fin Divers – a quiet slice of paradise on a remote jungle coastland with simple cabanas on a private beach with incredible diving
 

The first dive company to operate in Kota Belud on the western coast of Sabah, Big Fin Divers have built their charmingly simple, off grid base on beautiful Pantai Merakit beach opposite Pulau Pandan Island (photo above) in Mengkabar Bay. Approximately 60km north of the city Kota Kinabalu on a stretch of undeveloped coastline in Kota Belud, intrepid travellers who venture North of Kota Kinabalu will find their efforts pay off ten fold.
Big Fin Divers – Borneo
Remote beach resort with excellent diving
After re-planting the rainforest in the Kinabatangan in East Sabah, we looking for a few days beach chill time near Kota Kinabalu. We wanted nothing more than to kick back and relax for a few days before heading to Kinabalu National Park to start the mighty Mount Kinabalu 4000m peak climb.
We were looking for a beach resort, not particularly a dive resort. Somewhere idyllic on the beach. 
My LP guide described a gem called Mañana – "imagine a hidden beach and chilled vibe where young and old swap stories late into the night". I was sold. How did I get there? It turns out Mañana had shut their doors for the last time some while back, but as luck would have it I heard a whisper from fellow travellers ….. it was a rumour of a place that was so low key and fresh, that it wasn't even in the Lonely Planet guide. Big Fin Divers only 60km from Kota Kinabalu.
As it turned out, the couple who had worked for the owners of Mañana's, had set up their own version of paradise,  It sounded perfect. And when I managed to bag the last available eco cabana for three nights, I felt like Hannibal from the A team, "I love it when a plan comes together". A new chapter to our Borneo adventure had begun.
The first dive company to operate in Kota Belud, Big Fin Divers have built their charmingly simple, off grid base on beautiful Pantai Merakit beach opposite Pulau Pandan Island (photo above) in Mengkabar Bay. Approximately 60km north of the city Kota Kinabalu on a stretch of undeveloped coastline in Kota Belud, those travellers who venture North will find their efforts pay off ten fold.
Away from the crowds from Sipidan and Mabul, but still with incredible dive sites, Big Fin Divers perches on on a hill overlooking their own private beach. This tiny eco-resort has all of the rustic charm of a secret hideaway, and this place is steeped in soul. The couple running, plus their instructors are genuine, hardworking, sociable and eat, sleep and breathe diving.
This place is so remote, so tiny and so frankly perfect – that just being there, I'm feeling smug – like I'm in on a secret.
Diving Kota Kinabalu or here? Surely there's no comparison!
To start with just getting there is an adventure. Whilst Big Fin Divers is not on an island – it feels as if it is. Located on a remote stretch of jungle coastland, no roads lead into the resort.
>>>>>  – – – – ->>>>> – – – – ->>>>> – – – – – >>>>> – – – – – >>>>>
Read our post
The Ultimate Guide to Visiting Turtle Island in Sabah
>>>>>  – – – – ->>>>> – – – – ->>>>> – – – – – >>>>> – – – – – >>>>>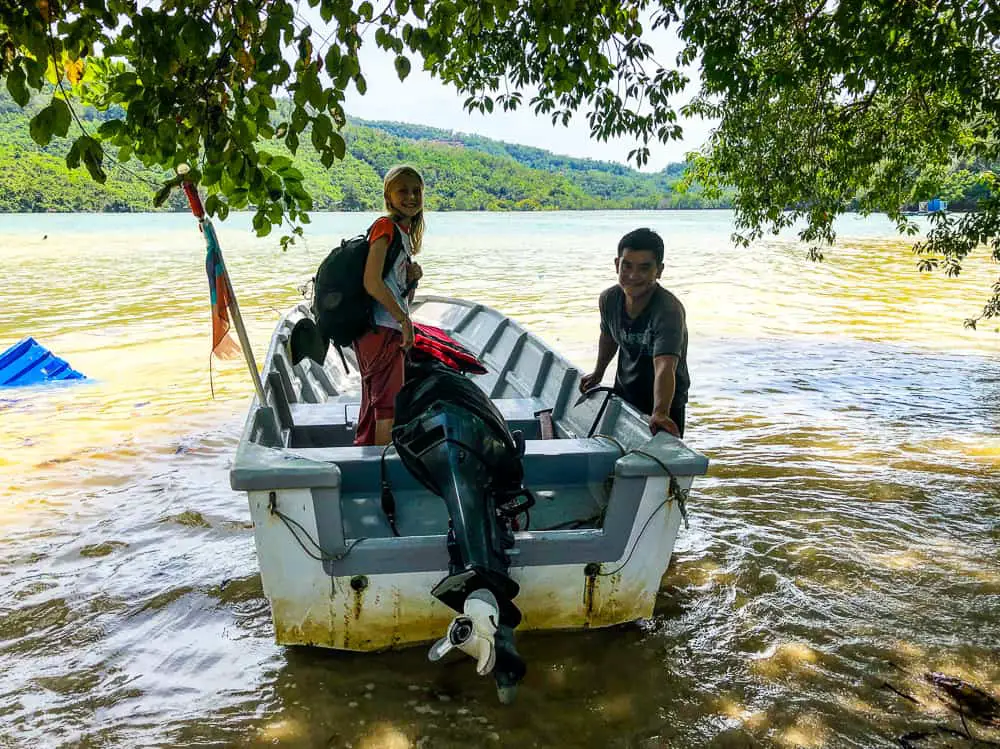 When your taxi drops you off in Menkabar Bay, a sprawl of basic wooden houses dotted around the curve of a glittering turquoise bay, a tiny motorboat will be waiting in the shallows to taxi you over the water and around to Big Fin Divers.
It's only a 5 minute journey but this journey is the start to a magical experience you could never hope to experience in tourist laden Kota Kinabalu.
>>>>>  – – – – ->>>>> – – – – ->>>>> – – – – – >>>>> – – – – – >>>>>
Read our post
The Ultimate Packing Guide for Borneo
>>>>>  – – – – ->>>>> – – – – ->>>>> – – – – – >>>>> – – – – – >>>>>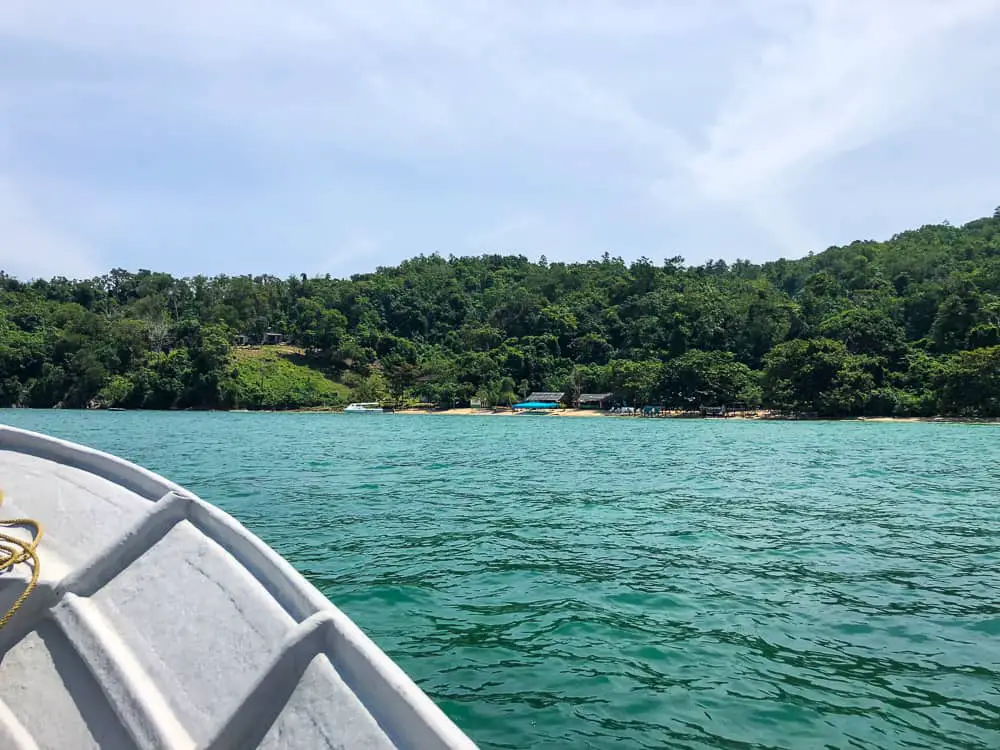 Big Fin Diver's Accommodation
Big Fin Divers have 4 basic ensuite cabanas and simply a row of tents to accommodate only a handful of lucky guests at any one time. Perched on the edge of the jungle with views you can only dream of, this is the real deal. Authentic people making the dream happen. 
Our simple stone cabana is compact but perfect for two, with a large double bed with mozzie net and large glass patio doors for us to drink in the view. There's no air con, just a busy fan next to the bed to move the air at night. Attached is a generous ensuite with resident geckos. Every afternoon, the wooden shaded veranda becomes our serious chill station as we idle in the twin hammocks, swinging in the strong breeze that tended to pick up past lunchtime.
Big Fin Diver's Food
From our cabanas it's a 1 minute walk to the main communal area where guests eat and hang out. Here you can watch Howie, the generously proportioned chef, protect his domain fiercely. Friendly and chilled out Howie turns into a protective bull terrier threatened when asked to boil a pot of water for a coffee out of hours, but is a legend in the kitchen. His food is superb.
Breakfast consists of eggs and toast or pancakes (1 only) tea or coffee, lunch is communal pasta or noodles. Dinner is normally a very tasty chicken, fried chicken, vegetables curried and rice or noodles dish. See below on our tips for bringing snacks. No snacks are available to buy and so we suggest you stock up before you arrive to keep your munchies at bay.
If you want to pay extra you can order seafood & Howie will buy it at the market and cook for you. All meals included in the price of the cabana and also the boat transfer is also included from Mengkabar. 
We love Big Fin's low environmental impact!
Big Fin are passionate about the environment. No plastic water bottles are sold at the resort and they ask guests to be mindful of their water consumption as the water on-site is primarily from rainwater collection. Safe, filtered rainwater is freely available on the bar for guests to fill up their own water bottles. If you didn't bring your own water bottle, they'll even lend you one – they've picked up enough plastic water bottles from the sea and their beach to pull a firm stance on this. I wish more resorts would follow suit.
The resort is run on a mix of solar power and a small generator that runs from 5.30-11pm. Come night, solar energy is used to run the resort & cabana lights. In the day there is intermittant power, however a charging port is available at the bar to charge mobile phones or other USB devices. No heating electrical appliances are allowed on-site (no hairdryers/hair straighteners etc!).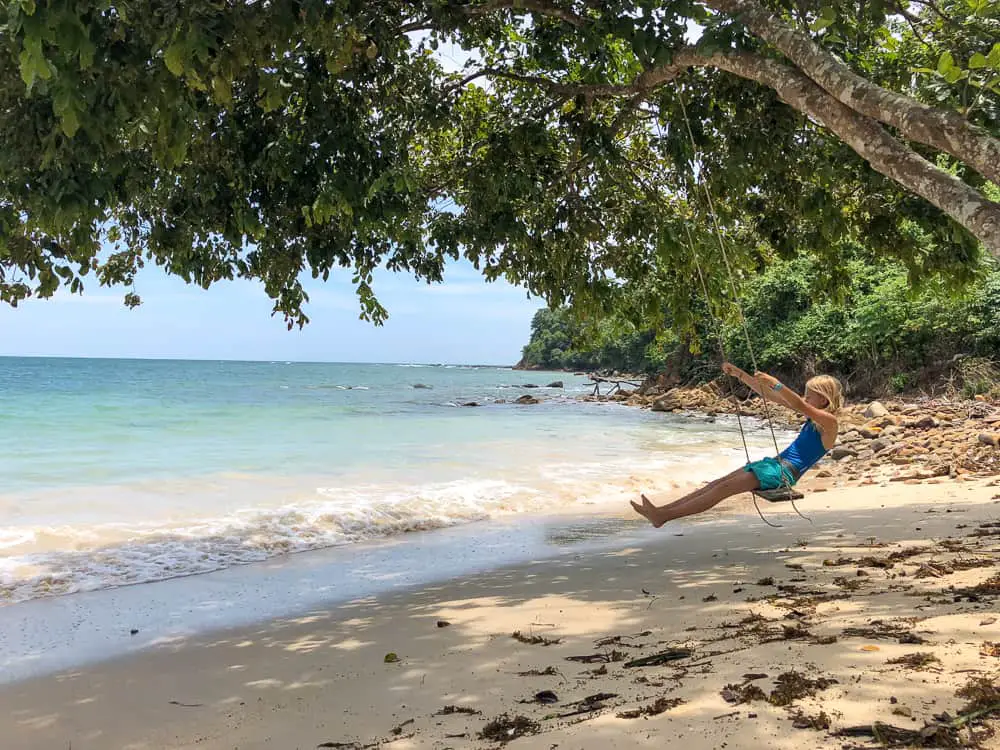 Diving at Big Fin Divers
Big Fin Divers is near to a host of great dives sites, from the uninhabited island a stone's throw away, Palau Pandan, is the perfect location for beginner divers and snorkelers.
Leopard Reef, a favourite hang out of Bamboo, Cat and Leopard Sharks, will whet the more experienced diver's appetite.
Salvage Point, is an eerie dive down to the site where the famous Japanese USUKAN WW2 Wrecks previously lay (sunk by deadly torpedoes fired by American Submarine USS Hammerhead in 1944). Here you can see schools of barracuda and snapper  and a chance to encounter large pelagic fish makes this a spectacular site. For advanced divers only
Day trips to Mantanani, 60km away, are regularly organised if conditions are favourable. It's a good spot for snorkelling with regular sitings of giant sea turtles. 
>>>>>  – – – – ->>>>> – – – – ->>>>> – – – – – >>>>> – – – – – >>>>>
Read our post
Climbing Mount Kinabalu Tips – Baggings your first 4000m peak in Borneo
>>>>>  – – – – ->>>>> – – – – ->>>>> – – – – – >>>>> – – – – – >>>>>
Diving for kids with Big Fin Divers
Minnie was eager and frothing to take a discovery dive, which is an introductory dive with an instructor. Children have to be 10 or over to do a discovery dive. Big Fin Divers charge 200RM (£38/$48/€43) each discovery dive (excellent value!).
Minnie loved it so much (she's a natural in water) she ended up doing 3 dives over our 3 day stay. If we'd have had more time there, Minnie would certainly have done her Junior Open Water PADI which takes 3.5 days to complete. Juniors are limited to 12m each dive but incredibly, there's no further exam and kids can swap the licence to an adult PADI once they are 15 years old. This means they can dive deeper down to 18m.
As with learning anything in life, the personality and skill of your instructor, sets you up to success or fail. We couldn't have asked for a better instructor to teach our 10 year old. Rich was the ultimate of chilled out. With a smiling face of big, white teeth, Rich's grin said it all. He was passionate about diving, loved what he was doing and just generally stoked on life. A great guy to be around and the perfect person to teach my girl how to dive. 
>>>>>  – – – – ->>>>> – – – – ->>>>> – – – – – >>>>> – – – – – >>>>>
Read our post
The Ultimate Guide to Visiting Turtle Island in Borneo
>>>>>  – – – – ->>>>> – – – – ->>>>> – – – – – >>>>> – – – – – >>>>>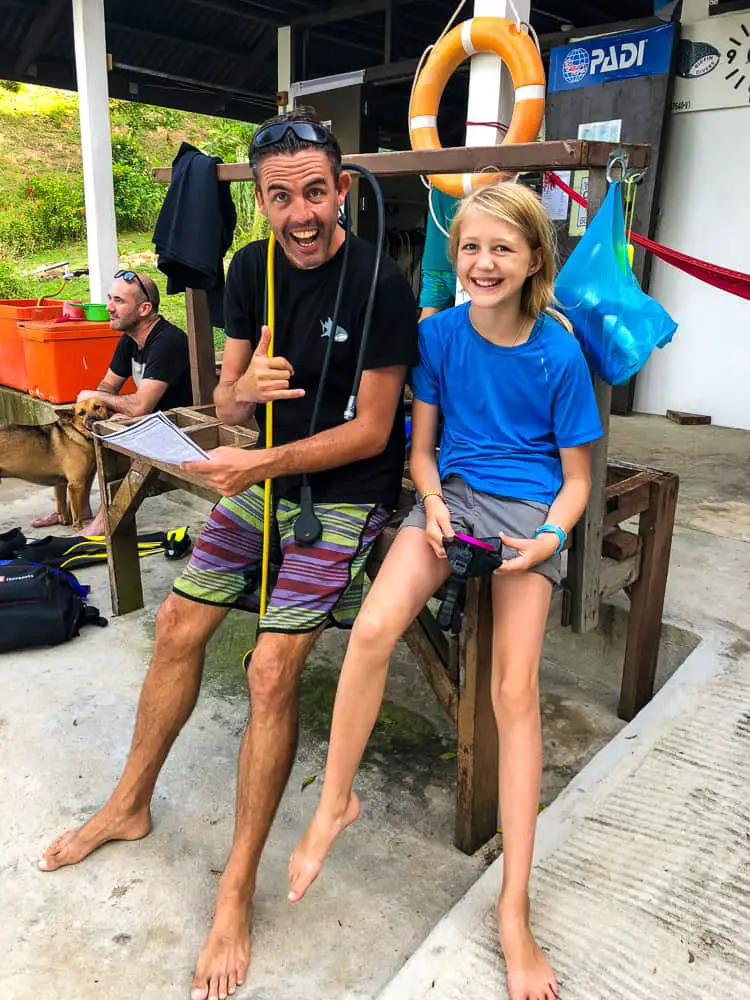 Tips for visiting Big Fin Divers with kids
Bring snacks! Meal times are military run with no sway even for kids so bring a plentiful supply of snacks to keep you going, especially for the 7 hours between lunch and dinner. No snacks available to buy only beer and sprite/coke.

Big Fin backs onto thick jungle – bring insect repellent!

Download Grab and use one of their cabs to make a hassle free journey from KK to Kota Belud (90 mins)

Big Fin do discovery dives for kids (200RM) and the  junior padi course (3-5 days). This is an excellent place for your kids (10+) to learn to dive. My 10 year old girl did 3 discovery dives with the excellent xxx who we would fully recommend. Sadly we didn't have time for her to do her Junior PADI before we headed off to climb Mt Kinabalu otherwise we would have certainly done it here with these incredible instructors

The afternoons can see particularly breezy weather so sometimes dives are cancelled in the afternoon depending on which dive site has been booked. Always book a morning dive, just in case!

It gets dark around 6pm at night and boy does it get dark! Bring a head torch to get back to your cabana from the restaurant area.
>>>>>  – – – – ->>>>> – – – – ->>>>> – – – – – >>>>> – – – – – >>>>>
Read our post
>>>>>  – – – – ->>>>> – – – – ->>>>> – – – – – >>>>> – – – – – >>>>>
Getting to Big Fin Divers, Kota Belud
Catch a taxi from Kota Kinabalu to Kota Belud. It's an easy 1.5 hours easy drive along a good dual carriage road, with the last half an hour on a very windy road. Big Fin Divers can arrange for a taxi to meet you at the airport.
We we would suggest catching a taxi through the GRAB APP. It's much the same as Uber. In fact Uber bought GRAB but as the app is so popular in Malaysia, it didn't catch on so they changed the name back to GRAB! It's easy to download to your phone (make sure you arrive in Borneo with an unlocked mobile phone and then buy a SIM card at the airport.
If you're using a grab taxi the app won't fid Mengkabar in the maps so type in Dragon Pearl Resort and it will come right up.
Grab stated 73 RM but because the journey is so long and he says little chance of picking up anyone along the way back can I pay a bit more. He starts at 150 which I refuse and we settle on 100Rm. I hear what he's saying and anyhow its cheaper then an normal cab and we get aircon. The roads are lined 
Taxi from KK
RM120 – Private Taxi Direct (we can book for you)
RM70-90 Grab Car 
​Bus from KK
Depart from Padang Merdaka Terminal KK to Kota Belud (RM10, 1 1/2hours), then take a taxi to Mengkabar (RM50 20mins)
Private Transport / Rental Cars
Follow Google Map for directions and signposts to Bigfin Divers/Mengkabar Village or Dragon Pearl Resort (next door) ​
Flying from Sandakan to Kota Kinabalu
Flying from Sandakan to Kota Kinabalu was cheap and easy with Air Asia. We'd paid peanuts (less than £50 for two of us) booking only 48 hours before our departure. I'd definitely recommend the internal flight – it avoids a long bus journey over Sabah AND the plane flies right past Mount Kinabalu! It's a good idea to fly one way and take the bus on the return loop to get your eyes on the ground.
Flight from Sandakan to KK short and cheap! Flights to KK are cheaper so I'd definitely advise families volunteering to fly to KK first visit this side of the island and then carry on. We did it the other way round which also worked fine – I wouldn't want to climb Mt Kinabalu and then have the fall out sore legs whilst volunteering either!
Borneo on a budget
If you're aiming to backpack or cycle Borneo on a budget then check out fellow travel blogger's Cycloscope's brilliant guide to Borneo on a budget here.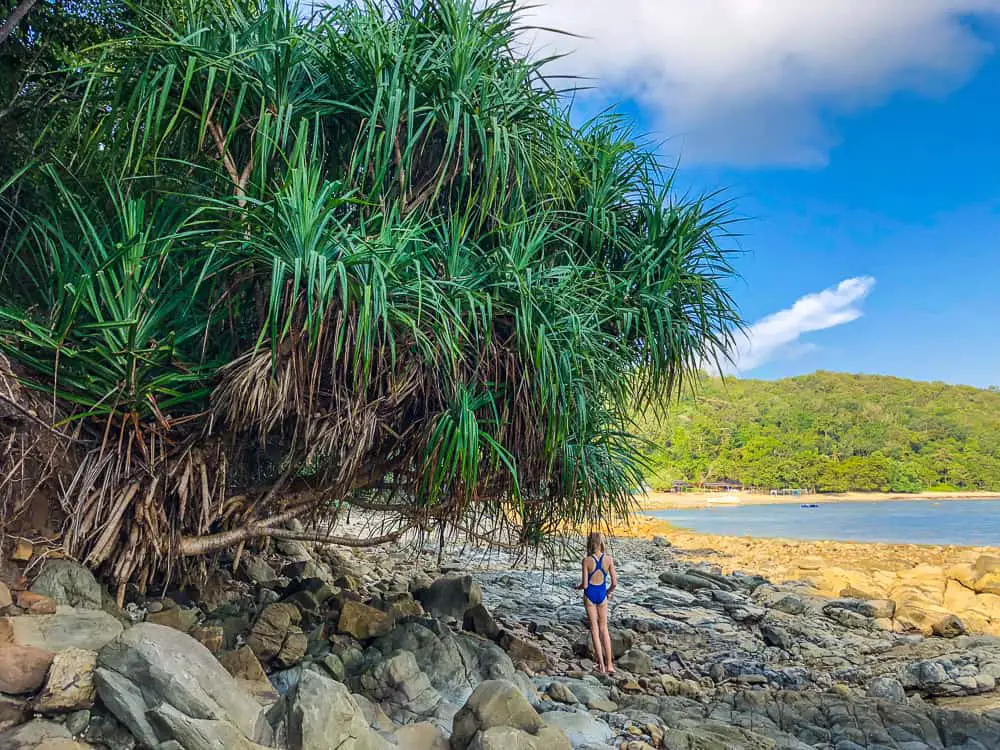 Looking to book your next trip? Check out the following services we use!
Kayak to find a cheap plane ticket or AirTreks for RTW tickets.
Booking.com to find a hotel deal.
World Nomads to insure your trip.

Viator for a good quality day tours.

G Adventures for a multi-day guided tour.