If you're looking for where to stay near Midigama, on the south coast of Sri Lanka, we would highly recommend Naomi Beach Villa Hotel – positioned slap bang on the beach, this small, stylish, colonial hotel provides the perfect stay for families with an incredible pool, wonderful staff and delicious food. 
This post contains affiliate links. Should you click on a link to purchase, it is at no extra cost to you, but I get a small commission that goes towards the running of this blog. 
Where to stay on the south coast of Sri Lanka?
Naomi Beach Villa Hotel, only a couple of hours south of Colombo is absolutely where you should head to if you're looking for the perfect place to stay on the south coast of Sri Lanka.
Set in an idyllic location on the beach in the tiny village of Gurubelia, neighbouring cool Midigama, Naomi Beach Villa Hotel is super easy to reach by rail (direct to Galle and then only a couple of stops on the south coast train track) or only an hour from Colombo with a private driver taking the highway.
This stretch of coastline on Sri Lanka's southern coast is perfect for surfing waves between November to April with Naomi's being the perfect base to explore the entire south coast (30 minutes from Galle, 10 minutes from Weligama, 20 minutes from Mirissa, 1hr to Tangalle, and 1hr 15mins to Hiriketiya). 
In a busy coastline littered with merely adequate or cheap accommodation, finding the perfect place without a hefty price tag is rare. With exceptional rooms on the beach for a family of four costing only $80 in peak February, we think Naomi's is fabulous value.
When you find the perfect spot on your travels, you can't help but want to stay – indefinitely. This was us with Naomis. We had the most unforgettable stay here and can't wait to pass on our recommendation to other families travelling to Sri Lanka.
Location, location, location
Slap bang on the beach, this colonial style villa hotel is beautifully furnished, serves the most incredible food and has a pool to die for.
Surfers will covet the location of Naomi Beach Villa overlooking infamous Coconuts and Plantation surf breaks – both peeling with consistent intermediate waves. Other surf breaks, Rams and Lazy Lefts are merely a 5-10 minute walk away in Midigama.
The hotel is only a 10 minute tuk tuk ride from larger Weligama which has local amenities such as ATMs, beer shops and supermarkets, as well as a long curve of sand boasting all year round beginner waves. 
We booked into Naomi's for 4 nights after our Sri Lankan elephant conservation project in February. Our week volunteering at the field research centre left us jubilant but dog tired.
We were in much need of some serious R&R and we'd promised our girls beach time. We took the 5am direct train from Kandy to Weligama (via Galle) and had rocked up to Naomi's by noon.
Rattling over the village green (a parched grass field overlooking the ocean dotted with the odd palm tree) cows scattered as our tuk tuk pulled up at Naomi's. We could have cried with joy.
Naomi's is one of a rare few places in Gurubelia/Midigama that is actually on the beach. No joke.
It's not often photos don't do a place justice. How many times have you rocked up some hovel, reserved online, only to find you've been duped by misleading photos. Naomi's is beautiful.
Naomi's swimming pool
The girls whooped and hollered at the sight of the huge swimming pool, fringed by towering coconut trees and exotic palms, overlooking the beach.
We always look for a place with a pool when we're on the coast of Sri Lanka, as the waves pretty much around the whole of this country are always big and so not always ideal for swimming – especially for kids. 
The glassy surface of Naomi's pool runs off infinity style – literally into the beach. 
Naomi's swimming pool is exceptional. And thank goodness it's not laden with chlorine.
(The pool at the place we'd stayed overnight at Kandy (the night before catching the 5am train to Weligama) was so full of chlorine, my girls couldn't swim in it – their skin hurt so much!)
Warning: families with young children who can't swim should know that the pool is not enclosed. 
Naomi's rooms
Naomi Beach Villa Hotel has just 12 rooms. We rarely stay at large hotels, preferring the more intimate, welcoming ambiance a smaller place offers. So Naomi's was perfect for us.
All twelve rooms overlook the ocean so you're guaranteed a fabulous view of the beach, the ocean and especially the incredible sunsets.
Each room has a spacious balcony with a table and chairs, so it's easy to hang out there with the kids to stay out of the sun or watch the kids swim in the pool from the balcony.
Air con is standard in all the rooms, but we loved the fans on the high ceiling of our room. Lulling yourself to sleep to the crashing waves with the balcony door open and the fan on, is well, just perfect.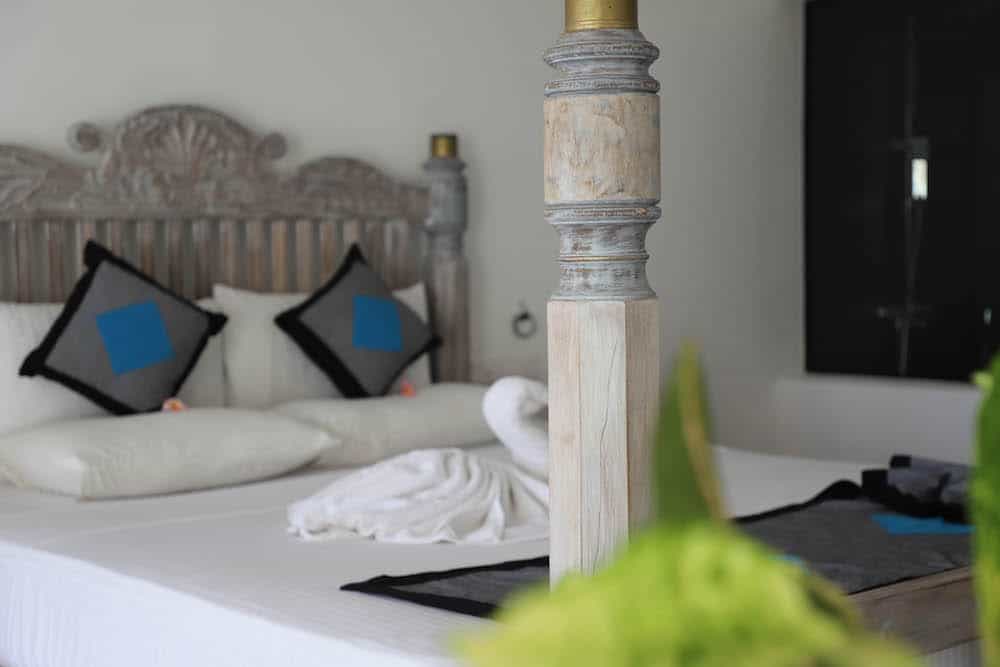 Comfort levels are high at Naomi's!
If you're looking for a touch of luxury on your Sri Lankan trip, Naomi's won't disappoint.
Each of the king size beds are made up with sumptuous pure white bed linen. The beds are oober comfy – I literally fell into bed every night. Within minutes of hitting the pillow I was out like a light.
Each room comes with a miniature fridge stocked with small mineral waters. The staff are very relaxed about visiting the nearest beer shop (Weligama) and bringing back Sri Lankan's excellent brew, Lion beer, or soft drinks at a cheap price and keeping it chilled in our room fridge (even though they sell the same drinks at their restaurant area).
In fact, they offered to swap out our warm beers for cold ones on returning from the beer shop one time. The people here are warm and generous.
Each room at Naomi's boasts a large grey slate ensuite bathroom complete with walk in rainforest shower.
There's not much pressure to the shower but we can live without that.
Tip: the showers take a long time to warm up. Leave them running for five minutes if you want a hot shower.
Naomi's food
Naomi Beach Villa Hotel's restaurant, Catch 99, is slap bang beside the pool and right on the beach. Perfect for having a quiet beer with a watchful eye on the kids in the pool, or gazing out to the crashing waves and the line up.
Catch 99 serves incredible Sri Lankan or western food. The truth be told, we rarely ate anywhere else.
The fresh salads and breakfast bowls were to die for, whilst my girls went crazy for chicken wraps and avocado. And of course chips! After hardcore curries on our elephant conservation project, I was happy for them to gorge on western food for a few days.
But of course the best was dessert. The restaurant makes THE best warm brownie and ice cream – EVER ….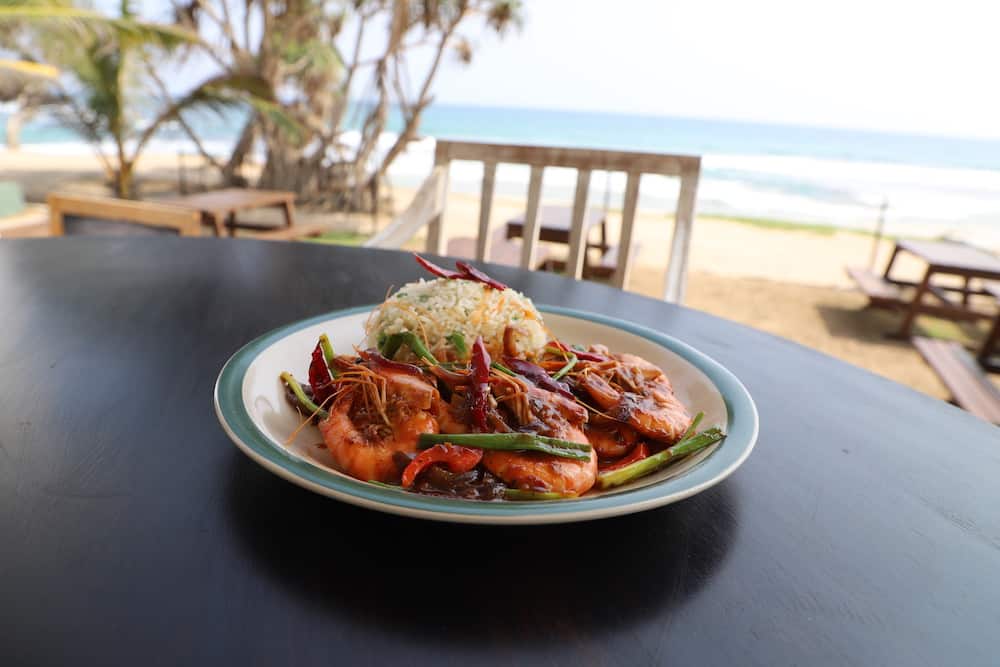 Eco-friendly
Naomi Beach Villa Hotel will re-fill your water bottle from their large mineral water dispenser behind the bar. It's not well advertised so be sure to ask.
The amount of plastic water bottles in Sri Lanka is insane. We always carry a re-useable water bottle and try to re-fill wherever we can.
Many eco-hotels in Sri Lanka are now offering free filtered water, which is a much more sustainable option.
Naomi's toiletries are sustainable, eco-friendly individually wrapped soaps.
Naomi Beach Villa Hotel allowed us to completely relax after our full on adventure itinerary in Sri Lanka. We'd flown in and headed straight to Kitigula to white water raft , canyon and kayak and then headed directly to the elephant conservation project in Wasgamua National Park. I mean we'd been full on. We hadn't stopped.
I was ready to do absolutely nothing but pull out a book, watch the kids in the pool and take in the epic views. It was absolute bliss to unwind and relax. I wish we'd been able to extend our stay, and we will definitely re-visit this hotel on our next trip to Sri Lanka.
Taking tea at Naomi's
One of my favourite things to do at Naomi's was to simply take a pot tea (in gorgeous white china tea pots) and curl up on one of the sofas in the huge colonial style foyer overlooking the pool.
I'm an early riser so I often would creep down, pad the thirty metres across the foyer, across the garden, to the beach and enjoy the stillness, breathe in the salt air, and watch the early morning surfers paddling out.
Returning I'd wait for the smiling staff to arrive to order a pot of tea to have a moment of calm before my girls awoke. Happy memories.
Naomi's for families
We think Naomi's is just perfect for families – especially families with older kids that can swim. Families with young children will need to supervise their children at all times around the pool as it is not enclosed.
Four of Naomi's 12 rooms can accommodate families of four. We had two king beds in our room which was perfect for us and our girls. Large wooden cots are available for toddlers or babies and high chairs are available on request at the restaurant.
Naomi Beach Villa Hotel room arrangements are below so you can plan to see what would suit your group best. The beds are HUGE!
1 family room have two king beds (4 x quadruple)
2 deluxe triple rooms – 1 single bed & 1 king (family room)
1 deluxe double rooms – 1 king bed
1 deluxe superior king room (4 people) 2 kings (family room)
2 deluxe superior room 1 king (2 people)
1 delux twin room
1 Twilight deluxe 2 king (4 people)
3 Twilight superior (1 king) 2 people
What to do near Naomi Beach Villa Hotel
Surfing
If you're looking for where to stay near Midigama then as I've previously mentioned, this hotel is slap bang on the beach which makes it perfect for surfing the world class waves.
Intermediate and advanced surfers have a pick of 6 local surf spots, all within a ten minute walk. Coconuts and Plantation surf spots are right outside Naomi Beach Villa Hotel whilst Rams (advanced surfers only) and Lazy Lefts are just 5-10 minute walk up the coast to neighbouring Midigama.
Beginners should take the 10 minute tuk tuk ride into Weligama where consistent easy waves roll in every single day. There are plenty of places to rent boards both in Gurubelia/Midigama and Weligama.
The waves work best between November and April so this is high season in south Sri Lanka. Outside of this time, expect guest houses and some restaurants to be closed however, low season is becoming more popular with visitors so this is beginning to change. Beginners can surf all year round at Welgima.
Stilt fishermen
There are authentic stilt fisherman that fish at sunrise and sunset just next to the hotel. Literally it's a one minute walk.
I'd heard a lot about fisherman just fishing on stilts merely for tourists and charging money for photos. So it was lovely to see locals fishing early in the morning without a tourist in sight.
Swimming
Swimming in the sea is not easy here. As in many places in Sri Lanka, the swell is high and the waves big. Not very safe for young kids.
Outside the Naomi Beach Villa Hotel, the reef prevents any easy swimming, so our girls swam in the swimming pool most of the time.
We generally always book a hotel with a swimming pool when we are near the beach in Sri Lanka. It's hot and the sea rough so it's always a pre-requisite for us. However, when we travel inland in Sri Lanka we don't – we're always busy checking out temples, devouring wildlife or adventuring.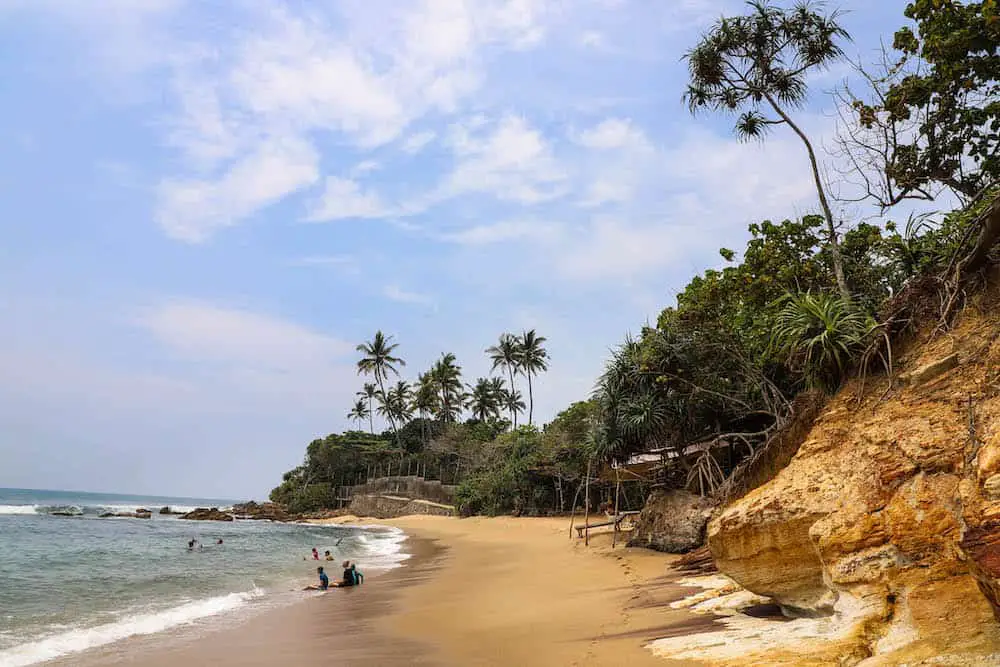 If you do want to swim here, there is a small bay to the left of the hotel before the stilt fisherman where you can get in and dip.
Secret Beach (above photo) just a 10 minute walk past the stilt fisherman is also a safe place to swim, and our girls enjoyed a dip here.
Yoga
Yoga addicts should head to nearby Yamu (above photo) or next door to Lions Rest to get their yoga fix.
Both offer twice daily yoga sessions with excellent instructors.
Lion's Rest require you to sign up the night before, whilst Yamu do drop ins. Both offer good deals on 10 sessions.
We had a fantastic stay at Naomi Beach Villa Hotel. It really did hit all the spots we needed to keep kids, his indoors and myself happy. It had something for everyone and we'd really recommend it to families looking for where to stay on the south coast of Sri Lanka.
Check prices and book Naomi Beach Villa Hotel here
62, Kadabeddagama, Weligama, Sri Lanka.
Disclosure: we received a complimentary stay at Naomi's Beach Villa Hotel for the purposes of this review, however all opinions are, as always, our own. This post also contains affiliate links. Should you click on a link to purchase, it is at no extra cost to you, but I get a small commission that goes towards the running of this blog. 
Read our other Sri Lanka posts:
3 week Sri Lanka itinerary (July/August)
The Ultimate Guide to catching the direct train from Kandy to Galle (& onto Weligama)
Volunteering with Elephants in Sri Lanka (with or without kids)
7 Things to Know Before Heading to Sri Lanka
Private Drivers in Sri Lanka – Everything you Need to Know
6 Places to Visit in Ella with Kids
Things to do in Kandy with Kids
Climbing Pidurangala Rock in Sigiriya (& why it's miles better than climbing the Rock Fortress)
The Best Cabanas on the East Coast of Sri Lanka – Hilltop Cabanas (near Arugam Bay)
5 Tips to Keep Safe at Lagoons in Sri Lanka
Backpacking Sri Lanka with Kids – First Impressions
The Best Family Hotel on the South Coast of Sri Lanka – Naomi Beach Villa Hotel