Recently we flew out to the depths of the rainforest in Borneo on a family volunteering holiday with The Great Projects to help re-plant the rainforest. One word. Unforgettable.
Add …. incredible, inspiring, humbling and you've got the gist of how profound our experience was and why we want to shout about it from the rooftops. Volunteering as a family is an enriching experience. Full stop. On so so many levels.
Family volunteering exposes your children to such a vast wealth of experiences that can only be beneficial to their development as a human being. A bold statement. You can scratch the surface by considering an increase in self confidence, awareness of global issues and a sense of self purpose and fulfilment. Read on for more reasons why we believe every family should head out on a family volunteering holiday. 
10 reasons why family volunteering will change your life.
1. Conservation warriors – start small, think big
Children today are the decision makers of tomorrow. By switching children young onto the issues the world faces today such as conservation, poverty or community issues, we are finding the solution to the problems of today. Seeing first hand the world's environmental problems slaps us hard in the face. This deep understanding, not gained from a text book, but from real life experiences so early on, from family volunteering overseas can nurture a strong desire for change from our next generation. 
2. Teaching your kids that one person can make a change
The belief that one person can make a change is powerful. It's this thinking that can change a world. We must empower our children with this knowledge so that instead of milling along with the rest of the crowd, they can stand up and make a difference. Starting them early is paramount. We firmly believe in our family that each one of us can make a difference in this world we share. My 10 year old was aghast at the plight of the rainforest and the masses of plastic in the oceans around Borneo. She has come back with a greater understanding of the fragility of interconnected ecosystems, the palm oil industry and why it's not going away and realises the power, that even at 10 years old, she can make a difference. Powerful stuff, right there. 
3. Build close bonds
By doing something out of the ordinary and working together in a foreign environment, close bonds are forged with your kids. With technology, screens and social media now dominating our lives, it's more important than ever to spend quality time with your kids in nature. Volunteering in the jungle certainly gets rid of screens and allows you to get to know your child again. Hello! We lost you for a while.
We don't particularly have a problem with screens (yet!) in our house but travelling out solo, just my 10 year old daughter and I, was the plan to spend some one on one time together. A newbie 'tween', it's a tricky time for girls, with raging hormones and the threshold to teenager-dom merely a step away. It was a unique opportunity for us to spend some quality time together. Something so simple, but hugely important, that seems, incredibly, so hard to find in a busy family of four household. We've come back much closer from experiencing something new together and having the time to listen without interruptions!
4. Memories to last a lifetime
Family volunteering is truly a rewarding experience. The sense of satisfaction is profound and something that you will share, remember and talk about for the rest of your lives. I have no doubt that my daughter will one day tell her children of the time her and Mother went to Borneo to help protect the rainforest. Lets hope some of the world's endangered species are still around for her children to know.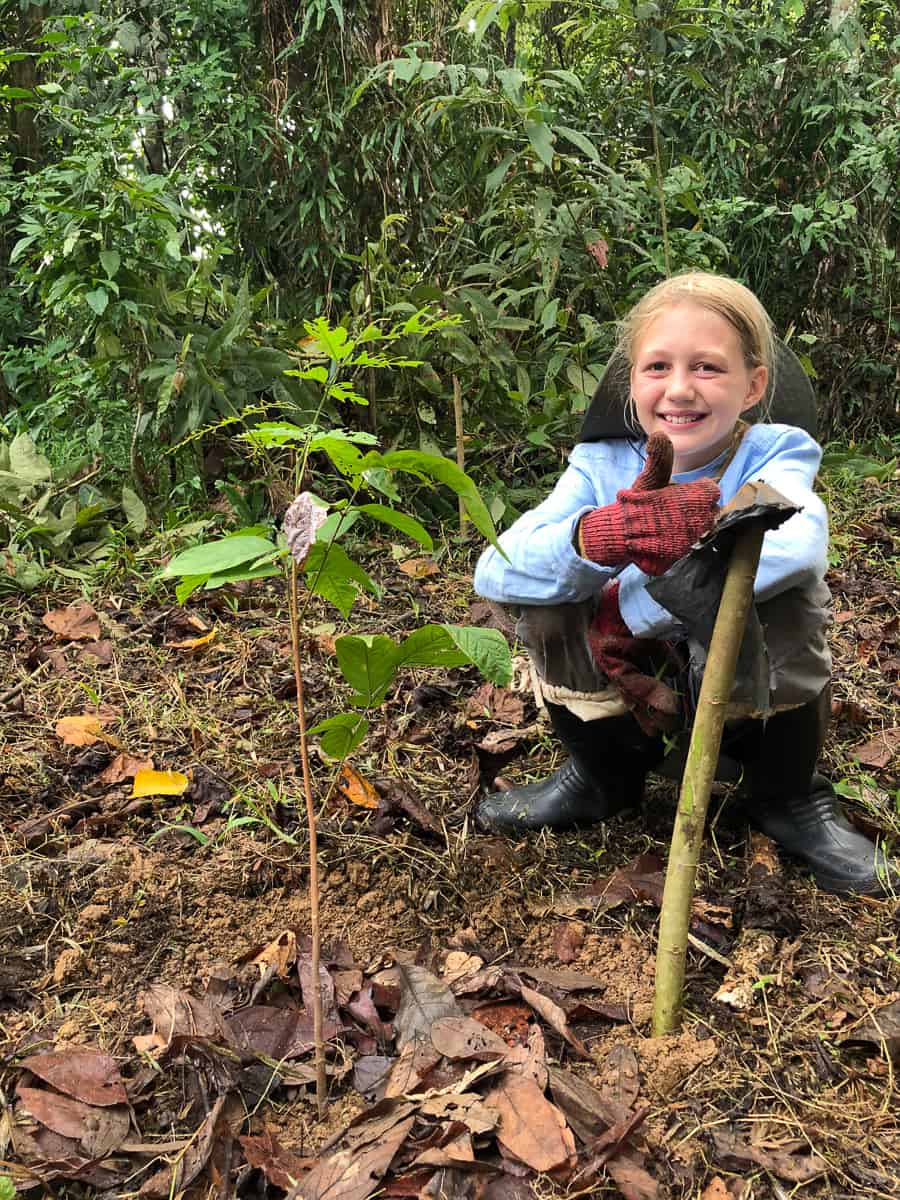 5. Learn a new skill
Volunteering often involves learning a new skill. For us it was learning to use a machete in the rainforest! I know! I was surprised too! Can you imagine how my 10 year old daughter loved this? This opportunity built not only her confidence and self esteem, but backed up big time the can do attitude that I've been trying to foster and nurture for years. It really is the experiences they have today that equips them for tomorrow.
6. Hard work is rewarding
It's never too early to teach the value of hard work. And seeing the results of your hard work is even better. We love the before and after photos of just one morning of us working with machetes to clear the rampant undergrowth strangling the young saplings planted in the clearing of the rainforest only a couple of months earlier. 
7. Increase cultural awareness
Volunteering overseas obviously increases cultural awareness. In today's world of a seemingly decreasing tolerant society, it's crucially important for our children to be learning about new cultures and spending time with people of all nationalities and religion. This is such an important aspect of volunteering abroad and something that is incredibly valuable as our children grow into this world. By spending an entire week with local people, children begin to understand that the human race is one race and diversity should be celebrated.
8. Appreciation
Projects in third world or developing countries can have a huge impact on children and the way they perceive the world. On returning to their normal life after volunteering projects, most children have a greater sense of understanding of valuing the simple things they take for granted such as water from a tap, a cupboard full of food or simply having a loving Mother or Father. 
9. Family volunteering will take you off the beaten path
Not many people can say they've helped fix the holes in the rainforests of Borneo. Family volunteering overseas can take you to some breathtaking countries around the world to participate in some extraordinary projects. Volunteering allows you to make a positive contribution to small, diverse communities and you will be rewarded by a unique insight to the country you are visiting, rather than just merely passing through as a traveller.
Our family volunteering in Borneo experience was organised by leading UK organisation, The Great Projects. We would highly recommend The Great Projects for any families thinking about wildlife volunteering overseas. The Great Projects have 9 specialised family volunteering projects in 8 different countries.