Devon holds so much appeal for adventuring families with stunning beaches, dramatic coastline, and the wilds of Exmoor & Dartmoor.  Packed with surfing, coasteering, hiking, kayaking and ziplines – adventuring families don't have to look far to find their fix. BUT have you ever considered exploring subterranean Devon on your holidays?
Caving in Devon is perfect for families looking for their next adventure challenge! And it's probably one of the best things to do in Devon in the rain!

Have you ever thought about caving in Devon with your family?
Primhamsleigh Caverns in Dartmoor is a popular site for novice cavers. A labyrinth of tunnels packed into an area 50m squared, Primhamsleigh Caverns is super safe, with no flash floods and a variety of large tunnels and caverns – the perfect place for families to have their first caving experience.
Did you know you can take your 6 year old caving in Devon?
During half term we descended deep under Dartmoor with our two girls, only 6 and 9 years old with Exeter based outdoor activity specialists Isca Outdoor.  We met up with the owner of Isca Outdoors & our instructor for the day, Simon along a short stretch of country road near a flyover above the A38. After spending a good 15-20 minutes pulling on overalls, wellies, hard hats and belts we made our way over a farmers field (where Simon popped a £1 in the box and chalked up his name) to a rocky crag to discover the entrance to Primhamsleigh Caverns.
I had imagined a car park of some sorts, with toilets and possibly a coffee shack, from the talk of how popular the spot was for cavers, not the saunter over a field, through some trees and up to a crag wielding a dark cave below. Brilliant. This was truly going to be the adventure we'd been after!
Isca Outdoor take family groups individually which means you can relax and go at your own family's pace. Simon gathered us for a safety talk before we entered the caves explaining where and what we were going to do.  He told us who should go in what order, what a strong hold was (wrist to wrist) and answered any questions. Simon, who has a 6 year old himself, clearly gets kids. He was brilliant with my girls from the off and even before we ventured underground I felt we were confident that we were in good hands.

The entrance to Pridhamsleigh Caverns is through a low one metre wide hole. Simon explained it was a simple bob under and up again.  It does look much worse than it is, so don't let this put you off! As soon as you go through the hole, it opens up again into a much higher tunnel. Think of it as a secret entrance!

Caving doesn't always mean inching through tight spaces or poky holes. Vast, underground caverns & large passageways hide within deep within the Devonian limestone. And the unworldly sculptures, the result of thousands of years of trickling and dripping water, are magical. Astonishingly, there's even an underground lake here at Pridhamsleigh Caverns!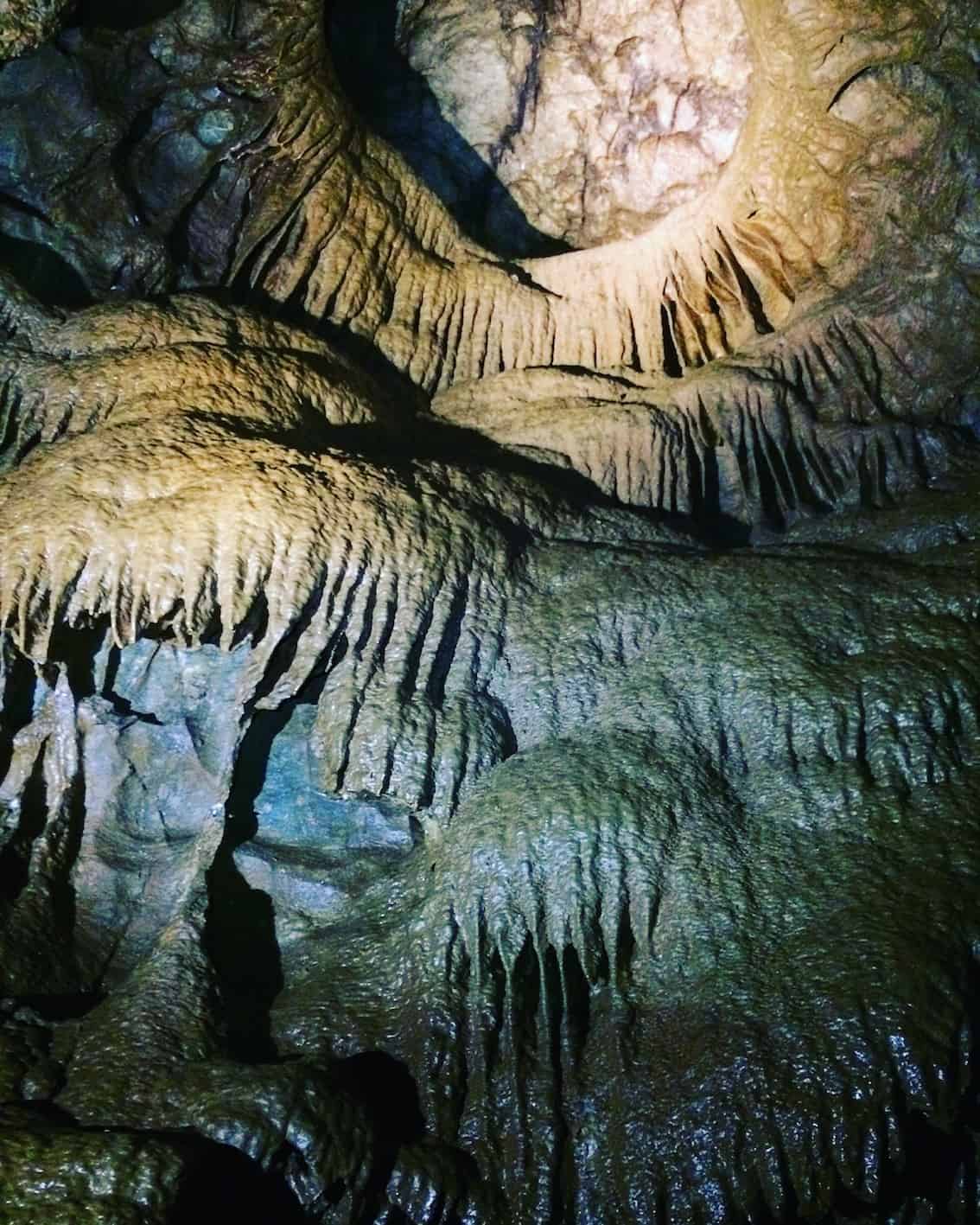 Yes, there are tiny tunnels at Pridhamsleigh, but the beauty here is you've got the choice. If some of you are game for it,  braver ones can clamber through short smaller tunnels, whilst the rest opts for the larger, easy routes (Me!  I found the slipperiness challenging with my post ACL op leg)
Read our post 4 Good Reasons to Consider Caving as your next Family Adventure Day
Crystal Chamber is our first stop, only five minutes after entering the cave system. It gives us all a chance to take a seat and re-group. Simon made sure everyone was happy to continue and thankfully the girls were beaming from ear to ear.

Being the first cavern in on the main throughfare has taken its toll for the Crystal Cavern. Sadly most of the crystals have been removed as pocket trophies and now the only remnants sparkling through the limestone in the light of the torch's beam are up high, out of harm's reach. 
Next we find ourselves in Bishop's Chamber. The size of a large school hall, with lots of different tunnels snaking off from it. We rest again whilst the entrance to routes with exciting names are pointed out. Coal chute, the mud escalator and the cellar. The cellar sounds only for the bold – it's a short cut route to the underground lake but involves holding your breath underwater for a couple of seconds as you dunk under a low roof ….. this one, he says, tests bravery and one he loves to take stag groups on! Definitely not for me! 
Simon sets us various challenges to see our ability and test our team work. Fun tasks like how to get the whole family to the top of an incredible slippery slope, which involved a lot of sliding & laughter.
Our next route, he decided was the 'mud escalator' and it wasn't long before we realised why it was named thus! A slanting slab of rock five metres high stretched above us, glistening with mud! With few foot holds, we had to work together to make it to the top.
We continued through the passageways, one by one, slithering and sliding through the copious mud. The girls are fully ampted and I can hear giggles and squeals coming from them ahead of me, me bringing up the rear. We're all still happy. Simon stops us regularly to make sure we're all okay and explains the next section or asks us which way we'd prefer to go.
How long do we think it will take our eyes to adjust to the dark? Simon asks us, as we ponder on his question, to simultaneously to turn our head torches off for 20 seconds. We plunge into darkness and the girls count in unison out loud slowly to 20 before we gladly feel out our switches and illuminate our passageway again. 10 minutes? No. 30 mins? No.  3 hours? No. It's actually never. There is absolutely no light down here so your eyes will never accustom. We immediately quiz him on what spare batteries he has on him, to which he smiles and points to several different torches affixed to his helmet and pats his rucksack with spare batteries in. Phew! 
By now we'd been underground for 40 minutes or so and Simon thought it was pushing it too much to get the whole family to the lake. Wise words of it's better for the girls to leave with a good experience. Definitely. The lake wasn't much further ahead but had a tricky navigation down to it which would take time with the girls so Simon and I went ahead and minutes later I was gazing down at a magical pool (the photo doesn't do it justice!). 
At over 90ft deep there's further exploration here for divers (who use the rope you can see on the left hand side of the lake) to can access a further chamber, the largest in the whole of Devon, partially air filled. Again, no thanks. Not for me! 
After the obligatory photo, we raced back up to the Scott and the girls who had been having a competition over who was the muddiest, and started to re-trace our steps back. Once back in Bishops Cavern we had to guess which entrance we'd come in. I like to pride myself on my excellent navigational skills, but none of us had the foggiest of the route we'd originally accessed the chamber. Just goes to show how vital it is to have an instructor with you. Never go caving alone!
After an hour and a half underground, we crawled out through the secret entrance once more into blinding sunshine. It's a euphoric moment feeling the sun on our faces, after being devoid of it completely for so long. As much as it was thrilling and exciting exploring subterranean Devon, it was SO wonderful to surface again!
On the way back though the farmer's field Simon showed us an ancient dovecote mentioned in the Doomsday Book!
To finish off, we walked down to the river, bathed in sunlight, to wash the mud from our caving suits and to thank Simon from Isca Outdoor for being the most amazing caving leader!
I was so proud of our two girls. They had seriously challenged themselves in a scary but exciting new environment. Later round the dinner table we discussed as usual the best bits and the worse bits of our day. My 6 year old insisted that caving was her best part AND the worst part of her day. She was so excited, but half scared at the same time. I couldn't have agreed more!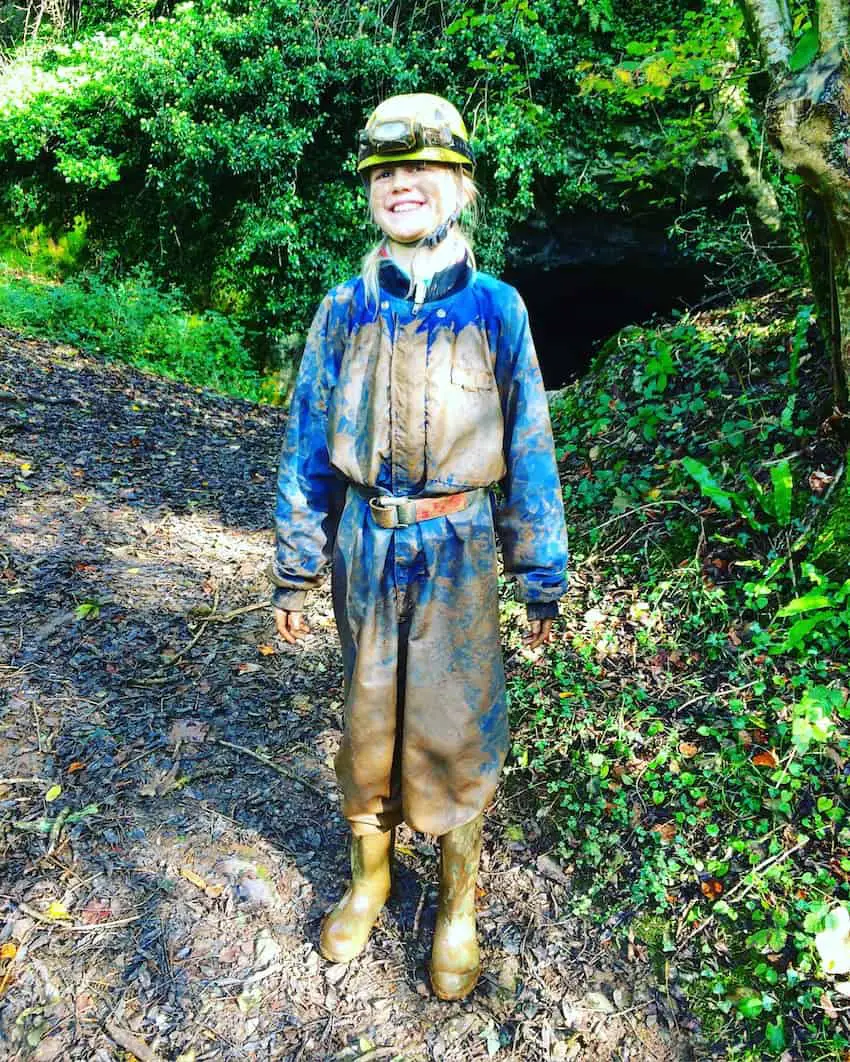 Caving as a family is a brilliant experience. I would definitely recommend caving in Devon at Pridhamsleigh Caverns, with Isca Outdoor, for any family wanting something new and exciting to experience.
And remember caving in Devon is a brilliant thing to do in Devon in the rain!
Expect to be pushed very slightly out of your comfort zone. Your heart will race to a higher beat at points, I can tell you. It's a challenge that might test your fears, and you will certainly get muddy & a little bit wet.
Would I do it again? Definitely. It was such an amazing experience to discover the beauty of subterranean Britain. A whole new world.
More information on how to book caving in Devon
I would definitely recommend Isca Outdoor to any family wanting to have a caving experience day. Isca Outdoor has 13 years of experience and have incredibly small safe groups. Their ratio is one instructor to 6 people (half the size of other local caving guides) and will dedicate one instructor to your family, even if it's a family of four. They run caving tours all year round, apart from Christmas.
A morning or afternoon caving tour
Cost: £30 per person
Allow: 3 hours for the total experience including kitting up, with around 1.5 hours underground.
Full day package
Cost: £50 per person
2 x 3 hr activites such as climbing or abseiling at a private site, Chudleigh Rocks, in the morning and caving in the afternoon (or vice versa) 

For more information visit Isca Outdoor – www.iscaoutdoor.co.uk
or call Simon on 01392 340484 
Save
Save
Save
Save
Save
Save
Save
Save
Save
Save
Save
Save
Save
Save
Save
Save
Save
Save