NOTE: LUNDY ISLAND IS NOT CURRENTLY OPEN TO THE PUBLIC DUE TO COVID-19
Lundy is like marmite. You'll love it or hate it. Staying on Lundy Island, for anyone like us, with even a whiff of outdoors adventure, is a dream come true. Outdoor lovers – I guarantee you'll fall in love with this windswept granite island.
Only 10 miles off the dramatic North Devon coastline, Lundy Island, owned by the National Trust, is Britain's first ever marine conservation park. Stunningly beautiful, a haven for wildlife & with only 28 permanent inhabitants, Lundy is the perfect place for adventuring families to explore.
Here we give you our top 10 tips to get the most out of staying on Lundy Island.
 
 
Things to do on Lundy Island
1. Go Letterboxing
Letterboxing in Lundy will guarantee you a tour around the island like no other. This treasure hunt slash geocaching activity involves following clues to find 'letterboxes' (tupperware/ ammunition canisters) which hold 28 stamps hidden around the island. Child's play? Frankly, from experience – not at all. It's rather hard, almost impossible, to collect all 28 stamps.

Some letterboxes hide in precarious locations, others require full on compass action, and one involves scrabbling over to Rat Island at low tide!
Graded according to difficulty (green, orange and red) green (the easiest) through to extremely challenging (red) . On completion of each coloured circuit, you can return triumphantly to the shop for a certificate.
There's even a letterboxing log book in the tavern with tips, extra clues & jottings from other letterboxers. Trip Advisor comments rave about this activity and we were in complete agreement – thumbs up to an adventurous fun way to explore the island, BUT be prepared to become obsessed, as it can take over your stay. Some of the stamps are extremely hard to find and left us deflated as we walked away bewildered & stamp-less.  Head to the shop on arrival to buy your letterboxing pack (£7.00).
Top Tip: definitely a brilliant way of discovering the island and without doubt a reason for returning – to finish the quest!
2. Spot Lundy Island puffins at Jenny Cove
Lundy and puffins go hand in hand. Puffins on Lundy Island are famous. For starters, 'Lundy' is Norse for Puffin, plus everything I'd ever gleaned about the island was based around this bird, with even the Lundy Island stamps bearing this funny little bird.
Definitely on the tick list, we were eager to see one of these intriguing creatures up close and personal. However, these extraordinary birds, a breeding triumph after virtually being wiped out by island rats, take up residence on some pretty treacherous cliffs. Jenny Cove is situated in the middle of the East Coast of Lundy Island, not too far North from the Old Lighthouse.
Carefully negotiating our way around Jenny Cove with cliffs 100 metres high, armed with binoculars and bated breath, we were rewarded with a very far off tiny view of them. So microscopic, in fact, that the girls (and admittedly myself) were slightly crestfallen. It's difficult to get close to the puffins on Lundy Island but wonderful that they have made such a come back after being virtually wiped out.

I would still encourage you take your kids to see them. It's such a stunning location but prep your kids that they won't be in the midst of these birds by any means. Still worth the visit and our girls are still puffin mad!
Top Tip: Lundy intentionally has no signposts. It is a steep sided island left wild. There are no warning signs of imminent cliffs or hazardous areas. Warn your children not to race off and use caution when approaching cliffs.
_____________________________________________________________________________
Want to visit other epic UK islands? Read our post
4 REASONS WHY FAMILIES WILL LOVE SARK
_____________________________________________________________________________
3. Climb the 147 steps of the Old Lighthouse
Climb the highest point on the island. A beacon for all visitors, The Old Lighthouse, one of the most exciting places to stay on Lundy Island.
A beautiful spiral staircase leads you up 147 well worn steps to reach the redundant lantern room. It's a steep climb, but rewarding, with far reaching views over the island and on a clear day over the coast to Wales, Devon and Cornwall.
We love the couple of deckchairs up there – a perfect place to watch the sun go down.
Top tip: take a bottle of your favourite tipple up with you.
___________________________________________________________________
Read our accommodation review on the Old Lighthouse here
___________________________________________________________________
4. Spot the seal colony at the Northern Lighthouse
Staying on Lundy Island you're bound to some seals frolicking in the ocean or basking on rocks. Seals are prolific on Lundy, favouring the Northern point and the more accessible East coast.
Hiking up to the North Lighthouse can take between 1-2 hours, deceptively longer than you'd expect for a island of such small proportions.
Nevertheless it's fabulous to watch the seals hauled out resting on the rocks or gliding, so agile, in the water.
While you're here, as everywhere on Lundy, you can pick up a few letterbox stamps hidden in the midst.
5. Explore the battery ruins on the East coast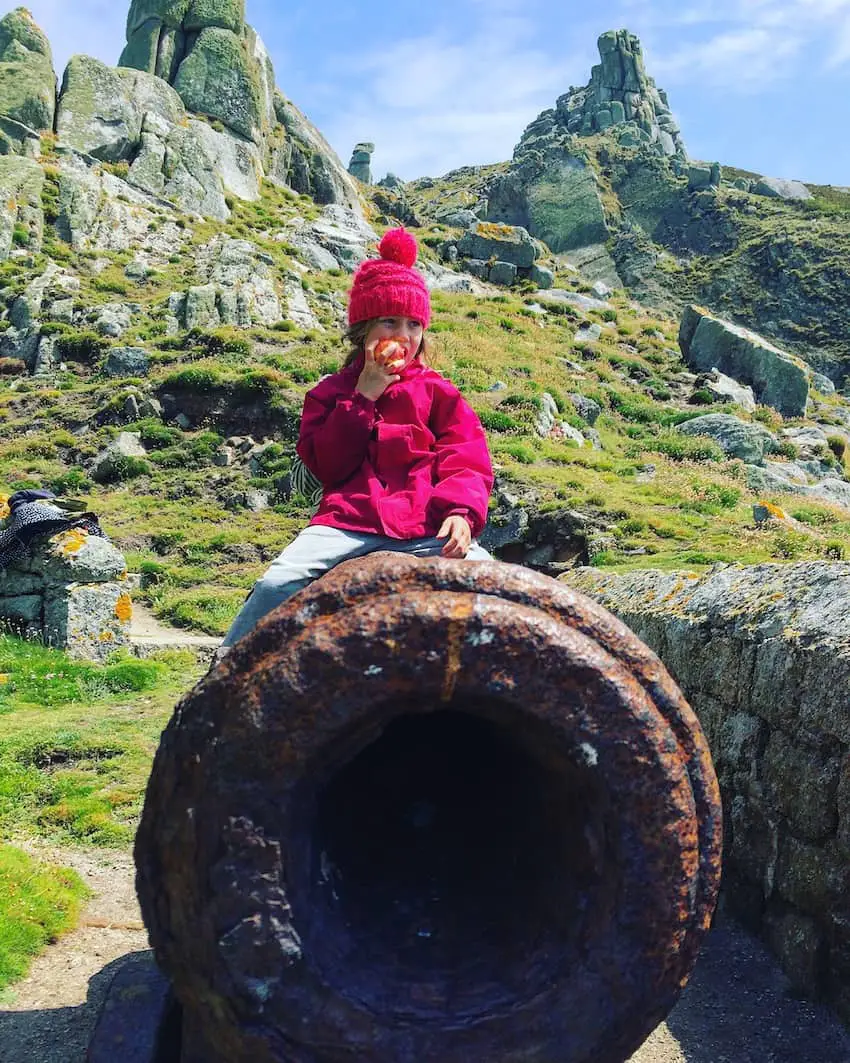 Just North of the Old Lighthouse, next to Dead Cow Point, you'll find the ruins of the old fog signal station.
Set up in 1862 after the failings of the Old Light became apparent, canons set off blanks every 10 minutes during fog to warn ships off the hazardous coastline.
It's a safe, easy climb down within stone walled steps and you can explore the canons and the ruined cottages of the gunners's families.
It's also an excellent place to pitch up for a snack & watch the guilemots sweeping down from the cliffs to fish.
6. Get up early & watch the mysterious mist roll off the island
What makes Lundy so special is the distinct lack of people.
Actually staying on Lundy Island, instead of just visiting for the day is unforgettable.
Once that boat leaves every other day, crammed with day trippers bound for the mainland, absolute peace descends on this tiny island. Car free (and practically people free) you'll have the island (almost) to yourself.
There's nothing like rising early to the baah of sheep, the squark of skylarks and the blust of the wind, to watch the infamous fog roll mysteriously off the the island onto the ocean. Photographers' paradise!
7. Munch on a lamb pasty in
The Marisco Tavern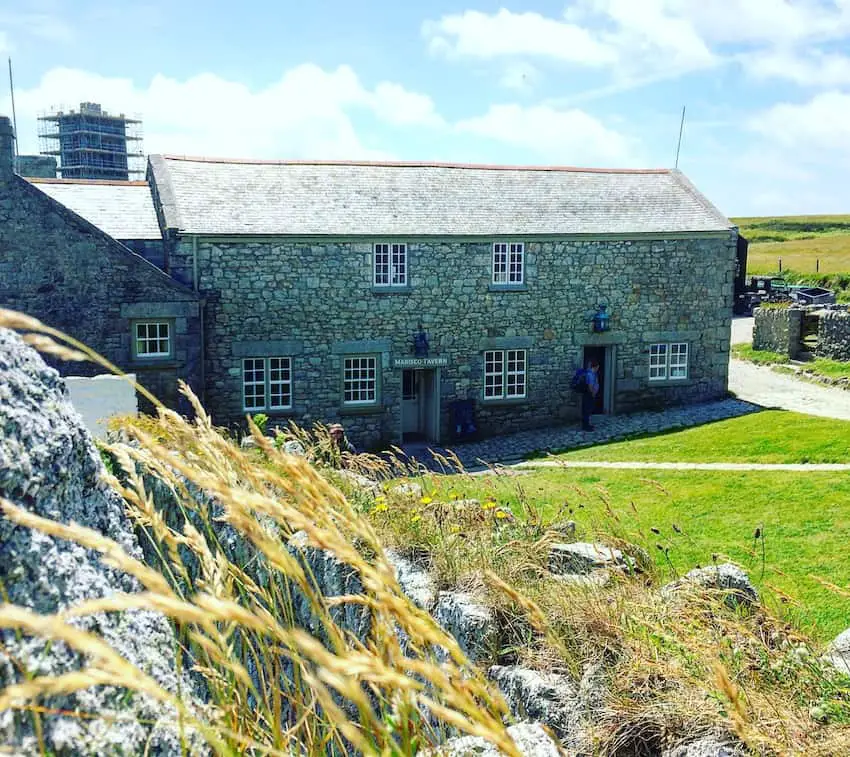 The Marisco Tavern is the heart of island life and rumour has it that it's door never closes. Head here for the infamous lamb pasties, a pint of local (mainland) ale and fabulous stories of the Lundy of old.
The island's history, adorned on the tavern walls, with posters of shipwrecks, shelves creaking with books detailing the island and a plethora of maritime memorabilia.
There's also a strict no mobile phone rule here (you'll have to pay a fine if your mobile rings inside the Tavern!).
If rain forces cover, the pub has mountains of board games – perfect for families.
8. Say hello to wild ponies
There's something strangely stirring to watch wild horses roam free. I've seen them on Exmoor, heard wonderful accounts of them in Iceland and was thrilled to see them on Lundy.
On the windswept, rugged moorland North of the half way wall (the island is sectioned into quarters by three dry stone walls apparently built by convict slaves) the herd of ponies run free.
They are a delight to watch but beware, keep your distance. The word is they bite!
9. Send a letter using Lundy Island stamps
Lundy has the oldest private postal service in the world. Pretty cool fact.
In 1928 the GPO withdrew it's services from the island and so two years later, in 1930, Martin Harman, whose family privately owned the island, introduced the what is now famous, Lundy island stamps featuring a puffin. Originally only valid for post back to the mainland, the stamp now validates post to the entire UK.
At one time, Lundy island stamps were only allowed on the back of the envelope, being deemed as 'private stamps'. In 1962 consent was granted to stick the stamp onto the front, but only on the left hand side (as the right has to be reserved for the official UK stamp!).
There's only one postbox on Lundy, set into the Tavern's wall (below) and it's quite the thing for tourists to post a postcard from Lundy to the mainland.
10. Spot dolphins
Dolphins often accompany MS Oldenburg to or from the island. Having missed them on our journey out, we were delighted to see them on our way home, whilst watching beautiful Lundy fade into the horizon.
With 3 days on the island we left feeling like we had still so much to explore. We still hadn't made it to obvious draws such as Benson's cave and the castle keep as well as a recommended swim at Quarry beach.
So much more beckoned to be discovered, and, as many before us have experienced, we realise we've fallen under the special charm of the island which entices visitors to return year after year after year.
We love you Lundy!
______________________________________________________________

Read our post
LLAMA WALKING IN DARTMOOR NATIONAL PARK
___________________________________________________________________________________
Save
Save
Save