Volunteering in Borneo is an experience you'll never forget! In August 2018, I took our oldest daughter, at the age of ten, on our first family volunteering holiday.
On a 6 night rainforest conservation programme, booked with The Great Projects we had an incredible experience volunteering in Borneo – one of the last great bastions of rainforest in the world.
Volunteering in Borneo
There are actually rather few opportunities to volunteer in Borneo.
One of the best areas to go to to volunteer in Borneo is the Kinabatangan River, in the north of Borneo in Sabah. The Kinabatangan offers some of the best options for volunteering in Borneo through Ape Malaysia or the Sun Bear centre in Sepilok.
This is our second article on our volunteering in Borneo trip and this post will tell you what to expect day by day on The Great Projects family volunteering holiday in Borneo.
To read more about the details of the project, such as the what, where's and whys, go over to our first article – Family Volunteering in Borneo with The Great Projects.
In this post we will give you our diary account of our family volunteering holiday, as well as our video diaries so you can see first hand what we got up to, how we were feeling or to get a good idea if this family volunteering project in Borneo would suit your family.
Scroll down to see the video diaries day by day or jump straight to our The Family Freestylers YouTube channel to watch them all in one go.
>>>>>>> – > >>>>>> – >>>>>>> – >>>>>>> – >>>>>>> – >>>>>> – >>>>>> – >>>>>>
DAY 1
ARRIVING IN SANDAKAN, EAST BORNEO 
We flew into Sandakan, Sabah's second city and the gateway to the Kinabatangan (& the famous Sepilok orangutan sanctuary), a day earlier than the project started to avoid the exhaustion of jet lag, gather our bearings and get a head start on acclimatisation of the humidity. 
Day 1 is really just a greet & meet, collection from the airport and transportation to your first nights accommodation (around 45 minutes from Sandakan airport). So if you're on a tight time schedule stick to the project's itinerary of arriving in Borneo on this day as you won't be expected to do much on the first day.
If you're planning adventuring in Borneo for a little longer than just the volunteering holiday (which we would highly recommend) then you can arrange your trip around the project dates and, like us, The Great Projects will arrange for a driver to collect you from your hotel to meet with the other volunteers on the day they fly in.
On the twenty minute drive to the airport to meet the other family joining us on our 6 day rainforest conservation adventure, our minds are a heady mix of apprehension and excitement. 
Our driver, Ray, doubles up as a part time guide and he chatters excitedly about pygmy elephant sightings, just yesterday, on the banks of the Kinabatangan River. We hang on his every word, and pinch ourselves that we are actually in Borneo! 
Jay 12, Mia 10 and Mum Vanda, a British family living in Brussels, are ushered to our vehicle and greet us shyly. They seem lovely (inward sigh of relief!) and incredibly Vanda is travelling solo with her kids too.
Watch our first day video diary below, where Minnie, 10 years old, discusses how she feels arriving in the rainforests of Borneo for the first time.
We rattle along on the short half hour journey to the traditional long house where we will stay for our first night, before heading deeper into the rainforest the following day.  
The long house at Paganakan Dii Tropical Retreat is very close to Sepilok, the famous orang-utan sanctuary, and so was bustling with tourists and families discovering the area.
Our two families were allocated a longhouse dorm all to ourselves with pristine white linen on each of the bunks, mozzie nets and fans overhead.
The dorms are simple wood, but beautiful.
Fans beat the still air in a half hearted attempt to move the air, dense with water droplets, for the humidity is a whopping 98% here and it takes a bit of getting used to.
The beds are comfy, barn doors access either side, whilst showers and toilets are downstairs.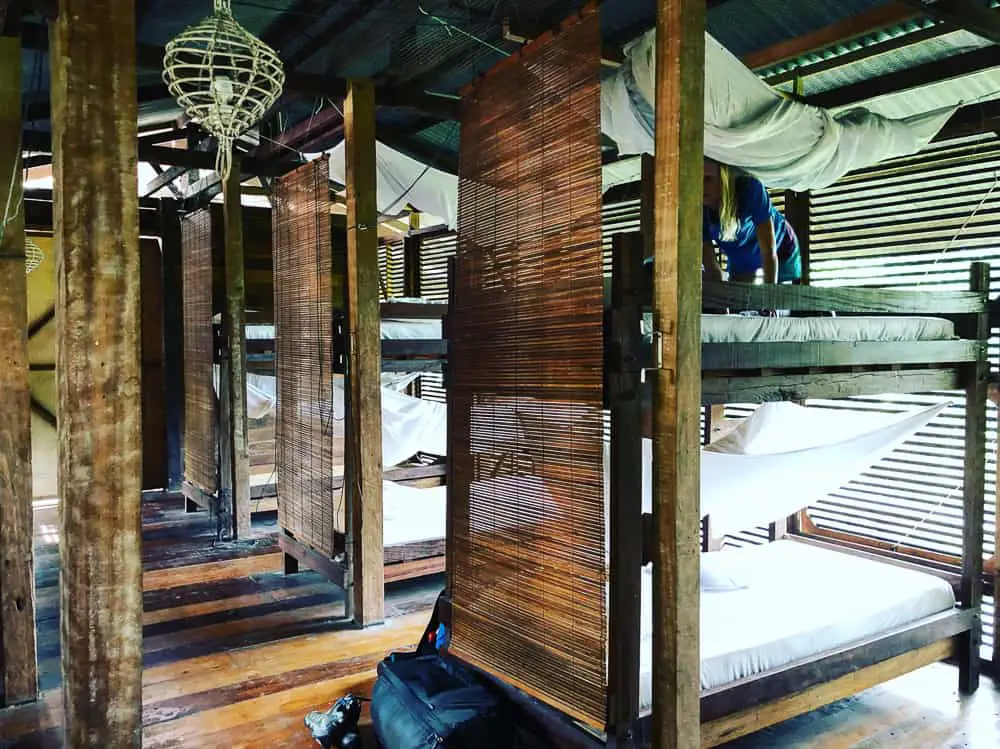 It's the perfect introduction to the rainforest as we look out over the dense, verdant foliage bristling with a chorus of noise from unseen creatures.
We're given the afternoon to chill and to get to know the other family and it's nice to relax and not tied into a tight schedule – something no-body needs after a tiring, long haul flight, particularly with children.
Ape Malaysia – the local aid organisation
We meet our project manager, Mark from Ape Malaysia (the local charity that The Great Projects works with which focuses on animal projects & environmental education) for a de-briefing talk at 6 sharp before dinner.
He's an intelligent, serious chap with a wide smile, who is clearly passionate about the work here. In fact, he helped set up this project ten years ago, so we know we're in good hands. 
He thanks us for coming and tells us "In the last 2 years the project has moved quite forward in terms of landscape level in terms of restorating back the Kinabatangan landscape. The hard work has been challenging the past 8-10 years and it has not been easy. But a lot of what we have been doing has been achievable only because we have had participation from volunteers". 
You can watch Mark below on the video giving us a heads up as to what we will need to wear in the rainforest, discussing leeches, single use plastics, and why this area of Borneo is so special. Listen out for the torrential rain pouring down outside.
He has a friendly, easy way with the kids and explains the project easily for them, telling us how important the work is for the future, not only of the great orangutan, but the future of the coral in the sea.
Re-planting the rainforest stops soil erosion… and if the river silts up (from soil erosion) and runs into the sea then the coral will die. He explains how everything is interconnected, and our kids get it. Totally.
Mark explains we will be heading for a further two hours deeper into the rainforest tomorrow, to a tiny village called Sukau, on the banks of the Kinabatangan River.  It's here that we will be based for 4 nights carrying out our rainforest conservation work and wildlife spotting. He explains a brief outline of what we will be doing each day over the next six days, before we bed down for our first night in the rainforest.
>>>>>>> – > >>>>>> – >>>>>>> – >>>>>>> – >>>>>>> – >>>>>> – >>>>>> – >>>>>>
DAY 2
TRAVELLING DEEPER INTO THE RAINFOREST TO THE VILLAGE OF SUKAU
Day 2 sees us travelling deeper into the rainforest to the tiny village of Sukau sprawled along the banks the mighty Kinabatangan River.
We're all pretty exhausted as the intense noise of the rainforest at night (bring some earplugs) and the heat took some getting used to, but we're excited to get underway & start the programme.
It's a two hour drive in which our families get to know each other and we quiz Mark on everything from Nutella and palm oil, to his history with Ape Malaysia and his impending trip to the US for a series of talks to generate much needed interest and hopefully donors from the international market. Mark states "Conservation without money is conversation". Very true.
Watch our video diary of our second day on The Great Project's family volunteering holiday in Borneo.
We pass through rows upon rows of uniform palm oil plantations as the road heads south and Mark discusses the pros and cons of the palm oil business with us to the biggest problem in Borneo right now – human elephant conflict.
It's fascinating and immediately I know that this family volunteering trip is going to be the first of many.
Conservation without money is conversation
The road deteriorates rapidly as we approach the village, our mini bus swaying precariously as the driver negotiates the potholes.
We skirt the village and arrive at our riverside accommodation which is basic, but clean, and more importantly, has both an ensuite and air-con.
The coffee coloured Kinabatangan River is the star of the show here.
Visitors from all over the world pay good money to get to these famous banks, as this is only one of two places in the world to boast such incredible numbers of such diverse wildlife.
The river is gapingly wide with water so murky that it's impossible to see what lurks beneath. Crocodiles. 
The rainforest hugs the water and a vast granite cliff draped with vines rises above the opposite bank housing scores of swifts in tiny mud nests.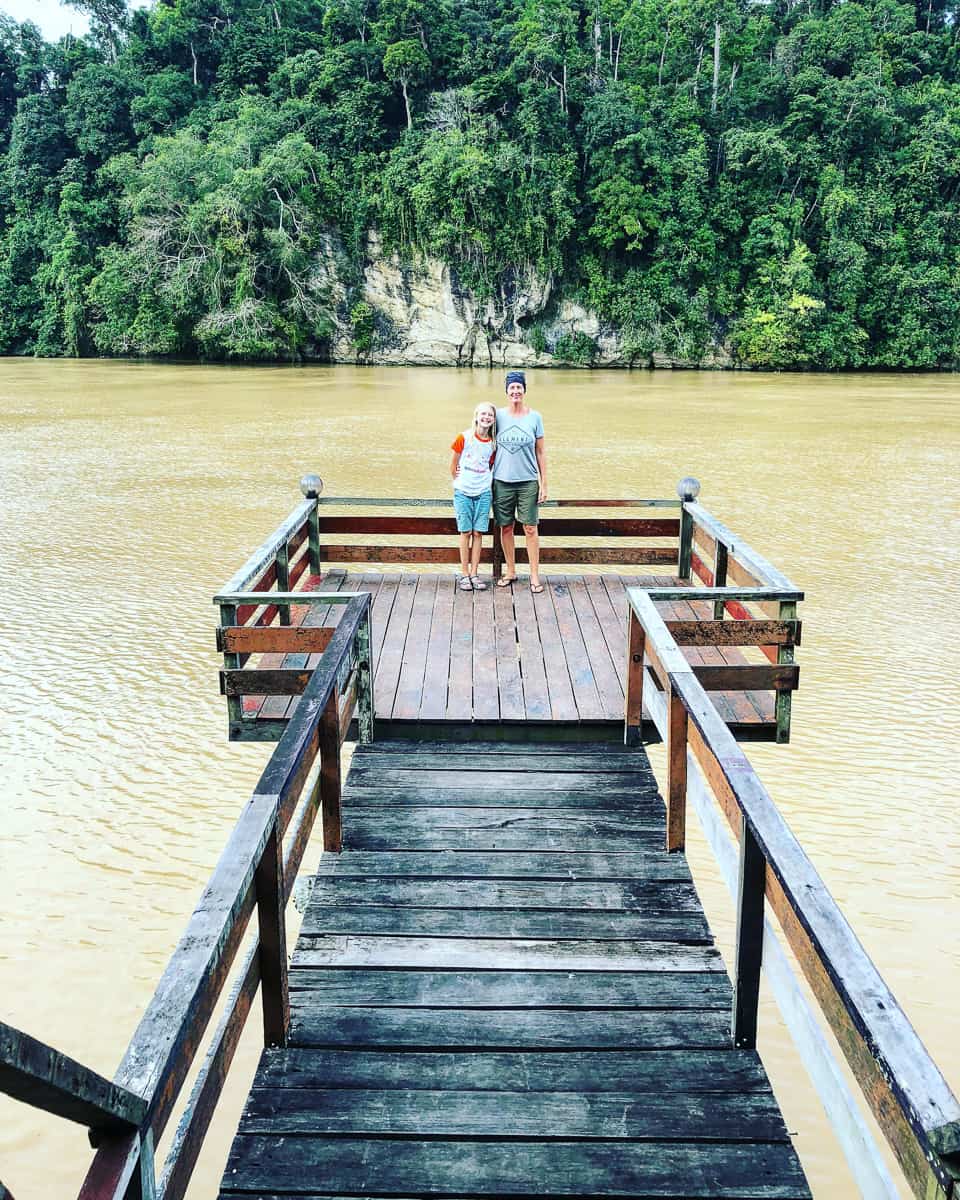 The jetty of the lounging area to our accommodation juts out into the rapid, swirling water.
Here we're provided with a clean water dispenser to refills our drinking bottles, tea and coffee and tables and chairs to relax and watch the world go by.
The kids, still shy in the bus, immediately bond on the discovery of five fluffy, ridiculously cute kittens, meowing helplessly in a tatty blanket. Instant best friends. 
River wildlife trips
After a few hours settling in and meeting our local guide, Mus, we don bright orange life jackets and clamber into a long wooden boat sitting two by two.
We're taking the first of what will be many exciting river boat outings to scout for wildlife.
 The outboard rumbles into life and the boat navigates a large turn heading downstream and cuts close to the opposite bank where we maintain a steady speed as our guide, Mus, scours the dense vegetation with expert eyes.
We learn the difference between cat fish bubbles (in a line) and crocodile bubbles (in a circle) and Minnie spends at the first ten minutes anxiously watching the water rush pass her, watching for signs of crocs. Eventually she gives up to watch the rainforest for signs of life. 
This is secondary rainforest. This is not pristine primary rainforest dating back thousands of years.
There's only 8% of primary rainforest remaining in Sabah and that's mainly around Sepilok, the Danum Valley and Kinabalu National Park. However, secondary rainforest, like here in the 'Corridor of Life' makes up more than 50% of Sabah – an impressive figure.
Most of the primary rainforest was logged a long time ago, starting when the British left (the natives being forced to turn to their natural resources) until relatively recent times.
After the horror of hearing such hard facts, the blow is softened by our guide explaining that primates and other animals in Borneo actually don't need the height of primary rainforest and their many dipterocarps (a hardwood, tropical tree that can grow up to 90m tall).
Secondary forest is no longer at risk of logging and is just as sufficient for primates to move around in.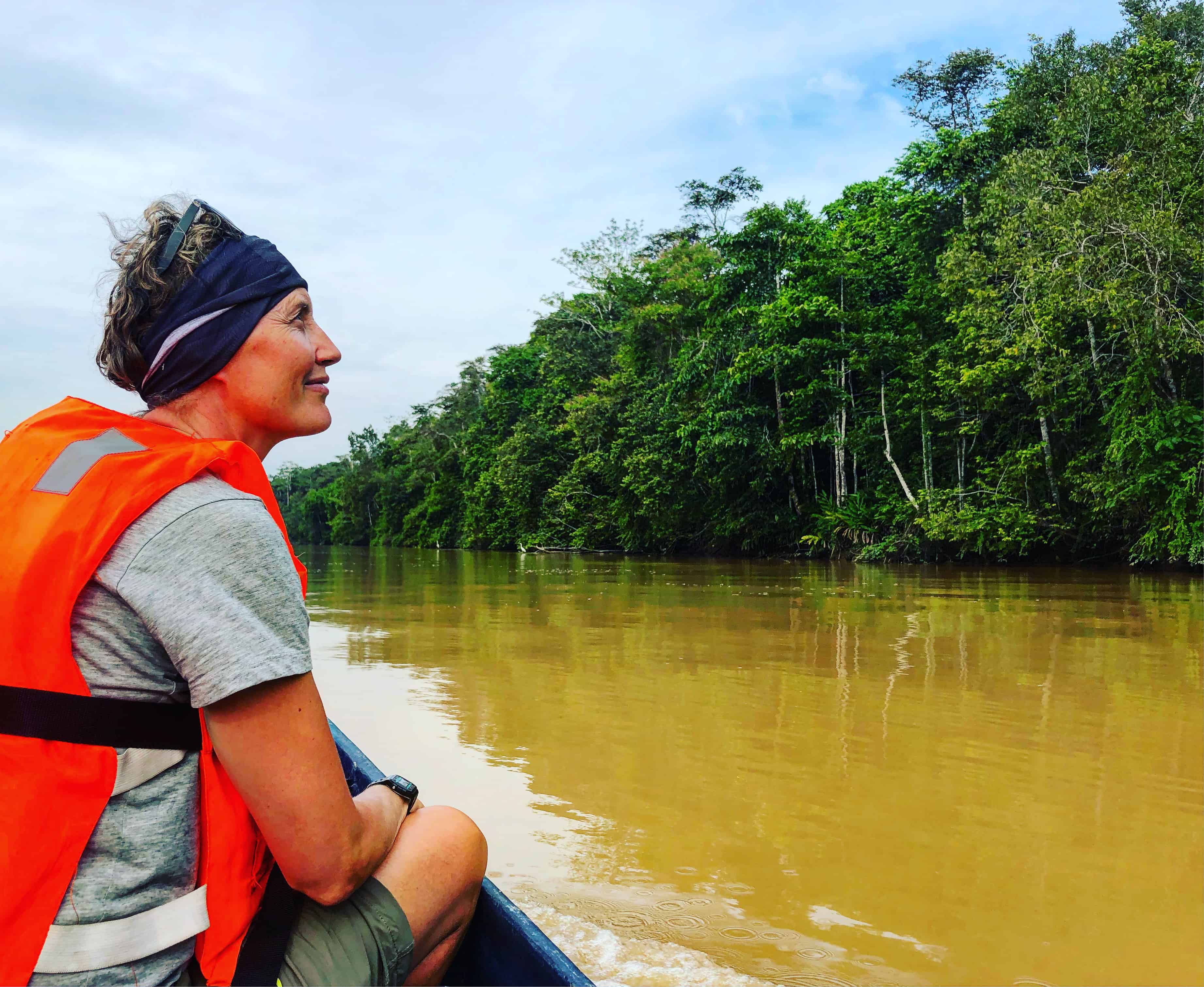 The banks are a tight knit fabric of trees, dense oversized foliage, and dangling draping vines. In sections, grasses tall as a man line sections of the banks, whilst in others, trees hang over the murky water.
Within minutes we've spotted mischievous long tailed macaques, several species of hornbills – their signature beak silhouetted against the sky, and white bellied sea eagles soaring high above us.
Further down the river we see a bounty of cheeky long tailed and short tailed macaques busy swinging through trees, chomping on fruit and gazing back at us with bright, curious eyes.  
The river gives fantastic opportunities to see wildlife up close without disturbance. We wait a while, cutting the onboard, as we marvel at them watching their behaviour. We notice one particular macaque holding something close.
Guarding it aggressively from the others, whilst hugging it to his chest protectively. Our guide identifies it, with a note of surprise, to be a baby civet cat. The macaque has stolen it from it's mother, and sadly its chances of survival are slim (see footage of this in our video diary of today).
Proboscis monkeys
We then spot several groups of proboscis monkeys, some of them feeding on the laden branches of under ripe fruit of the the Apit dapit (or sungalapit tree) drooping into river.
The male Proboscis monkey are identified by their 'life jacket' band of orange fur around their torso, with strong powerful white legs, and of course their colossal pink noses. 
There are around 6000 proboscis monkeys in Borneo with 1500 living here on the banks of the Kinabatangan.  
We also add the silver leaf langur, four out of the eight species of hornbill (Oriental, Bushy Crested, lack, and Wrinkle hornbills), a flying lemur (local name, gelugo) and plenty of snowy coloured egrets fishing, to our wildlife tick list.
>>>>>>> – > >>>>>> – >>>>>>> – >>>>>>> – >>>>>>> – >>>>>> – >>>>>> – >>>>>>
Day 3
Extreme Weeding with Machetes
Today we wake early around 5.30am and meet Mus, our guide, at the nearby restaurant to gobble down a breakfast of delicious soy noodles, boiled eggs, sweet toast and bitter coffee.
We're excited.
Today is the day we start work in the rainforest, so we're all exceptionally excited with a thousand questions spilling out of our mouths over breakfast.
Minnie & I have donned our rather curious leech socks. We managed to pick these up in the central Sandakan market, but were incredibly hard to find (I'd recommend ordering some online before you leave, although I saw a couple of pairs left for at the longhouse accommodation for 15 RM each). 
Leech socks resemble a Christmas stocking of white calico with a drawstring tie just below the knee. They feel very baggy around the foot, almost like we're wearing a sack over your normal socks (and then having to squeeze into wellington boots!).
We're chomping at the bit to get started and we excitedly line up with our life jackets on. We'll be travelling to the rainforest site, where we'll be working today, by boat.
Have a look at the photo below. Can you see our tiny, blue boat?
This is our maintenance site below. Our job was to identify where each young sapling was (not easy in the waist high overgrowth) and after our machete lesson (!) to carefully chop back the dense undergrowth around the sapling to allow it light and air.
Ape Malaysia have an incredibly high success rate with re-planting. Mark, the project manager, says this is down to their diligent maintenance work in keeping saplings free from overpowering vegetation.
Watching your child learning how to use a machete is a heart in the mouth experience.
Our guide, Mus, assured us that his machete was much sharper than ours. Nevertheless, these tools were the real deal and nothing to joke about.
The kids were in their element. Me and a machete? My daughter transformed into Katniss Everdeen.
Fresh from our machete lesson, we split up and were allocated saplings which Mus and our boat man had managed to pin point and flag up for us.
It was tiring work revealing the saplings and slicing through dense vegetation with our blades. The thwack, thwack noise joined the cacophony of the background rainforest chorus of humming, chirping and buzzing and became our soundtrack for the next 2-3 hours as we slowly worked along the clearing, creating a pattern of large brown circles around each sapling.
See Minnie in action talking you through our first morning of work in the rainforest in her video diary Day 3 Part 1 below.
She explains what we are doing and why it's so important.
After 2-3 hours weeding, we've cleared the area & take the boat back upriver to collect leaves and the new saplings in readiness for tomorrow.
We rake fallen leaves at a nearby lodging, scooping them in handfuls into hessian sacks.
This will be the fertiliser for the baby trees. All natural here.
We return back to base and have a leisurely hour or so to chill before lunch is served at the restaurant.
In the afternoon we again, climb back into our boat and chug down the river for another couple of hours to search for more wildlife. 
Orangutans can't swim like my monkeys so they don't come to river to drink. We strain our necks looking up at the canopy, all secretly hoping to spot real wild oraganutans but know the chances are slim. W
e do see a nest though perched high in a tree, but sadly the nest is an old one and not currently inhabited.
Nevertheless we see a myriad of wildlife, the ever tropical looking hornbill with the huge horn on it's beak, the graceful egret standing tall and proud and again scores of monkeys playing the fool.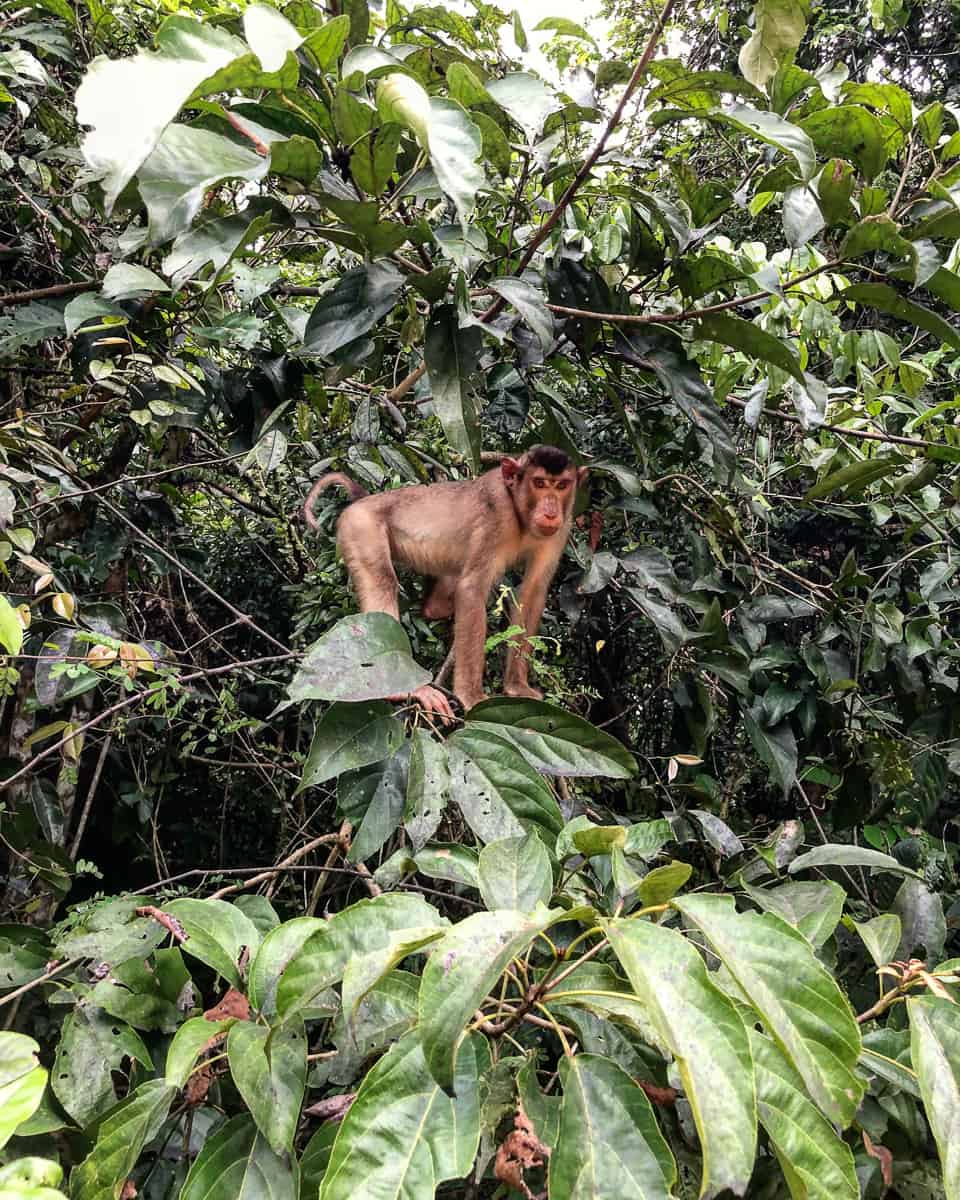 After a tiring day, and another delicious dinner, Minnie talks about her third day on the project and what we'll be doing the following day.
She's pretty exhausted but rather animated! Watch her video diary below.
>>>>>>> – > >>>>>> – >>>>>>> – >>>>>>> – >>>>>>> – >>>>>> – >>>>>> – >>>>>>
Day 4
Re-planting the rainforest
We rise again early with the sun, and scoff down a breakfast of soy noodles, toast, boiled or fried eggs washed down with a coffee with powdered milk.
Dawn has already broken, so it's light outside but the light is soft and there's a stillness and coolness that makes you want to rise this early every morning to catch this magical time.
We munch our breakfast watching the currents in the coffee coloured water swirl and eddy.
The Kinabatangan River starts in the hills of the Eastern Witti Range where it begins its 350 mile journey snaking it's way through forested interior to swathes of low land before joining the Sulu sea in Sandakan.
Each year, the lashing rains of the northeast monsoon cause the river to swell rapidly. Unable to disgorge into the sea quickly enough, the river frequently overflows its banks and spreads across the flat land of its lower reaches, creating a huge floodplain.
The lower Kinabatangan teems with animal and plant life, making it the best area for viewing wildlife, not just in Sabah but all of Southeast Asia.
We are laden with expectation and excitement to plant our first seedings and to contribute to the fixing of the rainforest.
How are we helping aid animal movement?
The rainforest can be thought of as a patchwork. We are helping to fix the holes and to join the 'Corridor of Life' stretch of rainforest, for animals to be able to travel unhindered through the canopy from the sea mangroves downstream to the rainforest deeper inland.
Orangutans are arboreal creatures meaning they stay in the trees, swinging from branch to branch. They need to move continuously eating fruits from the trees then moving on.
We don our leech socks and wellies, throw our backpacks with extra water on our shoulders and meet at the jetty point. We're again travelling by boat, the easiest and fastest way to travel through the rainforest.
We load up our boat, heaving the sacks of fallen leaves and hefting 50 one month old saplings into the bow.
Ape Malaysia buy the tiny saplings from locals who hand pick particular species which are hardy, will thrive and whose fruits orangutans love.
Most of these seedlings, of course, collected from the dense rainforest undergrowth. wouldn't survive normally in the daily battle for light and space. But individually planted and maintained with Ape Malaysia's careful planting programme, they stand a fighting chance.
Mr Wang, our boat driver slash forest clearer gives us a large toothy smile as he revs the engine and eases out in a large arc in the chocolate coloured water. We speed up the river some 50 kilometres, our hair streaming behind us, grateful for the breeze, and we speed along enjoying the tranquil surroundings in the early morning. 
Beside us rainforest sprawls down to the river banks in an untidy mish mash. Together they knit a seemingly impenetrable wall of verdant green.
We watch the water, ever ready to spot a croc. Eagerly we point out every floating log which has an uncanny resemble to two eerie eyes watching us from the deep. But no, Mus (pronounced Moose) assures us, to our clear disappointment that they are all 'crocologs'. 
The boats slows and we scan the bank we're heading to. A sign nailed to a tree reads "Access prohibited" in English and presumably Malay. Mr Wang eases us gently to the side of the bank and Mus springs out to secure the boat for our disembarkment.
We pass out the hessian sacks of saplings and dried leaves and scramble up the bank to survey the new site.
The site has already been cleared of vegetation in readiness for us. Mr Wang immediately sets to swinging his machete expertly at impeding vegetation and quickly slicing stakes for our saplings.
We gather around Mus and look up at the hole in the canopy we aim to fill. Clearing the ground vegetation with his gloved hands, he shows us our tool for the day.
A scoop (a deeper narrow spade with a heavy stem and a sharp end). Digging a narrow one foot hole, he sprinkles in a small amount of dried leaves (natures fertiliser) followed by a sprinkle of earth. 
Carefully removing the 4 week old sapling from it's black plastic wrapper, holding it by the low stem he plops this inspirational sapling (that one by one could change the world) into it's new home.
Firming down the soil around it and surrounding it with a mulch of dried leaves, careful to keep them from touching the stem to prevent rot. This mulch will not only give the sapling nutrients but will protect the sapling for another 4-6 weeks from the advancing vegetation which can easily smother it, strangling it to the death.
We busily go to work, choosing one of the stakes indicating the planned position of the saplings. The scoop isn't as easy to use as Mus's demonstration, but after a few goes we're getting a bit better.
The kids flake easily on this chore and so we switch to working as a team with the adults digging most of the holes and the kids doing the planting. 
We each proudly pose for photos with each of our saplings. It feels like we're really making a different. Out of the 48 saplings planted, 70% are expected to survive, the remaining falling prey to long tailed marques who pick the young leaves or disease.
The humidity increases and within minutes sweat is trickling down our bodies, our clothes becoming damp. Mus cries out periodically our stats – how many we've planted and how many to go, encouraging us that we are helping the orangutans and telling us to imagine our enemies at the bottom of the spade thuds or the swinging machete.
The work in the rainforest is for only two mornings, so only 2-3 hrs at a time. It is very humid and hot, so any labour is, of course, intensified.
The kids were excited to get stuck in but, of course, as you would expect waned at the end from tiredness and heat.
The minimum age for this family volunteering holiday is 8 years old and I'd say that's about right for the level of effort required. I'd reiterate though that I think this is a great first project for any families never having volunteered before. I expected that we'd do a lot more work on the project so it did seem still very much like a holiday.
If the afternoon after a rest and lunch we were treated to a local dance and we 'tried' to make some local arts and crafts. Whipping up a bird of paradise from a palm leaf is harder than it looks, but the kids enjoyed some down time and learning the steps to the local dance was fun.
Lunch and dinner on days 4 and 5 are at a local homestay. So instead of the local restaurant we walked ten minutes along the river to Aunty Rosa's traditional typical wooden house perched on stilts. We were welcomed with large toothy smiles and open arms from Aunty Rosa and her extended family.
Sitting on the front room floor we learnt about local customs and ate the feast she'd prepared for us with food collected locally, such as ferns (cooked in coconut milk), waterlily and rebung (young bamboo shoots) with patin (local fish), squid and deep fried chicken.
>>>>>>> – > >>>>>> – >>>>>>> – >>>>>>> – >>>>>>> – >>>>>> – >>>>>> – >>>>>
Day 5
Rainforest trek & wildlife spotting on the Kinabatangan River
Day five saw us setting out on a rainforest walk on the edge of the local forest. It's quite a well trodden path so it was fine to use the same Wellington boots we'd been wearing all week on the project.
We'd brought with us our trusty hiking boots from home, as we were planning to climb the heady heights of Mt Kinabalu, Borneo and SE Asia's highest peak after the project. But if you are planning just some beach time after the project, I wouldn't bother bringing hiking boots at all.
Minnie was so pleased to meet a little friend on the trek. She'd been saying only just the night before that all she wanted to see on the jungle trek was a preying mantis as they'd been studying them at school.
Look who hopped on for a ride before we even reached the rainforest!
Watch the video clip below.
The trek was only an hour or so but gave us a good introduction into the smaller wildlife species of spiders, beetles, and fire ants.
As we step over giant lianas (the tropical woody vines that use trees to climb up to the canopy), we learn about bird nest ferns, the large ferns growing on many of the trees and strangling figs.
Strangling figs are a parasite tree that grows from a seed dropped by bird's poo, germinates on the host tree and sucks the nutrients out of it.  
Over time, this parasitic tree slowly spreads its branches from the crown of the host tree to the ground where the roots meet, forming a basketwork of interlacing roots around the trunk.
Eventually the strangling fig constricts the flow of nutrients of its host, eventually strangling the tree to death, leaving a huge hollow.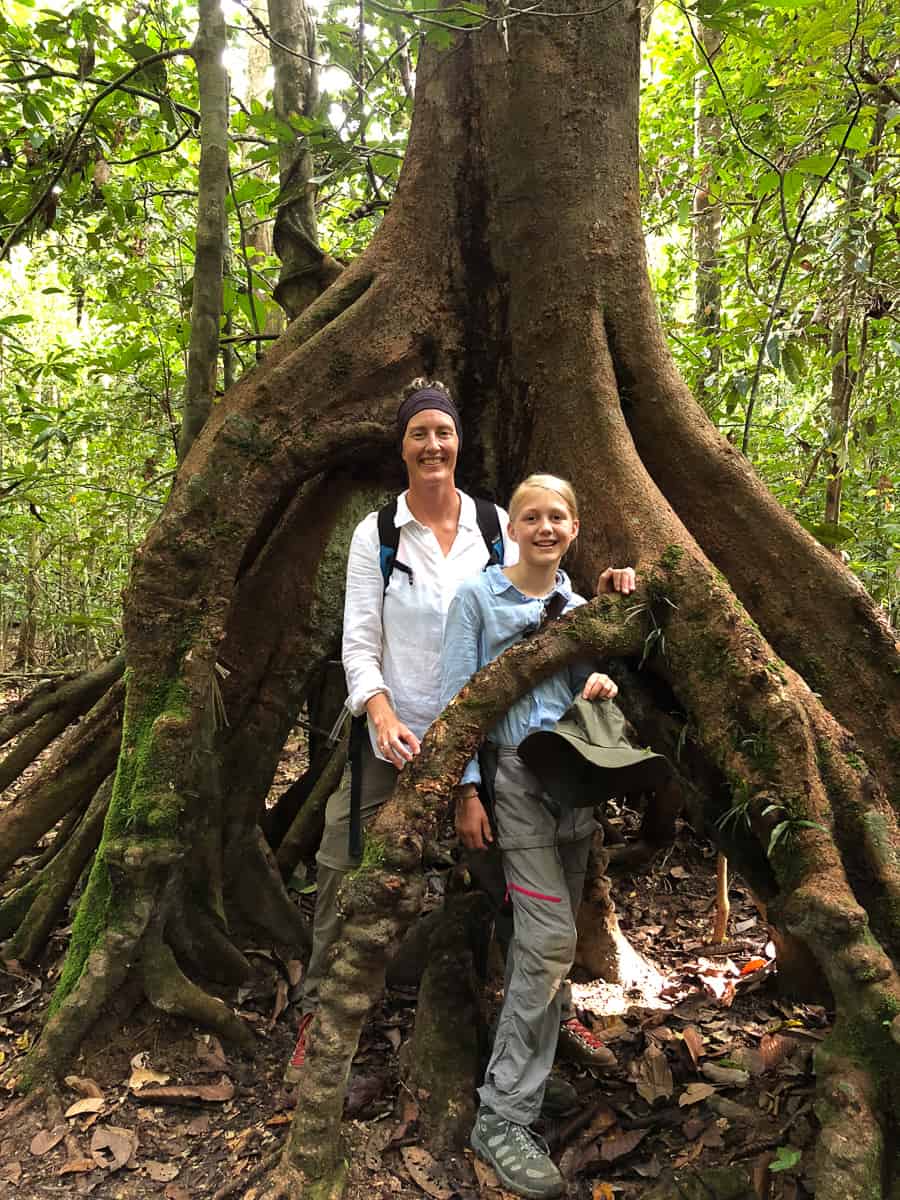 Pygmy elephants
One of the highlights of our daily boat trips on the Kinabatangan was our incredible sighting of 76 pygmy elephants crossing the river.
Grazing on the bank, the herd slowly waded into the water a few at a time, matriarchs flanking the babies, two by two, to protect them from crocodiles.
Gently easing themselves into the water, they are almost completely submerged before they raise their trunks as snorkels, and begin to swim. 
A sense of wonder descends on the small crowd. All we can hear is the snapping of lenses, the idling boat engines and the trumpeting of elephants .
Regardless of the small raft of boats, slowly increasing over the twenty minutes or so as we watched this wildlife spectacular, it remains up there with my most memorable moments on this earth.  
There's only around 245 pygmy elephants left in this area, and only 1600 left in the whole of Borneo (a survey in 2010 counted 2200).
This July (2018) 18 elephants were found dead. Some from drowning, some from poaching.
The elephants roam the hemmed in 90km stretch between the coastal mangroves and the Kinabatangan bridge 60-70kms upstream. The elephants won't go beyond the busy bridge so migrate constantly taking 1-2 months to migrate in small corridor hemmed in by plantations on each side.
We were told that the biggest problem in Borneo right now human elephant conflict. The elephants use ancestral migration paths, so often encroach on plantations.
It was only in 2000, that any research was started on pgymy elephants with the implantation of tracking devices. It's only from scientific data that we can approach palm oil plantations and farmers to try to ease the situation, Mark from Ape Malaysia says. With proving that these elephants are using the same ancestral paths, we can try to work with locals to improve the situation. 
Watch our video below to see our pygmy elephant experience in Borneo.  
We were in awe to watch a spectacular river crossing of 67 wild pygmy elephants, merely 30 metres from our boat. This was undoubtedly the highlight of our trip. 
Optional extra – night cruise
A night cruise is not included as part of the volunteering week but it's an easy extra to arrange.
On our last night we paid 150MYR (£28) for a boat driver for a 1 hour trip. We were eager to spot more crocs as they are so difficult to spot in the day and much easier at night.
We left in pitch black at 7pm, the bright stars punctuating the night sky, like confetti. The chorus of insect sounds are amplified a thousand fold at night and as the boat engine roars into life, and we slowly idle from the wooden jetty, insects swarm in the dazzling beam of our guide's torch. 
The powerful beam reached easily searching between high in the canopy for primates or civet cats and back down to the water's surface and the muddy banks for crocs. This swaying torch action went on for some time as we put putted slowly downstream in the darkness eagerly scanning the chocolate surface for signs of crocs.
Almost immediately as we reached the far bank, Mus's slow reassuring voice instructed us to follow his beam close to the river bank to a pair of red eyes protruding just above the surface.
A baby croc!
Estimated to be around a month old, we watch in awe as red eyes stared back at us for only a moment before he vanished in a dramatic swish and a roil of muddy water. Did you know a baby crocodile only spends around a week with its mother?
We continued and before long our driver spots a stalk billed kingfisher perched on a branch not 10 metres from us. We peer into the darkness, straining to see the bird until the torch set upon him again. We only glimpse him for a few seconds before he flies off abruptly.
We soon spot the smaller blue eared kingfisher, sound asleep on the end of a branch bent low with his weight. Our guide tells us that these birds sleep right on the tip of branches, so vibrations of approaching snakes alert them to an easy getaway. This tiny, brightly coloured bird had it's head and beak tightly tucked under it's wing and was out like a light. We managed to get so close we could have touched him.
>>>>>>> – > >>>>>> – >>>>>>> – >>>>>>> – >>>>>>> – >>>>>> – >>>>>> – >>>>>>
DAY 6
Visit to Sepilok Oranguntan Sanctuary, the Bornean Sun Bear Sanctuary and the Rainforest Discovery Centre
Sadly our time in Sukau had come to an end and today, day 6 of the project, we said sad farewells to our brilliant guide, Mus, and bundled back into the mini bus for an early departure back to Sepilok.
Here we were to visit the famous orang-utan sanctuary (somewhere I've wanted to visit since I was a child when I first saw the centre featured on wildlife TV programmes!), as well as the Bornean Sun Bear Sanctuary and the Rainforest Discovery Centre. The entrance fees and lunch is all included in the project.
The first of two feeding times is 10am and so we bumped along the road at top speed with blurry palm oil plantations whizzing by to arrive at the centre around 9.15.
The Sepilok Orangugan Sanctuary is very much on the tourist route so you need to be early to grab a good spot at the feeding station. This is where rehabilitated orang-utans, now released into the wild, come back to feed twice a day.
The 43 square miles of primary forest that the sanctuary occupy makes up part of only 8% of primary forest left in Sabah. It's here that, trees, straight as soldiers stand on average around 50 metres tall, with a record breaking tree of 90m being recorded not so far away.
A short drive away is the Rainforest Discovery Centre which shares this swathe of remaining primary forest. We enjoyed walking the high canopy boardwalks & admiring these incredible trees.
There are 30-40,000 orangutans wild in Borneo, although the largest population lives in the much larger neighbouring nation of Borneo, Indonesia.
A survey in 2007 estimated there were 11,000 left in Sabah. Wild orang-utans that have been injured are rescued and brought here to be rehabilitated and hopefully, one day, released into the wild.
It takes 6 years minimum for rehabilitation and up to 18 yrs depending on each orang-utans individual learning capabilities & experiences ie trauma.
We were on the first row of the observation deck at the feeding station and so were delighted to see a couple of orangutans swing by to grab some free food.
Again, for about the hundreths time on this trip, I wished I had invested in a good quality zoom lens to witness the moment.
We then wandered next door to visit the Bornean Sun Bear Sanctuary which was excellent.
I'd never heard of the sun bear before reading The Great Projects information on the project so it was interesting to learn that sun bears are the smallest bears in the world and as equally life threatened as the well known orangutan.
So little is known about this species, also called honey bear or dog bears, and was the inspiration behind the Winnie the Pooh.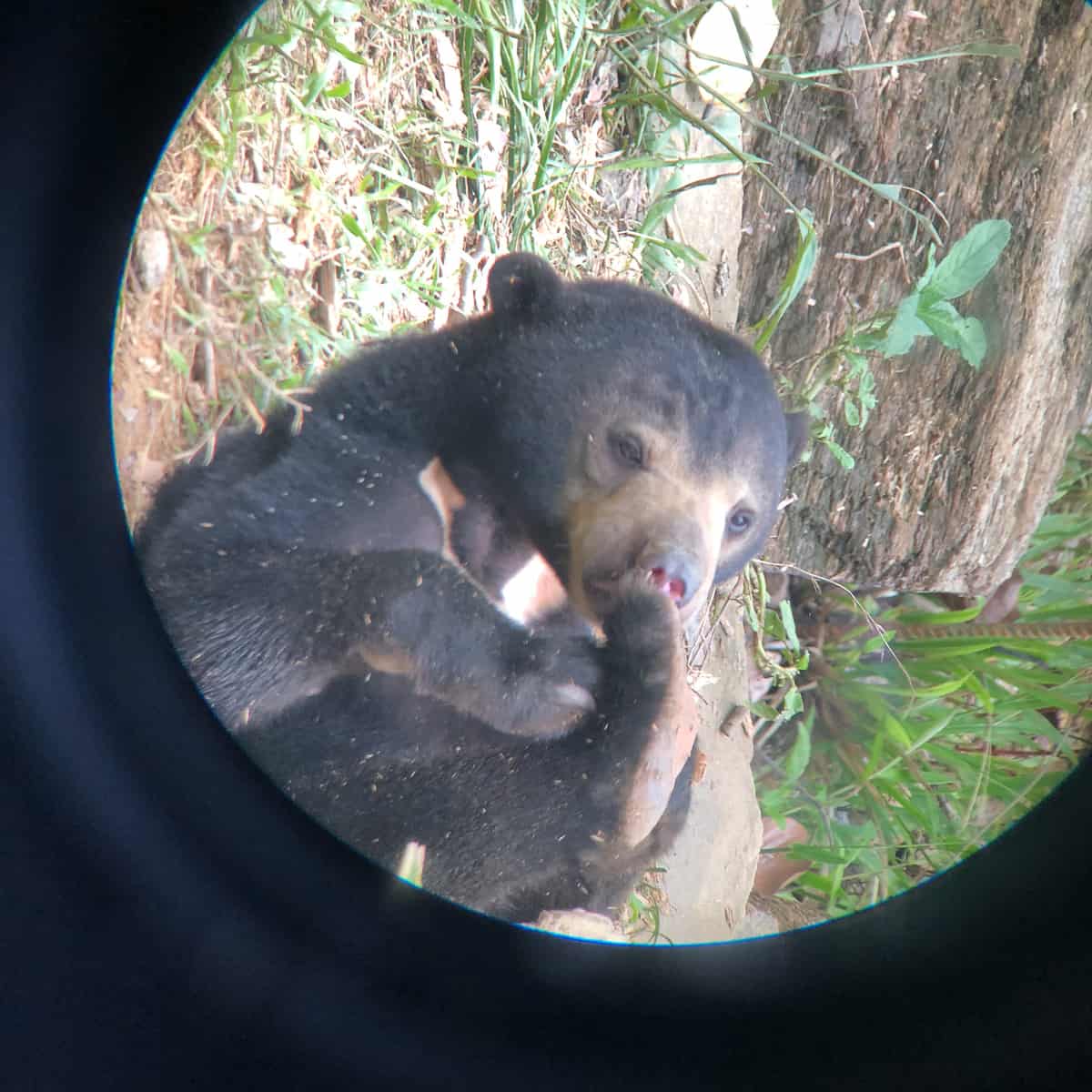 The centre is a credit to Dr Wong, who I was thrilled to meet in person there, who has been researching the sun bear for years and who set this centre up in 2008.
The centre has around 28 bears, all rescued from illegal capture. Bears are sold for the pet trade or for kept for the disgusting Chinese medicine trade where bears are milked for their bile.
De-clawed and having their canine teeth removed, some of these bears will never be able to be released into the wild. Beautiful honey coloured chest markings are individual to each sun bears, and we learnt that whilst there are bigger sun bears on the mainland, here in Borneo they are much smaller.
These three centre visits were a great last day to the project. Mark the Ape Malaysia project manager took us round each centre and had lunch with us. Again it was a great opportunity to ask a million questions. Minnie took the opportunity to adopt a baby orangutan, Archie, so she was delighted.
After our Sepilok tours, we all returned to our last night together in the Nak Hotel, in Sandakan.
The other family were spending a few more days to chill out and relax whilst we would head over to the West coast of Sabah to dive and start our mighty Mount Kinabalu trek.
The Nak Hotel was the perfect end to the 6 night family volunteering holiday. It gave us a chance to reminisce on the last 6 days which had passed like a blur and was now sadly over, and drink a well earned cocktail in the cool rooftop bar.
Conclusion: 
Is this the right family volunteering holiday for you?
We loved it!
It's the perfect amount of volunteering versus incredible wildlife sightseeing for kids aged 8+.
The Great Projects pre-trip knowledge and booking was excellent and the local organisation, Ape Malaysia is well organised and has passionate, local staff.
This project allows you to really get to know the wildlife on the banks of the Kinabatangan river – not just one tourist board ride but numerous … enough to know your long tailed macaques from your short, and your proboscis from your pygmy.
Both myself and my daughter have come back much more informed of the interconnected, biodiverse eco-systems there and the palm oil situation, and feel we've truly contributed and will continue to do so, by talking to others about our experiences and encouraging them to do the same.
All in all it was a trip we will never, never forget. Our takeaways were deep and we are now searching for our next family volunteering holiday adventure to embark on. It's definitely a new way to travel for adventuring families.
Disclaimer: The Great Projects provided our trip complimentary for the purposes of this review. As always, though, all of our reviews are honest and entirely our own opinion.