Want the best view in the Alps? Take Chamonix helicopter tour.
So you think you've bagged the best view of the Alps? Almost every hairpin you turn & every cable car you ride in the Alps has an unforgettable view. The Alps are, in one word, stunning, so if you've never visited, you definitely should. Be prepared to fall in love.  But have you ever seen this incredible mountain range from above? And I'm not talking about peering out from an Easyjet window. I'm talking helicopters. Chamonix helicopters.
Helicopters are certainly a thrill and if you've never been in one, do so. Expensive yes but unforgettable, never.
If time is limited, it's definitely the best way to bank some memories for life. With a mixed bag of age ranges, ski abilities or non skiers in a family group we'd highly recommend a helicopter tour which will, we're sure, take the biscuit in as far as making your ski trip this year unforgettable.
Chamonix is the capital of the Alps and in this post you will find out all you need to know about taking a Chamonix helicopter tour.
Why we really rate family helicopter tours
When you look back on trips long gone, what are the few cherished experiences that are replayed again and again. Your most mind blowing, unforgettable moments banked for life?
For us it's a close call between animal encounters (swimming with whale sharks,  re-locating turtle eggs with rangers, sighting elephants in the wild) or helicopters. My 6 year old can still remember the name of the pilot who took us up for a heli tour in Queenstown, NZ when she was only three! Captain Phillip was his name and we still often re-live that day with wide grins. If there's one thing she remembers of NZ, it's the heli trip.
So it was with great excitement that we climbed into our helicopter in Chamonix for a panoramic heli flight, this time for Winter thrills.
Chamonix helicopter tour
Chamonix Mont Blanc Helicopters (CMBH) are the heli outfit in Chamonix and these guys are seriously bad ass. Helicopter pilots in Chamonix are rumoured to be the best in the world. In such an extreme environment these pilots are revered, risking their lives daily in their courageous rescue attempts in perilous mountain conditions. Not on a panoramic flight of course! The weather has to be 100% perfect for CMBH to take off with guests onboard but these pilots are often the same bad ass guys who fly the rescues so if it's your first helicopter flight or you're a nervous flyer then don't worry you're in good hands.
                   —– >>>>> —– >>>>> —– >>>>> —– >>>>> —– >>>>> —– >>>>>
Stay in the most magical place in Chamonix
The Refuge de Montenvers
Take a train up to this spectacular historic hotel built next to the most famous glacier in France
     —– >>>>> —– >>>>> —– >>>>> —– >>>>> —– >>>>> —– >>>>>
Which Chamonix helicopter tour to take?
Chamonix Mont Blanc Helicopters have four heli tours on offer so choose according to your budget. We chose the shortest and the most affordable option – the 10 minute Aiguille Verte tour. It's the lowest altitude and so the best option for young children (minimum age 7) because of the speed of the vertical ascent and descent. The Aiguille Verte heli tour doesn't fly over Mont Blanc (the two tours that do are the most expensive at either €150 for 20 minutes or €200 per person for a 30 minute flight) but it does fly around 'Les Drus', two iconic rock shards, famous on the Chamonix skyline and my favourite landmark of Chamonix. The Aiguille Verte tour is still an epic flight and more realistic for families at €75 per person.
If you've got older kids or teenagers and want to blow the budget opt for the Mont Blanc or the Massif du Mont Blanc longer tours that fly over Mont Blanc.
The Chamonix helicopter Aiguille Verte tour
Chamonix Mont Blanc Helicopter's are based in Argentière, moments from the Argentière glacier. The Aiguille Verte tour sets off from the base and flies straight up the face of the Argentière glacier, up over Les Grand Montets ski area, around Les Drus, the Aiguille Verte, over Les Courtes peak and back down the Argentière glacier back to base.
WATCH OUR CHAMONIX HELICOPTER TOUR VIDEO CLIP BELOW
As we clunked our seatbelts in into our navy blue blue helicopter with a large breasted lady proudly emblazoned on the side and lifted our headsets onto our heads, the rotor blades started beating into life.  We were all quite nervous, even though I'm not scared of heights or helicopters. The din of the blades makes it impossible to talk to each other apart from through the headsets. It took my youngest a few minutes to fathom she had to speak into the mic! We put the girls each on the outside, next to a window so they would have a good view.
The pilot made all his pre-checks, radioed out to the base and before we knew it we had effortlessly left the ground and rapidly approaching the glacier.
The mammoth wall of blue ice was suddenly right next to our window as our pilot  flew vertically up the ice face. Right there!  I felt I was in a David Attenborough documentary, witnessing the natural world in it's raw beauty.  All too quickly we were over the ice falls then up and over, flying low over the top of the glacier.
It's one thing seeing the many glaciers in Chamonix valley from afar, but to witness the beauty of this snowscape close up is beyond words.
4 epic restaurants to visit in Chamonix when you've booked a babysitter!
The deep cracks and yawning crevasses of the glacier seem unreal. The girls nerves had settled down now and they were beginning to enjoy the flight.  The beauty is breathtaking. The topography of these mountains is immense. The scale is how incredibly vast these mountains are hit us. The range before us is made up of enormous 3000-4000 metre high peaks, summit mounds with thick ice caps, jagged peaks soaring into the cloudless blue sky whilst below the glacial ice stretches on gripping the mountains.  It's a humbling experience.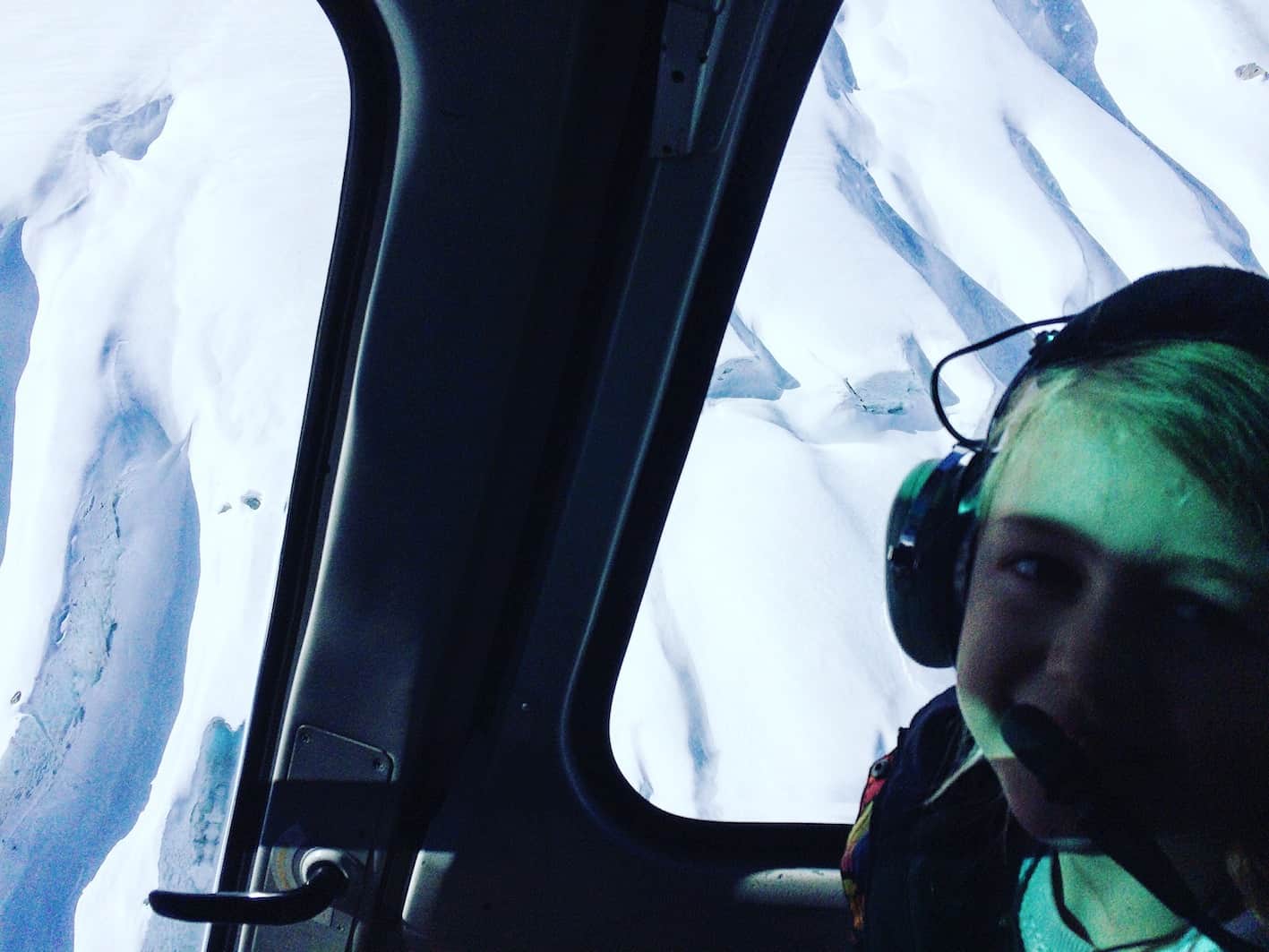 Arching away from the main body of the glacier we veered West, climbing higher following the line of the mountain towards the top of Les Grands Montets, a vast ski area boasting steep black runs frequented by very serious skiers. 
Skiers can access and ski down this side of the glacier and it was fun to watch them as we flew over.
We now headed over to Les Drus. Two sharp pinnacles of rock world famous. The Grande Aiguille du Dru (3,754m) and the Petite Aiguille du Dru (3,733m) are two summits located on the west ridge of the Aiguille Verte (4,122 m) and are connected to each other by the Brèche du Dru (3,697m). The north face of the Petite Dru is considered one of the six great north faces of the Alps. This iconic shard of rock looked so different close up. I'd always wondered how climbers had actually managed to climb it – from the depths of Chamonix below Les Drus looks sheer but now I could see the routes up.
From here, we could see the white dome of Mont Blanc ahead of us glistening in the sun and France's largest glacier, the Mer de Glace glacier snaking out before us. We banked away and left Mont Blanc at our backs as we flew around the Aiguille Verte, first conquered by the famous British alpinist Edward Whymper, accompanied by his Swiss guides Christian Almer and Franz Biner, on the 29th of June, 1865. To our right the Grand Jorasse stretched out along with Aiguille du Tacul. Coming round in a circle now we had splendid views of Mont Dolent (3823 m) a peak common to France, Switzerland and Italy.
As the heli turned away from Mont Dolent, I knew we were heading back to base. Following the vast, white scape of the 9km long snow covered glacier, we spotted small lines of dots, which on closer inspection turned out to be skiers touring. You certainly get a sense of what adventures can be accessed beyond the pistes by investing in some touring skis or a splitboard, getting some experience and hiring a guide.
Swooping over the remaining glacier, we quickly descended over the ice falls again. This was the only time that our girls felt the pressure and it did hurt their ears, even though they were sucking sweets. There's not much you can do to avoid this apart from take the usual precautions of something to suck on and making sure you don't fly with a cold. It only lasted a few minutes but something to be very aware of.
As we flew down and hovered back to base, we were elated. What an epic adventure. I wanted to do it all over again right then! If you've got the money and have older kids I'll definitely go for a longer tour, but with our girls being so young, I'm so pleased that we could experience something so special together. Definitely a day to remember forever.

Chamonix helicopter tour price
10 min Aiguille Verte tour – €75 per person
15 min Grandes Jorasses tour – €100 per person
20 min Mont Blanc tour – €150 per person
30 min Massif du Mont Blanc – €200 per person
There is no discount for children. Each seat is priced as above.
What is the minimum age to fly in a Chamonix helicopter?
Does the helicopter fly over Mont Blanc?
The 20 min Mont Blanc tour and the Massif du Mont Blanc tour fly to Mont Blanc
How many people can you fit in the Chamonix helicopter tour?
There were 5 seats in our heli, although they do have another heli which seats 6.

Do we need to book the whole helicopter for a Chamonix helicopter tour or can we just book for 1 or 2 people?
We had enough numbers to book the whole heli. If you are a group of less than 5 people, then you can leave your details with Chamonix Mont Blanc Helicopters and they will put a flight on if the minimum number of people register for the flight. The flights are heavily dependent on the weather so it's best to be available over several days in the hope of being able to fly.
A big thanks to CHMB for our amazing flight. As always our thoughts are entirely our own.
LIKE IT, PIN IT